Andrew Hamilton Becomes First to Summit All Colorado 14ers in One Winter
Heading out the door? Read this article on the new Outside+ app available now on iOS devices for members! Download the app.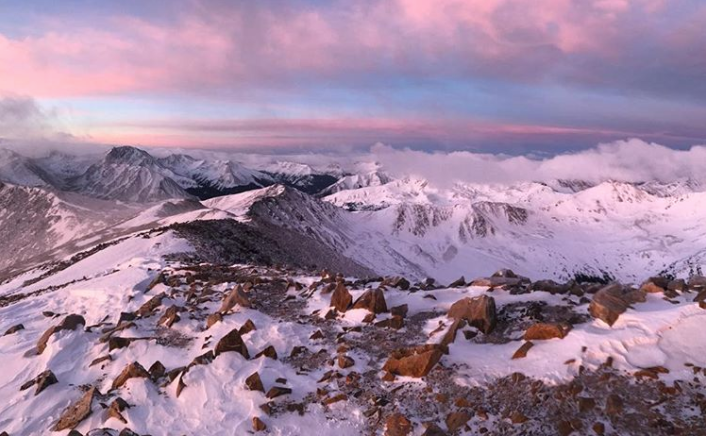 By March 1, Andrew Hamilton only had 11 peaks left on his latest mountaineering to-do list: Summit Every Colorado 14er in One Winter. Looking ahead at the weather forecast and nursing two foot injuries, Hamilton, who currently holds the 14er speed record, knew that in order to tick off all 58 by spring, things might have to get a little spicy.
For most, standing atop each of the (roughly) 58 mountains over 14,000 feet in Colorado is a feat spread over many years, often reserved as a summer activity. The peaks, sprinkled in clumps across the state, range from simple walk-ups to technical scrambles. In the winter, they can involve battling hurricane-force winds along exposed ridges, fighting sweat-freezing temperatures, overcoming navigation obstacles, and adding extra post-holing mileage when access roads are snowed-over.
If Hamilton could finish the final 11 by 10:30 a.m. on Tuesday, March 20th—the vernal equinox, winter's official end—he'd be the first person to stand on top of all the Colorado 14ers in one winter season.
In a way, Hamilton is king of these to-do lists. "I have my niche, the 14ers," he admits. In the past few decades, the Coloradan has ticked off a variety of mountain link-ups, in a variety of styles—by foot and by bike, supported and unsupported. Perhaps most impressive was when Hamilton summited all the 14ers in an impressive 9 days, 21 hours and 51 minutes in July 2015, setting the speed record for fastest consecutive ascents.
But in the winter, the 14ers—with their intense exposure and fickle weather—are a different game.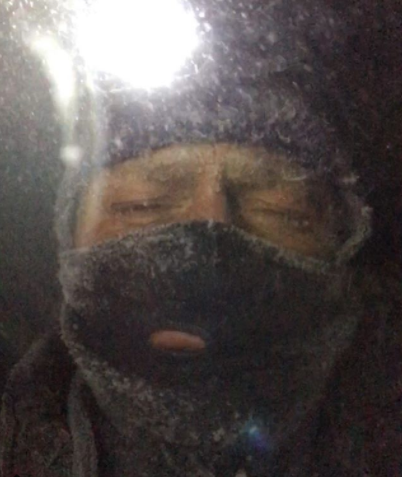 "I'd been putting off the Elks [Range mountains] for as long as possible because I was hearing all this information about how dangerous they were," Hamilton says. "Even though it's a low-snow year, the avalanche conditions have been really dangerous. I had to stop talking with the locals because they were like, 'You're going to die.'"
So, with an eye on the Elks' weather, he spent the first two weeks of March ticking off Mount Wilson and El Diente Peak, Mount Evans and Bierstadt, Castle and Conundrum Peaks, Longs Peak… whittling down the list.
"I can't waste any day," he explains, calculating he only had 26 free days to get the job done. "I've got my kids every other week, so I've been trying to climb for a week, come home for a week, climb for a week, come home for a week. If there's a bad weather day, I have to find something to climb, or make up for it if I miss it."
Hamilton started his Winter 14er project on December 21, the first official day of winter, in the Chicago Basin down by Durango. He'd overpacked that trip, anticipating heavy snowfall, and came out with a tendon injury after summiting the four peaks in too-heavy boots. "My foot was all swollen and I had to give it some time. It took me out for two weeks."
Once he recovered, he scrambled to get back on track.
"Snolan's was a critical part of that," Hamilton says. "Snolan's" is what Hamilton dubs "Snowy Nolan's," a winter completion of the 100-mile link-up of 14 peaks in the Sawatch Range, known as Nolan's 14. When he completed Snolan's in February, he was the first person to ever succeed in winter. "Being able to just wipe out all of them in one run actually got me so it was possible to finish [all of the winter 14ers] in time. That was really critical."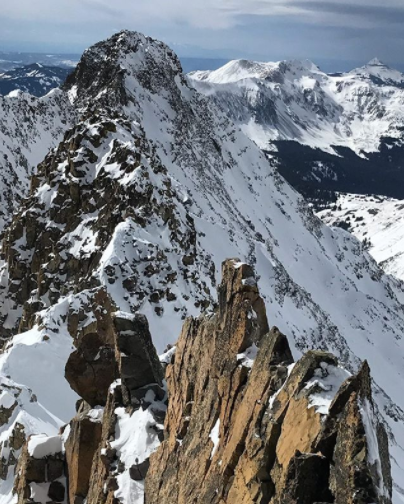 Hamilton was picking his way between the peaks on Snolan's route when he faced the worst of what this year's La Niña winter had brought: lower-than-average snowpack, yes, but also high-intensity wind.
"A gust of wind came and literally ripped [my friend's] dog's windbreaker in half and blew it off," he says. This was day one of Hamilton's Snolan's adventure. "The whole week [on Snolan's] was just insane winds, 50-60 miles-per-hour the whole time. You can't stand when it's like that. It's ridiculous."
Occasionally, a rotating fleet of friends and Hamilton's girlfriend, Andrea, would join him for single-summit hikes, but not for the gnarled multi-peak link-ups that required bivying overnight in the snow and cracking open frozen shoes at dawn.
"Winter mountaineering is a give and take," Andrea says. "There's always a factor you'll have in winter that you won't in summer or spring or fall. So it's always going to be more difficult. Everyone who does a 14er in winter should aim for a low snowpack year."
Hamilton shrugs, "Look if I was having to break through shoulder-deep snow the whole winter, I wouldn't have finished. Winter mountaineering is so much more than postholing and dealing with a lot of snow. It's a lot more strategy than that."
On top of Mt. Princeton, Hamilton dropped to his hands along the ridge. "I was up there in the dark in these winds, and I had to have all points of contact on the ground at all times because I was on a ridge where the protected side was a cliff."
He spent 140 hours moving across the 100-mile pathway. Last summer he did it in less than 54 hours. "Snolan's was freaking hard."
By the second week of March, Hamilton saw a small weather window approaching the Elks, where the intimidating string of Capitol Peak, Snowmass Mountain and the Maroon Bells lies. "Capitol is probably the hardest peak in winter, just by itself, most people would say," says Hamilton.
He navigated snow and ice up Capitol, then traversed over to Snowmass, and then the Maroon Bells, "which probably has never been done in winter before," he adds. "But I don't really know. I've done it in summer, so I'm familiar with the ways to link them up. Anyway, it ended up being kind of ridiculous."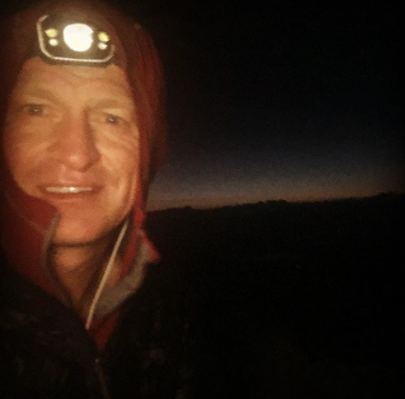 By ridiculous he means that over the course of his 53-hour endeavor, his GPS tracker died, his phone died, and after dark snow turned to ice, he slept-walked into a band of willow trees, and eventually found his way out bushwhacking. "The willows are like ghouls from hell. Every limb is fighting a different willow, fighting to escape. You'd hear me scream at the top of my lungs because I was just fighting a branch off. It was brutal."
To avoid sleep walking, he started taking little naps. "I call them shiver sleeps. You're so tired you see a rock, you lay down, conk out, and you wake up like three minutes later and you're shivering and you're cold and it's time to move," he says. "If I had been there a couple hours earlier, in the light, I probably would have sailed down in two hours, but it took me 11 hours to get out of there."
"I'm a slow and steady guy," Hamilton says. "One of the things that draws me towards these records is that it isn't just about being the fastest guy. There's a lot of planning and strategy involved. Going all night long. A lot of luck involved."
After an intense battle through Snolan's and surviving the Elks, Hamilton only had two peaks left—Pyramid and Quandary—but an aggravation of what he thinks might be Morton's Neuroma, a nerve disruption in the bottom of both his feet, was making it difficult to walk on uneven surfaces.
On March 14, Hamilton and Andrea summited Pyramid together. "In hindsight it was a good day," Hamilton says, laughing. The winter adds 12 miles because the road is closed. "We got a good glissade, but at some point we had to turn around and kick step down, it was too steep."
Only Quandary was left. He'd saved it for last because "it really is the easiest one," and he wanted friends to join. But with one weather service predicting two feet of snow, it still felt like a gamble. "We did have to do a little post holing, but for the most part was pretty easy."
Only a few inches of snow fell by the end of the day, and Hamilton limped his way up the rocks to stand, for the 58th time in just three months, at 14,000 feet.
"It felt good," he says, to finally finish the project. "It was a little different than the 14er [speed] record, when there's this huge let down when you're done. You're going for 10 days straight: go, go, go, go, and then you are done. Collapsed. Your body swells up; you're in total pain. This record was different because the effort was metered out over a long period of time. I got to the top and I was like, Okay, great, I'm done.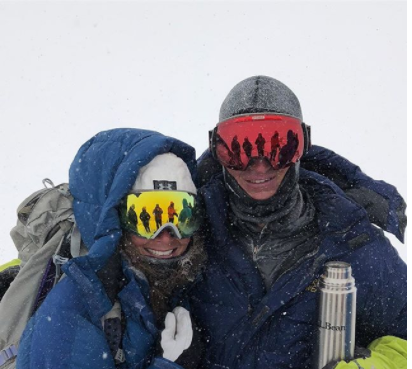 "I think it was more of a relief because Andrea was sick of me being gone all the time."
Back down at the parking lot someone popped Champagne; cups and cookies clinked.
"My feet are still hurting—don't know when they'll heal, but I hope they will." Hamilton says. For now, he, Andrea and his kids are thawing out in the desert near Moab.
"The next big goal is the Centennials," he says. "My goal is [Colorado's] 100 highest peaks in 20 days. What I love about it is there are some really elegant link-ups. No one has tried this goal. A couple have done on bikes, but no one has done it for speed."
As Andrea says, "There's so much out there, it'll only end when your body does."