Andrew Hamilton Shatters Colorado 14ers Speed Record
Heading out the door? Read this article on the new Outside+ app available now on iOS devices for members! Download the app.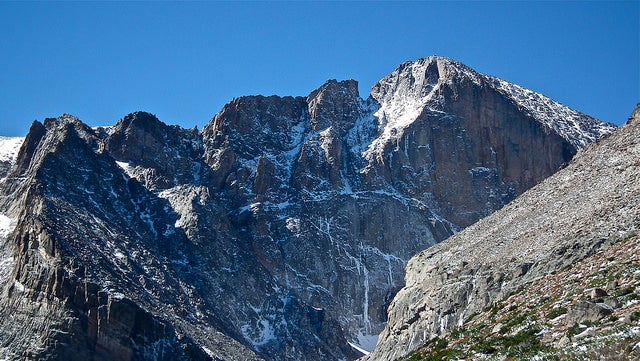 7/9/15 – Colorado has (roughly) 58 mountains that top out at or over 14,000 feet in elevation, and many a weekend warrior flock from all over to attempt to summit them. But today Andrew Hamilton, a 40-year-old Denver native, broke the world record for fastest consecutive ascent of all of Colorado's 14ers in an insane 9 days, 21 hours and 51 minutes.
A stay-at-home dad, Hamilton had a crack support crew made up of family and friends, who aided him with driving, repacking his gear, drying out his clothes, cooking food, and providing moral support. He spent the short commutes between trails sleeping and eating, until going out again to trek through rain, fog and snow—sometimes in complete darkness—to reach this goal.
Hamilton's not-so-secret weapon is his familiarity with these massive peaks; he's climbed them all multiple times, including with his kids when they were just 8- and 6-years-old. He even set the speed record once before, summiting 55 peaks in 13 days, 22 hours, 48 minutes back in 1999. In those days the record was broken regularly, until Teddy "Cave Dog" Keizer came along and changed the game. Kaiser's summer 2000 time of  10 days, 20 hours, and 26 minutes stood for 15 years until Hamilton's attempt this week.
Many were following his epic run on a forum on 14ers.com, where one user Justiner commented, "[Keizer's] record was seen as almost impossible to better, and [Hamilton] certainly smashed it: almost 24 hours improvement? Hard to even comprehend."
Hamilton was thorough about documenting his record. He detailed his aggressive plan on his blog, and he managed keep to it within a few hours, including his daring one-day climb of the Elks (some of the hardest of the 14ers). For more detailed route information, his GPS tracker can be found here, where he logged each peak and each trailhead.
A day-by-day look at the incredible feat:
• June 29: Windom Peak, Sunlight Peak, North Eolus, Mount Eolus, El Diente Peak, Mt. Wilson, and Wilson Peak

• June 30: Mount Sneffels, Handies Peak, RedCloud Peak, Sunshine Peak, Uncompahgre Peak, and Wetterhorn Peak

• July 1: San Luis Peak, Little Bear Peak, Blanca Peak, Ellingwood Point, and Mount Lindsey

• July 2: Culebra Peak and the Crestones (Crestone Needle, Crestone Peak, Kit Carson Peak, Challenger Point, Humboldt Peak)

• July 3: Pikes Peak and the Sawatch Mountains (Mount Antero, Mount Shavano, Tabegauche Peak), then Mt. Princeton

• July 4: All of the Elks (Pyramid Peak, South Maroon Peak, North Maroon Peak, Snowmass Mountain, Capitol Peak)

• July 5: Castle Peak, Conundrum Peak, Mount Elbert. Mount Massive, and Mount of the Holy Cross

• July 6: Mount Yale, Mount Columbia, Mount Harvard, Mount Oxford, Mount Belford, Missouri Mountain, and then Huron Peak

• July 7: La Plata Peak, Mount Sherman, the Mount Lincoln Group (Mount Democrat, Mount Cameron, Mount Lincoln, Mount Bross), and Quandary Peak

• July 8: Torreys Peak, Grays Peak, Mount Evans, Mount Bierstadt, and finished with Longs Peak
Hamilton's record was officially set after he descended 3,000 feet from Longs Peak, as per the rules he followed, previously laid out by Keizer: 3,000 feet of elevation must be ascended and descended for each series of peaks (linking peaks with traverses is OK). No aid is allowed during any ascents. No vehicles are allowed while on route (between routes is OK). The clock starts 3,000 feet below the first climbed peak and stops 3,000 feet below the last climbed peak. You must climb as much or more than the previous record holder. And finally, you  must notify the current record holder of your intentions to attempt the challenge—in this instance, Keizer was excited by his contender, going as far as flying out to Colorado from his home in Portland to congratulate him on his success. Hamilton himself has suggested one additional rule: that a GPS tracker should be worn for confirmation.
Many were followed Hamilton's epic run on a forum on 14ers.com, where one user Justiner commented, "[Keizer's] record was seen as almost impossible to better, and [Hamilton] certainly smashed it: almost 24 hours improvement? Hard to even comprehend."