14-Year-Old American Wins Worlds, Then Flashes 5.14a
Heading out the door? Read this article on the new Outside+ app available now on iOS devices for members! Download the app.
Won Lead and Bouldering National Championships for her category. Won Lead, Bouldering, and Combined World Championships for her category a few months later. And then flashed 5.14a.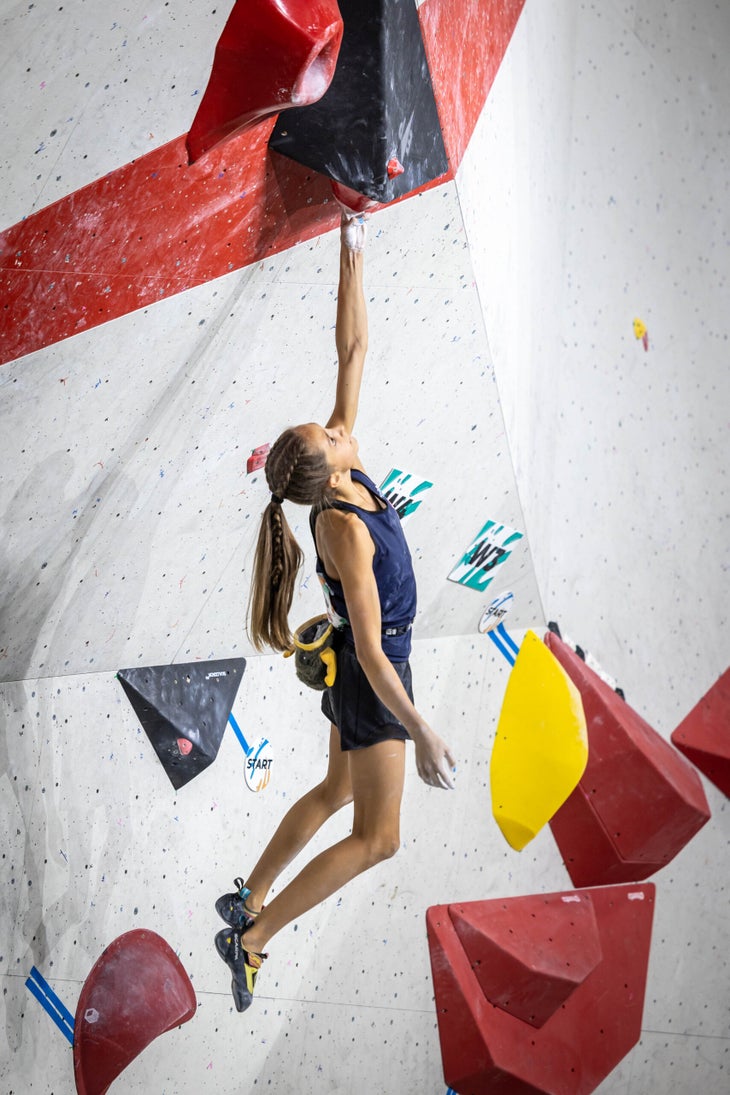 And she's only 14. Anastasia (Annie) Sanders is having one helluva year.
From Fort Worth, Texas, Annie has been climbing all her life. Both of her parents climbed with her growing up. 
"My mom brought me to the gym before I could even walk," she told Climbing. Annie trains on Team Texas, hitting the gym five times a week in between her online schooling—she's a freshman in high school.
Her National win wasn't surprising; Annie had previously won Lead in 2019. Her domination at the 2021 World Championships, in Voronezh, Russia, might have been harder to predict. The event was her first international competition.
"I wasn't really expecting to make semifinals," she said. 
After returning home, Annie went to the Red River Gorge, her second trip to Kentucky's sandstone haven. She had a big goal: to send 14c. While Annie has yet to put down a 14b, she's also yet to spend a significant amount of time outside. Her coach, Matt Dendy, had recommended she try Lucifer, based on her preferred style: long endurance routes. 
"I did all the moves, but I think connecting them would be super hard," she said. She only gave the route four tries. 
While she didn't quite manage Lucifer, her nine-day trip amounted to one long field day. Her tick list included 11 routes 5.13 and up (almost all of which she flashed or onisighted), and one of which was 5.14a—Omaha Beach, and a flash.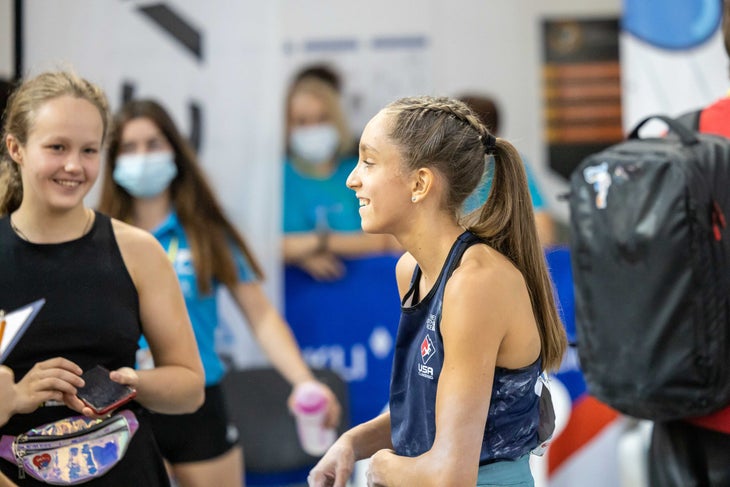 "I didn't really have a certain route that I wanted to get on in each area that we went to. I just got on one route and then I sent it, and then we kept going to different areas and I kept doing stuff," she said.
Looking ahead, Annie hopes to return for Lucifer, maybe in the Spring. And she is looking forward to next year's World Championships, which she has automatically qualified for based on this year's win.
Speaking of which, Annie's friend helped her celebrate her international wins with a medal-shaped cake. We have a feeling there will be more of those in Annie's future. 
This article is free. Sign up with a Climbing membership, now just $2 a month for a limited time, and you get unlimited access to thousands of stories and articles by world-class authors on climbing.com plus a print subscription to Climbing and our annual coffee-table edition of Ascent.  Please join the Climbing team today.