Anti-Racism Resources for Climbers
Beta for our most-important climb
Heading out the door? Read this article on the new Outside+ app available now on iOS devices for members! Download the app.
Edited by Endria Richardson.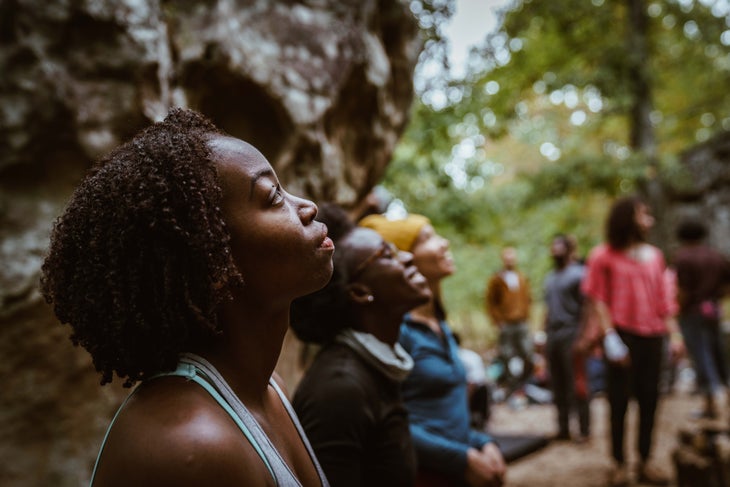 Let's take a deep breath. The past couple weeks have been incredibly tough and painful. Many people—white people and non-Black people of color—have been shaken, realizing how much disparity exists and how much you need to learn. Many of us—Black climbers—are finally seeing a reality we have long understood being processed and shared in real-time by the wider climbing community. With so much exposure to the larger issue of inequity and access in climbing, a "Black Lives Matter" post will no longer suffice. It's a trend in the right direction, as well as a reminder that it took so many tragedies and now cultural pressure for the climbing community to wake up. You don't get an applause for being woefully late. But you can help to make needed and significant changes.
You may be an overwhelmed black climber that has been bombarded with questions, apologies, and new asks. You may be a non-black person that's unsure of how to proceed due to limited knowledge. If that's you, please know that's a sign of having immense privilege. Learning about racism is far different from experiencing it. You haven't had to learn, but you're reading this, which suggests that your heart is open to listening and more importantly, becoming an agent for change.
In this new time, a concern is that people believe a one-time donation will suffice. If this is where allyship begins and ends, diversity will only exist on our social media feeds. Brands will put the work of "Diversity, Equity, and Inclusion" on their very few employees of color and a team of women to educate them with a diversity initiative. They won't compensate them for their emotional and mental labor. They won't meaningfully invest in Black and brown talent beyond a new black HR person or "Chief Diversity Officer." And that person will continue to be the only black person in executive meetings for years. We've already seen this playbook. 
If you have not seen us, it's not because we're not outside. It's because your world may be a mirror, reflecting largely only the people that you feel comfortable with and know. That's normal. However, you have to do the work to learn about inequity and inaccessibility, understand what makes an inclusive climbing culture, and why many black people have not been comfortable in spaces where they were and still are historically not welcomed professionally, culturally, and structurally denied.
It's no longer the time to silence Black voices. It's time to elevate, support, and listen. You will be uncomfortable. Saying you would rather not listen because you are uncomfortable is a key reason this has taken so long. That's not allyship. That's how the status quo remains. You will have to do the work. You cannot transfer the responsibility to Black people who are not in key positions of power to make the changes in the climbing world. Sincerely working to understand inequity and challenging the structural racism that bars access to climbing to Black people will take actions, plural. A single donation is only the start.
Here is the resource guide and beta: 
Literature Guides
Black-Inclusive Climbing Books & Films 
BLACK Voices in Climbing & Outdoors
Trailblazers who have spoken and continue to speak up:
Strong Voices & New Leaders in Climbing
(Find more about their organizations in the next section.) 
Climbing & Outdoor Creatives
ORGANIZATIONS to partner with, fund, and elevate
Leading in Outdoor Equity & Inclusion for Black and Brown Voices: 
BIPOC Climbing Groups that need continued support:
Publications and Blogs:
Important note: If this resource guide helped you, please consider donating to one of the many organizations listed.