Heading out the door? Read this article on the new Outside+ app available now on iOS devices for members! Download the app.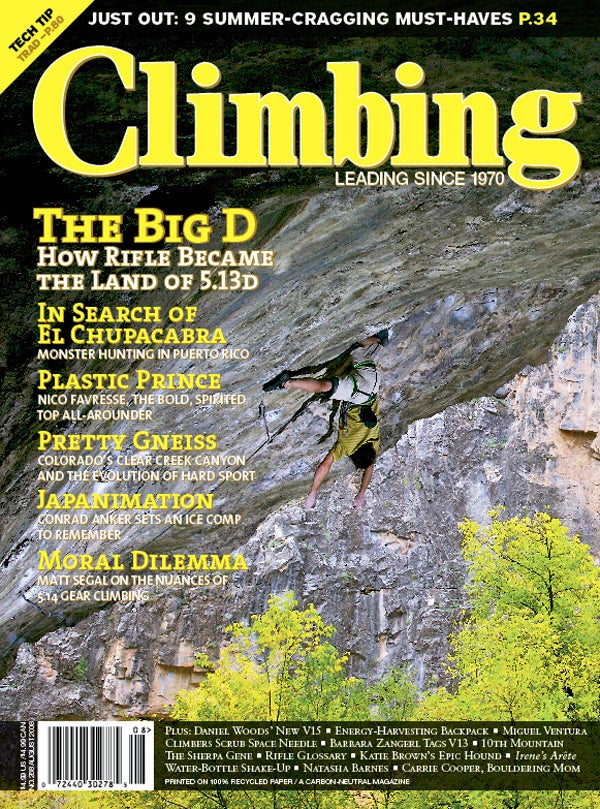 FEATURES
THE BIG D How Rifle Mountain Park, Colorado, came to be the "Land of 5.13d." Plus, the long-awaited Rifle glossary, the glues that bind, and other Rifle "Ds" of despair. By Matt Samet and Chris Weidner Photos by Celin Serbo
PRETTY GNEISS The roadside crags of Colorado's Clear Creek Canyon seem to totter more than tower, but they've nevertheless played a critical role in the growth of American sport climbing. By Abbey Smith • Photos by Keith Ladzinski
PLASTIC PRINCE Straight outta the "Plastic Crucible" of board-flat Belgium comes Nico Favresse, the bold, spirited top all-arounder. By Sanam Pejuhesh
IN SEARCH OF EL CHUPACABRA Our intrepid Senior Contributing Editor Craig Luebben visits limestone-rich Puerto Rico to track the fearsome and fanged Chupacabra (aka "goat sucker"). Story and photos by Craig Luebben Illustration by Kristin Marine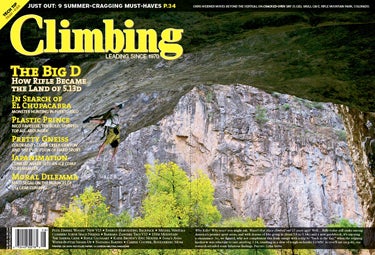 DEPARTMENTS
CONTRIBUTORS Sanam Pejuhesh, Craig Luebben, Mic Fairchild, and Chris Weidner
EDITORIAL Why we don't need to fight
LETTERS BASECAMP HOT FLASHES OFF THE WALL PLAYERS JUST OUT TEN THINGS OPEN BIVY ROADKILL SUSTAINED
CLASSIC CLIMBS Irene's Arête (III 5.8 or 5.9+) — walking the edge on the Tetons' stellar Disappointment Peak
TECH TIP Trad: improve your leading via the lost art of downclimbing.
REVIEWS An epic DVD on Welsh climbers; the new, full-color Rifle guidebook; and Jennifer Lowe-Anker's memoirs of her life with Alex Lowe
PERSPECTIVE Miguel Ventura: pizza maker, artist, family man, social servant; Slade, Kentucky