Austrian Woman Climbs 11th 8,000'er
Heading out the door? Read this article on the new Outside+ app available now on iOS devices for members! Download the app.
Gerlinde Kaltenbrunner, the only woman to have climbed 11 of the world's 8,000-meter peaks. Courtesy of Salzburger-fenster.at.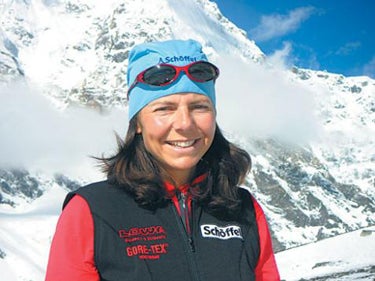 Austrian Gerlinde Kaltenbrunner summited 8,167-meter Dhaulagiri in Nepal on May 1, giving her 11 of the 14 main 8,000-meter summits on Earth, more than any other woman. Kaltenbrunner was one of at least a dozen climbers who reached the top in stormy conditions.
Ecuador's Iván Vallejo also tagged the top of Dhaulagiri yesterday, making him the 15th man to climb all the 8,000-meter peaks—and the seventh to do them without supplementary oxygen. With the list of male 8,000-ers growing so long—and the first American, Ed Viesturs, having already completed the quest—Himalayan fans' attention has turned to the "race" among women.
Iván Vallejo on Dhaulagiri, his final 8,000-meter summit. Photo courtesy of ivanvallejo.com.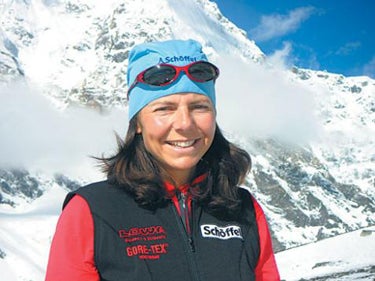 Spain's Edurne Pasabán, 34, also summited Dhaulagiri on May 1, reaching her 10th 8,000-meter peak. Italian Nives Meroi, 47, who already has 10 8,000'ers, attempted Makalu this winter but broke her leg while descending from base camp in a severe windstorm. Both Kaltenbrunner and Pasabán also have had close calls on the 8,000-meter giants. Last May, an avalanche swept through Camp 2 on Dhaulagiri and killed two Spanish climbers but missed the nearby tents where Kaltenbrunner and another climber were sleeping. Pasabán lost parts of several toes to frostbite after her ascent of K2 in 2004.
Kaltenbrunner, 37, climbed her first main 8,000-meter peak, Cho Oyu, in 1998. (She had summited Broad Peak's foresummit in 1994.) She has done a few significant climbs during her quest, including an alpine-style ascent of Shishapangma's south face in 2005, followed by a descent of the north side, the first south-north traverse of the peak. Later that season, she attempted the rarely climbed Japanese Couloir/Hornbein Couloir on Mt. Everest's north face without supplementary oxygen, but gave up the attempt at a high camp to help rescue a stricken companion. She still must complete Everest, K2, and Lhotse to finish off the 8,000'ers, but Kaltenbrunner, like the other women with 10 or more 8,000'ers, has repeatedly said that she is not in a race.
Date of Ascent: May 1, 2008
Sources:Gerlinde-Kaltenbrunner.at, Mounteverest.net, Bergsteigen.at
MORE NEWS: