Avalanche Takes Father and Son on K2
Heading out the door? Read this article on the new Outside+ app available now on iOS devices for members! Download the app.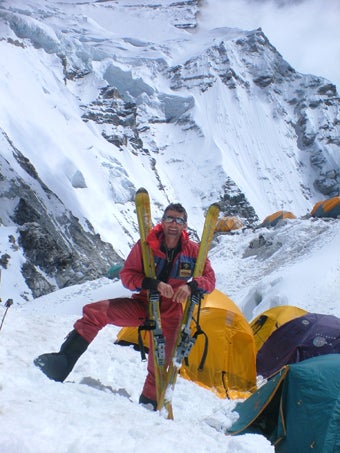 7/29/13 – Longtime mountain guide Marty Schmidt and his son, Denali, have been killed in an avalanche at Camp 3 on K2 in Pakistan. After climbing nearby Broad Peak earlier this summer, Marty Schmidt, 53, and Denali Schmidt, 25, had moved up to Camp 3 on K2 despite dangerous snow conditions, and had not been heard from since Friday, July 26. When Sherpa climbers reached the site of Camp 3 at ca. 24,275 feet yesterday, they discovered that an avalanche had struck the Schmidts' tent. Givern the dangerous conditions on the mountain, no further search is planned.
Adrian Hayes, a British climber also attempting K2 at the time, said at his blog, "The deaths of a father and son is a tragedy in itself, but compounded even further by the fact that Marty and Denali—who were great people that we all got to know very well in the close-knit community of K2 Base Camp—were very well known, highly experienced, and extremely strong mountaineers, the last people many would expect to be killed on a mountain. Sadly, at times the mountains do not differentiate between ability and experience, least of all K2."
Raised in California, Marty Schmidt has been guiding since 1975 and climbed extensively in the U.S. before moving to New Zealand, where he became well known as one of that country's top high-altitude climbers and guides. In 2011, 28 years after doing a new route on Denali, Marty Schmidt returned to the mountain with his son, also a superb mountaineer, and the pair summited the south and north peaks of North America's highest peak, as well as Mt. Foraker, and also climbed a new route on Denali. The younger man made a film that tells the story of this remarkable father-and-son expedition and is a lovely tribute to the two men.
Despite some fine successes in the mountains of Pakistan, this summer will go down as one of the deadliest in that country's recent history for climbers. Since the horrific terrorist incident on Nanga Parbat in June, there have been several other dramatic and tragic situations on Pakistan's 8,000-meter peaks. Three Iranian climbers who completed a new route to the summit of Broad Peak died during the descent of the normal route from the summit. On Gasherbrum I, three Spanish climbers were lost while trying to descend from the summit, and no trace of them was found despite ground and helicopter searches. Remarkably, another member of the Spanish team, Alfredo Garcia, who also became disoriented during the descent from Gasherbrum I and spent the night in the open, managed to reach his family at home by telephone and arrange to have the GPS coordinates of Camp 3 sent to him. With this data he made it back to Camp 3 and eventually to base camp.
Date of incidents: July 2013
Sources: Altitude Pakistan, AdrianHayes.com, Msigk2.com, New Zealand Alpine Club, American Alpine Journal