Awesome Big-Wall Ice in Norway
Heading out the door? Read this article on the new Outside+ app available now on iOS devices for members! Download the app.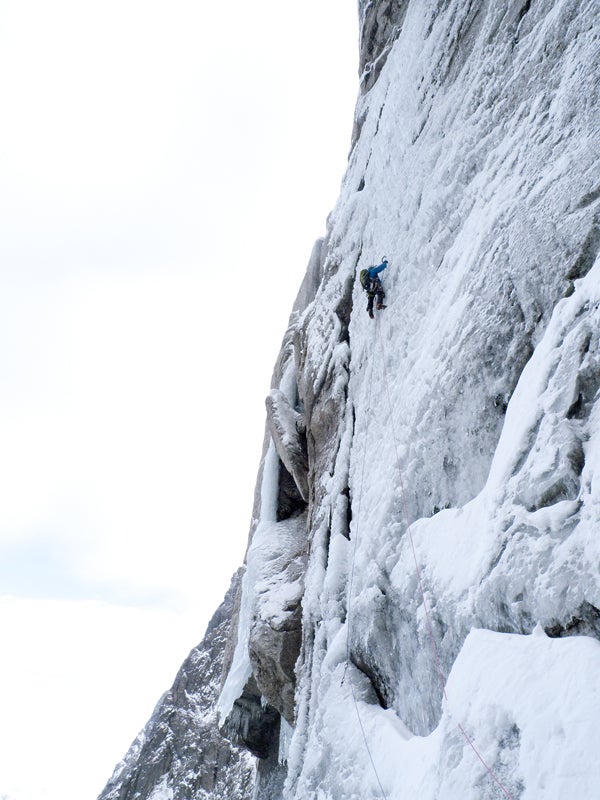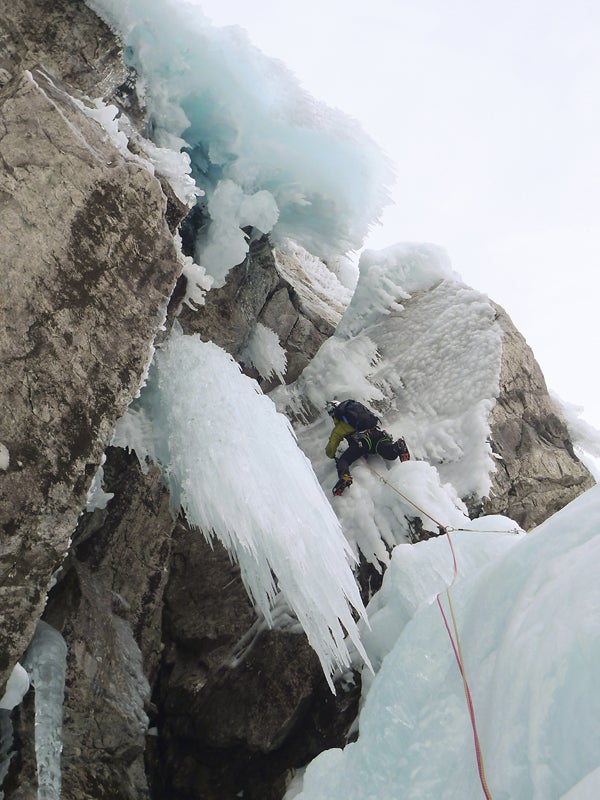 Separate teams of Norwegian, German, and Swiss climbers seized the day in unusually cold temperatures during February and established gigantic new ice routes on Norwegian cliffs the size of Yosemite Valley's walls.
Bjorn-Eivind Artun climbed two routes on the 1,000-meter-high Kjerag massif directly above the open sea in Lysefjord in southwestern Norway. The climbs require a 30-minute approach by boat to the base of the wall. Artun and Stein Ivar Gravdahl first climbed Strandhogg (800m, M5+ WI6+ A0) in a single long day. After 200 meters of mixed climbing, they followed steep ice to reach the top at 11:15 p.m. The only aid was a short pendulum around a corner to reach an ice dagger. Two days later, Artun and Annelin Henriksen climbed Pin-up (600m, WI6).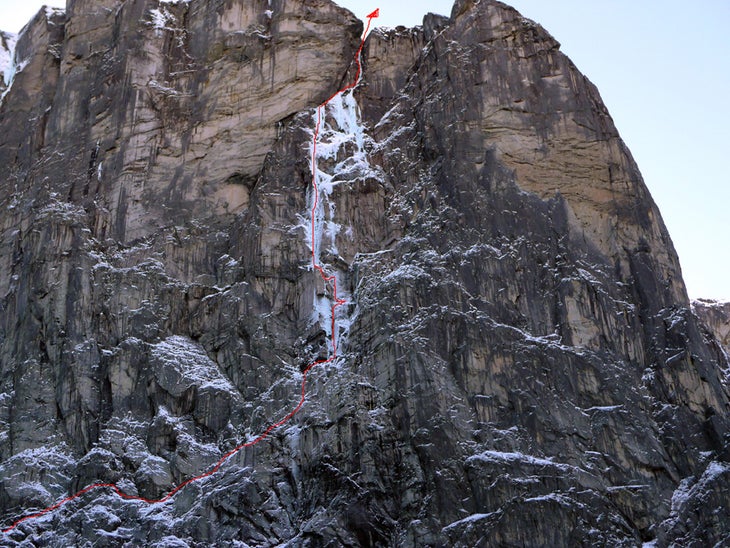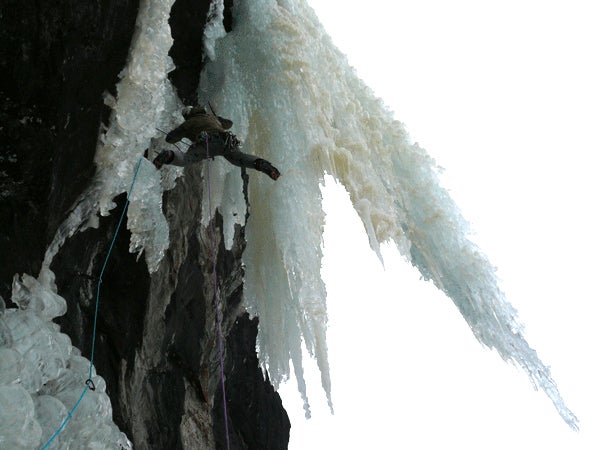 Meanwhile, the German climber Robert Jasper made two separate trips to Norway to climb three different huge ice routes. First was the new route Into the Wild (900m, WI6 X) in Gudvangen, climbed with Markus Stofer. Jasper said the actual route length on the 3,000-foot cliff was closer to 1,300 meters, making it possibly the longest waterfall-ice climb in the world.
Next stop was Eidfjord, where the two clmbed free-hanging icicles on the south face of Mabodalen to crate Landplage (240m, WI7-).
Jasper and Stofer then returned to Gundvangen hoping to climb a super-steep line they had spotted earlier. On their first attempt they climbed the first 300 meters, but the ice was too brittle. They changed their plane tickets and tried again two days later, but the mixed pitches took longer than expected and the ice was even more brittle in temperatures around 14°F. After climbing two-thirds of the 800-meter face, they conceded and rappelled.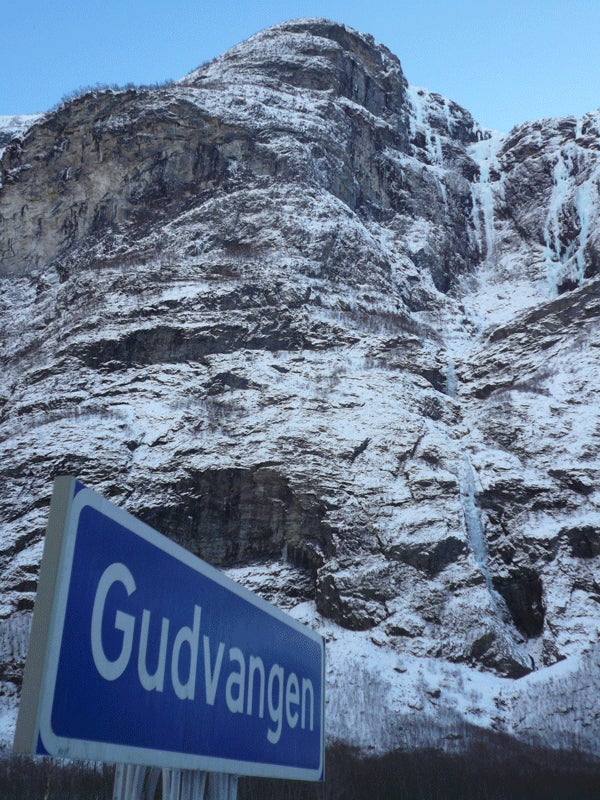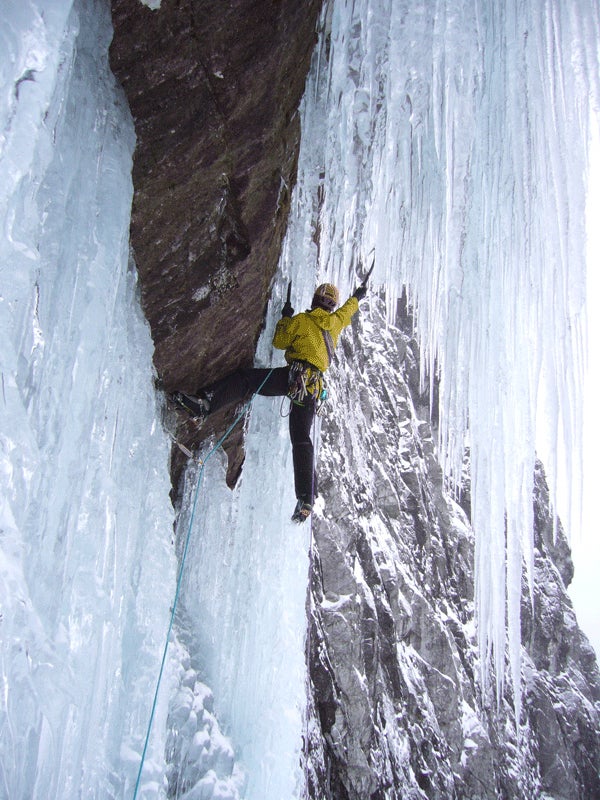 Jasper couldn't stop thinking about the climb, which promised to be perhaps the world's longest route of such great difficulty. A week later he returned with Swiss climber Robert Schäli. In one long day, with temperatures hovering right around freezing, ideal for plastic ice, the two climbed Fosslimonster (800m, M8+ WI6+), with total climbing of about 1,000 meters. "Such a perfect line of water will hardly cross my path again," Jasper said. "For me it was a wonderful combination of modern ice and mixed climbing, and in this length [it] was a new step, a great adventure."
The following day the climb began to melt.
See video of the first ascent of Strandhogg (commentary in Norwegian) at www1.nrk.no.
Dates of Ascents: February 2009
Sources: Bjorn-Eivind Artun, Robert Jasper
Editor's Note – 3/11/09: The placement of five protection bolts and nine anchor bolts during the first ascent of Fosslimonster has upset many climbers in Norway. The Norwegian Alpine Club issued a statement urging visiting climbers to respect its bolt-free ethic for mountain routes. Read this statement and Robert Jasper's response at PlanetMountain.com.Climbing 275 will cover the controversy in more depth.