Barry Blanchard, Leading Canadian Alpinist, Is Back to Climbing Following Serious Injury
Heading out the door? Read this article on the new Outside+ app available now on iOS devices for members! Download the app.
Update: On January 5, the Barry Blanchard documentary film project shared this interview of Barry discussing his recovery process.
On August 12, after a life spent climbing in the world's toughest alpine terrain, Barry Blanchard suffered the most serious accident of his life; when he slipped down a flight of concrete stairs, fractured his skull and incurred multiple brain bleeds. More than three months later, Blanchard is back to climbing and is on the road to recovery.
Blanchard's climbing, and resultant storytelling, are legendary. His works include the Boardman Tasker-winning memoir The Calling and numerous articles for Climbing, Rock and Ice, and Alpinist. A sequel to The Calling remains as yet incomplete, and his head injury and memory loss appeared to put it in limbo. 
The filmmakers Ivan Hughes and Andy Arts are working on a documentary about Blanchard's life and climbs. The film explores his youth as a cutting-edge alpinist, his sense of adventure and the unexpected directions one's mind may go when it lacks direction. "While Barry recovers from his fall, he has reflected on the path his life's journey has taken," Hughes told Climbing. "The film will look at some of the pivotal moments in Barry's life from the perspective of someone trying to reconcile some of his successes and failures. We're taking an experimental film approach to the documentary… which will coalesce around the foundational principles of Barry's life: family, love, adventure, and altruism." The documentary, which Hughes and Arts began filming before Blanchard's accident, does not yet have a release date.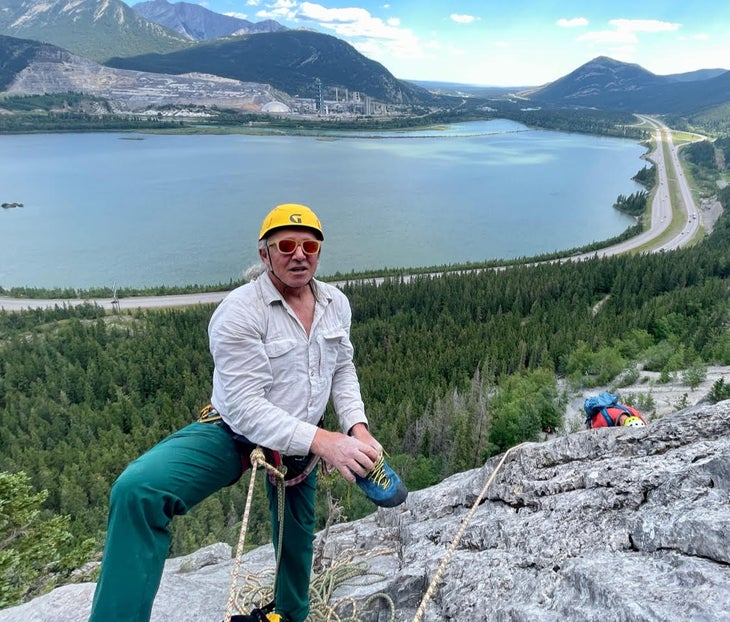 Climbing caught up with Blanchard to learn more about his accident, recovery process, and what he is looking forward to this winter. 
[This interview has been edited for clarity and length.—Ed.]
*
Climbing: What do you remember about the accident?
Blanchard: Sorry to say, not a damn thing. I have no memory at all from three hours before my tumble to eight days later. Probably a good thing as I looked pretty gruesome for the first week: unconscious for a couple of days with blood and cerebrospinal fluid leaking out of my left ear, both eyes swollen shut, and two basal skull fractures. My daughters and family were worried about me.
What has your recovery been like?
I started recognizing people and recalling names after the first week and started getting up to pee and shuffle around my room and hospital ward. I hadn't been eating much and my appetite came back in the second week. Lots of trying to retrieve words and struggling to recognize many written words and having to read letters to regain words. All that has come back slowly over the last couple of months and I am working with a speech pathologist and occupational therapist to get back to driving and the appropriate levels of work.
Interestingly, the first name I identified was my mother's over the phone. Humorously I didn't recognize my partner, Nicole, on one of my early days, and when she got snuggly with me I freaked out that she was a strange woman/nurse hitting on me. I got alarmed and said, "No! We can't do this. I have a girlfriend back in Canmore." I avoided eye contact until the next day when I finally recognized her and beamed, "Oh! You are Nicole!" 
Small recoveries happened slowly, day by day.
My biggest challenge at present is a loss of hearing in my left ear, and my balance still isn't where it needs to be. I'm working with a physical therapist and a physician. I've had five cat scans. I've been walking for a couple of months and just started going uphill and down this last week. I've also been going to the climbing gym for a couple of weeks and working on shattering the 5.9 glass ceiling. I have to be on belay all the time, so says my doctor. 
Where are you, physically and mentally, compared to before the accident?
I haven't gotten any stronger, that's for sure. Exercise during these days of recovery are mostly horizontal walking, climbing on auto-belays, and some top-roping at the climbing gym, small weight training in the gym, and sit-down exercise biking. I'm able to do much more than after the accident, especially when I was still in the hospital.
One of the scariest things, mentally, has been the threat of not being able to climb and lead in the future. That is a hard pill to swallow. Funny that the thought of not being able to ski is more acceptable to me. I like skiing and have had a lot of good times guiding and doing it, but it is not my calling or passion like climbing is. I was put on this earth to climb; skiing has been a convenient addition. My professional life is in flux right now, and that can get me thinking about what will come out the other end.
What does the upcoming winter look like for you?
I'm hoping to get back to driving and getting to do some ice climbing and skiing, both nordic and ski touring. I am also looking forward to getting back to doing some writing.
---
This article is free. Sign up with a Climbing membership, now just $2 a month for a limited time, and you get unlimited access to thousands of stories and articles by world-class authors on climbing.com plus a print subscription to Climbing and our annual coffee-table edition of Ascent. Please join the Climbing team today.