Bautista, Digiulian Shine in Youth Worlds
Heading out the door? Read this article on the new Outside+ app available now on iOS devices for members! Download the app.
Julian Bautista took a bronze medal in his age group, and Sasha Digiulian finished just off the podium in fourth place at the World Youth Championships in Valence, France. The annual lead and speed climbing competitions are for climbers in three age groups, from 14 to 19.
More than a dozen American climbers made the semifinals in their age groups. Among the other top performers were Michaela Kiersch, who fought her way into the finals in lead climbing; Dana Riddle, who missed a bronze medal in speed by only two-hundredths of a second and finished 14th in lead climbing; Josh Levin, who finished sixth in speed and made the semifinals in lead; and Marissa Stephens, who placed eighth in speed.
More than 700 climbers from 39 countries competed in the World Youth Championships.
See full results at Ifsc-climbing.org.
Date of Event: August 27-30, 2009
Source:Ifsc-climbing.org
Male Juniors1. Jakob Schubert (AUT) 2. Gauthier Supper (FRA) 3. Eric Lopez Mateos (SPA) 16. Brian Anthenuisse (USA) 18. Michael Foley (USA) 21. Scott Cory (USA) 28. Matty Hong (USA) 31. Ben Hoberg (USA) 35. Marshal German (CAN) 41. Michael Weldon (CAN) 53. Sam Melnyk (CAN) 57. Patrick Valade (CAN) 58. José David Martinez Sevilla (MEX) 59. Hiram Hafid del Valle (MEX)
Male Youth A1. Adam Ondra (CZE) 2. Max Rudigier (AUT) 3. Julian Bautista (USA) 17. Alex Johnson (USA) 22. Santiago de Alba Flores (MEX) 27. Owen Graham (USA) 29. Eric Sethna (CAN) 41. Miles Adamson (CAN) 48. Eric Sanchez (USA) 56. Connor MacDonald (USA) 72. Evan Waugh (CAN)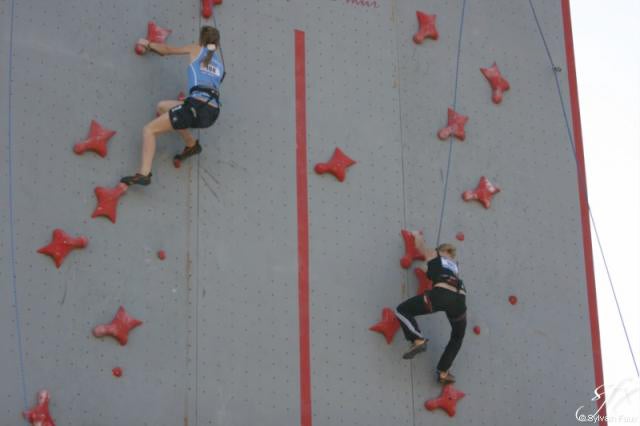 Male Youth B1. Sebastian Halenke (GER) 2. Domen Skofic (SLO) 3. Samuel Adolph (GER) 17. Josh Levin (USA) 30. Joseph Gifford (USA) 31. Dylan Barks (USA) 31. Ryder Hoy (CAN) 35. Noah Ridge (USA) 37. Robert Stewart-Patterson (CAN) 40. Marc Eveleigh (CAN) 50. Samuel Cortés (MEX) 59. Dexter Bateman (CAN)
Female Juniors1. Charlotte Durif (FRA) 2. Ana Ogrinc (SLO) 3. Amandine Loury (FRA) 18. Amanda Sutton (USA) 19. Kate Carr (USA) 28. Chelsea Mackaman-Lofland (USA) 31. Charlotte Hill (USA) 33. Tanya Karaman (CAN) 34. Sammy Bell (CAN) 39. Natasha Calder (CAN) 40. Jaylene Pratt (CAN)
Female Youth A1. Katherine Choong (SWI) 2. Hélène Janicot (FRA) 3. Julia Serrière (FRA) 4. Sasha Digiulian (USA) 16. Shannon Lochridge (USA) 28. Linnea Russel (USA) 29. Tyler Youngwerth (USA) 41. Megan Kelleway (CAN) 45. Alannah Yip (CAN) 46. Victoria Cartwright (USA) 48. Ayesha Khan (CAN) 60. Laura Crowe-Hutchon
Female Youth B1. Katharina Posch (AUT) 2. Laura Michelard (FRA) 3. Karoline Sinnhuber (AUT) 10. Michaela Kiersch (USA) 14. Dana Riddle (USA) 18. Cicada Jenerik (USA) 20. Elise Sethna (CAN) 21. Hanna Le (USA) 38. Delaney Miller (USA) 40. Kristine McKay (CAN) 42. Audrey Hsu (USA) 43. Alison Stewart-Patterson (CAN) 54. Audrey Roane (CAN)
MORE NEWS: