Berhault Killed in the Alps
Heading out the door? Read this article on the new Outside+ app available now on iOS devices for members! Download the app.
Patrick Berhault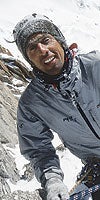 Patrick Berhault, one of the most visionary and accomplished climbers of recent decades, died in a fall from the Dom, the highest peak in Switzerland, three-quarters of the way through his unprecedented bid to climb all of the 4,000-meter peaks of the Alps non-stop by foot and ski. Around 11:30 a.m. yesterday, Berhault was traversing a steep face on the mountain unroped when he fell out of sight of his partner, Philippe Magnin, who descended alone to a bivouac hut and radioed for a helicopter. Poor weather prevented a search that afternoon, but Berhault's body was recovered by helicopter this morning. One of the premier French free climbers of the late 1970s and early 1980s, Berhault found his true home in the mountains. He climbed Everest and Shishapangma, as well as other high peaks around the world, but it was in the Alps that he best applied his talent and creativity. In 1991, he made a solo traverse of the Mont Blanc massif by some of its most difficult routes, including a new line on the Aiguille Rouge de Peuterey. With various partners, he did winter linkups of the Alps' hardest north faces. From August 2000 to February 2001, Berhault and friends traversed the entire length of the Alps on foot, from Slovenia to the French Meditteranean, climbing 22 big alpine walls along the way. Last winter, he and Magnin climbed eight major rock routes and eight major ice climbs on the enormous south face of Mont Blanc during a 22-day span, a feat that won them Climbing's Golden Piton award for alpinism. Had they reached the summit, the Dom would have been the 65th 4,000-meter peak in Berhault and Magnin's three-month traverse of the Alps. Berhault was 47.