Best Week of Climbing Ever?
Heading out the door? Read this article on the new Outside+ app available now on iOS devices for members! Download the app.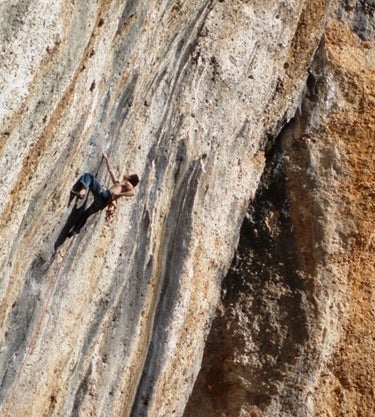 Patxi Usobiaga has concluded perhaps the most impressive week in sport-climbing history with his repeat of La Novena Enmienda (9a+/5.15a) at Santa Linya, Spain. Usobiaga climbed the first part of the route, graded 5.14c, in 2005. In early December this year, the World Cup champion needed only four tries over two days to dispatch the full 170-foot cave route, which was established in 2005 by Dani Andrada and graded 5.15a/b.
Usobiaga climbed La Novena Enmienda on Monday, December 3. On Friday, November 30, Usobiaga onsighted three routes 5.13d or harder in a single day—5.13d, 5.14b, and "soft" 5.14a—at Montsant, Spain. The hardest of the three, Variante Monocroma, was the first ascent of an existing project.
Three days earlier, on Tuesday, November 27, Usobiaga climbed a 5.15a and 5.14c/d route in a single day at Siurana. He redpointed La Rambla (5.15a)and then two hours later did Estado Critico (5.14c/d) on his second go.
To sum up, that's two 5.15a routes, a 5.14c/d, and three 8b (5.13d) or harder onsights in one week, plus assorted warm-ups and cool-downs. (He also had climbed a 5.14c and a 5.14d the previous week.) Obviously, the 27-year-old was quite happy to get outside after wrapping up the 2007 World Cup indoor competition title in Slovenia on November 18.
However, Usobiaga did not get the second ascent of Andrada's 5.15 La Novena Enmienda. That plum was picked by Chris Sharma, who reportedly climbed the Santa Linya link-up on November 30.
Date of Ascent: December 3, 2007
Sources:Patxiusobiaga.com, 8a.nu