Big Ascent in Antarctica's Sentinel Range
Heading out the door? Read this article on the new Outside+ app available now on iOS devices for members! Download the app.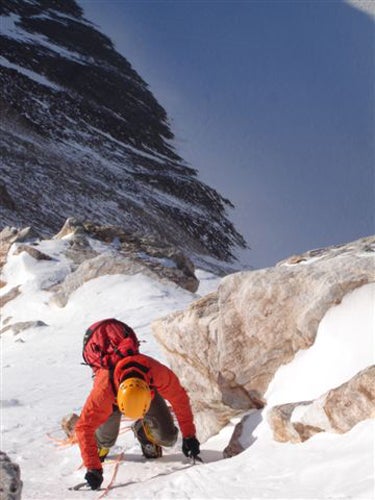 For the second time this season, an international team has claimed the first ascent of the highest unclimbed peak in Antarctica's Sentinel Range. Australian Damien Gildea and Alaskan Jed Brown climbed a nearly 5,000-vertical-foot mixed line to the summit of 13,594-foot Mt. Anderson, about 30 miles north of Mt. Vinson. The two found sustained but uncomplicated climbing, mostly on snow or low-angle water ice broken by short rock bands, and they reached the top at 4 a.m. after 13 hours of climbing.
"The steepest climbing on the route was the last few meters to the summit, just a body-length or two of near vertical rock on huge, positive holds," said Gildea, who called the climb the best he has done in eight Antarctic expeditions. "[It was] great to do the first ascent of a big mountain without doing the easiest route."
As Gildea and Brown descended, the other two members of the expedition, Chileans Maria Paz Ibarra and Camilo Rada, climbed the peak by the broad couloir to the left of the first-ascent route.
One month before this climb, Mt. Anderson was still the second-highest unclimbed peak in the range, but on December 9 Brown soloed the 6,500-foot West Face of Mt. Rutford, a 14,688-foot peak in the Craddock Massif, south of Mt. Vinson, followed the next day by the two Chileans. See climbing.com/news/hotflashes/antarcticfas/ for details.
The line of the Brown-Gildea route on the 5,000-foot West Face of Mt. Anderson, northern Sentinel Range, Antarctica.Photo courtesy of Damien Gildea.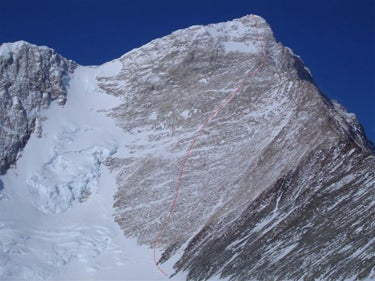 After their climbs in the Craddock group, the team flew north to the Embree Glacier, where they did the first ascent of Mt. Press and a new route (the Northeast Ridge) on Mt. Bentley in late December, then skied to the base of Mt. Anderson for their climb on that peak.
Date of Ascent (Mt. Anderson): January 8-9, 2007
Source: Damien Gildea, Omega Foundation