Heading out the door? Read this article on the new Outside+ app available now on iOS devices for members! Download the app.
Hiroyoshi Manome leads the first pitch of a new Grade VIII on Ben Nevis.Photo courtesy of www.davemacleod.blogspot.com.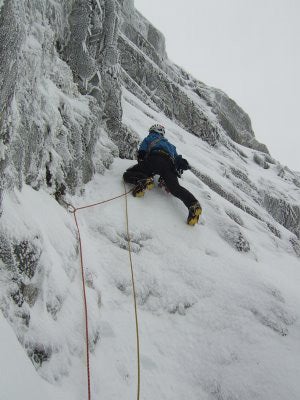 Ben Nevis, the capital of Scottish winter climbing, witnessed an explosion of high-end activity late last week, on the final day of the British Mountaineering Council's International Winter Meet. Climbers from 23 countries had come to check out Scotland's famed mixed climbing, and on Thursday, after a week of mostly poor climbing, conditions and talent finally converged.
Three new Grade VIII routes were established on the Ben in a single day, and a number of Grade VII and VIII routes saw rare repeats. The Scottish grades for overall difficulty extend to XI, but the hardest routes yet to be onsighted are IX, so the new climbs pushed the top of the scale for ground-up ascents.
Ian Parnell and Canadian Sean Isaac climbed a new route called Curly's Arête (VIII, 8) on the Sioux Wall of the Ben; the climb was named for Karen "Curly" McNeill, who died last year on Mt. Foraker with Sue Nott. Viv Scott climbed his hardest route yet with Domagoj Bojko of Croatia; Scott led the crux pitch of the new line Salva Mea (VIII, 8). Dave MacLeod climbed a new line above Good Groove with two Japanese partners, Hiroyoshi Manome and Katsutaka Yokoyama. MacLeod wasn't sure which of the available lines he was going to take and neglected to inform his partners that they had climbed a new route until they were on top. Manome, who celebrated his birthday with the still-to-be-named climb, asked his Scottish host, "Grade VII? Second ascent?" To which MacLeod replied, "No, this was a new route and definitely not VII! More like VIII, 8!" "Ahhh, great birthday present," Mano replied.
Freddie Wilkinson climbing the crux of Sioux Wall (VIII, 8) on Ben Nevis.Photo courtesy of www.thebmc.co.uk.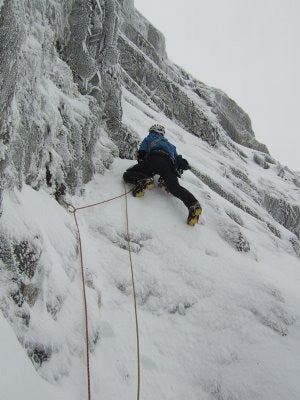 Elsewhere on the Ben, the hard lines Darth Vader (VII, 8) and Cornercopia (VII, 9) saw repeats, and American Freddie Wilkinson and Rok Zalokar of Slovenia made the third ascent of Sioux Wall (VIII, 8). Earlier in the week, Wilkinson and John Varco had made the fourth ascent of another Ben Nevis testpiece, Babylon (VII, 8), hard on the heels of Ian Parnell and Kristoffer Szilas of Denmark, who nabbed the third ascent.
See "Rime and Punishment" for in-depth reports from the International Winter Meet in Scotland.
Date of Ascents: March 1, 2007
Sources:www.thebmc.co.uk, www.davemacleod.blogspot.com, Dave MacLeod, Freddie Wilkinson, Sean Isaac.