Big-mountain Vets Debate the Future of the Himalaya
Heading out the door? Read this article on the new Outside+ app available now on iOS devices for members! Download the app.
The weather was unseasonably cold and icy in Seattle as The Mountaineers climbing club on January 11 convened an expert panel accustomed to far worse conditions at much higher altitudes. Senior among the group was moderator Dr. Tom Hornbein, whose 1963 traverse of Mount Everest took place in an age when a party — if it made the summit — was sure to stand there alone. To lend perspective — but certainly not endorse — today's commercialized era of crowds, fixed lines, and satellite phones were local guides Dan Mazur, Eric Simonson, and Ed Viesturs (the latter having largely forsaken guiding for collecting 8,000-ers on his own).In particular, Mazur's role last year in rescuing Australian climber Lincoln Hall, controversially left for dead by his own party above 28,000 feet, has led to much discussion about ethics in the Death Zone. That incident came soon after British soloist David Sharp perished as 40-odd climbers passed by his location on the fixed lines, none of them (who saw the fallen man) interrupting their summit bids to attempt a rescue. Both scenarios figured prominently in remarks by the panelists, who also included climber-journalists Ed Douglas (who covered the Sharp incident last fall for Outside magazine and is the author of Chomolungma Sings the Blues) and Michael Kennedy (former publisher and editor of Climbing), and University of Washington zoology professor Ray Huey, a non-mountaineer who has done extensive statistical analysis on Everest fatality rates.
In a full room of more than 300 Northwest climbers, most raised their hands when asked if they'd watched the recent Discovery Channel reality TV series "Everest: Beyond the Limit," which followed a party whose members passed by the dying Sharp. More casual television viewers might think Everest is unreasonably deadly, particularly since the 2006 death toll, generally estimated at 11, is second to the Into Thin Air storm year of 1996.
This was an impression Huey quickly sought to dispel. "A lot of what's presented in the media is very far wrong," he said. "The death rate has actually been declining since the early '80s." Presenting graphs based on data reported by the Everest historian Elizabeth Hawley to the American Alpine Club, Huey debunked notions that the annual death rate verges on 10 percent (considering only those climbers who summit). Taking the number of all people attempting the mountain (clients, guides, Sherpas, and self-supported parties), he gets an aggregate figure of less than one percent for the years 1963-92. Huey explained that there are now fewer fatalities from falls, chiefly because of fixed lines, which have also raised the individual summit rate in the last six years to 44 and 36 percent on the south (Nepalese) and north (Chinese) sides, respectively.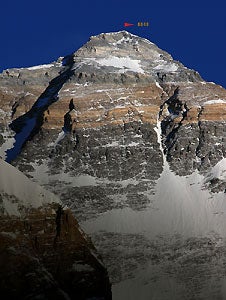 Of course, the number of guided climbers has risen greatly since China and (especially) Nepal upped permit sales in the mid-1990s, according to Simonson, who expects to be back on the north side this season with his firm, International Mountain Guides. With more than 2,000 summitting Everest since its first ascent, in 1953, he concedes, "Some people here see it as a travesty." Mazur, who runs the SummitClimb guiding company, chimed in: "I have mixed feelings about that. What really used to be an elite sport has become a lot more accessible."
Expanding the sport has also meant an expanded — and sometimes unwelcome — sense of responsibility for experienced guides who have their own clients to shepherd up the hill. "What happens when somebody krumps up high on the mountain?" Hornbein asked in the evening's prefatory remarks. Implicit in his question was that it's easier to set aside your summit dreams, and possibly jeopardize your own safety, when that somebody is a friend or ropemate. He illustrated his point with a short video interview with Charlie Houston discussing the 1953 American expedition on K2. "We've been very roundly criticized for risking the lives of five people to save one," says Houston of the attempt to lower illness-stricken Art Gilkey, leading to a near disaster averted only by Pete Schoening's famous belay.
Today, friendship and team camaraderie are increasingly overshadowed by financial considerations, according to Douglas: "I think when you introduce a large amount of money, the dynamic really does shift." Speaking of David Sharp's essentially one-man venture, he continued, "He decided to do it very cheaply," paying only about $6,500 to a Katmandu outfitter that was more travel agency than guide service. That's little more than a tenth of what a first-class operation might charge. Which, for Simonson, shifts the potential rescue burden to professionals, like Mazur, who happen to be nearby and who are in effect taxed for their altruism.
Guides on the panel pointed to what's becoming a two-tiered economic system on Everest and, by extension, in the rest of the Himalayas: Clients with deeper pockets can afford better insurance (i.e., someone like Simonson or Mazur leading their teams), while the bargain hunters cross their fingers as they scan the Internet for good deals to get them to basecamp, especially on the Chinese north side, where the permits go for as little as $4,000—compared to $10,000 in Nepal. Douglas commented, "It's a bit worrying if it all comes down to how good you are on Google."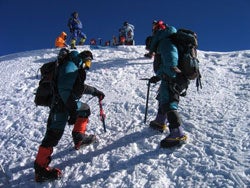 Douglas further observed that China might decrease permit activity in 2007 as it prepares to bring the Olympic flame to Everest's summit (!) the following year. Which only creates more pressure on the impoverished south side, where, Simonson noted, "The Nepalese seem pretty happy to keep cashing the checks." How do those dollar disparities drive the risk shift between clients and free agents? "I think you have an ethical obligation to your team members," said Simonson, "particularly if they're paying customers."
Attempting to rouse more pointed debate, Kennedy suggested, "I wonder if we shouldn't have no-rescue zones." That would be the extreme, libertarian response to Simonson's "buyer beware" in a market that should only properly be selling, in Viesturs' phrase, "a chance to try," not the right to reach the summit.
Still, no one on the panel seemed able to articulate where one's moral obligation extends, or ends, to someone not of your party, nationality, or invoice. As he plans his own north side expeditions this spring, Mazur told me, he's been briefing potential clients on how an outside rescue could impact their Everest bid. He says they now inquire, "'Is that going to run my chance for the summit?' No one asked me that before."
Viesturs also sees the same pressures of sea level creeping upward into the Himalaya. On the panel, he said, "The crowding can be an issue. You see up on the mountain what's happening in the city — this race for space. You get this into this frenzy with people rushing up as fast as they can," competing for campsites and position on the fixed lines. But, of course, Viesturs already has his fourteen 8,000-ers. And he skipped the 2006 Himalayan season to write his memoirs (No Shortcuts to the Top, with David Roberts), do corporate speaking gigs, and run the New York City Marathon. Last fall he was considering guiding the north side of Everest for the first time in more than a decade. Instead, this spring he'll be headed to Baffin Island with polar specialist Will Steger, billionaire Richard Branson, and a TV crew to investigate the effects of global warming.
I ask Viesturs if he won't miss the annual ritual of gearing up for Everest or another big Himalayan expedition this year. His answer speaks volumes about the future of climbing, risk, and responsibility in the Himalayas. Of Baffin Island, he says, "I'm looking forward to the solitude."