Big New Ice Route in Patagonia
Heading out the door? Read this article on the new Outside+ app available now on iOS devices for members! Download the app.
The new Spanish line on Cerro Adela in Patagonia. The line of their attempt and descent route on Cerro Torre is also marked. Courtesy of www.barrabes.com.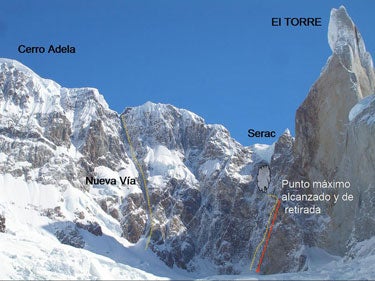 A Spanish quartet, driven off Cerro Torre by falling ice, switched gears and quickly climbed a 1,000-meter new route on a neighboring peak. Dani Ascaso, Álvaro Novellón, Santi Padrós, and Óscar Pérez made the first ascent of a steep couloir on the East Face of Cerro Adela in late-winter conditions.
The four men had hoped to repeat the ice link-up on Cerro Torre established by Americans Kelly Cordes and Colin Haley last season, starting up the Marsigny-Parkin route on the south side of the granite spire. But partway up the Marsigny-Parkin, the Spanish narrowly escaped being clobbered by two avalanches from a serac high above them and decided to retreat.
Steep ice and snow in the upper third of the route. Courtesy of www.barrabes.com.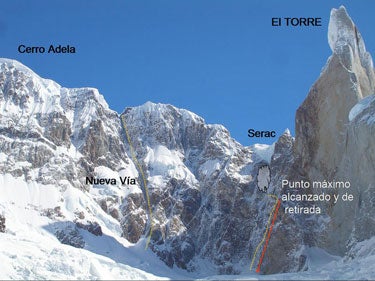 With the weather still good, they opted to attempt the obvious gully line on nearby Cerro Adela, not knowing if it had been climbed or not. After simul-climbing much of the lower couloir, the two rope teams took different lines for the crux final passage: one climbed three pitches directly up the couloir via difficult ice and mixed ground (up to M5+ and 95° ice); the other climbed a branch to the left, with ice up to 95° and moderately difficult rock climbing. After 15 hours of nonstop climbing, all four were on the main summit of Cerro Adela (2,938m). They descended to the south, spending the night in a small snow hole before returning to the valley the next day.
According to Rolando Garibotti, the Spanish line was previously unclimbed; two climbs have been completed farther left on Cerro Adela's East Face.
Dani Ascaso leading one of the final pitches of the direct line on Cerro Adela. Courtesy of www.barrabes.com.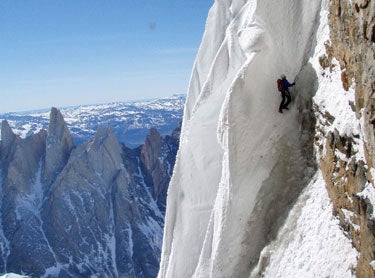 Last summer, Novellón and Pérez made the third ascent of Latok III in Pakistan, climbing the peak in a seven-day round trip via the Southwest Ridge.
Date of Ascent: October 10, 2007
Sources:Barrabes.com, Rolando Garibotti, American Alpine Journal