Big New Route on Andromeda
Heading out the door? Read this article on the new Outside+ app available now on iOS devices for members! Download the app.
Raphael Slawinski leading mixed ground on DTCB. Photo by Scott Semple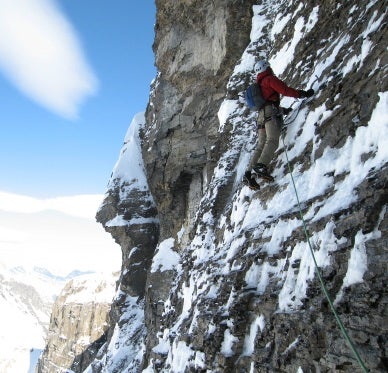 Scott Semple and Raphael Slawinski have climbed a difficult new route on the northeast face of 11,319-foot Mt. Andromeda in the Canadian Rockies, left of the classic Andromeda Strain. The route takes a direct line up a curving, right-facing corner system with eight pitches of sustained ice runnels and drytooling, capped by an exit through a large cornice. The two climbed the 700-meter route on May 15 in a 17-hour round trip from their car. DTCB (The Doctor, The Tourist, His Crampon and Their Banana) was given the modern grade of V M7, in much the same understated spirit that desperate Canadian Rockies routes have long been graded 5.9 A2.
Raphael Slawinski leading mixed ground on DTCB. Photo by Scott Semple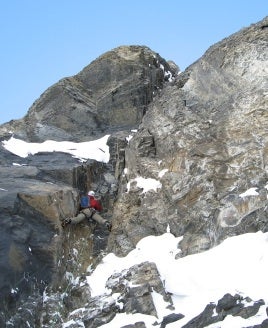 According to Semple, Slawinski has said the neighboring Andromeda Strain (V 5.9 A2 WI4), which he has done twice, was "child's play" compared with their new line. Slawinski commented in an email that the new route was "one of the better things I have done for quite some time. I definitely did not expect to find a route of this quality when we headed up—I was fully prepared for the usual Rockies snowed-up choss." Other mixed lines on the peak were exceptionally iced up at the time they climbed DTCB, and, Slawinski said, "It will be interesting to see how often it comes in (whatever 'in' might mean). I suspect it is usually there in one form or another."Comment on this story
Mt. Andromeda's northeast face, with DTCB marked in red and the route M31 (IV M4, Babanov-Slawinski, 2005) marked in yellow. Andromeda Strain takes the prominent gash between the two lines.Photo courtesy of Raphael Slawinski