Blind Date Leads to New Route on Kyrgyz Peak
Heading out the door? Read this article on the new Outside+ app available now on iOS devices for members! Download the app.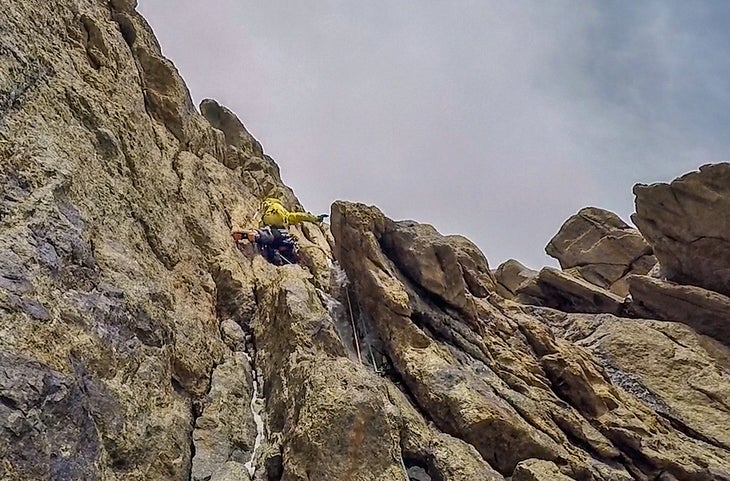 October 19, 2015 – In mid-August, Benjamin Erdmann and Samuel Johnson climbed the east side of Panfilovski Division East (ca. 5,300 meters) in the Western Kokshaal-Too mountains, along the border between Kyrgyzstan and China. The two Alaskans named the route Flight of the Zephyr (600m, AI4 R M7) in honor of their injured Tasmanian comrade Kim Zephyr Ladiges, who was unable to join the expedition as planned.
Johnson, 36, had climbed in the Western Kokshaal-Too once before, in 2012, when he and Ryan Johnson (unrelated) attempted the much-tried southeast face of 5,842-meter Kyzyl Asker, reaching 5,300 meters before a storm and avalanches forced them into a series of harrowing nighttime rappels. With the coveted ice line still uncompleted three years later, Johnson dreamed of returning. This year's expedition was a blind date: Johnson had never met Erdmann, 27, when they agreed to attempt the peak, and after planning the trip by email and phone calls they only met in person during the flight to Asia.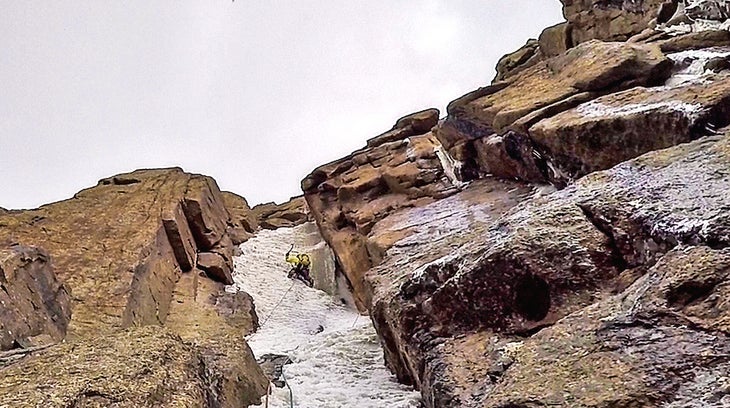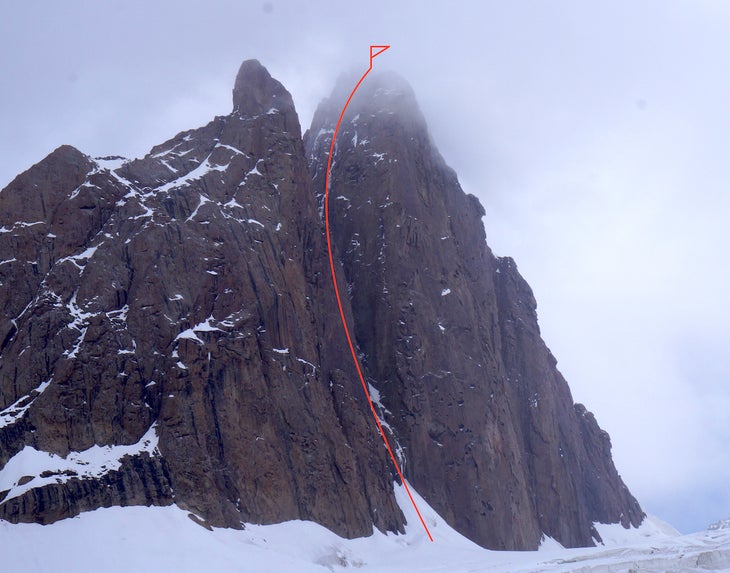 After nine days of carrying loads up the Komorova Glacier, the two found themselves in position below the 1,300-meter face on Kyzyl Asker. But frequent storms curtailed their enthusiasm by sending big avalanches down the couloir and corner line they hoped to climb. Each time they received a good forecast and packed for an attempt, a sudden snowstorm would shut them down.
"After one of these occasions, with our packs ready to send and minds going stir crazy, we decided to use the marginal window (read, snowstorm) to attempt another line we had seen from a distance," Johnson said in an email. Panfilovski Division's eastern peak rose about 600 meters above their base camp. "Navigating tentatively through the snowstorm toward the base at 4:30 in the morning, we laughed at ourselves for having the hubris to even leave the tent."
But the weather began to clear as they crossed the bergschrund, and the two made quick progress up the lower route. "The upper half of the route showcased iconic mixed terrain, requiring all the tricks in the book: a thinly plastered corner…stemming on small rock features [with] picks sketchily held in eggshell ice…an ice-choked offwidth…a solid horizontal layback." After 12 pitches they were on the summit, and they were back in camp 14 hours after leaving.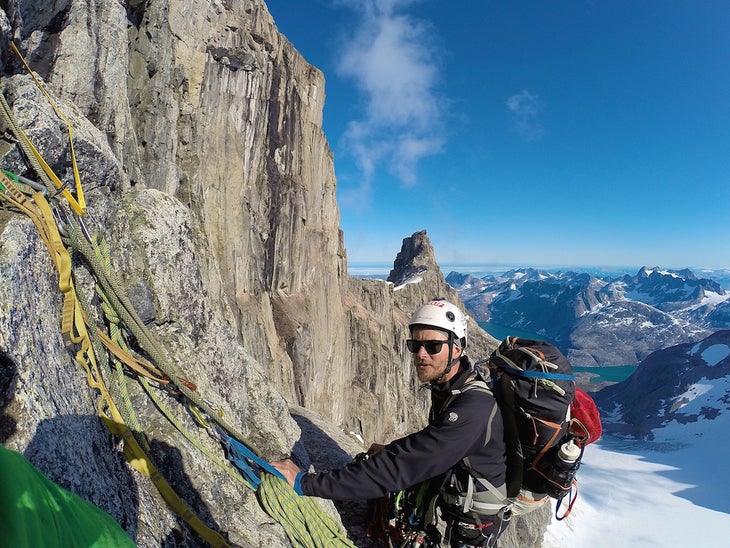 Johnson said they found no evidence of a prior ascent of the peak, which sits about half a mile away and 100 meters shorter than Panfilovski Division's main summit, which also may never have been climbed. A British team climbed the south face in 2004 but did not tag the summit.
Although the weather forecasts remained poor, Erdmann and Johnson decided to attempt Kyzyl Asker before they ran out of food and strength. On August 29 they passed the 2012 high point in seven hours and continued for another 200 meters, trying to take shelter during snow showers and climb only when the snow stopped falling. At 5,500 meters, about 1,000 feet below the top, they pulled the plug and retreated in terrible conditions. Only one team has reached higher on this still-unclimbed line. "I am in love with Kyzyl Asker, but it is an abusive relationship," Johnson said. "I keep coming back, and Kyzyl keeps dishing out the punishment."
After losing much of their food in a crevasse and waiting for the broken-down vehicle that was scheduled to pick them up but kept being delayed, the two endured a hungry, six-day wait for a ride out of the mountains. "Ben went from looking like a bodybuilder to looking like a skinny French sport climber," Johnson said. "Finally, our transport arrived with four UK climbers inside. It turned out that they had heard about our plight and brought us an enormous cake."