Tinder Doesn't Have a 'Climbers' Filter, but This New Dating App Does
Photo: Filippo Bacci/Getty Images
Heading out the door? Read this article on the new Outside+ app available now on iOS devices for members! Download the app.

Attention single climbers: The Boulder dating app has been designed just for you! Boulder is similar to Tinder or Hinge; users match with each other and have the option to chat. But there is a twist. Profile pages are climber-focused: users select their preferred climbing styles, climbing level, and must provide at least two photos of them climbing. Profiles also display non-climbing related information, like a user's age, height, location, political beliefs, and education level. 
Wisam Alhamad, Boulder's founder, got the idea while observing other climbers at the gym. He sensed a desire among climbers to flirt with each other, but recognized the gym was not necessarily the best place for it.  
"I saw this happen over and over, people in the community kind of flirting but not really going anywhere because you know, they're at the gym and it's very limited in terms of what you can say and how you can approach someone," said Alhamad.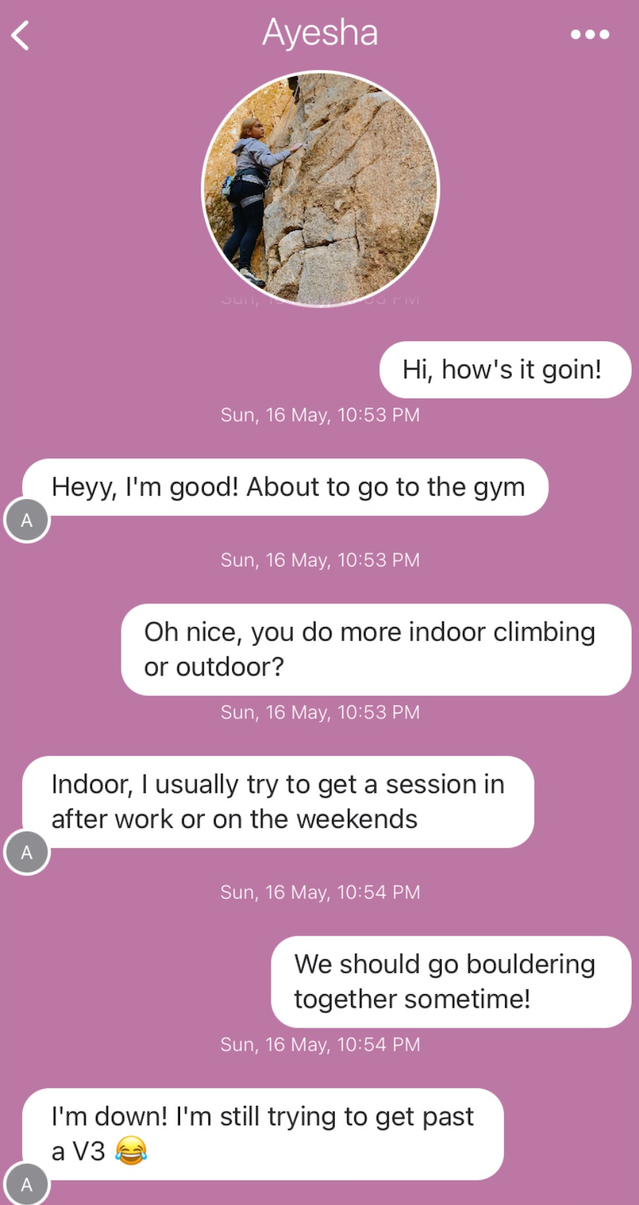 Alhamad had only been climbing for three months by then, but he already noticed that the community was unique. With a counter-culture upbringing and an emphasis on alternative lifestyles, he imagined climbers would gel better with themselves than with the rest of the dating pool. 
 Twenty-three-year-old Jesse Han, of Boston, appreciates that Boulder ensures every user is a climber. "It's just nice having to not scroll through all the images to see if they're a climber or not," he said.
For Han, it makes sense that climbers want to date other climbers, and it is not just because of a shared passion. He has tried to date non-climbers in the past, and, after mulling over weekend plans, had to choose between climbing and his romantic life. With work during the week and weekends free to climb or date, it is hard to have time for both when your partner does not climb. While he recognizes some couples can make it work, he prefers the simplicity of dating a climber. 
"It just comes to a point where you realize, oh, [dating is] just much more difficult with a non-climber," Han said. "You kind of have to make this choice between your love life and the rest of your life. And I don't like that."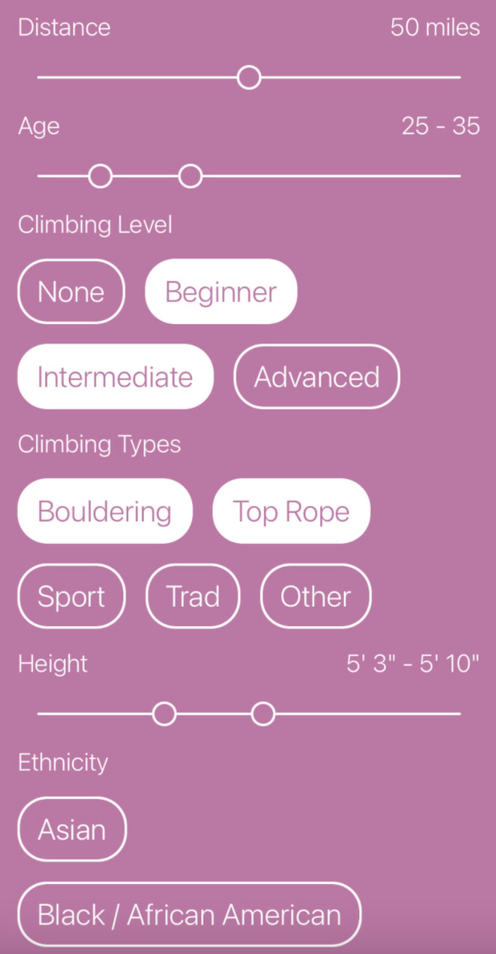 Alhamad committed to making his idea a reality about two months later, after going on his first date with his girlfriend. He persuaded her to go climbing. 
"We had such a good time that I decided I'm going to commit to this," said Alhamad. "I want to make this dating app for climbers, because I want other people to have this experience that we did." 
 For Alhamad, an iOS developer by trade, building the app has been a one-man passion project. Boulder is not the first app he has built on the side, but it already is the most successful one. There are currently 4,498 total users, and every day Boulder grows by about 20 to 50 users globally. Alhamad believes this growth is organic; he has not done any promotions in the last three weeks. There are user hotspots all over the world, from Sydney to London to Colorado. In the U.S., Denver and Boulder are the most popular areas, followed by Los Angeles and New York. While Alhamad initially feared there would be much more men than women on the app, the ratio has settled at around three male users to one female. 
 Since releasing the app this past June, the biggest feedback Alhamad has received is to create an Android app, which he is working on now, and a friends version of the app so climbers can meet compatible partners without dating them. Alhamad is hesitant about implementing this, though. 
 "I fear that's diluting the original purpose of the app," Alhamad explained. "That's what got people excited, right, was that it was a dating climbing app, not the fact that it is like a climbing friends app." 
 Down the road Alhamad might consider expanding to a platonic climbing partner option, but his priority right now is the Android version and just watching it grow. Overall, he is happy with the users' response.  
 "I couldn't ask for anything more in terms of the quality of accounts I've seen," said Alhamad. Aside from a rogue Adam Ondra impersonator, Alhamad has had to do very little user policing.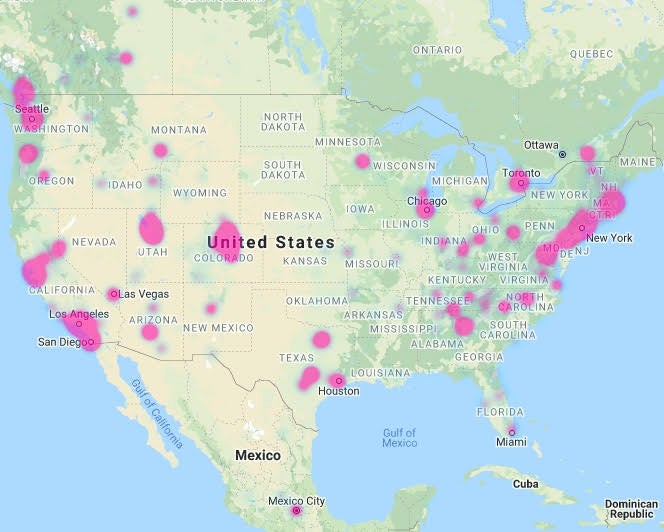 Outside of the hot spot areas, though, users are lacking. Han said he swiped through about twenty people before running out of profiles, and Jack Bushway, 22, also of Boston, observed the same problem. Han thought the location setting—a ten-mile radius around Boston—was limiting. Even Boulder's maximum range, of 100 miles, could be limiting for climbers who often regularly travel.
 "I mean look at Mountain Project," said Han. "People are posting in forums in Wyoming from Boston. Like hey, is there a partner that's looking to belay."
 With my location set at Glenwood Springs, Colorado, I have not personally had any shortage of profiles. True to users' feedback, as well, I have matched with people who are looking for a non-romantic climbing partner. It is easy to find people who prefer the same style of climbing, from top-rope to trad to bouldering. The only vague part of the app is the climbing level users can select, as it is out of beginner, intermediate, or advanced. It might be helpful if the climbing levels were more specific, such as leading 5.11 sport or 5.8 alpine trad. This, in turn, would make finding partners—romantic or otherwise—even easier.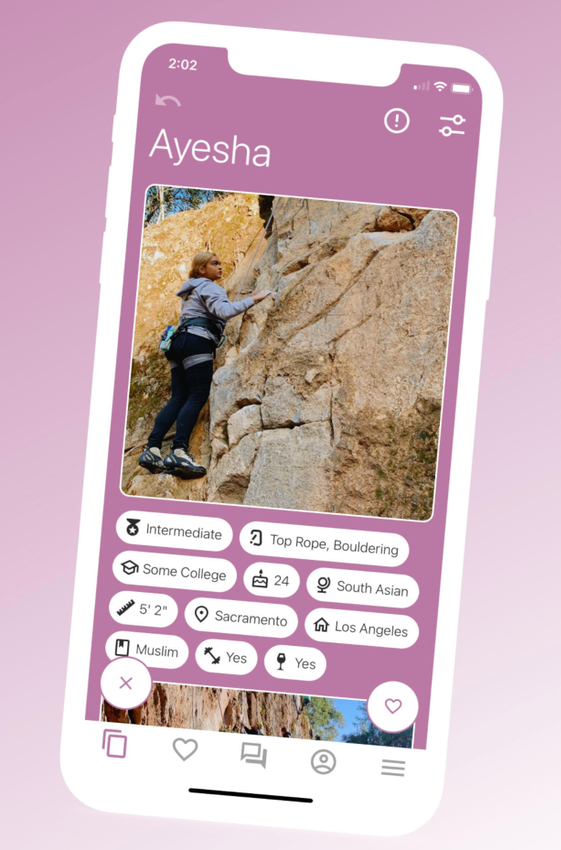 Han also thought the climbing level section was a bit odd.
 "It's almost like you don't want to put advanced, and you don't want to put beginner, so everyone is going to put intermediate," said Han. 
 Overall, though, I have found the profiles to be fun, enthusiastic, and almost completely climbing-focused. Users' answers to the app's questions such as "Best post workout meal?" and "Favorite climber and why?" are interesting and sometimes funny. And most agree that "there is no such thing as too much chalk." Dating apps may not be for everyone, but for climbers looking to meet other single climbers, this app could be a game changer. 
This article is free. Sign up with a Climbing membership, now just $2 a month for a limited time, and you get unlimited access to thousands of stories and articles by world-class authors on climbing.com plus a print subscription to Climbing and our annual coffee-table edition of Ascent.  Please join the Climbing team today.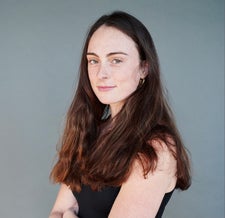 ---
Keely Dickes is a writer based in Glenwood Springs, CO. When she's not writing, she can be found working a project at Rifle, trail running in the mountains, or having an IPA with her friends.