Moab's Famous Big Bend Boulders Vandalized with Grease
Boulders in Big Bend, near Moab, were defaced with grease over the weekend. Cleanup efforts are underway. 
Heading out the door? Read this article on the new Outside+ app available now on iOS devices for members! Download the app.
Over the weekend, visitors to Moab's Big Bend bouldering area were shocked to discover a petroleum-based grease smeared on various roadside boulders. Three popular boulders—Black Box Boulder, Chaos Boulder, and Punisher Boulder—each of which holds various lines and link-ups, were affected.
Big Bend is a small sandstone bouldering area nine miles north of Moab, along Highway 128. With easy access and a wide range of grades, the area is highly trafficked. Cleaning efforts began on Saturday. Local climber Maddy Barney helped determine initial cleaning methods.
"I did some research, and a lot of sources said using harsh chemicals is the only way to really get car oil off," she wrote to Climbing. "With sandstone being so porous, I figured that would only make things worse." She settled on a towel and baking soda and water paste. "The first round of cleaning worked better than I thought it would, although there was still grime on the holds."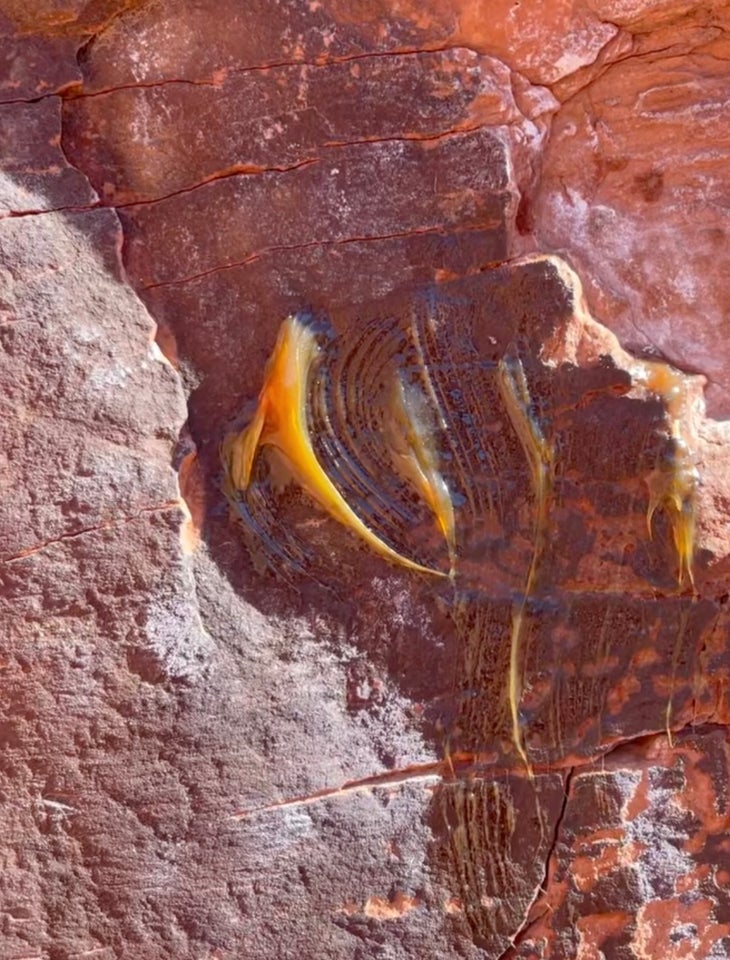 It's unclear if the grease will leave lasting effects. Friends of Indian Creek, a non profit organization that works with land managers to promote responsible climbing, has asked climbers to keep off the affected boulders until cleaning efforts are complete and more is known regarding how the chemicals will impact the rock. As of Wednesday, Friends of Indian Creek could not be reached for comment.
Given the boulder's proximity to the road and the Big Bend campground, anyone could have been the perpetrator, but there's some evidence that it was a climber.
Steph Davis, a Moab-based pro climber who has frequented the area over the years, was at the boulders on Saturday. "I was confused about why a line of low holds was greased on the Black Boulder, when all the standard problems go straight up," she told Climbing over email. She later found out that those particular holds were for Black Box Traverse, an eliminate problem she had never heard of. 
"So in order to specifically grease those holds only on that boulder," she wrote, "you would need to be aware of the moves (and existence) of this low traverse. For this reason, I'm assuming it was done by a climber, and by a climber who knows certain very specific problems and eliminates at Big Bend. … I can't imagine how a non-climber would choose to grease those particular holds."
Climbers sabotaging rock is nothing new. In the 1980s, clashes between traditionalists and a new wave of climbers mounted over development tactics and climbing ethics. In protest over hangdogging, Index's City Park locals greased holds, sometimes with dog feces. Also in the late 80s, Dave Pegg, who later founded Wolverine Publishing, infamously smeared chapstick on Yorkshire Ripper (5.13d) to sabotage Jean-Baptiste Tribout's efforts to poach the route. In 2005, someone smeared feces on Monkey Traverse (V4), on Flagstaff Mountain, above Boulder Colorado—although in this case, it's unclear whether it was a climber or hiker who, for whatever reason, disapproved of climbing, chalk, or both.
"What's super disappointing (along with everything else) is the use of a petroleum product," wrote Davis. "Someone who actually cares about rock or the environment could have gone with something like coconut oil—but I guess trying to understand this person's mentality is already pretty impossible."
This story will be updated as more info becomes available.