"So many egos, so many beards"—This Thriller's Killer Operates on an 8,000-meter Peak
Cliffhanger, The Eiger Sanction, The Ledge—climbing thrillers are nothing new. But what makes this novel different is that its author, Amy McCulloch, has actually climbed an 8,000-meter peak.
Photo: Marc Guitard / Getty Photos
Heading out the door? Read this article on the new Outside+ app available now on iOS devices for members! Download the app.
Cecily Wong isn't your typical 8,000-meter aspirant; she's a journalist, a struggling one, whose sole claim to fame comes from an article (delightfully entitled "Failure to Rise") chronicling her apparent inability to summit the few, small mountains she's attempted. Yet when her article goes viral, she comes to the attention of Charles McVeigh, arguably the strongest mountaineer of all time. Charles invites Cecily to witness his ascent of Manaslu, the world's eighth highest mountain and the final stage of his "Fourteen Clean" project, which involves climbing all the 8,000-meter peaks without bottled oxygen, in alpine style, in a single calendar year.
(Sound similar to Nims Purja's Project Possible? It should. Author Amy McCulloch climbed Manaslu as one of Purja's clients in 2019.)
It's a pivotal opportunity for Cecily: If Charles summits, she'll have an exclusive story and the career boost that comes with it. Yet there's a catch. Charles says that she can't interview him unless she first conquers her fears and summits the mountain. So Cecily buys herself a summit suit and—full of anxiety and self-doubt but hell-bent on getting the story—heads to Manaslu as a member of a commercially guided expedition. Her teammates include an American tech executive; a frequently drunk filmmaker trying to document Charles's exploits; and a climbing influencer, by far the most experienced member of their team, who's attempting the mountain without oxygen ("using oxygen would be like doing the Tour de France on an electric bike, you know?").
Of course, in true thriller fashion, Cecily's team hasn't even reached basecamp when a climber dies under very strange circumstances.
By the time more deaths convince Cecily that there's a murderer on the mountain, she's already high on its slopes, unable to escape. Because, as the killer himself eventually puts it, "Where better for a killer to hide, than somewhere already known as the death zone?"
*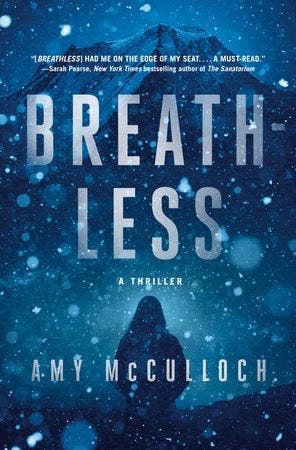 Like most thrillers—whose intensely curated and often convoluted plot lines tend to bear little resemblance to our real lives—Breathless stretches to and then over the edge of realism. For instance, the fact that Cecily's teammates refuse to recognize what Cecily senses from the beginning—that there's a killer among them—is hard to square with what we eventually learn about the killer's identity. 
Yet the fact that certain elements of the plot don't hold up to close scrutiny is (a) sort of beside the point (if you pick up a commercial thriller in search of capital-R realism you're doing it wrong), and (b) doesn't make Breathless any less fascinating (or fun) from a climber's perspective.
The fact that McCulloch has actually climbed Manaslu allows her to ground her zippy thriller in first-hand experience. McCulloch knows what it's like to be on a commercially guided ascent of an 8,000-meter peak. She knows what it's like to be a relative novice in that context—surrounded by guides and Sherpas and other climbers who've got far more experience in the mountains. She knows what it's like to be plopped down in a community of ambitious and sometimes disagreeable strangers in a setting that requires mutual trust. And she knows what it's like to feel, as one of the few women on the mountain, like you're "a target" for misogyny and unwanted sexual advances. And so, in between the deaths and cliffhangers through which the plot hurtles, McCulloch puts her firsthand knowledge on display—in the process winning our trust as readers and shedding an uncomfortable amount of light on some of mountaineering's less admirable aspects.
This article is free. Please support us with a membership and you'll receive Climbing in print, plus our annual special edition of Ascent and unlimited online access to thousands of ad-free stories.
Hardcore alpinists and mountaineers may find it galling, for instance, to see Cecily and her teammates learning basic ice climbing, rappelling, and ascender work at Manaslu's base camp—but McCulloch, aware of the hubristic core of the modern commercial guiding system, helps complicate our judgement by making Cecily hyper-aware of her own technical inexperience, weighed down by a crushing sense of imposter syndrome. This is something that McCulloch also experienced and which she thinks is quite common for women in the climbing world. "When you go into a shop [to buy a summit suit or 8,000-meter boots and the shop attendants] just assume that you're not shopping for yourself or that you won't actually be able to do what you're trying to do—it eats away at your confidence," she told Climbing in an interview. "And coming at mountaineering from a novice position, it's hard enough to be confident that you belong there."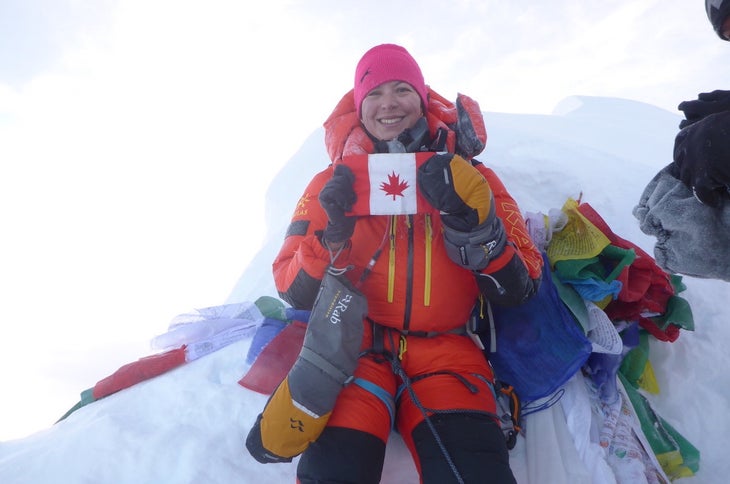 McCulloch and I spoke via Zoom in late March, just days before she left for Morocco to run a 251-kilometer ultramarathon in the Sahara Desert, and we talked at length about her fast-tracked climbing career, what 8,000-meter expedition life is like when you're one of the few women on the mountain, and the process of using personal experiences to craft a commercial thriller where every detail must serve the plot.
McCulloch has previously published eight books of children's and young-adult literature, including an international best seller. She also holds what she good-naturedly described to me as "the very dubious record of being the youngest Canadian woman to summit Manaslu." Breathless, her first adult novel, hits the shelves on May 3, 2022. The following interview has been edited for clarity and length.
*
Climbing: What are your roots in climbing? And did you know from the beginning that you'd be going to go to the Greater Ranges?
McCulloch: I'm relatively new. I was never particularly athletic growing up. I don't have a mountaineering background. I don't even have a hiking background. My family is not particularly outdoorsy. But I went through a seismic life change in 2016. I'd been in a long-term relationship for 10 years, and we got married, but a year later the marriage fell apart. Until then, I thought that I'd been on a set path, you know? I felt I knew where my life was headed. The day my husband left, I really found myself facing an unknown future. I didn't know what to do with myself. My instinct was to spend my time at home under my duvet, basically wallowing, but I said, "That's not what I should do. I should follow the Cheryl Strayed model and put myself in the way of beauty, in the path of beauty." So I decided to Google long-distance walks, and I found this walk-in Ireland called the Kerry Way, which is the longest of Ireland's Waymarked Trails. I flew out to Dublin the next day and took a train to Kerry and started walking. I just walked. It's about 250 kilometers, and you're moving from B&B to B&B, so it's a very cozy trip; but I was really amazed at how beautiful it was and amazed that I was able to process these big emotions just by walking, by being present in my body and being grounded in nature. 
So I got hooked on walking, I suppose. My next trip after that—again, on my own—was to Nepal, to do the Annapurna circuit. It's a classic trekking trail, good for solo travelers, and that was when I saw my first 8,000-meter peaks. The first one I saw was actually Manaslu—it's the first one you come across on the Annapurna circuit when you do it in the direction that I did—and I remember being blown away, but I could never have imagined climbing it. 
Later I went on a date with a man who had just come back from Kilimanjaro, and he invited me on his next trip to Morocco, to climb Mt. Toubkal (13,671 feet). We ended up summiting at sunrise on New Year's Day in 2018. And as I watched the sunrise over the Atlas Mountains and the Sahara Desert, I was really moved. I had this really magical experience. So, that was the beginning. I wanted to see what else I could do after that. I wanted to have that feeling again.
Climbing: What was the switch like—from walking to real climbing? 
McCulloch: Well, our guide [on Toubkal] was a man named John Gupta, who's a very accomplished British mountaineer. I approached him and said, "What would it take for someone like me who has basically no mountaineering experience, to get to a place where I could do Everest one day." And instead of laughing or saying that it was completely absurd, he ran me through it. He said, "Well, if you want to summit Everest, this is the plan: You go out and try yourself on bigger and bigger peaks. You see how well you handle expedition life. You go do some mountaineering in Scotland to get some technical experience. And if you enjoy all those things, and if you find that your body handles it well, and if you can get the money together, there really isn't any reason that you couldn't do Everest someday." That really shattered a lot of the illusions I had about mountaineering and the limitations I had placed on myself and my ability.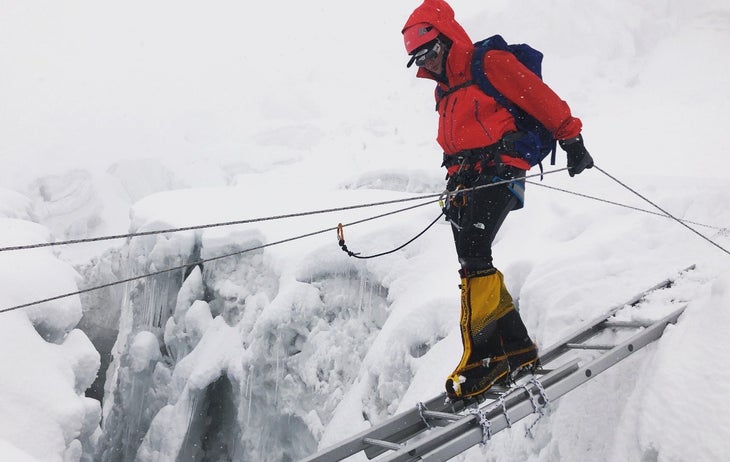 Climbing: So then you contacted Nims Purja?
McCulloch: I knew that if I was going to go to Everest, I wanted to go within the Nepali company, because I wanted to support the local economy. That's how I came across Nimsdai's company. He at that point hadn't done Project Possible and wasn't the global superstar that he is now. But he had a good reputation. I reached out to him to see what kind of steps I would need, and he said, "Well, we're doing an Aconcagua Expedition. It's a great trip to see how you do altitude and also see how you like expedition life. Because if you hate [Aconcagua], then you're not going to enjoy Everest." So I booked on to Aconcagua the following Christmas.
Climbing: Where you had some pretty rugged conditions, right?
McCulloch: Right. Aconcagua is not a difficult mountain from a technical point of view, but it's big, it's cold, it's windy, and all these things can add up to a pretty horrific mountaineering experience. We did that mountain in some of the worst conditions that Nims has ever seen. He said it was harder for him than some of the 8,000-meter peaks he'd done at that point because the conditions were so horrific. We were the only team to summit that day; it was pure Nims grit that got us up the mountain—that and the fact that most of us were training for bigger mountains, so we had big mountain gear. I had 8,000-meter boots and a summit suit. It might have been overkill on a different day on Aconcagua, but we had the right equipment for that day. Afterwards, when he invited me to join him on Manaslu during Project Possible, it felt like a chance to witness mountaineering history being made. But I had no expectation of being able to reach the summit. I went there purely for the experience. So, yeah, that's my history. I started in 2018, on New Year's Day, and summited Manaslu in September 2019. It was the fast track.
Climbing: Did you know that you'd be writing a book—and specifically an adult thriller—when you went to Manaslu?
McCulloch: No, when I started mountaineering, I knew that there would be a book in there somewhere. And because I come from a science fiction and fantasy background, I was at first toying around with fantasy and science fiction as a genre. I was thinking about a novel about, like, the first ascent Olympus Mons, on Mars, or something—swirling all these ideas around. It wasn't until I got to base camp at Manaslu that I realized it was a perfect setting for a thriller.
Climbing: Why's that?
McCulloch: Because of the isolation and the danger. You have the dangers of the mountain and the high-altitude environment, and then you also have a whole group of people—strangers essentially—coming together in a situation where they have to trust each other. High-altitude expeditions tend to attract extreme people, often people who've succeeded in business or in high levels of sport or the military, and you might not necessarily get along with everyone, but you have to trust them, especially if they're on your team. That inspired me to think about how if any single element went wrong, it could quickly turn into a terrifying situation.
Also, these guided rapid-ascent expeditions do make the mountains more accessible, but that accessibility changes who comes to the mountain and how prepared they are, which adds risks for the Sherpas and for other climbers. Added together, these constitute some really interesting questions for which I have no answers; but I was excited to explore them in fiction. Whenever you've got a lot of tension, you've got a good basis for a thriller.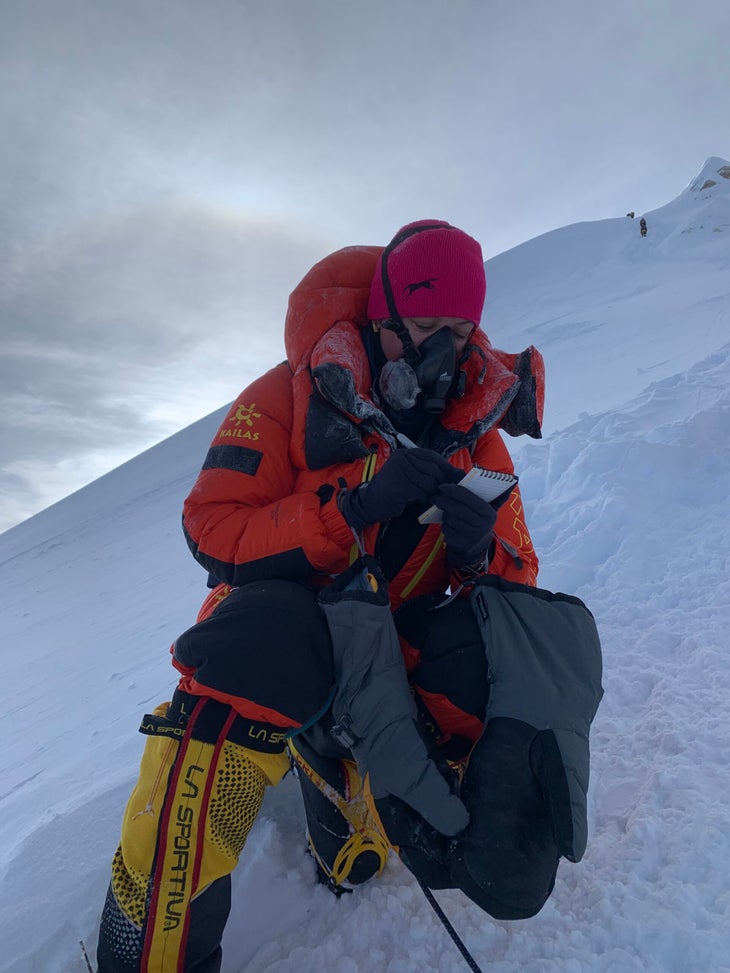 Climbing: So were you working on the book while at Manaslu?
McCulloch: I was journaling—mostly as a way of taking in my own personal experience. I wasn't thinking about it from a plot point of view. I do have this photo of me from about 100 meters below the summit when I took out my notebook and sat down in the snow and started writing. But I was in the moment. I just wanted to try to get into words what I was feeling and experiencing at the time. I didn't go there with a plot and with characters, knowing what I was going to do with the experience. When I was writing the novel, I had to turn those experiences into fiction, which meant taking myself out of them. The first draft was full of all the mundane stuff that happens in the mountains, which might be interesting from a mountaineering point of view but [if you include too much of it] it doesn't work in a pacey thriller.
Climbing: You mentioned that Base Camp life at Manaslu was hard for you. Can you go into that?
McCulloch: Well, I had a great experience compared to my main character. But I did find life at Base Camp difficult, not because of Nims and Mingma David, who were consummate pros and worked hard to make things fun, but because of some of the other people on the mountain. I'd read a lot of mountaineering books, watched a lot of movies and television shows, read blogs, and generally tried to absorb as much information as I could so that there wouldn't be any surprises, but I wasn't prepared to be singled out as a woman. Perhaps I should have been because that's been my experience as a woman in other environments. But I wasn't prepared to have people making sexual advances on me in a place where I couldn't escape—and with people who aren't used to hearing no. That was something I didn't realize I had to prepare for.
Climbing: Do you think that there's something about the 8,000-meter peaks that makes misogyny and toxic masculinity more prevalent there than elsewhere?
McCulloch: I now know it's a common thing up there. Almost every woman mountaineer I've spoken to has experienced it. That's the thing about expeditions: There's really no vetting process for who's on the mountain. If you have the money you're allowed to be there; that's just the way it is. I was on Aconcagua with a partner, which makes it a very different experience. But on Manaslu I was on my own, and there weren't many women on the mountain, and it made me stand out a bit, and I felt kind of like a target for that kind of behavior.
Climbing: I never really thought of that—it's like summer camp. You show up and don't know who you're there with.
McCulloch: Exactly. And there are huge egos clashing in many different ways on the mountain. For example, one of the other women on my team was Steffi Troguet, who's an extremely accomplished climber. She'd already done Nanga Parbat without oxygen and was trying Manaslu that way too. But as soon it became known to the men on the team—one of whom had only done Kilimanjaro, and most of whom had very little experience—as soon as it became known to them that Steffi was climbing without oxygen, they all suddenly decided that they didn't want to climb with oxygen either.
Climbing: That's replicated in the book.
McCulloch: Yeah. And Nims did exactly what Doug [the head guide in the Breathless] did: He absolutely shut them down. Steffie had proven herself already; she was a real mountaineer with big mountain experience; so she was cleared to attempt the peak without O2; the men weren't. It's a great example of the insidious misogyny I found on the mountain.
Climbing: Do you feel like climbers should be more prepared than most are when they show up at 8,000-meter peaks?
McCulloch: I was talking to Bonita Norris, who was at one point the youngest British woman to have climbed Everest. (She wrote a book called The Girl who Climbed Everest, which was published in the UK.) She told me that when she climbed Everest, she was the only woman on her team and also the only person who had done a previous 8,000-meter peak. And she was like, "As a woman coming to the mountain, coming to Everest, I wanted it to be as prepared as possible. I made sure I had done an 8,000-meter climb previously, that I'd been up there and knew how my body was going to react." But some of her teammates were like, "Well, I've got my 50,000 pounds and some bottled oxygen. I can make it up." And it felt like such arrogance to think that that's your right—that all you need to do is pay the money rather than having made the right preparation to safely climb the mountain.
Climbing: Last question: What is your favorite mountaineering book?
McCulloch: Oh, God. I don't know. But one of them is a novel by a woman named Michelle Paver. It's called Thin Air, and it takes place on a 1935 expedition to Kanchenjunga. She really captures that early expedition feel. You know, when they were stuffing their boots with straw to ward off frostbite and had no real idea what it meant to be hypoxic or to suffer from altitude sickness. She really captures the spirit of the period and slowly builds the characters toward mental breakdown as they get higher and higher on the mountain. In the end it has nothing to do with getting to the summit. It's all about the ghosts that chase you from your past into your present. 
*