Brette Harrington Recalls Life With "The Alpinist" and Daring Soloist Marc-André Leclerc
Climbing and life partner interviewed on eve of "The Alpinist" premiere recalls his process, extensive visualization, and the energy she called The Storm.
Heading out the door? Read this article on the new Outside+ app available now on iOS devices for members! Download the app.

"The Alpinist," which premiered Saturday night in Squamish, British Columbia, contains the most intense free soloing footage we have ever seen. The Canadian climber Marc-André Leclerc, ages 23 through 25 in the film, climbs the 1000-foot Grand Wall (5.11, AO) on Squamish Chief; does hard ice, and meshes mixed and gloveless hand-on-rock moves; and forges up gigantic, unthinkable mountain faces. It is also the tale of a relationship and great love, and in Brette Harrington of Tahoe, Nevada, an accomplished all-around climber and emergent alpinist, he had his ideal partner.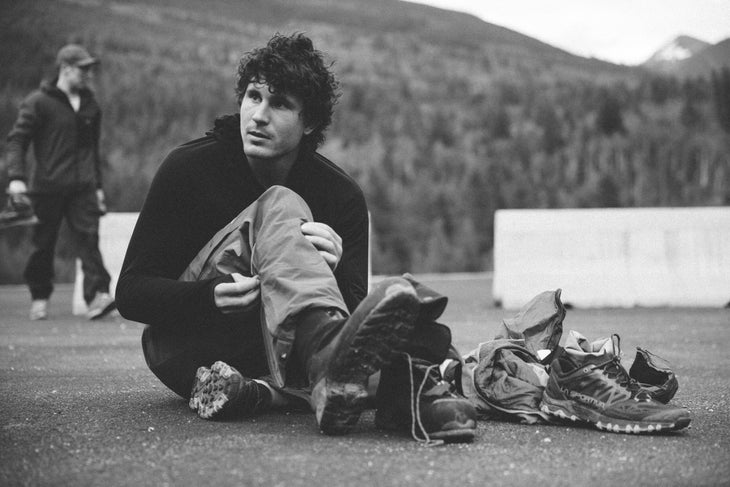 One of the great alpinists of a generation, already creating breakthroughs, Leclerc in the film free soloes the Emperor Face on Mount Robson, steep mixed routes (including Nightmare on Wolf Street) on the Stanley Headwall, the Northeast Buttress of Slesse in winter, and Torre Egger in Patagonia. He and Ryan Johnson were lost in Alaska in March 2018 on the descent from the North Face of Main Mendenhall Tower, the Juneau region. See this remembrance and account of their climbs.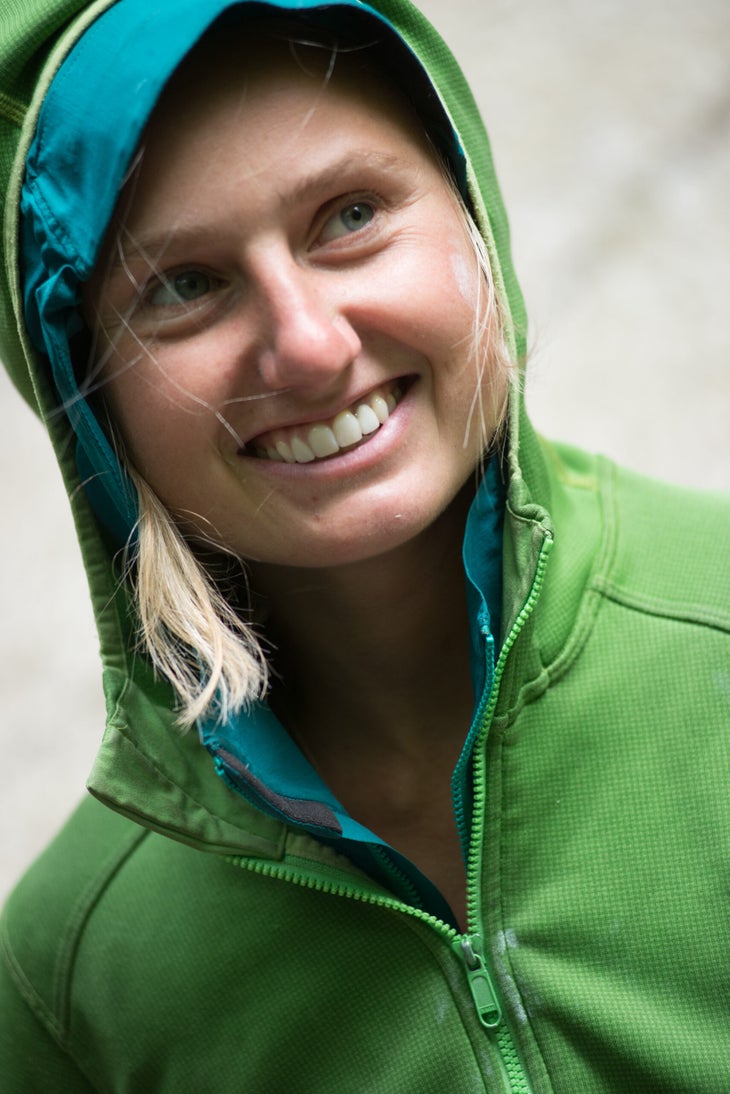 We spoke to Harrington, 29, as she traveled to the Squamish premiere, having crossed the border and undergone two Covid tests for entry to Canada. The showing on August 28 took place at Junction Park & O'Siyam Pavilion in Squamish, the same place where in 2018 a memorial was held for the rare and gifted character who was Leclerc.
Young Brette grew up as one of three skiing siblings—children of two skiers—on the Nevada side of Tahoe, and in fact has spent this summer climbing and bouldering there.
"I spent a year and a half in Canada and didn't get to see my family because of Covid," she says. "It was really fun exploring the boulders with friends from Yosemite and my brother."
Brette started skiing at age 2 and racing at 5 with the program at Heavenly Mountain Resort. When she traveled East for boarding school at the Holderness School, in the White Mountains of New Hampshire, she switched to competing in freestyle and slopestyle (aerials); according to The North Face website, she stopped and segued into climbing after sustaining repeat concussions and breaking her neck at age 20. She attended the University of British Columbia, with study abroad in Spain, and followed with two years in Squamish. Harrington met Leclerc in Squamish in 2012 through a climbing friend, and joined him in the stairwell—yes! one of the film's most humorous details—where he was living at the time, before they moved to a tent in the forest. Today she lives in Golden, British Columbia, and has taken her skiing to the backcountry and first descents.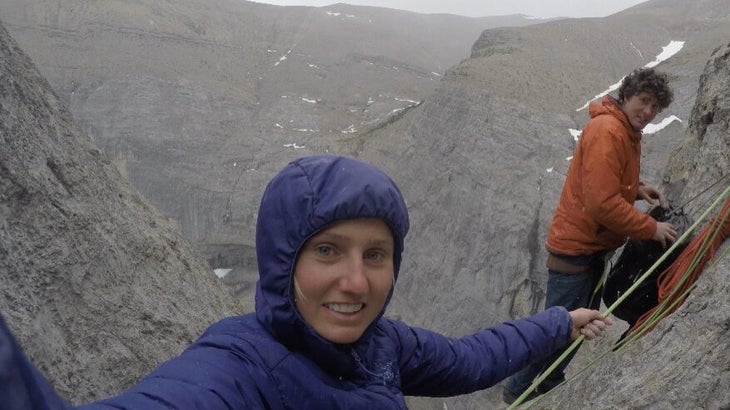 More recently Harrington upped her rock climbing with a 5.13b onsight and onsighted "a few" 13a's in France, and she has bouldered V8. Her own major climbs include new routes on the Taku Towers on the Juneau Ice Field, Alaska, and the first ascent of Life Compass (IV 5.10a M4+) in Alberta with Rose Pearson. In 2019 she, Ines Papert and Luka Lindic made the first ascent of the committing mixed route Sound of Silence on the East Face of Alberta's Mount Fay. Also that year she climbed a route she and Leclerc had intended—a 13-pitch crack line on the East Face of Torre Egger, Patagonia, that she named MA's Vision (5.12c). She has done FAs of three "really beautiful" rock climbs (5.12b, 12c, and 12d, respectively) on the 500-meter Chinese Puzzle Wall in British Columbia. The first one was with Leclerc. The two opened various routes in ​​the Canadian Rockies and on Baffin Island.
In 2019 the American Alpine Club awarded her (see account here) the Bates Award for youth achievement.
"The Alpinist" (Red Bull Media House / Sender Films) will have widespread sneak-peek premieres through September 7, with the world premiere on September 10. Directed by Peter Mortimer and Nick Rosen, the film features Leclerc, Harrington, Alex Honnold, Reinhold Messner, Barry Blanchard, Will Gadd, Bernadette McDonald, Will Stanhope, Jon Walsh, and Raphael Slawinski. Cinematography is by Jonathan Griffith, Austin Siadak, and Brett Lowell, with editing by Joshua Steel Minor, Peter Mortimer, Josh Lowell, and Fernando Villena. See https://www.thealpinistfilm.com. See trailer and interview with one of the filmmakers here.
The soloing footage in The Alpinist was mind-bending, and there was so much. How was Marc-André so comfortable on that steep ice and mixed terrain, on hard moves? Do you have insights?
I do. Marc as a child felt really clumsy. He would drop things. He spent years focusing on doing things carefully and precisely and perfectly.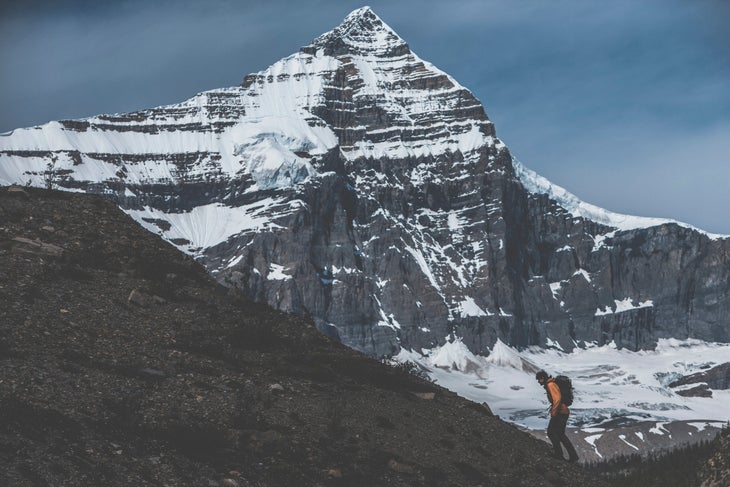 That dedication to the mind-body connection came out in everything. Everything was tried slowly, everything he did was very precise. He built that foundation of moving carefully.
A lot of people move through life fast and make mistakes. Marc never made those kind of mistakes. For example, when you're watching someone who is new to climbing, they don't have all the development, and might snatch holds, barely getting through. He was very controlled and not slipping. A really steady climber. He was slow and calm and collected.
What about when he came to a dyno?
He did it precisely and had a lot of control in his body.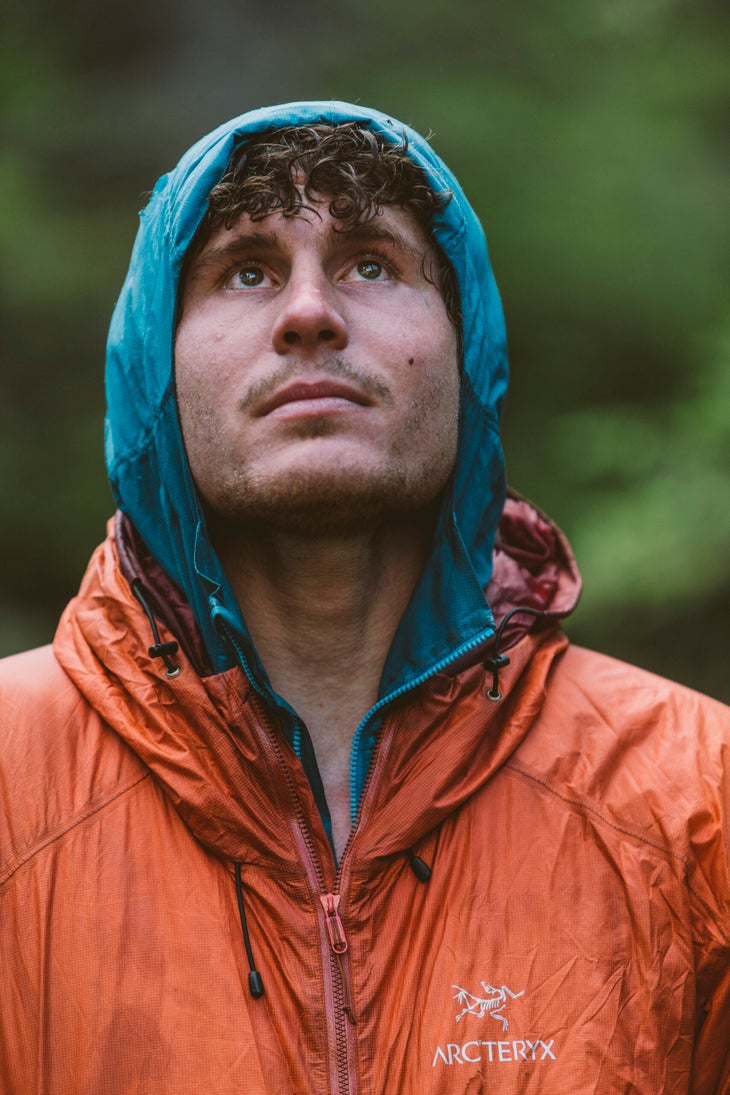 But seems like it couldn't have suited his style?
Oh, he was so good at dynoing. He won a bunch of dyno contests. He would slowly just set up and he does [ed. note: use of present tense is hers] it perfectly.
It wasn't just in climbing, in everything he did, like tying his shoelaces, it takes him so long. Or when we were traveling and putting the bags on, he was just taking so long, he got all the straps tucked in and the zippers up. I was saying, "Come on, we have to go!" He could not go faster.
Still, on those routes he was completely committed, and on crampon blades and ice picks on small holds. What would be in his mind?
He went about soloing in a really interesting way. Like with his soloing on rock he always felt like if not you're comfortable onsight soloing, you shouldn't be soloing it at all.
You should be comfortable. If it's a little intense, if it's uncomfortable, you shouldn't be there. He would only do things where he was 100 percent.
The visualization was a huge piece. He thought about these things so much before, put so much thought into his climbs. Honestly, I think he was thinking about his climbs 90 percent of the time. I think that is what made him so amazing, the amount of mental power that went just toward climbing: his climbs or things he was working toward, logistics or beta or mountains or new areas that he wanted to explore.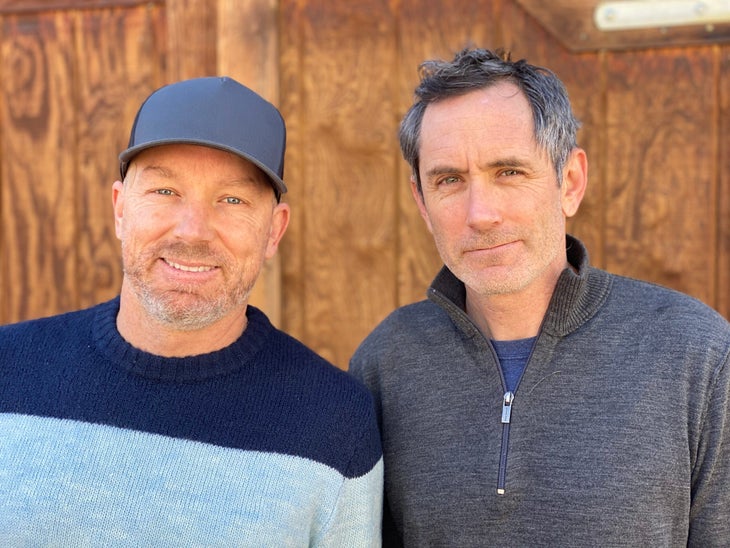 If he was still here today, what do you think he'd be doing?
[Small laugh] He'd be coming to the festival also. He'd be headed to Squamish probably with me right now, to go see our friends.
When you look back at it all, is there anything you would do differently?
I wish I hadn't gone to Tasmania [when Leclerc headed to Alaska], and I wish that he and I had just gone climbing together. I went to Tasmania instead. Had I not, he would have been climbing with me. I was going with a friend to put up new routes.
For how long?
Two weeks, just two weeks. I left him a note, said I love him and that I'll see him in two weeks. I left it on the counter. It was still there when I got back.
I even drove him to the airport that morning. We had flights the same morning.
When I arrived in Sydney we were texting a little. I was in Hobart when I got the text saying he'd made it to the top [of the peak in the Mendenhall Towers]. I got on the sailboat and didn't hear back after that.
How have you gone on with your life?
I guess I … right after he passed away I just alpine climbed for about two years, put rock climbing to the side. This year I decided to start rock climbing hard again. Dividing my time. I want to get better at all skills, as good at everything as I can.
Marc seemed to be mostly an alpinist. How keen was he as a rock climber?
We shared that 100 percent. He was an incredible rock climber. He did 5.14 and bouldered V13.
The first route on the Chinese Puzzle Wall, we did together.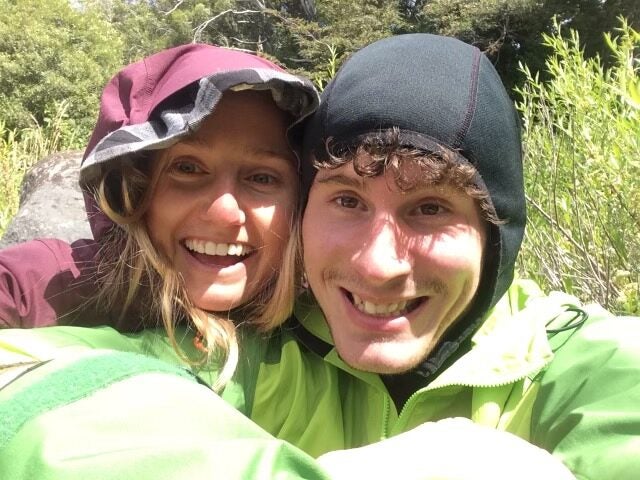 What else was he like?
Super energetic. He had this energy that was vibrating, sometimes he just needed to explode.
I called it The Storm. He would just start shaking with energy; he would go into the mountains [and bike and run as well as climb].
How did he recover from these huge days out?
He had an incredible ability to sleep super deeply. It seemed like he just recovered every night.
He did lose a lot of energy after he came back from Patagonia in 2014 with Jason Kruk and Will Stanhope. He came back and didn't do anything for like two months. Mentally he was drained. It was his first trip to Patagonia. He and Jason tried to climb [in the Cerro Torre area] in bad weather. He went to Rio Turbio and climbed with Will, Paul McSorley, and Matt Van Biene [see this video of that trip.] He needed to decompress entirely.
The film shows Leclerc with a full bookshelf, and in the film his mother said he was always reading. [On the bookshelf shown in the film are The Tower, by Kelly Cordes; Cloud Dancers, Portraits of North American Mountaineers, a compendium; Freedom Climbers, Bernadette McDonald; The Revenant, Michael Punke; People of the Deer and Never Cry Wolf, Farley Mowat; The Call of the Wild and White Fang, Jack London; Touching the Void, Joe Simpson; The Once and Future World, on wilderness and ecology, J.B. MacKinnon; The Black Arrow, Robert Louis Stevenson; The Hobbit, J.R.R. Tolkien; The Adventures of Robin Hood, Roger Lancelyn Green; and these classic children's books: My Side of the Mountain, Jean Craighead George; The Incredible Journey, Sheila Burnford; and Banner in the Sky, about climbing, by James Ramsey Ullman. In another film, Leclerc talks about reading In High Places by Dougal Haston as a child.)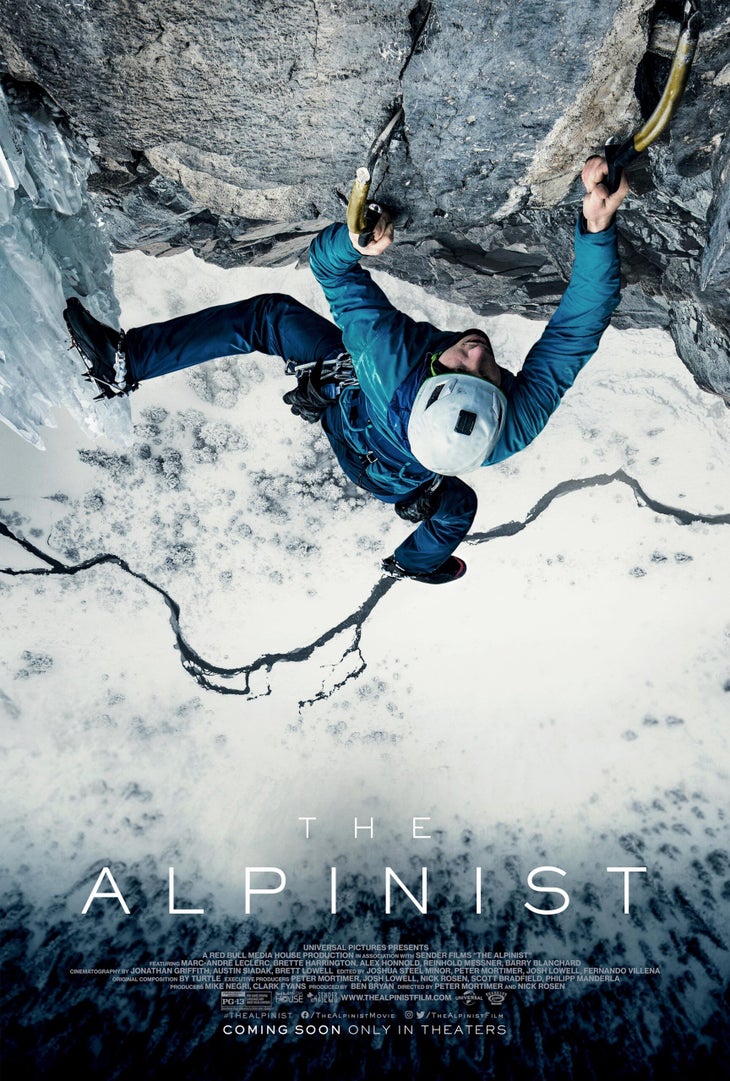 He read so much. Every book about alpine climbing. And others.
The last one was The Evolution of God [by Robert Wright]. He read so many. Bernadette McDonald's books. Endurance, about Ernest Shackleton [Alfred Lansing].
IT in full [1168 pages], by Stephen King. Under the Banner of Heaven [Jon Krakauer]. Mark Twight's books. Hermann Buhl. Books about Bonatti, expeditions.
He just read at night. He read IT on his phone, and [laughs] it just looked like he was always on his phone.
Other reflections?
I sometimes feel kind of bad that he didn't get to experience all these new things I've had three years to experience. He had a super full life, [but] I feel like he's missing out. On these life experiences that I know he would absolutely love.
This article is free. Get a $2 a month Climbing membership and you can access all of climbing.com, and receive a print subscription to Climbing, which includes our annual edition of Ascent, the leading climbing journal published since 1967.