Bruce Willey – Reader Blog 4
Heading out the door? Read this article on the new Outside+ app available now on iOS devices for members! Download the app.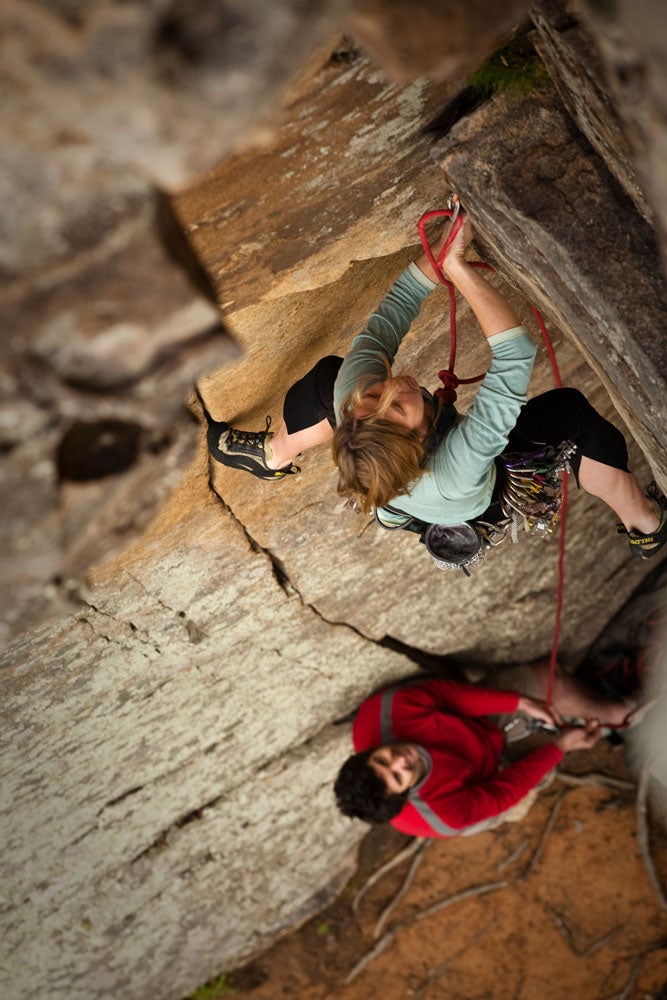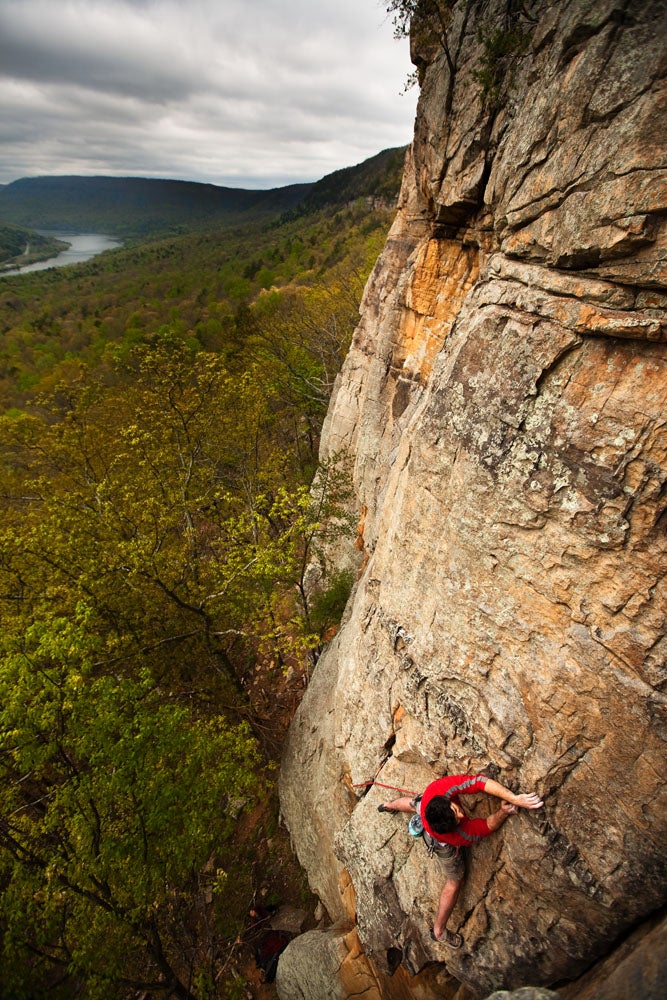 Suffer the Lizards: Losing Our Religion to Southern Splitters
Spring hits the South with a vengeance. If it's not the tornadoes ripping through Tennessee tearing limb from limb, then it's the persistence of new leaves glowing in green confusion so strong the eye is overcome by the urgency of it all. Around the corner of this season is the impending summer. With it will come the puckish heat. And those zillions of green leaves? Humidity so thick, as they say 'round here, you can cut the air with a knife. Climbing happens in all kinds of weather. But today all is calm, cool, and good.
We're here at the Tennessee Wall, twenty or so miles up meandering river from Chattanooga, a day after the storm has passed. Downed trees and limbs litter the side of the road. In the parking lot, the far-flung license plates attest to the crag's growing popularity as a destination: Colorado, New Mexico, Kentucky, and some strange government plate of unknown, perhaps nefarious origin. Our own Georgia plate joins the fray soon to be joined by Chattanooga local/Colorado transplant, Luke Laeser's Tennessee plates.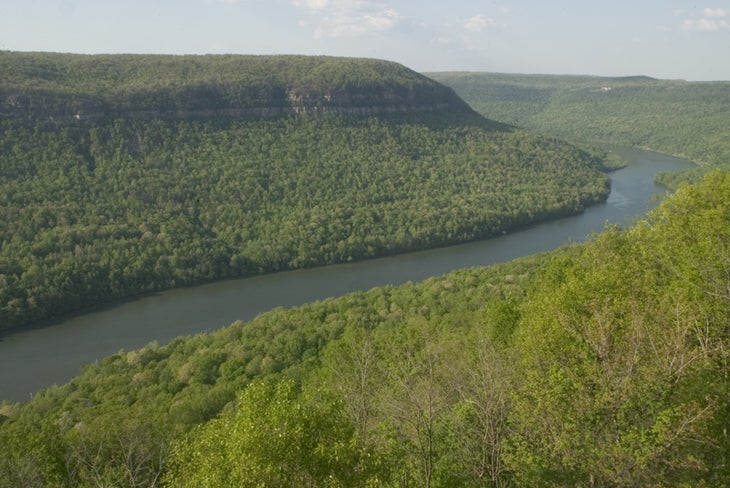 Tennessee Wall, or T-Wall as it's affectionately known (and with a whole lotta love thrown in for good measure), is a crag that defies comparison. But here's one anyway: the Indian Creek of the South. What the comparison lacks in imagination it more than makes up for it in, you guessed it, splitters. Both are sandstone, too, although T-Wall's stone is bullet-hard and blockier. You could even say there's few million years of geological inbreeding that separate it from its older Mormon second cousin twice removed, though a good geologist would wince at that description. So with age comes the furry wisdom of a coon dog, I can almost hear a moonshiner whisper…and roofs.
Actually the affectionate local name makes a lot of sense, describing a lot of the routes at T-Wall (warning: terribly bad pun ahead) to a T. Without putting too fine a point on it, one climbs the T in essence, running up the stem of the letter in a clean crack (often a dihedral) only to run up against a roof (the stiffer climbs tackle the roof head-on; the more moderate circumnavigate them) before topping out on top of the good consonant.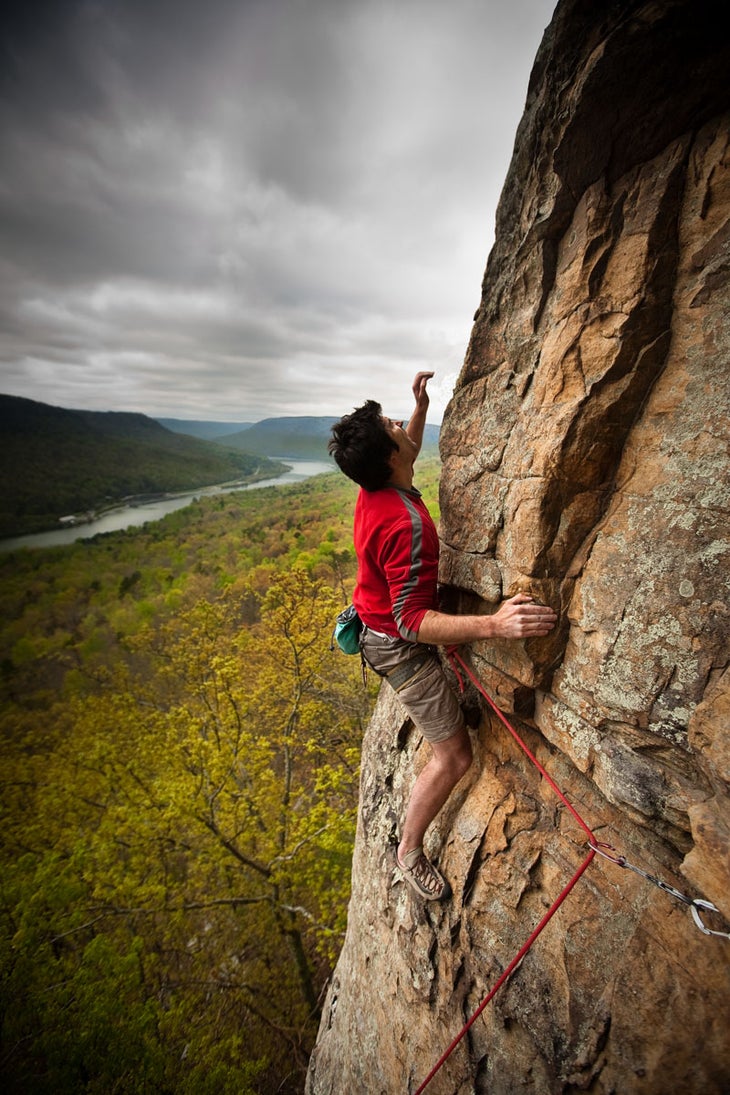 None of the climbing at T-wall is a giveaway. Even a 5.7 or 5.8, what little there are here, can feel a tad bit sandbagged — a Southern tradition, spicy as the BBQ sauce on a stringy flank of possum meat. Reaching a crux after cruising easier ground, one suddenly becomes humbled like Ned Beatty in Deliverance. Whether or not you "squeal like a pig" though is entirely up to you, but you still have to pull the steep to reach the chains. And unlike the sporty Red River Gorge or Foster Falls (aka Fiery Gizzard; now there's some color) up the road, T-Wall is decidedly, proudly, resolutely trad without the need for overly fried adjectives. Just fiddle in a piece and climb. It'll usually hold.
(Full disclosure: The War of Northern Aggression may long be over, but the Southern stereotypes for which I am guilty come from the spite of finding myself an uprooted and slightly homesick Californian. My apologies. Won't happen again if I can help it. But you see, my affection for Southern culture, be it black, white, or a hell of a lot of color, has only increased in my short stint here. Sadly, though, this color is being drained by the vanillanizing forces of bland TV and blander still, Wal-Marts. I wish it wasn't so.)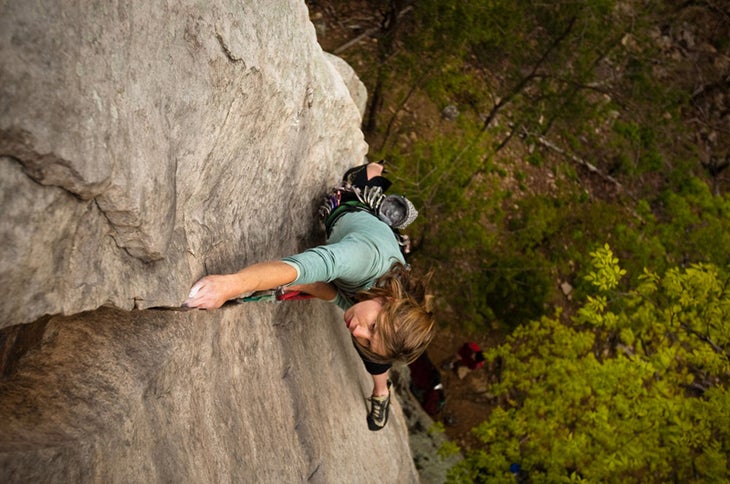 Luke pulls around the corner in his white 96 Toyota Corolla. Though I've never met him in person until now, we've kept up a fairly consistent email exchange for over a year. Luke is the Online Editor for which these pages owe their due. He walks over to the back of our station wagon where my wife and I are gathering our gear. Thanks to our electronic missives there's little need for introductions. It's more a matter of catching up and seeing if the digital version of ourselves matches our expectations. And Luke in the flesh is just as amusing and clever as he is in the words that appeared in my Gmail.
Below the hem of his shorts are a set of powerful legs that propel him up the steep, three-quarters of a mile trail toward the base of the cliff-line. Through the awakening trees we go on the well-worn trail, talking between breaths about everything under this Southern sun trying to beat its way through the thick skies.
A little more than a year ago, Luke and Nathaniel Walker climbed fifty T-Wall routes in 18 hours of continuous climbing. Being that most routes here are between 80 and 100 feet, that works out to be somewhere in the neighborhood of 5,000 feet worth of climbing. Like doing the Nose of El Cap and the Northwest Face of Half Dome in a day minus the approaches, descents, and the mad rush through the Ditch. Beginning on a February day in 2007 by headlamp, the duo didn't finish until 2 a.m. the following morning. Somewhere amongst all the go-for-broke marathon, Luke redpointed Mrs. Socrates (5.12a), a thin, finger-eating crack. "I was inspired by the 24 Hours of Horseshoe Hell in Arkansas and since all the routes at T-Wall are awesome, Nathaniel and I thought we should overdose on them one day, so we did," Luke says, as we reach the bottom of the cliff and cross a creek, the waterfall above pouring 100-feet down.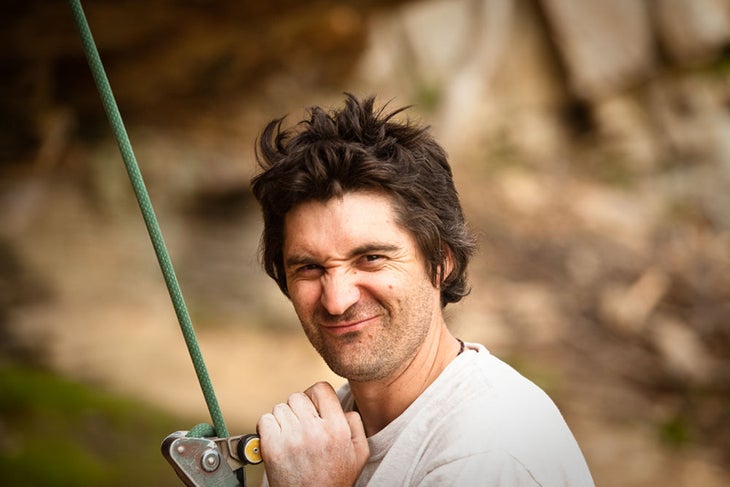 But Luke seems more keen on ornithological matters than soaking us with climbing spray "Hear that?" he says. "Definitely a cardinal song." Passing over a slab of sandstone in the trail that I must have walked over a 100 times without notice, Luke points out the Paleozoic imprint of an aquatic plant imbedded in the stone. So much has happened since then, the mind boggles.
We amble further down the line, past the crowded classic lines like Passages, Perquisites for Excellence, Golden Locks, The trail faints out as we go further into T-Wall South, a slight bit navigational embroidery considering we're actually going towards where the sun comes up. And though I've never been one to feel thankful that someone is injured, today I am. This is about the first time Luke's been able to get out to the crags after having surgery on one of his ankles. A four-inch scar runs up his swollen ankle, the result of a bizarre climbing injury. My excuse amounts to nothing more than wintertime lethargy and the pedestrian talent of an everyman climber. My wife Caroline, though, has some experience on Southern stone to rope-gun if need be. But of course her boldness, as of late, has been diminished by the earthy thought of breeding. So we stand below the hard-man routes with awe before finding something on the more moderate side of life.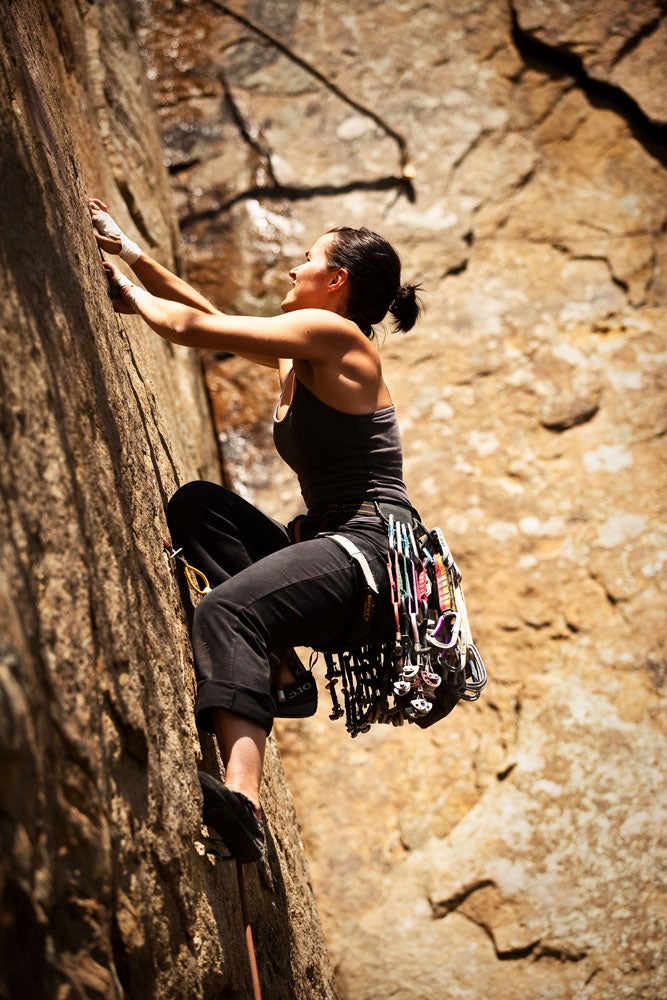 Winsome excuses aside, whether you're pushing yourself or not, I found ratings have nothing to do with quality (though I'm probably wrong having never exactly tasted the benefits of a 5.12). And this turns out to be so with I'm Late (5.7) and Stepping Stone (5.10b), both T-Wall gems with nary a trace of chalk on them.
We climb out the rest of the day like this, happy to be outside. In one auspicious splitter (Sanskrit [5.8]), Luke finds a host of dead lizards, one of which seems to be arc welded onto the rock. We surmise that a lighting bolt must have hit the top of the cliff the previous night, sending a zap of current down the crack, electrocuting the poor little beasts. T-Wall lizards make their home in the cracks, and it's not uncommon for a hand jam to produce a small swarm of them scuttling out of their home just as you're making your next move. I've witnessed a few that have fallen 50 feet out of the cracks, only to land stunned, gather themselves, and live to tell their reptilian cohorts about it. T-Wall route names like Where Lizards Go to Die, Reptile Analysis, Reptile Paralysis give tribute and honor to the dead and fallen.
In truth, these lizards are actually Carolina anoles. Because they can change from brown to green and back to brown again, they're often given the erroneous distinction of being a chameleon. Instead, they're related more closely to the iguana. Their excellent climbing ability comes from the pads on their feet, complimented by a C-5 rubber-like substance. Male anoles impress their female counterparts in two ways: by climbing hard and possessing a flap of skin under their chin called a dewlap. When a female anole takes a "gentleman caller" she will often base his suitability on the size of his dewlap and his ability to dance—a bobbing up and down, hot and bothered affair that at the risk of anthropomorphizing is not unlike something I might have done, well, last night in fact.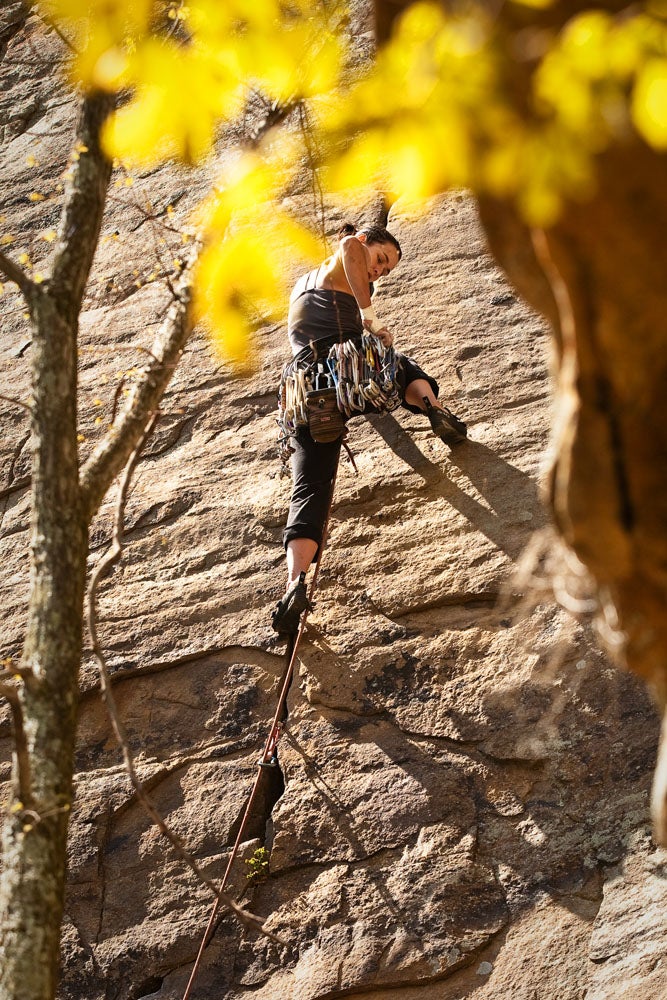 Our sympathy for these fellow sandstone climbers does little to dampen our spirits, but does everything to increase our respect for what isn't normally considered an extreme climate, especially on a benign day like this in the South. And to think I always thought lizards had it pretty good here. Strike that off the Southern stereotype list.
After the straight-in finger crack of the classic Digital Mcabe (5.10b) we call it a day. Luke needs to be back for dinner with his young son Layton (so-named after Layton Kor), his wife Melissa and their newly-minted little girl Kestrel — as in North America's smallest falcon.
We bid farewell with promises to climb again soon. Oh, how about tomorrow? Next day I'm back on the road, the long drive back up to T-Wall from Atlanta minus Caroline. The drive allows for some sappified sentimentality to percolate under the seat. It's weird going cragging without her, and like possessing a phantom limb, I turn to the seat next to me expecting to see the missus planted there, smiling. We've done this drive so often in the last three years I could hardly count. We usually talk or listen to NPR's Wait, Wait, Don't Tell Me,but today I just crank the radio and rock out as much as is musically possible to "Appalachian post-punk solipsists," Will Oldham, aka Bonny "Prince" Billy.
Luke is spot-on timely, already waiting at the Bi-Lo parking lot for our rendezvous. We get in his car, following the meandering course of the Tennessee River as it winds deeper into the woods. We pass a great swath of kudzu, a non-native plant so pernicious it's become an urban legend. The plant devours everything in its path including houses, and it's been known to give an evil chuckle at the sight of weed wackers. Same goes for the decidedly Southern trait of not being able to let go. A trailer home is slowly being swamped by a festering mélange of washing machines, lawn pools, motors, beaten cars on blocks, while the packrat himself sits on the porch on a musty lounger with the fine knowledge that one day he'll find a use for it all. He probably will.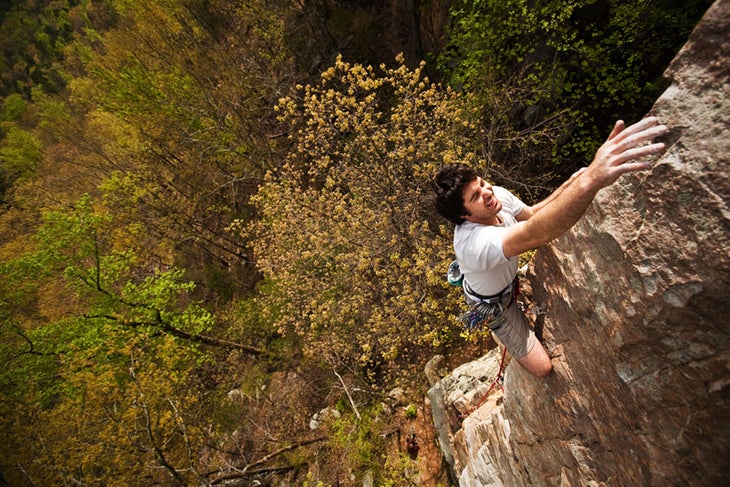 Soon, though, this bit of riverside charm gives way to the woods, and eventually the small camping and parking area, the lot featuring a full head of cars, more than the day before.
Beating our way up the trail, Luke tells me Rob Robinson, the man who perhaps more than any other, is responsible for both discovering T-Wall and developing it, will join us a little later. Meantime, though, we'll get in a few routes, warming up on Prerequisite For Excellence (5.8) and Multiple Use Area (5.9), all really golden. Next-door, Love Handles (5.10b) looks interesting with its hollowed out scoop above a one foot diameter "handle." Luke fires the crack, slings the "love handle" and then ponders the thin moves to a lone bolt protecting the crack-less face above. He tries a few different combinations and then works it out smoothly to an overhanging roof. Placing pro, he moves up the burly jugs, grabbing a side-pull off a rounded Gaston to the top. Well done. My turn.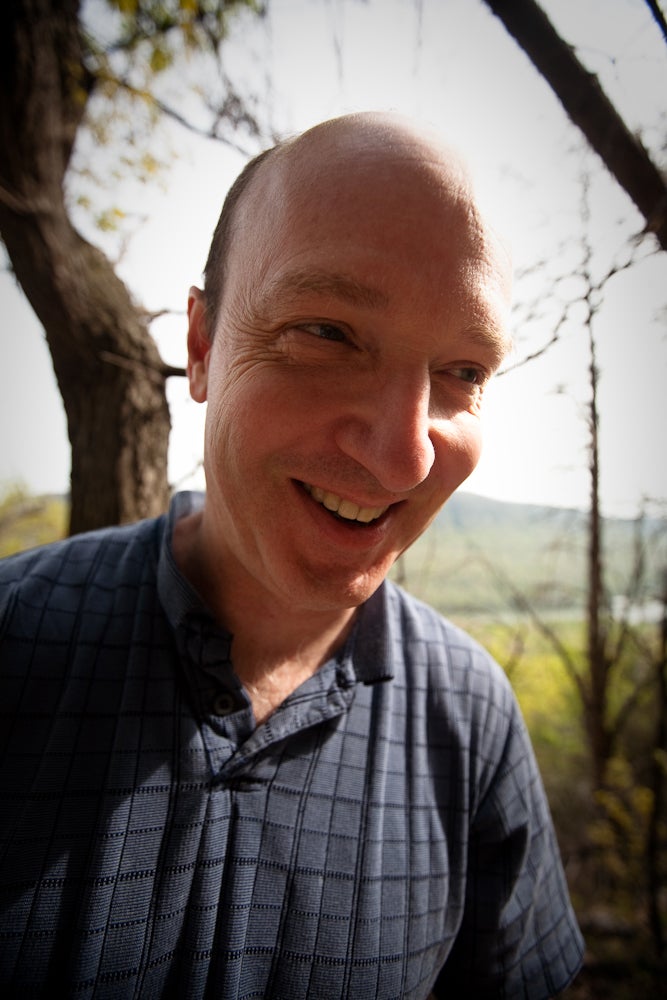 I too ponder the moves above the handle for a long while. It's a committing grab to side-pull crimps for either hand, then balance feet on the "handle" and hoist to a higher jug for the clip. But for some reason, I'm grabbing the wrong hold on the left, and just as I stand, my balance gets squirrelly. "Coming off," I yell down.
Falls are so much less scary when they take you by surprise. But what can be observed reliably under the grip of fast-acting adrenalin—a time-warping narcotic that morphs milliseconds into crisp articulation—is when you're about to peel you have what feels like ten seconds to contemplate your fate. There's enough time for this conceit to work around my thoughts before the "love handle" whooshes before my eyes and I land gently below it. Luke jumps up to give a dynamic belay to ease the weight on the tied-off feature. It holds, otherwise I would've had even more reason to overdramaticize this simple, clean fall into the biological aspects of fear. Wimpy? Why yes indeed.
Looking down, I see that Rob Robinson has joined Luke to witness my groveling. So much for impressing the legend of T-Wall himself. Giving it another go I get to the same spot and once again I'm airborne. Another try, same thing. At last, fourth time a charm, I grab the Beta that Luke calls up, and finally stick it to the jug. But this flightless bird has another crux to negotiate before becoming fully humbled. By the time I reach the second roof I'm way pumped and the big jugs beyond the sloper are beyond what strength I have left. Four tries only make it worse. I'm lowered and sheepishly introduced to Rob.
Dressed in around-the-back-yard hospital scrubs and knit shirt, Robinson is incapable of passing on the chance to insert humor into every situation. He does so, heart proudly on the sleeve, with the assumption that you're not a Bible-thumpin, sexual prude. This being Easter Sunday our water bottles would no sooner turn into wine flasks than we would chance upon the devout. All those good folks are up-river, filling the white little Baptist churches bursting at their holy holler seams. He may have risen, but our Easter services begin and end on the sandstone sermons writ large on the wall, rising under our own effort with the miracle of cams to save our souls.
So it's no surprise the conversation lands on religion as Rob ropes up for Love Handles. "I mean, god damn, I really don't see the difference between a bunny laying eggs and a guy living in the belly of a whale for three days," he says. "And the virgin birth, well that's the oldest excuse in the book. All kinds of fallen girls around here use that one. And nobody would believe any of this stuff if there weren't some reward. At least Muslims have 72 virgins."
"Yeah, but have you ever had sex with a virgin," I say. "It ain't exactly the most enlightening experience." (I never actually got the pleasure.)
"Well they should have 72 porn stars, then," says Rob.
"Except," I say, "there wouldn't be a skyscraper left standing across this great land."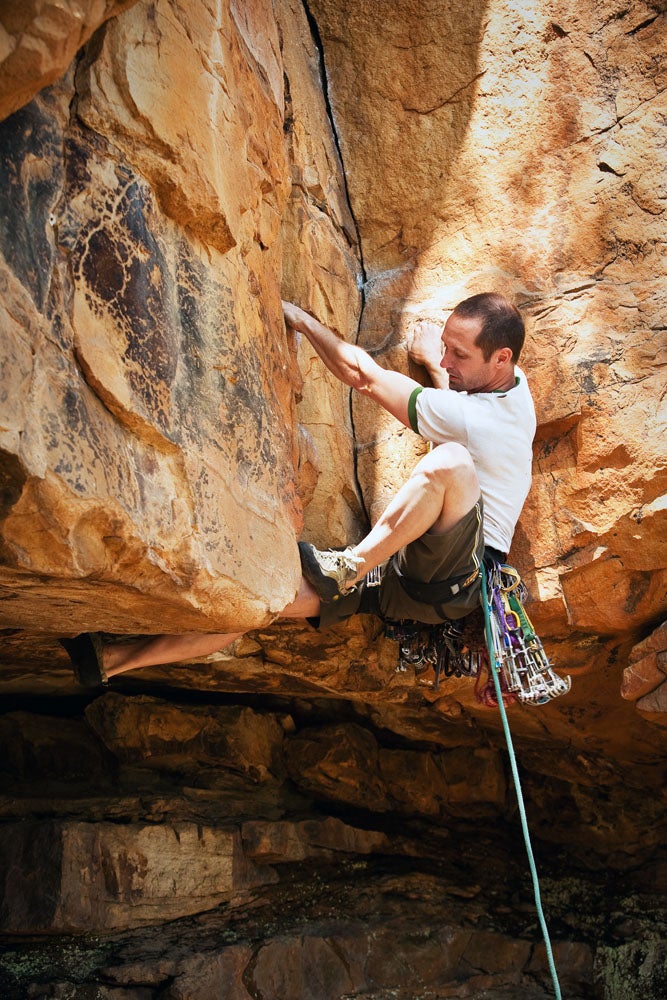 Rob laughs and with it I hope he forgets my groveling. He ropes up and pulls the love handle. In one swift effort passes over the crux like butter. Same for the second crux. No hesitation, just doing. He climbs the route like he invented the place, and in a lot of ways that's true. And he seems to know just about everybody at T-Wall and as the climbers he's doesn't know walk by him, I hear them say to each other with all the hushed reverence for the Pope, "Hey, wasn't that Rob Robinson?"
Robinson started coming here in 1984. Back then, he dared not drive up the road below because it had a reputation for highway robbery. Leaving a car by the side of the road unattended was the least of your worries. A car would pass you, then slow down while another car came up from behind, boxing you in. If you decided it prudent to roll down the window, you had probably already made up your mind that these were the type of fellers who had little interest in seeing to it that you were not lost or needed a beer.
So Rob came in from the other side of the river, and right away knew he had stumbled on some of the finest sandstone the South had ever saw. The potential increased the intestinal fortitude and Rob and his longtime climbing partners Arno Ilgner and Roger Fleming bushwhacked up to the base from the road, highway robbers be-damned. What they found little resembles the T-Wall of today, when, aside from the closed turkey hunting days, there's most always a rope bag strewn over the dead leaves. Copperhead snakes, skin-ripping brush, and dirty cracks greeted most FA's that were lessons in vertical gardening.
It's cleaned up pretty good over the years, though the wildness still prevails. Bald eagles and vultures thermal the cliff-line and aside from the padded down dirt at the base, the trail, and welcoming rap anchors, it's civilized trad as nature intended it.
We move down to Dirt Bag (5.8) and China Doll (5.9). Around the corner, Kirk Brode, a sturdy talented climber (whom I later recognize from Harrison Shull's coffee table book "Southeastern Rock") is holding forth deep in the dihedral of Point 'O Contact (5.10C). His old, arthritic dog Comso waits below, lost in the weighty decision between seeking sun or shade. And around another corner still, Emily Martin works an elegant finger crack on Finger Lockin' Good (5.10 b/c). Her dog Casey, who had the foresight to bring a doggy pack stuffed with the accouterments that make life bearable for a crag dog, waits under a roof with a carabiner below her neck. These dogs must certainly look down at their paws every now and again and thank their canine stars that they weren't born to golfers. I know my dog did, bless his soul.
But it is getting on in the afternoon. Luke's son has, no doubt by now, found the eggs that the rabbit laid. Time then for Luke to get back to his family. Robinson stays on, warmed up and ready for another route in what he calls the "T-wall orchard." And I'm hungry and tired, a long drive south ahead of me. Luke and I head down the trail under fresh leaves and good thoughts, the splitters still warm in our heads and in our hands.
Editor's Note: Coming Fall 2009 — Rob Robinson of Southern Sandstone Publishing is producing a new and improved full color guidebook to the T-Wall. It will be packed with new route information and mouth-watering photos.