Bruce Willey – Reader Blog 7
Heading out the door? Read this article on the new Outside+ app available now on iOS devices for members! Download the app.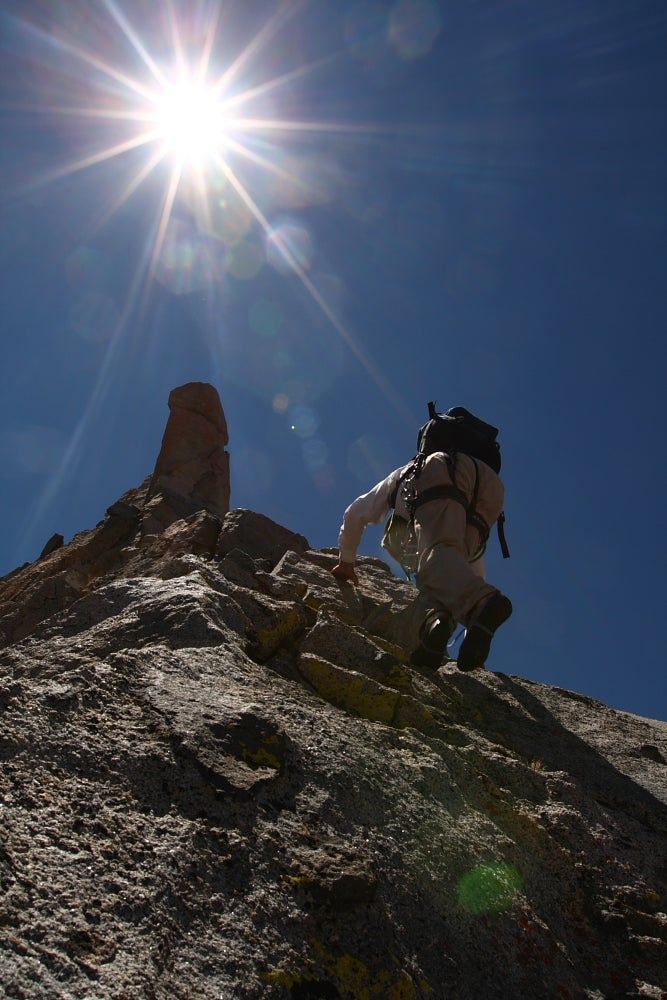 Up and Down amid Brobdingnagian Stones
Two fools rediscover the Aiguille du Fou, Smoke Blanchard's lost route in the High Sierra
I had just climbed to one of those belays where living feels beautiful and life is sweet. Tying off a horn I call down "off-belay" to Greg with a certain amount of relief. Time, then, to fondle the view from 200 feet of the arête and wait for him to pull through the cruxes made apparent by the slow progress of the rope.
"Blimey," Greg declares, fighting up the lichen splattered slab that had given me much pause. "Blimey" again, as Greg nearly pulls a teetering block into his lap, the same block I'd whispered by with all the delicacy of encountering a psychotic hooligan in a dark alley.
Far below, the town of Bishop squats in the Owens Valley, and across the canyon the red Piaute Crags meld into the white granite of Mt. Emerson. Hmmm, I think: Ralph Waldo Emerson, the New England transcendentalist, communing with the California Indians in geologic metaphor — no doubt under the rhapsodic whim of endorphins from the last hair-raising pitch.
Greg comes around the corner into view.
"Nice lead," he says. "My heart was in my throat on that one."
We are attempting the Aiguille du Fou, a long-forgotten route in the High Sierra authored by Smoke Blanchard, the pioneer of the Buttermilks and Buddhist truck driver, who when he wasn't climbing and guiding, drove up and down Highway 395 with a load of explosive propane hitched to his tractor. Smoke had also written a book, long out of print, called Walking Up and Down in the World: Memories of a Mountain Rambler. It contained our only clue where the route went, or for that matter, where the Fou was.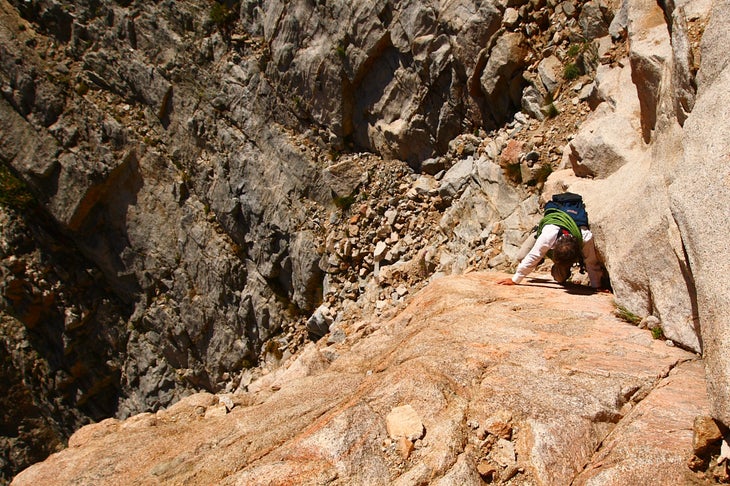 Smoke climbed the Fou countless times, writing: "Another strange turn to this climber's brain is my preference for repeating the same peak or route or experience over and over. I told my wife that this trait keeps me monogamous. Told all of them — mostly it works."
He'd named the "Fools Needle" after the one that shares its namesake in France, rising high above Chamonix and made famous by the photograph of John Harlin on its summit edging out over the void like a scared surfer. "If Chamonix can have one I don't see why we can't too," Smoke once remarked.
The Sierra version, though, had long slipped into obscurity, and despite Smoke's legendary status as one of Bishop's most prolific climbers of the older generation — second only to Norman Clyde — nobody in town seemed to know where the Fou was. They'd heard of it, yes. But they didn't know if it had been climbed since Smoke passed away in 1976, thrown into the Mojave Desert from the back of a pick-up truck.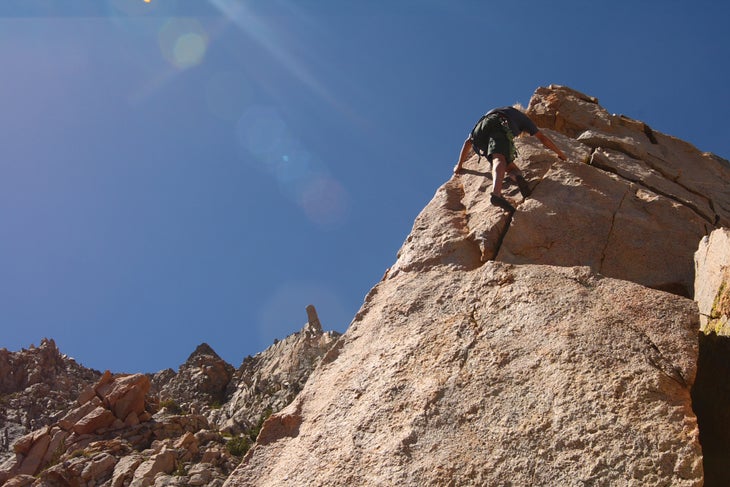 The Fou was also not listed in any guidebooks or topo maps. Even R.J. Secor's otherwise comprehensive The High Sierra: Peaks, Passes, and Trails failed mention of the 11,000-plus foot ridge that sports the Aiguille du Fou. Same went for fruitless late-night Googling, for which I later regretted after violating myself. So when Greg called me to see if I would like to do some detective work and try to find and climb the enigmatic Fou, I didn't even blink.
Though now settled in Bishop, Greg Smith hails from England, which accounts for all the "blimeys." Like Smoke, Greg is a gentleman mountaineer. Compact, civilized, and graying around the edges of post-middle-age, he still manages to get into the backcountry no matter the season, whether on skis, boots, or kletter shoes. He also succumbs to the history of High Sierra climbing with all the tweedy zeal of a professor.
But Smoke was vague at best. In the written account of Fou, told in the royal "we," as in, "We start up the Piaute Pass Trail with a pleasant half-hour stroll through cool and beautiful forest," he mentioned that in order to get the correct start, "we" first needed to find six red-fir trees "that leaked south out of their normal range."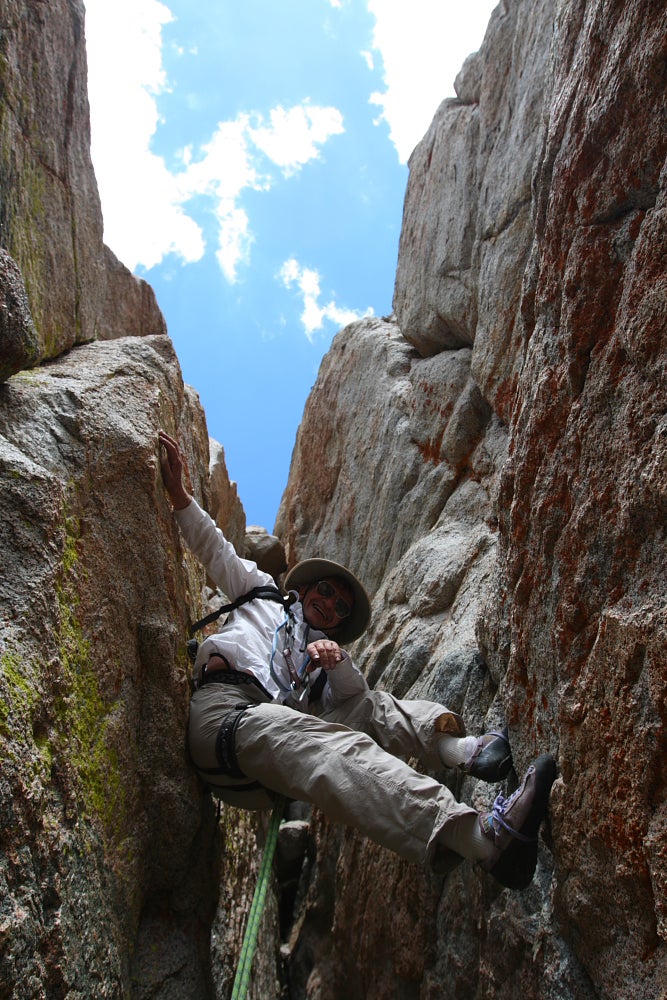 I'm no arborist, but sure enough, as we round a bend in the trail, we spot at least five reddish firs. And so we head off trail to an immense and imposing ridge that leads straight up to a needle-like summit.
Getting on the actual arête proves the crux. There was no mention of hard climbing at the foot of the buttress, climbing that would likely have been out of the realm for Smoke with his retractable ice axe/walking cane, stiff leather boots, and the obligatory two bottles of wine in his knapsack that he wrote were somewhat essential to the route.
Had an avalanche wiped out the lower two pitches in that last half century? Mountain geology tends to dismiss human route descriptions with all the indifference of an aloof cat.
Soon enough, though, we royally find ourselves running straight into his narrative … "It is possible to fall off, and on the next pitch or two this possibility is sobering to contemplate."
We stumble onto a ledge, obviously the place where Smoke would break out the nuts, cheese, French bread, and white wine ("Red we save for the summit," he wrote) before moving onto what he called dessert — the sharper, exposed aspects of the arête.
Having only brought a red, we move higher until the needle comes into full view. "Phoo-ey!" Greg exclaims. "Sure looks phallic to me." Like bloodhounds picking up a promising scent, we are giddy that we have actually found and are indeed on Smoke's lost route. No fools are we.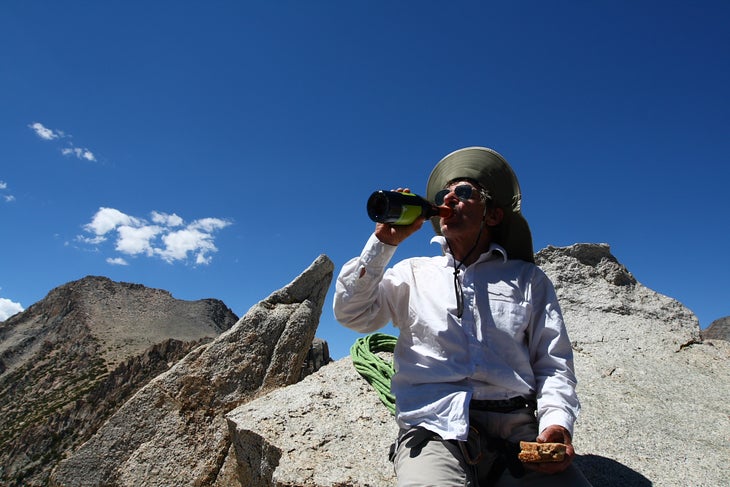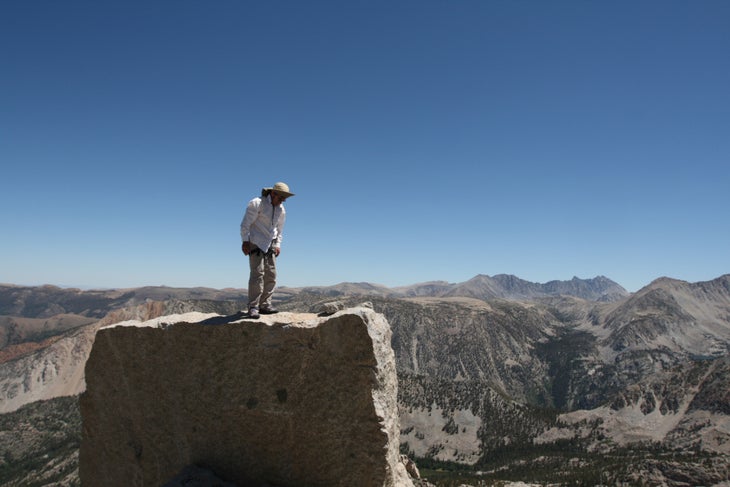 We solo up easier ground passing more narrative signifiers including an unmistakable six-inch ledge that leans over a couloir a hundred feet below. We squeeze by, as Smoke wrote, "this ledge (that) lacks handholds, and a waist-high bulge midway along makes sucking in the gut essential."
Reaching the top of the ridge we sit down beneath the needle. Though Greg and I could hardly be classified as homophobes, we find ourselves embarrassed by the Fou's size and girth, feeling small in the presence of such priapic grandeur.
"Fools we are," Greg says, looking west along the ridge. "This isn't the Fou. It's over there."
A bigger, dare I say more handsome needle, lays along a knife-edge arête and up a reddish slab, jutting proudly into the sky. We consult Smoke's book: "Towers and notches, hidden bypasses, magically revealed key ledges, passages to the left and round-abouts, make a wonderful winding rock road, ever fresh…. It ejects us squirming, scratched, and breathless onto the top of the second of a great pile of Brobdingnagian stones."
Brobdingnagian? What the hell could Smoke have meant? Nevertheless, we mount the bony mule arête, scuttling "ever fresh" across it. Indeed we squirm, we are scratched, and we're even a little Brobdingnagian (lowland dictionary in hand: From "Gulliver's Travels," adjective, "gigantic") not to mention breathless by the time we reach the true summit.
There, we break out the cheese, bread, and the bottle of red, toasting Smoke, reveling in our intuitive foolishness. We sunbathe in the warm Sierra light, reading from the book on how to get down: "A Z-shaped double rappel from a rather rickety anchor, where one might install a new sling through a rusty soft piton to keep the adrenalin levels manageable."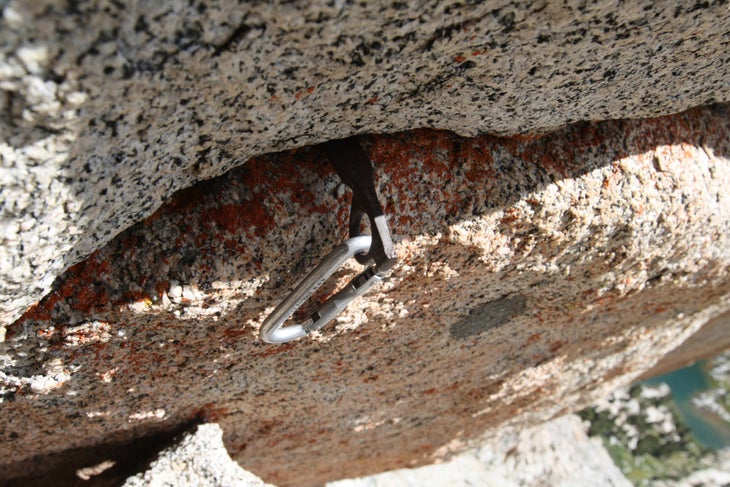 And sure enough there it is, the old pin, the eye bent downward and the webbing rotted away to oblivion. Greg and I are by now both a little tipsy but with a new sling and a back-up anchor slung around a solid block, we lean out carefully off Smoke's piton into the chute. It holds our weight. And it holds the years much in the way that Smoke's writing has.
Through "alpine meadows, timberline trees, and flower-banked laughing streams," as Smoke put it, I watch Greg happily amble down ahead of me. It gets me thinking how the very act of going up and down — from boulder problem to month-long siege on Denali — makes fools out of us all. Happy fools, for sure, but fools nonetheless. And I'm reminded how Smoke had ended his elegant and mostly accurate description of the Aiguille du Fou. "Pity the poor peak-bagger who, by nature of his obsession, cannot return over and over to an unknown, unsung, but near-perfect Fool's Needle."
We will no doubt climb the Fou again. For two dutifully married blokes like Greg and I, maybe it's imperative. If nothing else, it will keep us monogamous.
MORE FROM BRUCE WILLEY: