Bugaboos' free-climbing action
Heading out the door? Read this article on the new Outside+ app available now on iOS devices for members! Download the app.
Routefinding is not an issue on Wild Fire …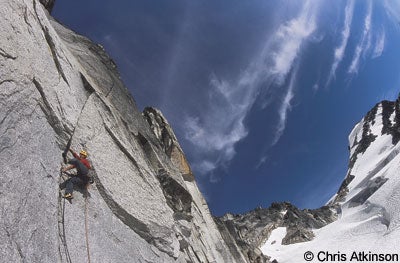 British Columbia's Bugaboos saw a warm, dry summer, with much high-level free-climbing action to match. Motivated teams repeated the harder big routes, but despite multiple ascents, both the 1996 standard-setters All Along the Watchtower (VI 5.12-) on North Howser Tower and The Power of Lard (V 5.12) on Snowpatch Spire defied second all-free ascents. Still, several significant first or first-free ascents were done in the range.Chris Geisler and Dave Edgar made the long-awaited second ascent of the 1983 Catalonian Route on the massive south face of South Howser Tower. The pair managed to free the 20-pitch route on-sight in a day, with two RP-protected crux 5.11 pitches that Geisler described as "very spicy."
Another striking new route took the previously unclimbed Northwest face of Wide Awake Tower in the Pigeon Feather group behind the Howser Tower massif, long neglected due to its remote location and overhanging nature. Sean Isaac and Matt Maddaloni spent a week on this 1200-foot Rostrum-like pillar of splintered granite, first aiding and cleaning the hard pitches before finally leading them free. Their 11-pitch route contained six pitches of 5.11 climbing, including the partially bolted first pitch and an overhanging thin-hand to fist corner of the third pitch, both 5.11+ and led by Maddaloni. They named their route Wild Fire (V 5.11+) after the numerous out-of-control forest fires that blazed around the Bugaboos during their stay.