Caldwell, Honnold: Yosemite Free Triple Crown
Heading out the door? Read this article on the new Outside+ app available now on iOS devices for members! Download the app.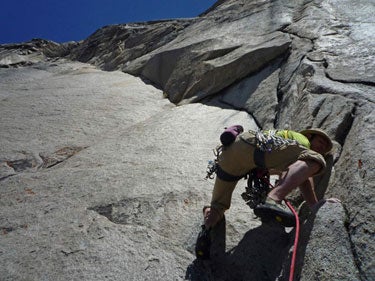 5/21/12 – Tommy Caldwell and Alex Honnold have pulled off an extraordinary feet of endurance free-climbing in Yosemite Valley. The two climbed the south face of Mt. Watkins, Free Rider on El Capitan, and the Regular Northwest Faceon Half Dome, all free, in a combined time of 21 hours 15 minutes, from the foot of Watkins to the summit of Half Dome.Caldwell said the clock started at 4:45 p.m. on May 18 at the foot of Watkins. The 19-pitch route is mostly 5.10+ or easier, but also has two 5.13a pitches, including a very hard dyno, plus three 5.12 pitches. The two sped up the route in 2 hours 40 minutes with no falls.Once on top, they hiked about an hour to reach the Tioga Pass Road, near Tuolumne Meadows, where Tommy's wife, Becca, met them with food. She drove them down into Yosemite Valley to the foot of El Cap.The two started up Free Rider (5.12d/5.13a, 37 pitches) at about 10:45 p.m. and climbed through the night, finishing up just after 5 a.m. (ca. 6 hours 15 minutes). Caldwell said he fell twice at the crux face climbing section and slipped off a 5.11 pitch as well, before successfully freeing both pitches. Honnold didn't fall once during the three ascents.
After hiking down the East Ledges of El Cap, the two refueled again and then drove back to Mirror Lake Trailhead where they'd started the previous afternoon. They hiked up the Death Slabs approach to Half Dome, and began the Northwest Face route (5.12, 24 pitches) at 9 a.m. They were on top 5 hours later, at 2 p.m. on May 19.
In all, they free-climbed approximately 70 guidebook pitches in a little over 21 hours, simul-climbing substantial sections of the routes.
"We both freed everything," Honnold said. "We sort of just swung leads. Nothing too fancy—for the most part, one person would just lead a huge, long simul-climbing block, and then stop when he hit something hard. Then the other person would just climb through and lead the hard pitch. It was a pretty fun, improvised style. We just climbed a lot."
Caldwell added that they "went ridiculously light, with a tiny rack." He said they did each climb in five to eight lead blocks, and estimated that each climber led about half of the ground covered.
"It was great to team up with Alex," Caldwell said. "When I asked him how he felt this morning [the day after the ascents], he told me that he thinks he could go climbing."
The El Cap/Half Dome/Watkins sub-24-hour triple was first done in 2001 by Dean Potter and Timmy O'Neill, with some aid. The two started on Half Dome, then did Watkins, and finished up The Nose on El Cap.
The following year, Potter free-climbed the Regular Northwest Face of Half Dome and Free Rider on El Capitan in a day, with two different partners.
Dates of Ascents: May 18-19, 2012
Sources: Tommy Caldwell, American Alpine Journal, speedclimb.com
MORE NEWS