Tommy Caldwell, Joe Mills Climb First 5.14 on the Diamond
Heading out the door? Read this article on the new Outside+ app available now on iOS devices for members! Download the app.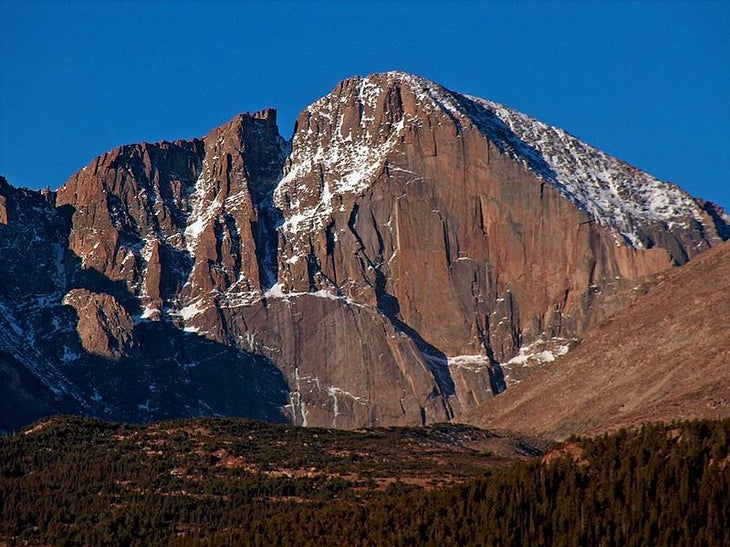 8/22/13 – Tommy Caldwell and Joe Mills have redpointed the first 5.14 route up the Diamond on Longs Peak, the premier granite wall in Colorado's high mountains. The two free-climbed the full Dunn-Westbay aid line in four rope-stretching pitches, with the 80-meter second pitch checking in at 5.14a.
The dead-vertical Diamond wall begins at about 13,200 feet and tops out at over 14,000 feet.
In 2011, Josh Wharton free-climbed the Dunn-Westbay at 5.13b with substantial variations. But Caldwell and Mills both aimed to straighten out the line and free-climb the full, original Dunn-Westbay, a 5.10 A3+ route established in 1972 by Jimmy Dunn and Billy Westbay. Caldwell spent four days on the route last summer, but found it too wet to make much progress.
This year Caldwell returned to the route and spent several days working on it with Jonathan Siegrist. Last week, they halted their efforts to assist in the rescue of a severely injured climber below the face. After one more attempt, Siegrist had to give up on the route because of other commitments, and Caldwell teamed up with Joe Mills, who had also been working on the direct line.
On August 21, Caldwell led all four pitches successfully, and Mills followed all of the pitches free.
"I had the vision of trying to do it ledge to ledge [with no hanging belays], and that meant doing an 80-meter pitch, which made it fully 5.14," Caldwell said. "It was extraordinary. I never expected to find anything like that on the Diamond."
The four pitches went at 5.10+, 5.14a (80 meters), 5.13a (about 68 meters), and 5.12b.  The two climbed directly up the Green Pillar on the first pitch, where Wharton had traversed in from the Casual Route. And where Wharton headed left into another crack system on the second pitch, Caldwell and Mills climbed straight up. Caldwell said about half of the route differed from the free line that Wharton followed.
Caldwell said the route "protects perfectly—it's G-rated. So rad." The original aid crux was unprotected, but it was "5.8 free climbing and you just free solo it," he added.
Caldwell also pioneered the first 5.13 on the Diamond, The Honeymoon is Over, in 2001.
Date of ascent: August 21, 2013
Source: Tommy Caldwell