Caldwell Redpoints 5.14d Pitch on the Dawn Wall
Heading out the door? Read this article on the new Outside+ app available now on iOS devices for members! Download the app.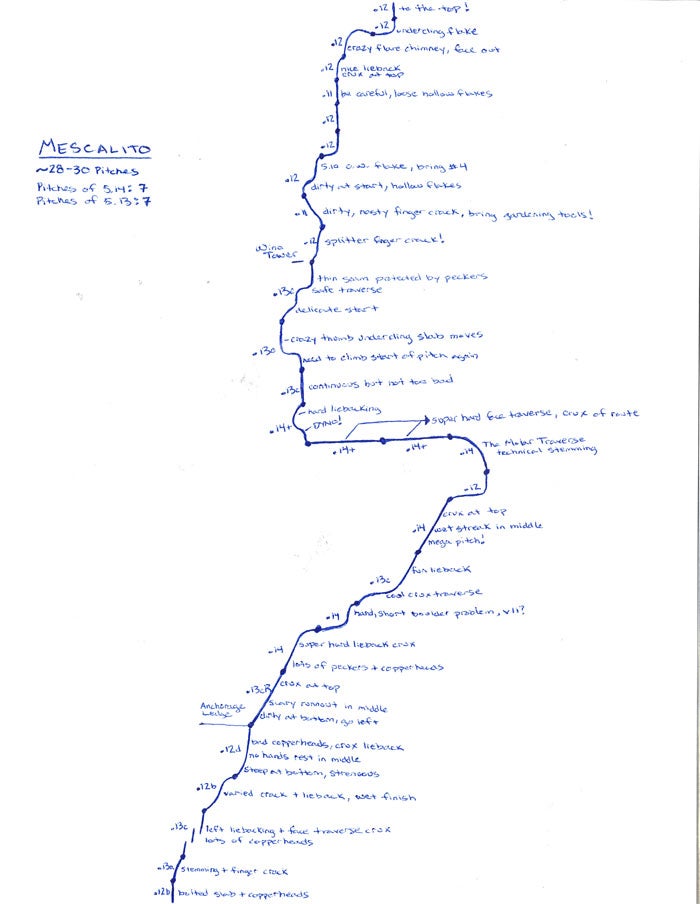 12/18/13 – Tommy Caldwell has finally redpointed one of the 5.14d pitches on the Dawn Wall, one of Yosemite's most famous climbs. Caldwell has been working on this project for an incredible seven years. Kevin Jorgeson has been his main partner, but other Dawn Wall party members have included Chris Sharma and Jonathan Siegrist.
Pro Climbers International broke the news on their Facebook page. "Tommy Caldwell just sent pitch 15, the second 'traverse pitch' on the Dawn Wall. At 5.14d, it's the hardest pitch in Yosemite and represents a huge step toward an eventual send of the entire route. Congratulations Tommy!"
Looking at the topo Climbing published in 2010, pitch 15 is denoted as the infamous sideways dyno pitch; the "second traverse pitch" that PCI refers to is the 14th one, described by Kevin as a "super-hard face traverse, crux of route." This newly redpointed pitch finishes below the sideways dyno.
The climb itself has been described as reachy and crimpy, and having horrible feet with a permanent wet streak on the 5.14 pitch 10. It's got about 30 pitches in all, with seven pitches of 5.14—three 5.14+ pitches in a row—and seven pitches of 5.13. In all, Caldwell and Jorgeson placed or replaced around 35 protection and anchor bolts, but it's by no means a sport climb. The second traverse pitch is protected by bolts, copperheads, or other fixed gear.
Date of ascent: December 17, 2013
Source: climbing.com, PCI