Carlo Traversi Repeats Magic Line (5.14c), One of World's Hardest Trad Routes
The 33-year-old made the fourth ascent of Magic Line after first trying it in 2016.
Photo: Christian Adam / Black Diamond
Heading out the door? Read this article on the new Outside+ app available now on iOS devices for members! Download the app.
On February 27, Carlo Traversi made the fourth ascent of Magic Line (5.14c), a hairline splitter tucked beside Vernal Falls in Yosemite National Park.
Traversi first tried the route in 2016 while simultaneously projecting Meltdown—another 5.14c gear line, first sent by Beth Rodden, which he made the second ascent of in 2018—and made remarkably quick progress. By the end of his first season on Magic Line, having spent five days on the route, he was falling on the very last hard move.
Traversi revisited Magic Line three more times over the next five years, working it alongside Hazel Findlay, who made the third ascent in 2019, but he never had the right combination of psych, weather, and steadily available partners. "It's so nice to have a partner that's committed [to the route] for a few weeks," Traversi told Climbing over the phone. When Tommy Caldwell invited him to work the route together this winter, Traversi quickly agreed.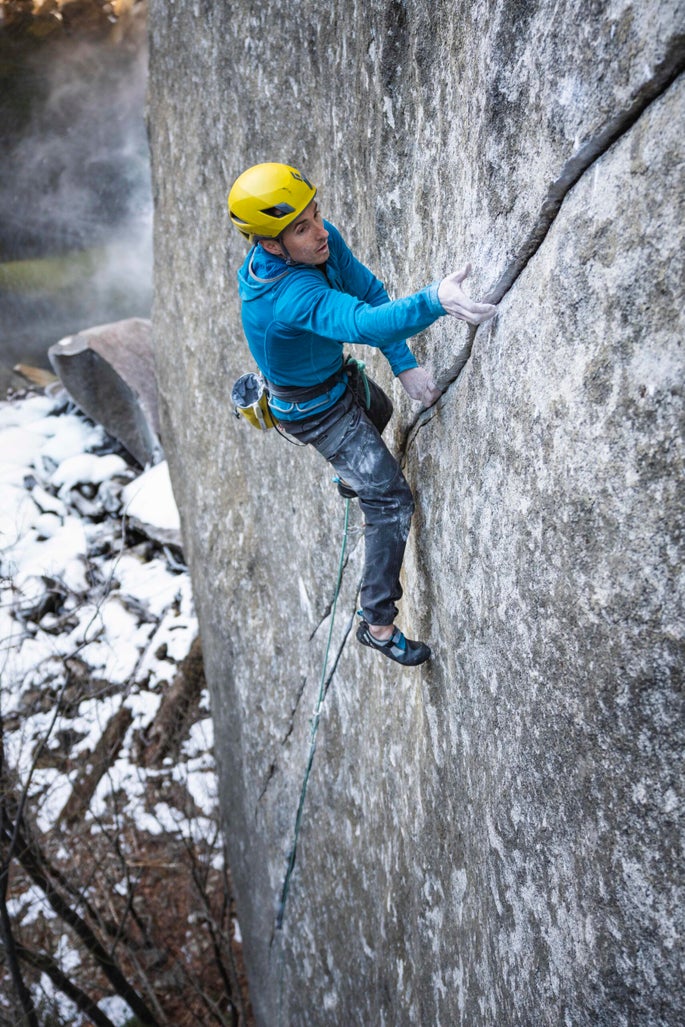 This article is free. Please support us with a membership and you'll receive Climbing in print, plus our annual special edition of Ascent and unlimited online access to thousands of ad-free stories.
Together, they re-sussed Magic Line's intricate beta—a daunting task to do alone, Traversi said. "[The route] kind of looks the same the whole way," he explained. "The gear has to be placed perfectly, from the perfect stance, for it to work." He racked up with many micro cams, including three of BD's tiny #0 Z4s and two #2 Ball Nuts. "[But] the gear is great—straightup," Traversi assured. "It's not a dangerous route at all and I've never pulled a piece." Magic Line can certainly become dangerous, however, with less-than-exacting technique. The feet are almost always sloping and an incredible amount of body tension is required to stay stuck to the wall. If your tension, technique, or tenacity wavers for a moment, solid placements can quickly become worthless and a slip while placing gear can also leave you in a pinch.
Stick the gear placements and there is still the 100-foot route to dispatch itself. Magic Line has two distinct cruxes: first, an insecure V11 boulder problem with "the worst feet imaginable" into a long 5.13+ with positive finger laybacking but continually poor feet. There's an almost-no-hands rest before the second crux, a sustained V9, but Traversi said it's not as great as it seems. "It's a tricky rest because your arms are resting but your feet get destroyed from smearing for so long…. Having solid feet is definitely the redpoint crux."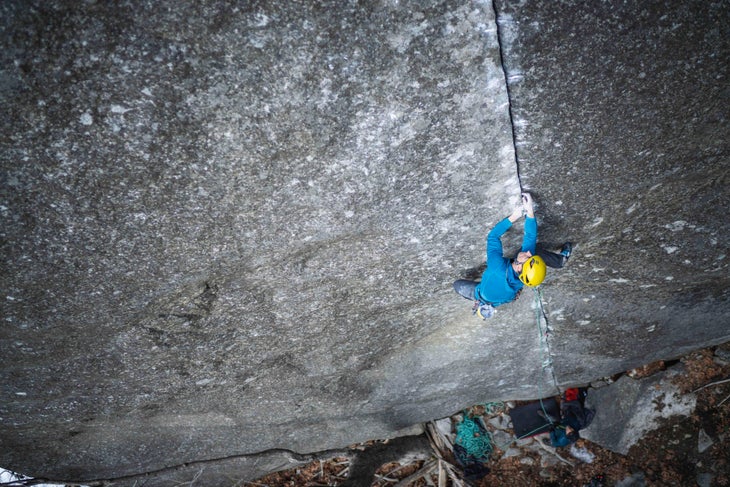 This is perhaps why Magic Line is so unique for the grade: there is no pumping out placing gear, no longing for greater finger strength. "You're always falling because of blown feet," he said. "So it's super stressful. But after climbing a lot in the Valley the last 10-15 years I know what I can and can't trust." In fact, Traversi believed that he could have been physically weaker and still redpointed the route. Instead, he relied on applying just the right amount of foot pressure and dialing in his shoe beta. He used Five Ten's slightly downturned Hiangle for its ideal mix of edging capabilities and split-sole softness. "Stiff is good but it makes smearing a lot harder. But softer shoes make the edging crux harder. So a one-day break-in was ideal. The edge was still crisp but the midsole was a little softer. I'd get two to three days of effort for each shoe," he said.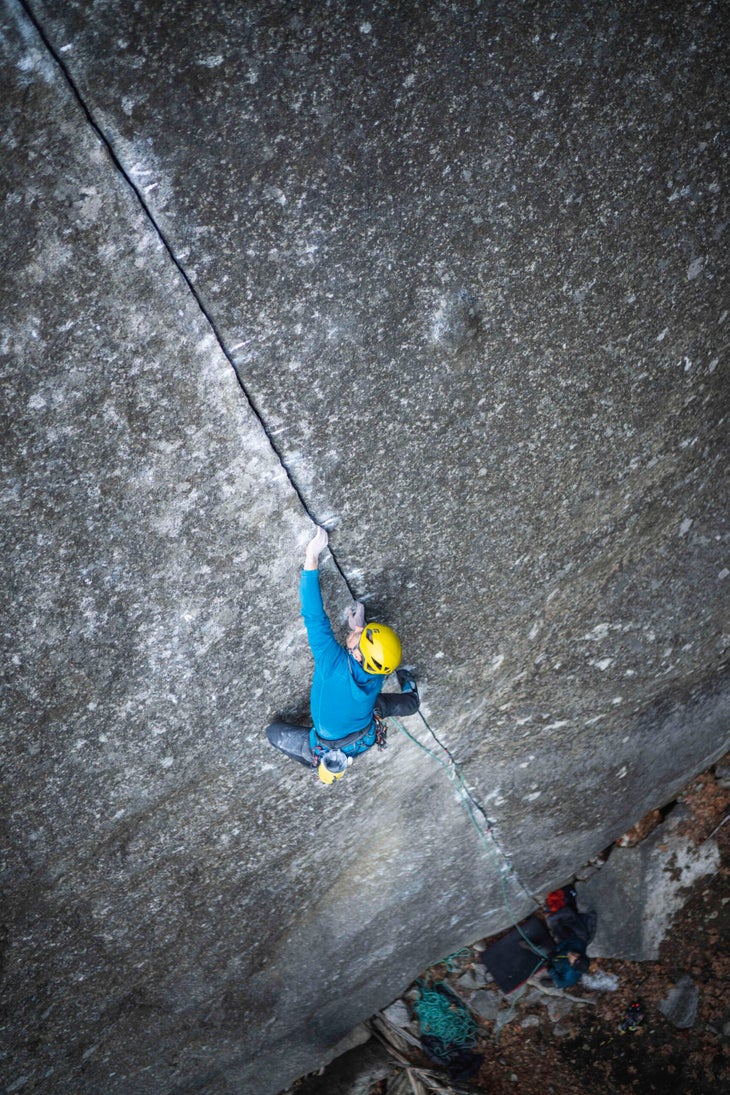 Conditions were also part of the crux. Nowadays, he says, the route is "pretty much unclimbable" when it's not winter. Even as recently as 2016, winters in Yosemite Valley were often too cold and wet to climb consistently, "but now [winter] is almost too warm to climb hard." Luckily, a cold spell graced Yosemite last week providing agreeable temps. For the slabby, friction-dependent Magic Line, a 70°F forecast in the valley was "just on the cusp of getting too warm" but a light breeze and 40-minute uphill approach brought the temps down to a more appropriate 47°F.
When asked how Magic Line compares to Meltdown, Traversi had a clear reverence for both. He said that Meltdown was certainly the harder and more sustained route, primarily due to its overhanging nature and fierce V12 crux. "But that's the cool thing about this stuff, they're both very hard but for different reasons…. I'm psyched to keep trying to master the Valley in all ways."