Castleton Tower Adopt A Crag Event
Heading out the door? Read this article on the new Outside+ app available now on iOS devices for members! Download the app.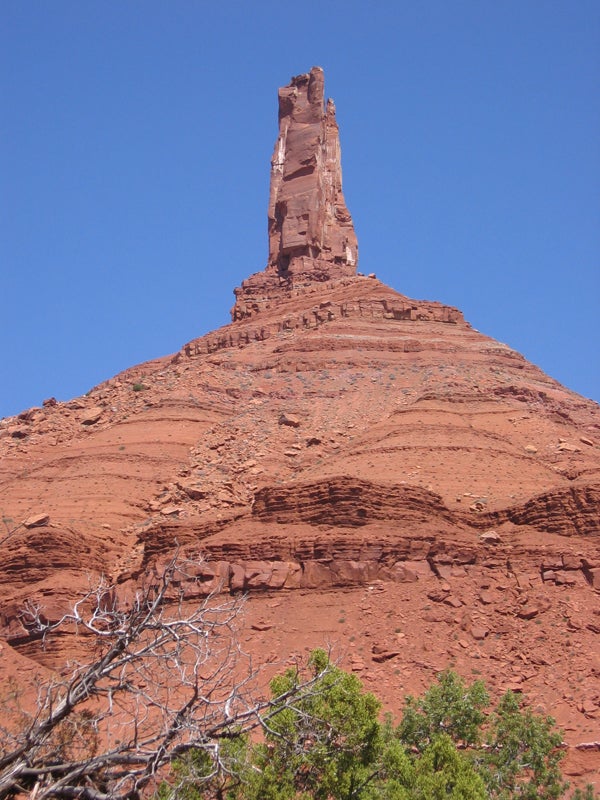 October 24th, 25th, & 26th, 2008
Trail Repair and Trailhead/Campground Stewardship
Castleton Tower needs YOUR help!!! On August 7, 2008, the Castleton Tower crags received two inches of rain in forty-five minutes. The flash flood damage to the access trail was severe. An Access Fund Adopt A Crag event this Fall is planned and the trail will be repaired with your help!!! Please join us.
Utah Open Lands, with support from the Access Fund and American Alpine Club, will host the first annual trail maintenance and baselands stewardship event at Castleton Tower on Friday, October 24th, Saturday, October 25th and Sunday, October 26th. The event is an official Access Fund Adopt-a-Crag event. It is made possible by Petzl's sponsorship of the Banff Mountain Film Festival World Tour in Moab which will celebrate its fifth year anniversary this March.
The goal of the event is for a group of volunteers, under the leadership of trail building professionals, to repair the access trail and begin to take on the stewardship of the crags at Castleton Tower on both BLM and Utah Open Lands property.
Trail Repair & Maintenance Seminar Friday, October 24th
The Rocky Mountain Field Institute (RMFI), builders of the Castleton Tower access trail and many of the trails at Indian Creek, will conduct a seminar on trail construction and maintenance. Then RMFI will lead us in the trail repair work.
Castleton Tower Access Trail Repair Saturday, October 25th
RMFI will oversee trail repair work on the Castleton Tower access trail.
Castleton Tower Access Trail Repair / Trailhead and Primitive Campground Re-Vegetation Sunday, October 26th
RMFI will oversee trail repair work on the Castleton Tower access trail. Additionally, on this day Plateau Restoration of Moab will lead another group of volunteers in the re-vegetation of a large section of the primitive campground which was damaged by inappropriate OHV travel before Utah Open Lands acquired the land in 2003.
Participants will meet each day at 8:30 a.m. at the Castleton Tower trailhead and primitive campground on the LaSal Mountain Loop Road in Castle Valley. We will work until approximately 4:00 each day. Participants should bring their own food, snacks, beverages, and water. Water will be available for refilling at the trailhead. You may participate for as little as a half day. The decision is yours but we need your help. The event will happen rain or shine so bring some foul weather gear.
Finally, Utah Open Lands would like to thank the Access Fund, American Alpine Club, Black Diamond, and Petzl for their support of this event and the stewardship effort at Castleton Tower!
Please contact Dave Erley of Utah Open Lands (utahopenlands.org) at 435-259-4859 or dderley@frontiernet.net for more information or to sign up for any or all of the days.
Just Say YES to Stewardship!!!