Celebration to Commemorate the 50th Anniversary of The Nose
Heading out the door? Read this article on the new Outside+ app available now on iOS devices for members! Download the app.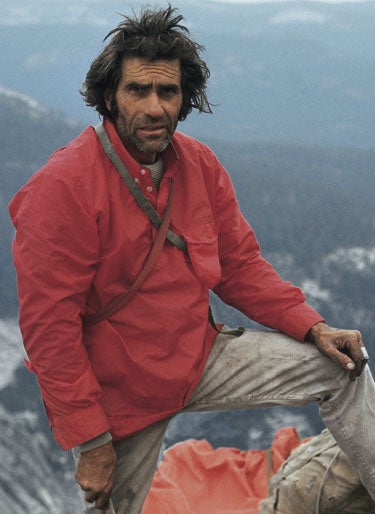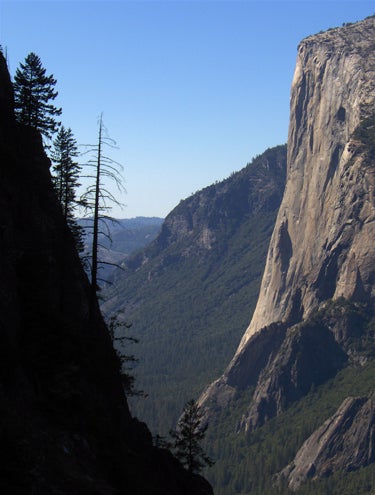 Wednesday, November the 12th marked the day Warren Harding, Wayne Merry and George Whitmore topped out on the now iconic El Capitan climb 50 years ago. This past weekend [November 15-16, 2008], at an event organized by Ken Yager and the Yosemite Climbing Association, climbers gathered to honor the first ascent team — including Al Steck, Jon Whitmer, Wally Reed and Richard Calderwood — all who made important contributions to the effort.
Mark Powell, Bill "the Dolt" Feuerer and Harding (all who have passed) were memorialized by stories told and the ever-present glass of red wine. The "project" began July 4, 1957 after Harding returned from delivering ham sandwiches and a gallon of water to the summit of Half Dome to congratulate Royal Robbins, Jerry Gallwas and Mike Sherrick who established the first Grade VI in Yosemite — The Northwest Face. Now the race was on for El Cap. Harding recruited partners with special skills — including the ability to fashion the gear needed to overcome certain sections of the route. Hand made pitons (Stove Legs, Big Moe and Little Moe, ring angles, arrows and knifeblades) were fashioned in garages in Fresno and Oakhurst. Bolts and new-fangeld aluminum oval carabiners were rushed in from the Ski Hut in Berkeley… and the new luggage handling techniques were envisioned, fabricated and tested — including the infamous Dolt Cart — a contraption good in theory but lacking efficiency on the wall. As Wayne Merry quipped "the Cart used so much of our energy to operate, we practically consumed all the supplies once they arrived".
76 newsmen swarm around Harding (in dark sweater) and Caldwell (in sunglasses to his left) on top of El Capitan after their 27-day ordeal on the Wall Early Morning Light. Photo by Gene Rose.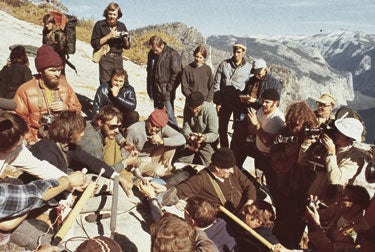 Harding's tenacity is legendary and his tour de force — all night drilling session on the headwall exemplifies the vision, commitment and strength of his character. The summit was had early morning Nov 12th — not quite a year and a half after the start of his effort.
Please join us and hoist a glass of red wine to toast Warren, the Crew and The Captain — an inspiration to all who climb.
For more read: The Life of Warren "Batso" Harding By Burr Snider