Chad Kellogg Killed By Rockfall In Patagonia
Heading out the door? Read this article on the new Outside+ app available now on iOS devices for members! Download the app.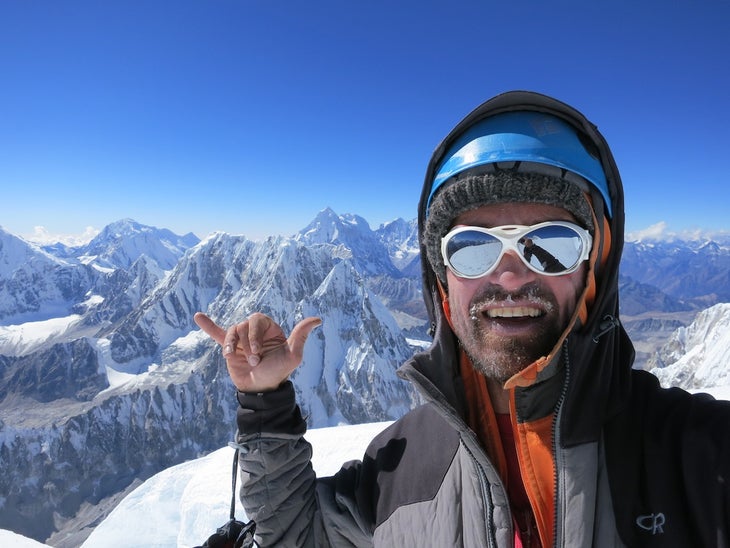 2/16/2014 – American climber Chad Kellogg has been killed while climbing in Patagonia. According to local authority and guidebook author Rolando Garibotti, Kellogg and Jens Holsten had climbed the Afanassieff Route on the northwest ridge of Fitz Roy. They reached the top in late afternoon on February 14 and began their descent via the Supercanaleta route.
After the third rappel, one of the ropes got stuck, and while pulling on the cord to try to loosen it, "the rope dislodged a block which hit Chad," Garibotti wrote at Supertopo.com. "He died instantly. It was 9 p.m. Jens continued the descent alone through the night, reaching the base early in the morning to then continue to El Chaltén, the nearest town. Because of the complexities of the location, a body recovery will not be attempted."
Kellogg, 42, was based in Seattle and ran a construction business that remodeled historic homes. He was best known for his  speed climbs and attempts—he set speed records on Mt. Rainier and Denali, won the race up 7,000-meter Khan Tengri in Kyrgyzstan, and made two attempts to break the Everest speed record. But pure alpinism was his true love, and in recent years he had accomplished many superb ascents, going solo or partnering with a select group of highly accomplished Pacific Northwest climbers.
In 2008 he and Dylan Johnson climbed a 72-pitch new route on Siguniang in China. Kellogg soloed a new route on the enormous south face of Aconcagua in Argentina (without going to the summit) in 2009.
Kellogg and Johnson did the first ascent of 18,346-foot Seerdengpu in China in 2010. In January 2013, he and Colin Haley did the second ascent of the Corkscrew Route on Cerro Torre, climbing the Patagonian spire without using any of the controversial protection bolts placed by Cesare Maestri on the southeast ridge.
In the fall of 2012, Kellogg and David Gottlieb were in Nepal to try the first ascent of Lunag Ri in a remote section of the Khumbu. When Gottlieb got sick, Kellogg soloed the second ascent of 22,238-foot Jobo Rinjang. The two men returned to Lunag Ri last fall and made two unsuccessful attempts on Lunag Ri. Kellogg recently won a 2014 Mugs Stump Award to return to this area with Gottlieb and Jens Holsten later this year.
In addition to his climbing and business challenges, Kellogg had endured numerous other difficulties. In 2007 his wife, Lara Karena Kellogg, was killed in a rappelling accident in Alaska, while Kellogg was climbing in western China. Kellogg also survived a bout with colon cancer, with which he was diagnosed shortly after his wife's death. In 2011, one of Kellogg's best friends and partners, Joe Puryear, was killed in a cornice collapse in Tibet.
Date of accident: February 14, 2014