Chuck Odette, 64, Sends T-Rex (5.14b)
Heading out the door? Read this article on the new Outside+ app available now on iOS devices for members! Download the app.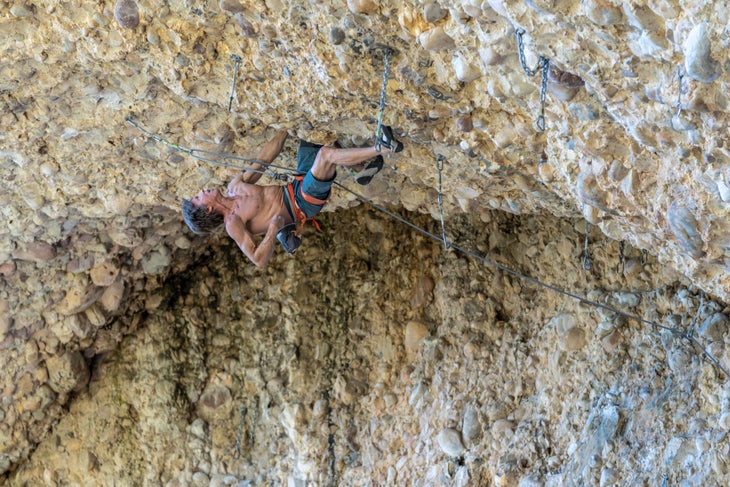 It was cold and wet in Maple Canyon, Utah, last Wednesday as Maple regulars Chuck Odette and his wife/climbing partner Maggie hiked past skiffs of snow to the Pipe Dream cave. Temps reached a high of 49°F that day with a stiff breeze and little sun—poor conditions for the long, steep routes. Nonetheless, the duo made it out for their weekly climbing ritual, and despite the weather, Odette sent his hardest route to date, T-Rex (5.14b), at age 64.
"The warm-ups were more like numb-outs," Odette said. "Maggie offered to stay and belay but it was too cold for her to climb. I figured I'd give the proj one go and wait for hopefully better conditions on Friday."
T-Rex is a 40-meter long, wildly overhung line that climbs out of Pipe Dream cave on conglomerate cobblestone. It is an extension of Millenium (5.14a). Clipping 26 bolts to complete the route, the line is a power endurance test piece. It was first climbed by Tom Adams in the mid-2000s. "The moves are big, the rests are limited and the pump factor substantial," Odette explained in a blog post. "The route was named after Tom's lactic acid filled arms, [which] remained locked in a position similar to a Tyrannosaurus Rex the morning after his send."
On his redpoint burn, Odette nearly fell at the third bolt—not a promising start with 23 bolts still ahead. He held fast to a bad left pinch and pulled through the section clean.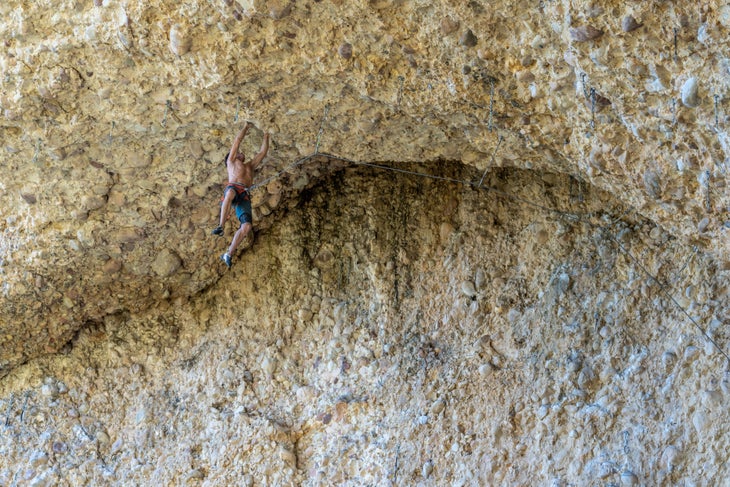 "Taking one move at a time, I passed the crux and eventually the anchors of Millennium," Odette said. "I felt strong on the moves connecting Millennium to the T-Rex extension and just kept knocking down section after section, one move at a time. Before I knew it, I was making one last big move to a jug at the lip of the cave, a place I'd fallen a couple of times on previous attempts."
From there, only four bolts remained to the anchors over relatively easy terrain that Odette had dialed. After four months of effort this year, and two months last year, and somewhere between 80 and 100 burns, Chuck Odette clipped the chains on T-Rex. Immediately after touching the ground, he announced to everyone at the Pipe Dream cave that he would be retiring from climbing… until Friday.