Heading out the door? Read this article on the new Outside+ app available now on iOS devices for members! Download the app.

Climb for Hope was organized to raise and channel funds towards targeted and promising research in the fight against breast cancer. Our mission is to find a viable treatment for breast cancer by 2009. These funds will be directed to a promising vaccine being developed for late-stage breast cancer. To raise the money — and awareness about the innovative research it supports — members will attempt to summit one of the world's highest active volcanos, Cotopaxi in Ecuador, in January 2008 and a second team will travel to Tanzania in June 2008 to climb Mount Kilimanjaro, the highest point in Africa.

In January 2007, 17 of 21 climbers in our expedition team summited Mt. Cotopaxi, the world's largest active volcano, raising $150,000 that was directed towards a vaccine being developed at Johns Hopkins University. Not only does the vaccine address some of the most aggressive and lethal forms of Breast Cancer, but the research is expected to derive advances for many forms of cancer as well. Our work sped up the work being done by Dr. Leisha Emens by 6 months, potentially saving thousands of lives.We are most grateful for the personal commitment the expedition climbers who worked hard to not only train, but to exceed their individual fundraising goals in support of the organization's goal to find a vaccine by 2009.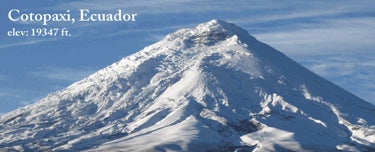 In 2008, CFH will summit 2 moutains: Cotopaxi Expedition, January 3-12, 2008 Kilimanjaro Expedition, June 15-29, 200
Climb for Hope is partners with EarthTreks Climbing which provided professional, personalized health and skill training. Chris Warner, one of America's premier climbers and veteran of Mt. Everest and K2 led our trip. www.climbforhope.com