Petroglyph Bolter Apologizes, Receives Death Threats
The climber who bolted three rock climbs on top of and near ancient Native American petroglyphs told Climbing magazine that he regretted his mistake and any harm he may have caused.
Heading out the door? Read this article on the new Outside+ app available now on iOS devices for members! Download the app.
Yesterday afternoon Climbing published a news report of three sport routes that had been bolted on top of and near Native American rock art, estimated to be 1,000 years old. We have since learned more details that shed light on the incident. While the new information does not excuse the actions of the bolter, Richard Gilbert, it is useful for understanding his actions—born out of ignorance—and can help the community prevent similar scenarios in the future. 
Today's report does have a secondary distressing thread: Though many reactions to the Climbing article were productive and forward-looking, Gilbert says he received a number of death threats. "I make an innocent mistake, and since I'm a disabled climber,a nobody, people want to kill me," he said.
Gilbert, 36, is an Iraq War veteran. He says he suffered "a broken back, a dislocated shoulder, a busted knee, and a busted abdominal wall," during his service. He also says he sustained a traumatic brain injury while overseas, and is the founder of Project Unity, "a blood drive aimed [at bringing] together Muslim and veteran students," at Mesa Community College, San Diego, California.
Gilbert told Climbing that he, "would like to apologize to the local indigenous people for any disrespect or damages that have been caused by any of my actions. I would also like to apologize to the climbing community for misrepresenting and damaging the way the public views climbers. It was never my intention to cause pain to anyone and [it] was an uneducated mistake that I am dedicated and committed to making right."
What We Know About the Petroglyph-Bolting Incident
In March, Robert Gilbert bolted three routes, about 5.3, near the Sunshine Slabs north of Utah's Arches National Park. He posted route info on Mountain Project along with photos of the rock art that he mistakenly identified as modern-day graffiti. The caption for one of the photos read, "Graffiti-There is a good amount of graffiti on this route, PLEASE do NOT add to it!"
When Wyoming climber Darrin Reay and a group of his friends noticed the new routes this past weekend, they realized the bolted lines were directly over ancient Native American petroglyphs that Gilbert had misidentified as graffiti. Reay removed the bolts.
Reay shared his discovery with climber and guidebook author Stewart Green. Green took to Mountain Project to sound the alarm this past Sunday night. In back-and-forth exchanges in the comments sections on the routes' pages and on Gilbert's photos of the rock art (the route entries have since been removed from the website), Green chastised Gilbert, and Gilbert pleaded his case. Gilbert explained why he thought it was graffiti, and then acknowledged he had made a terrible mistake. When Gilbert realized his error—that it actually was rock art—he responded, "I will fix this immediately," changed the caption on the image of the rock art to read, "Petroglyph of a man holding a spear!" and edited the route name from "Peaches" to "Peaches: do NOT climb!"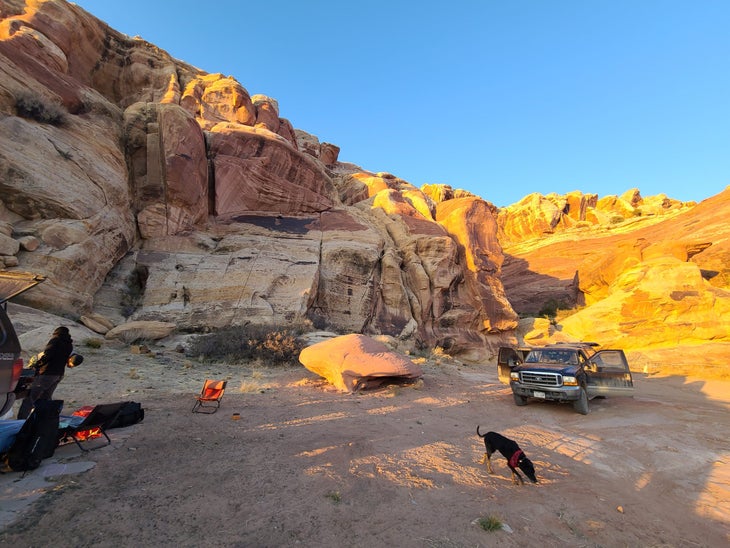 Gilbert told Climbing that "the next morning [Monday] I drove to Moab [from his home in Colorado Springs]. I sat down with officer Cody Marsh, who had hardly any information at the time, and told him what had happened. The conversation took about an hour to an hour and a half."
While the authorities began investigating the incident, it became a hot topic on Mountain Project and, after it was picked up by Climbing, Instagram and Facebook, too. The outcry against Gilbert's actions was swift and overwhelming. Many comments lamented the damage to the art, and applauded Reay's actions in pulling the bolts. "Good job on the climbers that removed the bolts," read one comment. Others expressed anger and brandished epithets like "stupid" toward Gilbert.
It is at this point that Gilbert says he received dozens of direct messages, including many death threats. "I have responded to almost everybody who has reached out to me," he said, "except for the death threats. I delete those immediately since there's no reason in escalating that."
What's Next?
The climbing community needs to do better, and take a more active role in protecting Native American art and cultural-heritage sites. This is not an isolated incident: other sites have been and are currently at risk as a result of climbers' actions. Stay tuned for a follow-up article that will include members of the Utah Public Archaeology Network, Stop Archaeological Vandalism, and other professional archaeologists and land managers. 
As Stewart Green told Climbing yesterday, "The key to making sure that another incident, which makes climbers look like a bad user group, doesn't happen again is education. As climbers, we need to do a better job educating new climbers that have learned in gyms and without mentors that we need to practice a Leave No Trace ethic where we climb, and that includes respecting sacred sites, as well as historic and prehistoric cultural resources."