Climbers We Lost in 2020
"Climbers We Lost" is an annual tribute to community members we've lost in the past year.
Heading out the door? Read this article on the new Outside+ app available now on iOS devices for members! Download the app.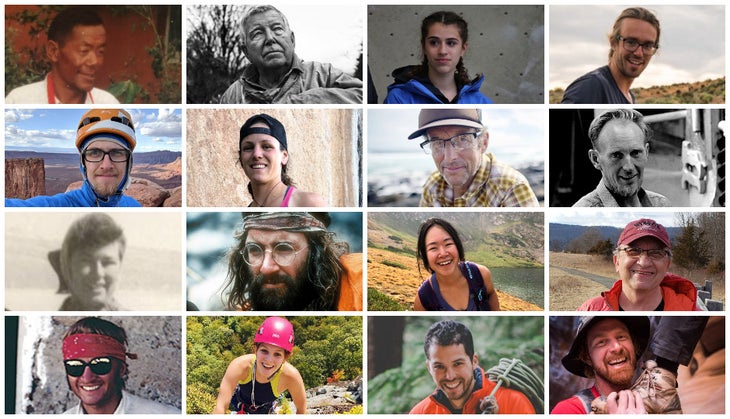 One person in these pages was a 67-year-old surgeon who died after helping coronavirus patients and contracting the illness himself. Another was a 25-year-old who volunteered to help adaptive climbers in her community. A recent one was an icon in UK and global mountaineering, finally gone at age 90 after generations of rescuing others, followed shortly by a celebrated alpinist who was an important role model for giving back to mountain communities and did so until the end. Yet another young woman, having grown up in Hong Kong with minimal opportunities to be in nature, worked for years to help maintain wild areas and make them accessible to urban youth. The last of 2020 was head of his area climbers' coalition, an advocate and steward who organized a climber cleanup every year.
This year those herein range in age from 16 to 103.
"Climbers We Lost" is our annual tribute to community members now absent. This compilation, begun in 2012, is hard all around, but a solace, and may be the most important thing we do all year. 
As ever, please know that we try but can never cover everyone, and may inadvertently miss people. We encourage you to add names, remembrances and images in the comments field.
We also refer you to this excellent resource, the Climbing Grief Fund, with thanks to the American Alpine Club and to Madaleine Sorkin for leading the effort.
With deepest thanks to all our contributors, and our many condolences to friends and families.
—Alison Osius and Michael Levy
Darek Krol
57, December 26
Grief is an enigma, amorphous, elusive, and in your face all at once. It contains peaks and valleys, twists and turns, crevices and hidden folds where it lies dormant before rearing its head again without warning. Yet if there's one truth I understand about humans, it's that we adapt.
Darek Krol was a shining emblem of adaptation, resilience and growth. Immigrating to the United States from Poland in 1997 with his young wife, Anita, and infant daughter, Nina, speaking virtually no English, Darek initially simply wanted to get his family secure and settled in their new home. He took his first job in Boulder washing windows, having passed his interview with mere hand gestures and an abundance of smiling. Darek's career flourished in a matter of a few short years. He taught himself to program, and that combined with his gift for languages gained him employment developing linguistic translation software for a local Boulder tech startup. Eventually, he gained a senior-level position as an IT director for the Boulder Valley School District. He was smart, adept, and personable, probably the friendliest person you could ever want to be around, let alone employ.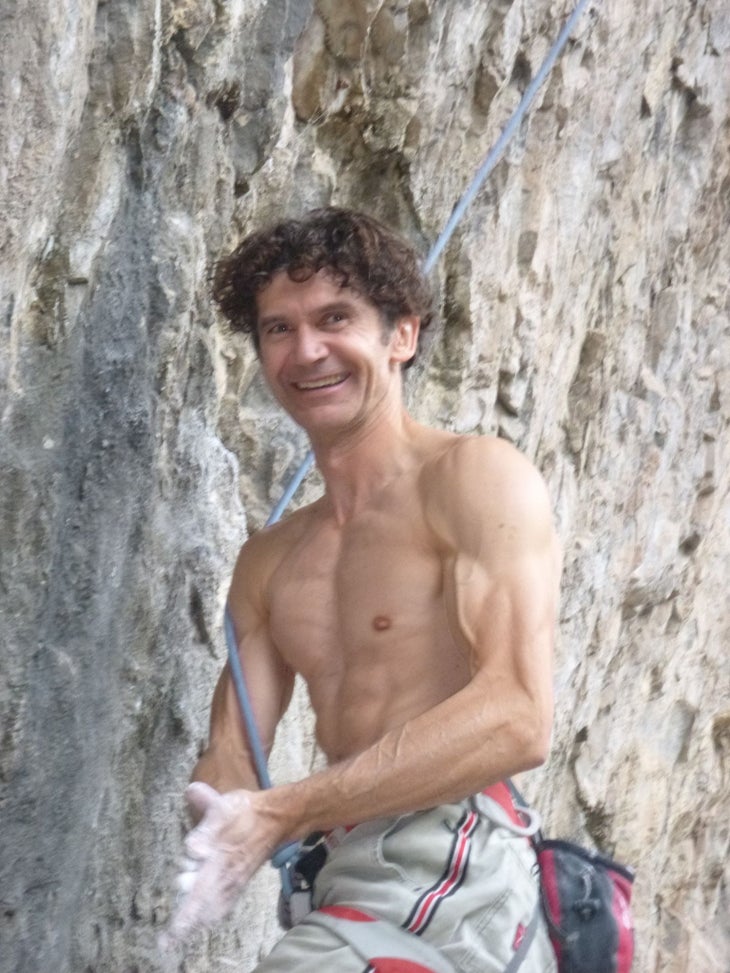 Aside from family, Darek's passions consisted of climbing, skiing, climbing, fine wines, climbing, astronomy, climbing, and cuisine, but mostly climbing.
Darek discovered rock climbing 40 years ago, at the age of 17, in Poland, where he quickly made his way through the grades and forged lasting friendships across Europe. He was an organizer and innovator from the start: co-creating and editing two climbing periodicals, one of which is still in print; helping launch the Korona Rock Gym, in Kraków, which is still operating; and organizing regional and national climbing competitions.
By the late 1990s, with Darek by now firmly planted in Boulder, the steep limestone walls of Rifle Mountain Park became a frequent destination and eventual obsession. The 360-mile round-trip commute from home was a weekly routine for at least six months out of every year for nearly two decades. Darek drove as fiercely as he climbed. To ride in the passenger seat of his turbo Saab always felt like witnessing a well-rehearsed redpoint attempt: banking, shifting, braking and accelerating at the precise moments as if in harmony with the route we were taking. While it was initially terrifying, you eventually just trusted his expertise behind the wheel. The canyon, its rich ecosystem, its star-filled nights, and the kindred spirits inhabiting its corridors became Darek's home away from home. As much as he loved the climbing, he savored the beauty and tranquility as much. He always said there was nowhere he slept better.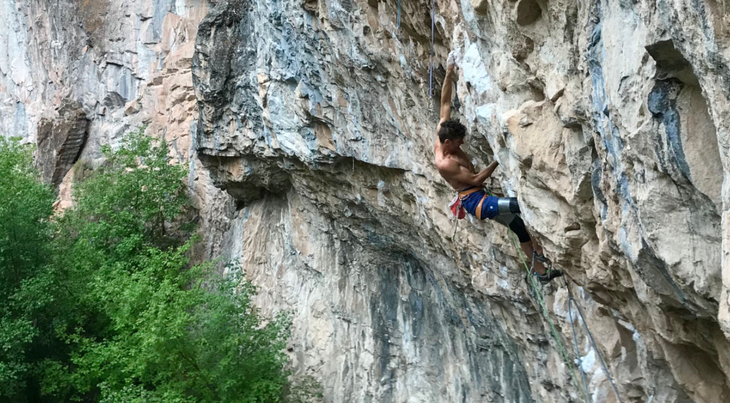 Author of dozens of routes there, community organizer, liaison with the City of Rifle, friend to anyone and everyone who met him in the canyon or around a campfire: Darek was all of these things and much more. His last route in Rifle was Freewill (8a / 5.13b), in 2020, while other recent ones closer to home were Social Dispensing (7a / 5.11+), River Wall, Button Rock, in 2020, and Super Tuscan (5.13b), Seal Rock, the Flatirons, 2018.
Steven Hobbs posted this on the Rifle Climbers Facebook page:
"Darek was a pillar in our community and a treasure of a man. He brought joy and laughter and love to everyone. He is irreplaceable." To that he adds, "Darek was warm and welcoming to novices and experts alike. He was the unofficial mayor of Rifle not just for his route development and community organizing but because he made everyone feel like they belonged." Lee Sheftel, who worked with Darek on the Rifle Climbers Coalition (Darek was acting president), mourned the loss of his friend's "endless energy and devotion … as well as his welcoming smile."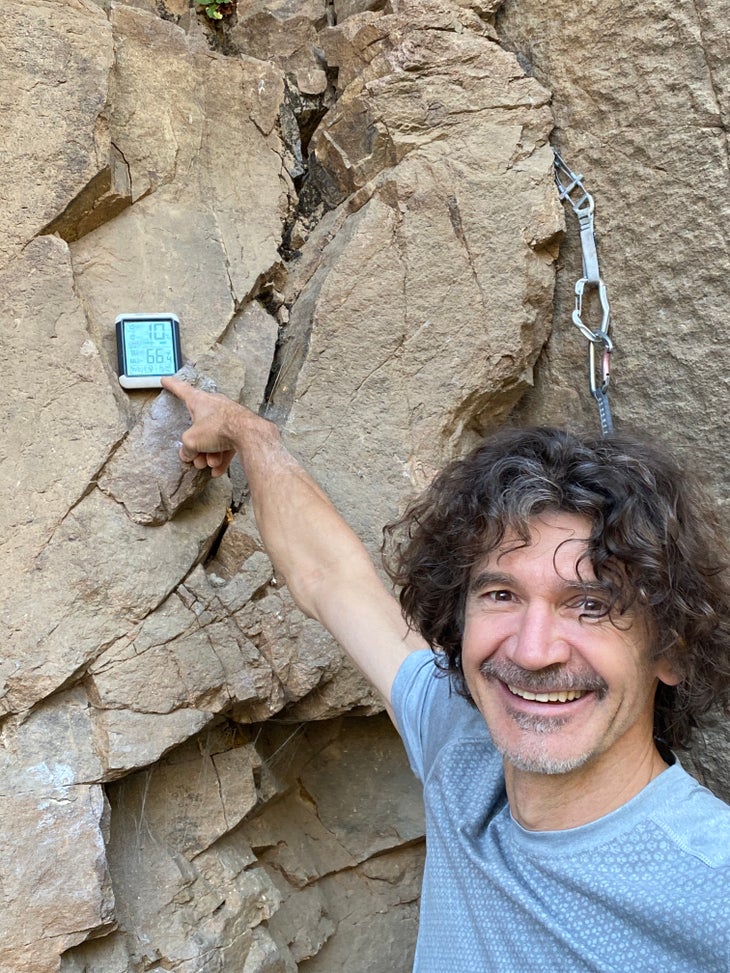 This past year, Darek at 56 was in perhaps the best shape of his life—lean, strong and psyched. We obsessed over a local project—at the River Wall near Lyons, Colorado—and planned bucket-list trips. He would occasionally lament the onset of age and the physical decline that is coming for all of us, but he was as spirited, engaged, and positive as ever. 
There were days where we just couldn't believe how little progress we were making on our project, and wondered how the same moves would have felt a decade or two earlier. Comparing a 50-plus-year-old body to its previous, younger version is neither fair nor inspiring, thus we began contemplating how were going to look back at this time, 20 years from now, and reminisce on how fit, strong, and free of pain we were at mere 50-somethings. Darek started the mantra: "THESE are the best days of our lives!". And from then on, in his endearing pitch and accent, he exclaimed it everyday we dropped down into that canyon.
Darek and I were friends for over two decades; he and his family had become my family. Even more than the climbing partnership, I will miss our daily conversations, dinners, morning coffee, his endearing idiosyncrasies, sheer kindness, openness, and selflessness. The connection he made with my three-year-old son is perhaps the most volatile component of my grief. Ethan will never have another Uncle Darek or know anyone remotely like him. None of us will.
Five days after Darek's death in an avalanche while backcountry skiing on Berthoud Pass, I'm reminded of an afternoon he called last summer. I assumed we were going to discuss River Wall logistics over dinner at their place or mine. Instead he said he wanted to walk over and wash my windows, they needed a cleaning, it was bothering him, and he wanted to do it that evening. He showed up at our door with his full pro setup from 20-plus years' prior—squeegee, spray bottle, rags, scraper, and bucket. Ethan was ecstatic to be in Darek's presence, and happened to be wearing a near identical outfit. It was one of those ephemeral moments that I'll keep close. You'll always be with us, Dariusz.
Friends have organized a GoFundMe to help with recovery, transportation and memorial costs, and aid the family through the transition.
—Ed McKeown
Ironically, at this time last year Darek wrote an eloquent obituary for his friend Ben Walburn, taken by cancer. In Ben's illness Darek helped care for him, took over his finances, and raised funds by rallying the climbing community.
Marylee Harrer
63, December 21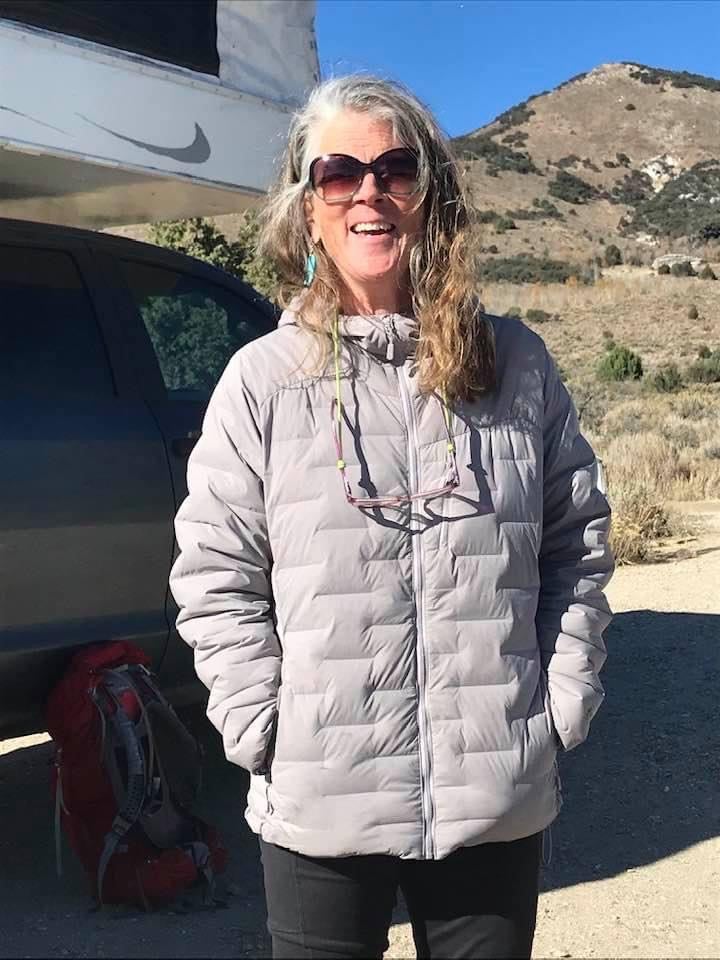 Nearly 50 years of rock climbing: Marylee Harrer began in 1973. Born and raised in Scottsdale, Arizona, she was first taken climbing by her best friend, Scott Baxter, to Echo Canyon of Camelback Mountain and Pinnacle Peak, and fell head over heels in love with the sport.
At the time, the Arizona Banditos, a rough and rugged group of rebel climbers, were establishing bold ascents on sandstone spires in Sedona, long runout lines on Granite Mountain, and hard crack climbs at Paradise Forks. Marylee became one of the only women in that corps, helping set the stage for high-level climbing for female climbers around the country. She was especially good at technical slabs and mixed cracks, and in her later life fell in love with sport climbing.
In 1979, Marylee got the first female ascent of Mt. Hayden in Grand Canyon, a now coveted summit by climbers around the globe. In 2012 at the age of 55 Marylee achieved a lifelong goal of climbing the Northwest Face of Half Dome.
When asked in an interview who her role models had been, the longtime hard climber Bobbi Bensman gave the names of Lynn Hill, as might be expected—and Marylee Harrer. Marylee became great friends with both Bobbi and Lynn, and they had all planned to climb together, again, in Colorado this year after Marylee recovered from recent knee-replacement surgery.
Bobbi says in an email: "In 1980, I was a sophomore in high school and got into rock climbing on the granite around Phoenix. I was climbing 5.7 and at that time, the hardest known grade was 5.10. I kept hearing of a woman in Flagstaff that was climbing 5.10!!! I was so blown away and knew that I had to meet this woman, as I was the only woman rock climber that I knew of. She was strong and graceful and competent on and off the rock."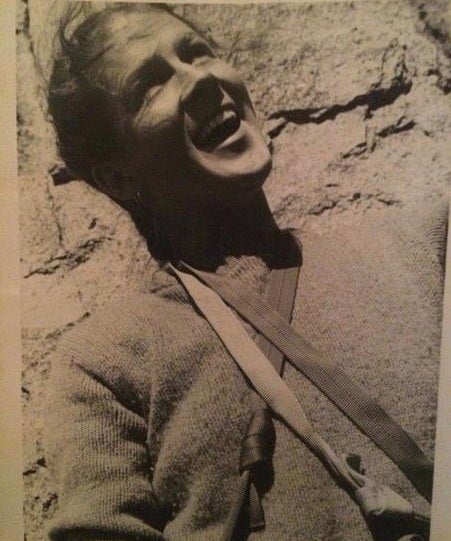 The two had a friendship of 40 years, with Marylee reaching out weekly to check in. She supported Bobbi's climbing achievements until the end of her life.
"I was actually working on an 8a of Darek [Krol's] in the Flatirons, and I would FaceTime with her up at the base," Bobbi says. "It was always so fun FaceTiming with her, and she would always pick up!"
In December of 1981, I was born, Marylee's first daughter, and in February of 1983 her second daughter, Holly, arrived. Although a single mom, Marylee was wildly successful at continuing to climb and maintain her passion, while dedicating everything in her life to her daughters. Holly and I spent childhoods at the crag with Marylee. In 1988 we moved from Ojai, California, where my mom was working for Chouinard Equipment, when she took a job with the Patagonia mail-order program in Bozeman, Montana. In Bozeman, she continued to climb, and every year she would take Holly and me to the City of Rocks, once in the summer and once in the fall. We would spend our days at the base of the granite cliffs in the high desert sun, playing with sticks and anthills, watching our mother climb, and learning the joy of climbing through being with family.
To this day my mom has remained my favorite climbing partner. This past October we spent a week in the City of Rocks, just the two of us. It was one of the best climbing trips we've ever shared, and the last time I saw her. She was there for my hardest sends, as well as all the other pieces of my life.
Marylee and Holly always had so much fun together as well. Holly remained in Bozeman (I live in Flagstaff now) and would spend time walking around town, hiking, biking, laughing and singing. They loved being outside together.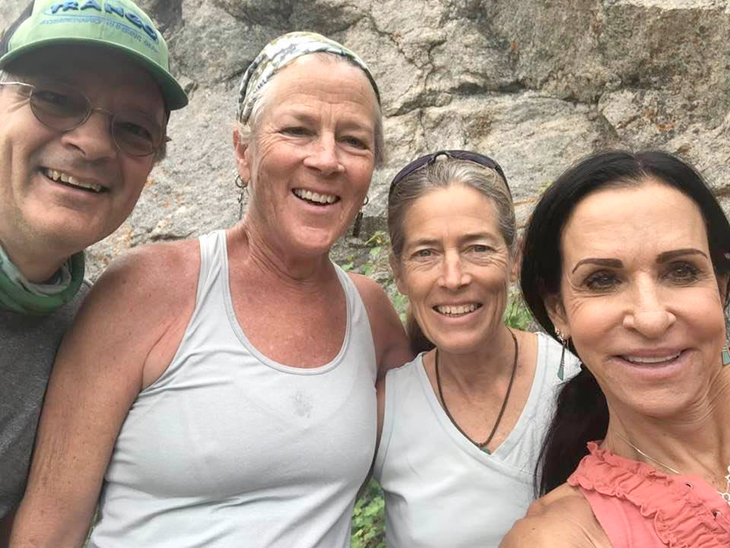 In 1990 Marylee became a certified massage therapist in Bozeman, and continued her practice until her passing day. For 30 years she touched and healed people in the community and from around the world. Her incredible healing touch, commitment to her kids, family and friends, combined with her strength and grace from climbing, had a powerful and lasting effect on all who knew her. She was a force of nature, deeply loved.
Bobbi says: "She was very strong-minded, opinionated and had a such a will to live life at its fullest. … She [also] had one foot in 'other worlds' and was very sensitive to everything around her." Thoughtful and expressive, Marylee regularly kept journals.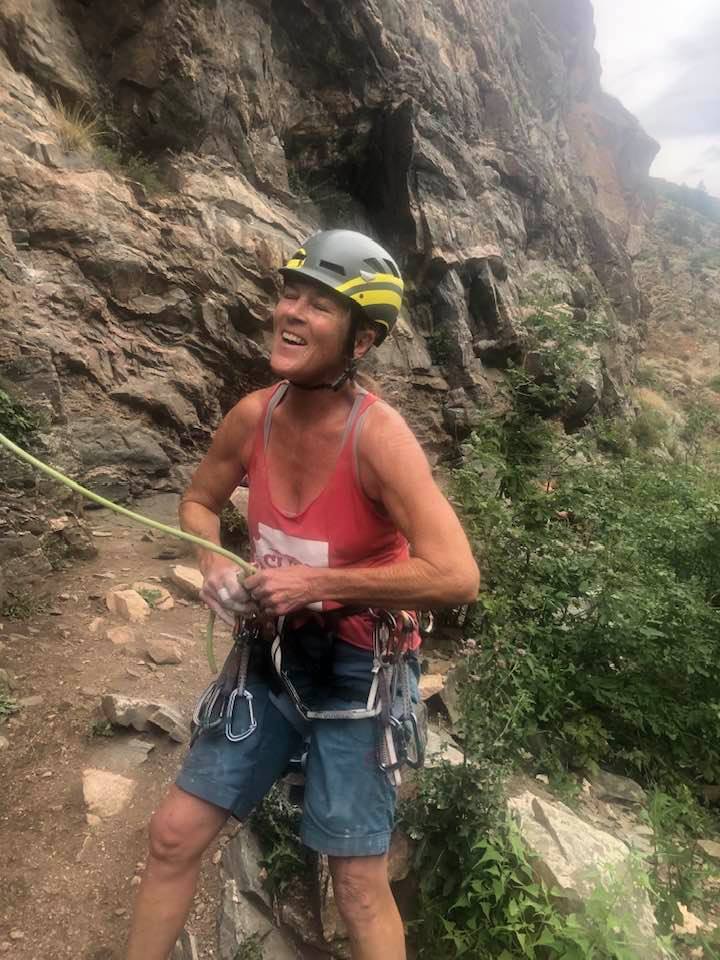 In 2011 Marylee married Steve Barber. Steve proposed to Marylee at Bridger Bowl on a ridge between the chutes Sometimes a Great Notion and Cuckoo's Nest—a testament to the adventurous and playful love that was the basis of their marriage. Steve and Marylee avidly mountain biked around the country together and traveled the world, to Mexico, Costa Rica, Ecuador, Peru, the Galapagos Islands, Canada and Alaska. While mountain biking in the U.S., they traveled together in their home away from home, a Dodge RoadTrek van.
My mother passed from a severe brain bleed, after presenting signs of a stroke, on the winter solstice of 2020 with chalk in her fingernails, having just been climbing. On the evening of December 29, over 100 people in Bozeman, with others joining remotely (including Lynn Hill in Hueco and Bobbi in Boulder), took a full-moon walk in her honor. She is survived by her daughters, Amylee Thornhill and Holly Thornhill George; her granddaughters, Mesa Thornhill, Louise George and Aven Byrd-Thornhill, her husband and her stepdaughter, Kate Skuntz.
Marylee's dear friend Randa Chehab, with whom she shared much, including a presence at protest marches in recent years, posted on Facebook: "Such a sudden and profound loss for so many of us. I have been so blessed to know her and love her for the last 26 years. Never any bullshit. She always had my back. She was my champion, big sister, mentor, and confidante. God, I miss you. You have a piece of my heart … It was an honor to walk beside you."
There will be an outdoor celebration of Marylee's life in summer of 2021 in Bozeman. Please stay tuned via Facebook for details.
—Amylee Thornhill
Doug Scott
79, December 7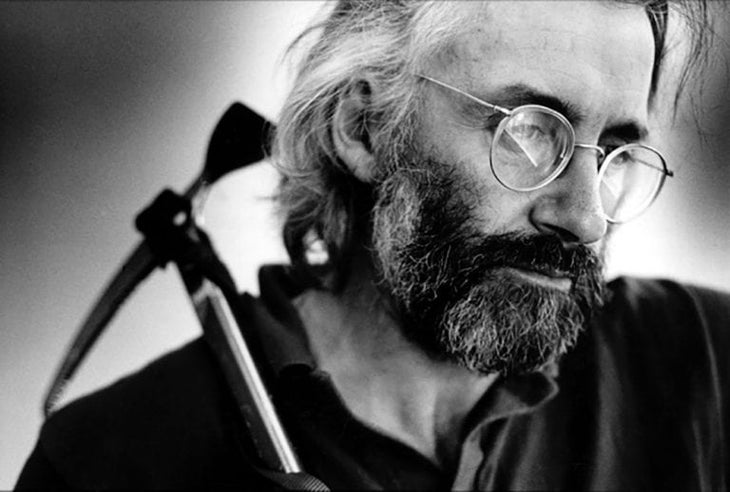 Even in his final illness, Doug Scott was his irrepressible self, hauling himself up the short flight of stairs at his home in Cumbria to raise money for Community Action Nepal (CAN), the non-profit he started in 1989 to help the people of Nepal who had helped him. The stair climbing was part of CAN's Everest Challenge 2020, a way to raise money during lockdown, as the regular supply of funds, most often Doug giving public lectures, was no longer possible.
Doug had dressed for the occasion in the old windsuit he wore on the summit of Everest in 1975 during the first ascent of the southwest face. Dougal Haston's picture shows him standing gloveless in the dusk next to the old Chinese tripod, ready for anything. He needed to be. That morning he had left the tent without wearing his down suit because it constricted his movement too much. Under the windsuit was silk underwear, cashmere and nylon pile. It would soon be dark and their headlamps failed as they abseiled down the Hillary Step. A bivouac was inevitable.
Back at the south summit the pair hunkered in a snow cave, the highest anyone had ever spent the night, ill equipped, their oxygen exhausted. As night wore on they began hallucinating. Doug found himself talking to his feet, "which had become two separate, conscious entities sharing our cave." His left foot was complaining that it felt ignored, so he took his boot off and discovered it wooden with cold. He pummeled it back to life, and Haston unzipped his down suit to put it against his belly. When dawn allowed them to start down, not only were they still alive, neither man had frostbite. Doug didn't feel lucky: he felt empowered. His horizons had been broadened. "I knew from then on," he wrote in his memoir Up and About, "I would never again burden myself with oxygen bottles."
Scott died on the morning of December 7, at 79 years old, following a battle with brain cancer.
His success and miraculous survival cemented Doug's reputation for strength, "both physical and mental," as Jim Duff, doctor on the 1975 Everest expedition, put it. Duff saw his friend as "a force of nature with a wry sense of humor," and shared Doug's deep interest in spiritual discovery, reading the I Ching—the "Book of Changes"—and studying Buddhism. That combination of strength and curiosity, coupled with an almost frightening level of energy, were the hallmarks of Doug Scott's career, one that straddled a revolutionary period in alpinism as siege tactics gave way to alpine style.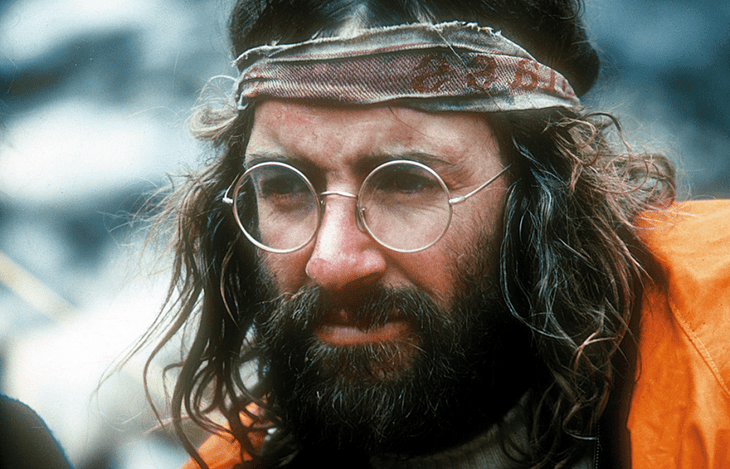 "Of all the post-Second World War British mountaineers," Sir Chris Bonington told Rock and Ice, "Doug Scott was undoubtedly outstanding and joins the rich pantheon of international pioneering climbers from around the world."
Bonington himself discovered just how outstanding Doug was during the first ascent of the Ogre in Pakistan's Karakoram range, an ascent Doug wrote about in his history of the peak. Once again Doug was pushing hard late in the day to snag the summit, Bonington fighting to keep up. Abseiling at an angle back down the difficult headwall, Scott slipped and swung, breaking both his legs. Marooned at 7,200 meters with no possibility of rescue on a mountain of considerable difficulty, Scott crawled back to base camp in worsening weather, helped down by his teammates Mo Anthoine and Clive Rowland. It became one of the great epic stories of mountain survival, captured in a photo of Doug crossing steep ground on his knees, teeth bared against the storm. … [Read the full obituary here]
—Ed Douglas
Hamish MacInnes
90, November 22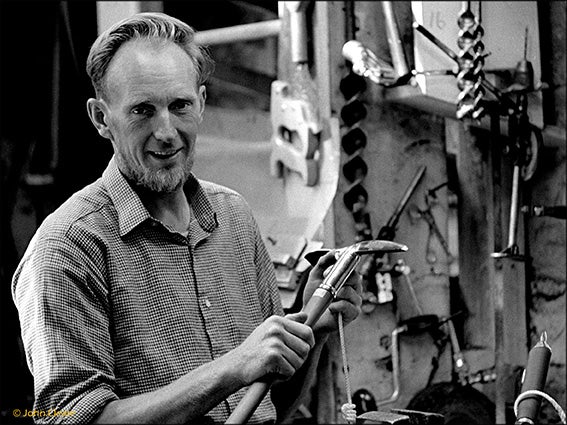 Update: John Cleare, British filmmaker and photographer, writes: "Hamish was cremated after the hearse, en route to Glasgow, drove slowly through Glencoe so the villagers could bid farewell while a piper played. There will be neither funeral nor committal as he didn't hold with such affairs."
Hamish MacInnes did it all—free rock climbing on the summer cliffs of Glencoe, aid climbing on the towering aiguilles of Chamonix, ice climbing in the rugged gullies of Ben Nevis—but he did it with the vision of a mountaineer. Scotland is like that: most of it is Big Country, especially in winter, and Hamish treated it as such. In his career, Hamish changed the sport, from the types of routes that were climbed to the types of routes that could be climbed safely with his technical innovations (like the Terrordactyl ice axe—more on that below) and vision for the future of mountain rescue.
Hamish died on November 22 at 90 years old. He passed away peacefully in his sleep. Most of his climbing friends and contemporaries perished more dramatically, in mountain accidents, but Hamish was a canny old fox and survived his many adventures—and misadventures.
Born in 1930, Hamish came to climbing as many other young Brits did: After World War II, all of Britain was in a severe economic depression and Hamish and many others were laid off from their jobs. Some of them left the squalid and silent shipyards along Glasgow's Clyde River and went to live in the mountain caves of nearby Arrochar, an excellent base for exploring the surrounding schistose cliffs. Against this backdrop, Hamish began climbing with the Creagh Dhu club, an apprenticeship that gave him the technical know-how to realize his own plans were far too wild and unruly even for even the wild and unruly Creagh Dhu Mountaineering Club. He honed himself into a stoic, fiercely independent adventurer.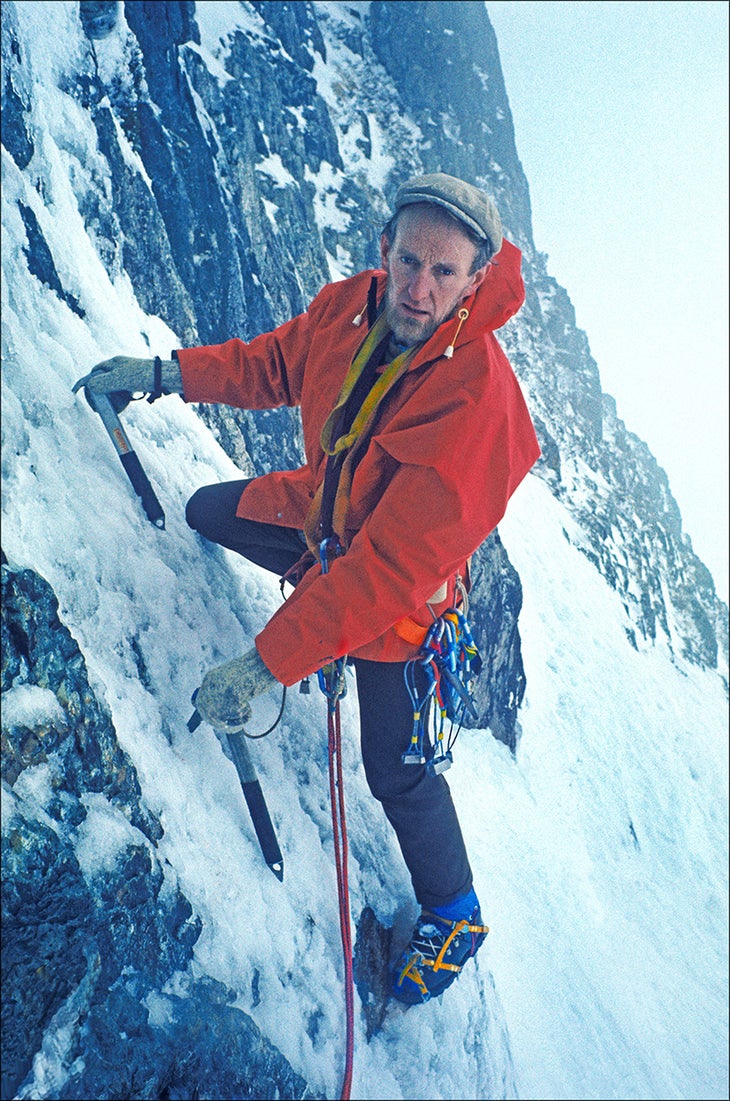 The successes came quickly: He established a spate of hard and daring new routes that signaled a new technical level of difficulty for Scottish winter climbing. In 1953, at just 23 years old, he did the first winter ascents of Raven's Gully (V, 6) and Crowberry Ridge Direct on the Buachaille in Glencoe, both with the legendary Chris Bonington. He made the first ascent of Zero Gully (V, 4) on Ben Nevis with Tom Patey in 1957, chopping steps up the steep snow and ice, an ascent ahead of its time in difficulty. Later, he ventured over to France and was one of the first British climbers to do the Bonatti Pillar of the Dru, in Chamonix. In 1965, he completed the first winter traverse of the Cuillin Ridge on Skye in a two-day period.
Those achievements should be known to all climbers—he was a Grand Master among Scottish climbers. But to me, Hamish MacInnes became a lot more than just a famous climber. His outrageous and daring example inspired me to try and make a mountain life and career work for myself, too. As a boss and mentor to me when I followed his path and became an instructor, he was a role model of discipline and professionalism. And as a friend, he was someone you could Ride the River with. … [Read the full obituary here]
—Rusty Baillie
See also this obituary in The New York Times. 
Annabelle McClure
29, November 2
Annabelle McClure began climbing with her father, Dan McClure, at age 6. Born in North Carolina, she grew up in Colorado, where Dan taught her to climb in Garden of the Gods and brought her on first ascents on Pikes Peak. His passion for climbing seeped into Annabelle's bones and though when she was a teenager it was "that thing my dad did," she came back during college and then she was in for life.
Annabelle left this world after a car accident. Those who knew her remember a radiant smile, bright blue eyes and energy that could light up the coldest of bivies. Annabelle's family and friends loved her dearly and knew her as compassionate, intelligent—and stoked.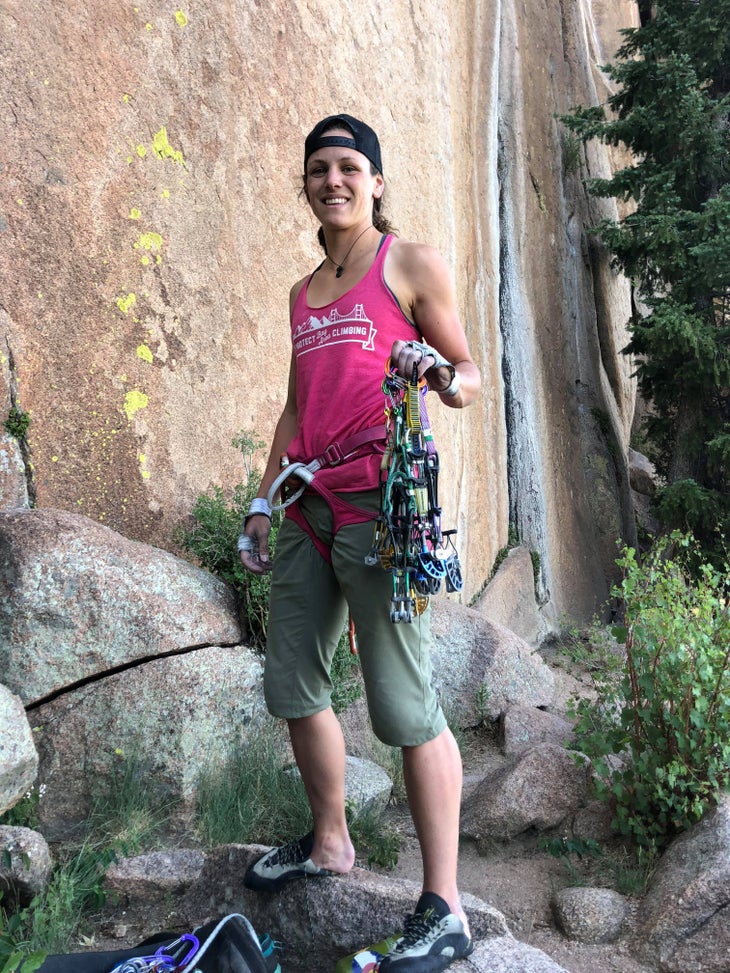 Annabelle and I met several times through friends while we were both in school at UCCS (University of Colorado, Colorado Springs). Once we finally got to know each other, we had one of those moments that went like this: "You climb? And snowboard? Mountain bike? Raft? And do yoga? We should be best friends!"
We would climb after class in the Garden with a handful of slings, hexes, and a cam or two. Dan and Annabelle taught me to hip belay and equalize two marginal nuts for a bomber piece. Annabelle was the first woman I ever climbed with—and the best climber I, or many others, have ever known. Her pure talent, endless motivation, and vision for the best adventure made her a solid climber and partner.
After graduating in 2014, Annabelle moved to California and scored a biochemistry job in Santa Cruz. She was on her surfboard at sunrise and sunset on weekdays then her bike, snowboard, or a wall in Tahoe or the Valley on weekends. While living the Cali life, she climbed Half Dome, the Nose, the Steck-Salathé and more. As we stood at the base of the Nose for our first time on El Cap in 2016, she told me, "If you imagine every breath in your life, it's overwhelming. If you just breathe, it's doable."
In 2017, Annabelle and I joined the Access Fund National Conservation Team and were on the road for two years. We travelled to over 20 states and 50 climbing areas. She was an excellent trail builder, passionate educator, and inspiring climber—often onsighting hard routes at Cochise, Index, Tensleep, Indian Creek, Devil's Lake, Eldorado Canyon or Tennessee Wall with a humble attitude of gratitude and joy. We climbed the Nose twice, including NIAD (Nose in a Day) with Hans Florine and Hilary Harris. Annabelle was always psyched to rope up with local climbers to get to know the climbing area, its history, and the community. To recount all the climbs she did during this time would take a book that would read like an extended (and exciting) version of the Fifty Classics.
After road life, Annabelle settled in Boulder, working as a construction project manager. She stayed deeply involved in the climbing community as a trail builder for Front Range Climbing Stewards and board member for the Action Committee of Eldorado. Back on her sunset and sunrise routine, she would climb the Flatirons before breakfast or Eldo after work, and took off on the weekends. Annabelle was on a mission to climb all of her dad's first ascents throughout Colorado and Wyoming, many of which she did; she could hardly wait to talk to Dan about them. This past summer, she did several linkups in Rocky as well as the Casual Route on the Diamond of Long's Peak in under six hours car to car. On Pikes Peak, she biked 20-plus miles to climb 500+ feet on the Pericle in a day. Shortly before her death, she onsighted Veterans of Vertigo (5.12- R, eight pitches), Perfect Art (5.12, five pitches) and Stoned Oven (5.11+, 13 pitches) in the Black Canyon of the Gunnison in a weekend—with a broken foot from a previous metatarsal injury.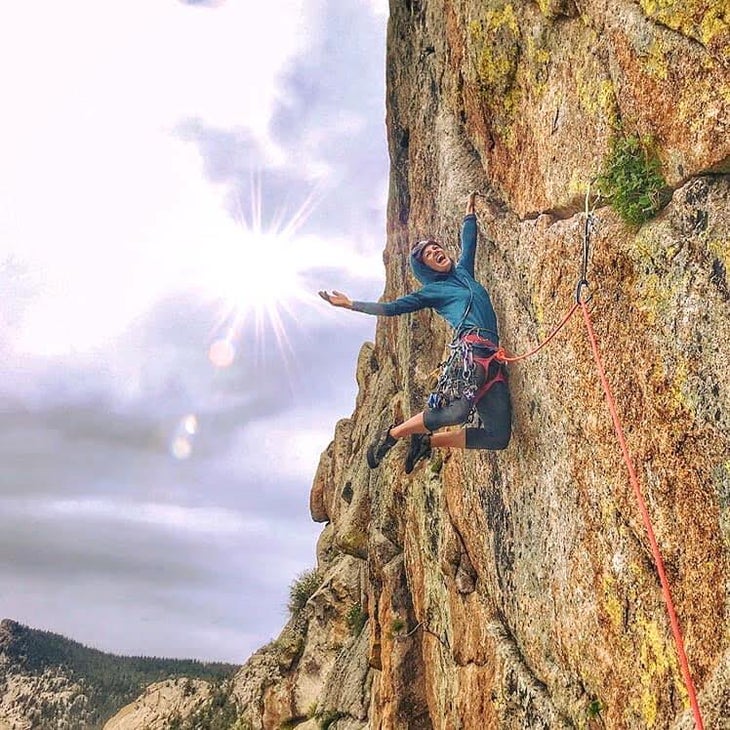 At the base of a big route or top of a gnarly cliff, Annabelle would often say, "Well, nothing left to it but to do it!" She was a special kind of sandbagger—the kind who wanted you to have the best experience and so she sometimes left out small details, then laughed about it later, saying, "I knew you could do it!" She was an insanely accomplished climber—but, more than that, a daughter, granddaughter, sister, cousin and best friend.
From a remembrance from Dan, Dana, Fletcher and Clara McClure: "Annabelle lived life big! There were never enough hours in the day for our Annabelle. She would happily rise before dawn to climb a rock, ride a bike, board a slope, paddle a river or for any other opportunity that allowed her to live the 'fullest day.' … She found peace, challenge, comfort, and inspiration while being outside. Please go for a walk, hike, ride, or climb and keep 'sending it' to remember our Annabelle." The family asks that any gifts on her behalf go to the Access Fund or the Action Committee of Eldorado.
To read the statement from her family, go here.
—Andrea Hassler
Dave Altman
68, November 10
Dave Altman died in a catastrophic accident in his parked-vehicle home near a climbing gym in Berkeley. He is mourned and remembered as a giant by his many friends in the Bay Area and Yosemite climbing communities for his superhuman strength, intelligence, artistic talents, kind heart, and generosity and humility as a mentor.
Dave's longtime friend Yuko Matsumoto, who joined him on powerful overhanging bouldering circuits at Indian Rock in the early 1980s and has remained a close friend, observed: "He was a true renaissance man, as someone who reached and sustained the highest levels of accomplishment as a mathematician, craftsman, musician, bodybuilder and climber throughout his life, out of the sheer joy he found in each of these pursuits." She was a top climber of her era as well.
In an email last year, Ray Jardine, with whom Dave made many first ascents, including of Red Zinger (5.11d) on Yosemite's Cookie Cliff in 1979, said: "When Dave put his mind to something, it was a done deal." On hearing the sad news recently, he added: "Dave was a great guy, super talented, very strong and nice to be around. I enjoyed climbing with him very much."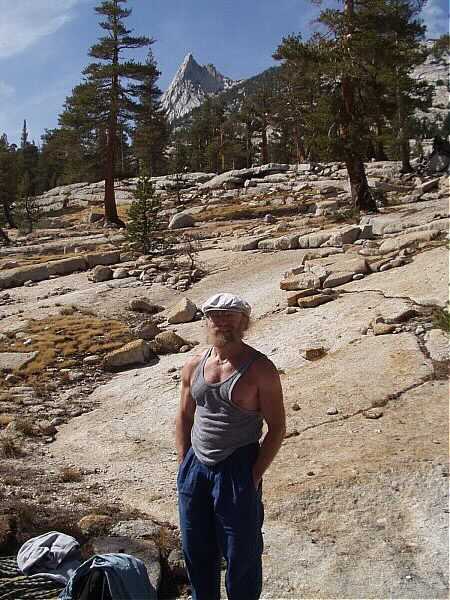 Of that 1970s era, another regular partner, Rob Oravetz, wrote in an email: "While the Stonemasters ruled during those days, Dave quietly went down his list, methodically ticking off the hardest cracks in the valley in true old-school form, bottom to top, no hangs, no pre-placed gear … If he couldn't get up something, [his perspective was that] he wasn't strong enough. It morphed into lifestyle built around training as an end in itself. We once did a continuous set of 1,000 pullups. A big mistake for me—I have tendonitis to this day …This was all pre climbing gyms, no cell phones, no laptops. If you climbed, it was on rock outdoors, which meant a lifestyle without an all-consuming job."
But Dave did turn that lifestyle into his role as strength-trainer-in-residence, literally, at Touchstone Gym (aka the Berkeley Ironworks) in Berkeley. Copies of climbing magazines are normal at such a venue, but his longtime friend Scott Frye, a gym employee, made sure that Dave got his monthly issues of Science News and Sky and Telescope, or Dave would be searching for who might have diverted them. Frye said the accident occurred on a cold night and believes that Altman's propane heater leaked, creating an explosion.
Dave offered tutoring through college level, as posted on his Institute of Original Studies: "Trouble with trig? Still don't understand Taylor's Theorem – & the exam is next week? How DID Wiles prove Fermat's Last Theorem?" he asked students. He also kept a treasure trove of meticulous notes on his climbs and studies in topology and cosmology for the benefit of others.
John "Verm" Sherman said, "Many of the climbers who came from Indian Rock origins spread out and often contributed to raising standards across the country.
"Dave stayed true to his Berkeley roots and was a crucial link between multiple generations of Indian Rock climbers. As a college town Berkeley sees most climbers come and go. Dave was different. I can't see anyone replacing what he meant to Indian Rock."
Dave studied math at UC Berkeley, then began a graduate program there. He and I met at Berkeley math-department gatherings, which he still attended after leaving the graduate program to pursue climbing and other interests, though he retained his passion for the subject. After I passed my first-year exams, he kept a promise to take me to Yosemite, introducing me to great climbs and to Galen Rowell and others of my heroes. On our ascent of Snake Dike on Half Dome his rope was too short, so he told me that when the rope ran out, I should just unclip from the anchor and go: "I can lift twice your weight, even on small holds, so don't worry." We did classics on the Cookie, and he shared tales of John "Yabo" Yablonski, Ray Jardine and other partners. Over the years he explained mathematical ideas I was struggling with, while demonstrating Japanese cooking and the subtleties of his side work translating from and for Japanese research journals. He also showed me how to play "Castles Made of Sand" and other Jimi Hendrix classics on his guitar.
Referring to a comment Dave made during a Touchstone interview that he'd be nearing retirement if he hadn't taken the road less traveled, Jefferson Cowie, a Vanderbilt historian, emailed: "I sit by the fire, the fat tenured professor Dave said he could have been, thinking of him, the pure form, the warrior climber, the hermit genius of algorithmic life, the twinkle eyed master of rock. A separate reality, indeed. Nobody deserved the ignominious passing Dave faced, let alone the man who defined the nature of the game for so many of us." Cowie called himself "blessed" to receive Altman's beta, as "a minor parking lot apostle, an Indian Rock gawker, one who could merely flail on the trade routes before a thing of grace."
Rob Oravetz similarly summed up many people's feelings by saying, of his formative days, "It's the time in my life that I most reflect on and cherish. I really feel fortunate to have been mentored into Yosemite climbing with Dave."
Please see these tributes, one on berkeleyside.com, also here in the university's Daily Cal, and this on touchstoneclimbing.com. Please see this fundraiser for a memorial bench in Dave's name. A gathering of friends will be arranged for its dedication.
—Bob Palais
Ang Rita Sherpa
72, September 21
"He was a great man." So says Lhakpa Sherpa, who has climbed Everest more than any other woman, of Ang Rita Sherpa, a climber and guide of worldwide renown—who owned an incredible streak in mountaineering and mountain sports.
Ang Rita held the record for most Everest summits starting with his sixth ascent, in 1983, through to his 10th and last, in 1996, all done without supplementary oxygen. While other climbers such as Kami Rita Sherpa (with two dozen summits) have since surpassed his total of 10, Ang Rita still has the most ascents done without auxiliary oxygen, and the only one done in winter without it. (Note: While he summited in winter, December 22, he sometimes receives partial credit in that much of the ascent was before the solstice.)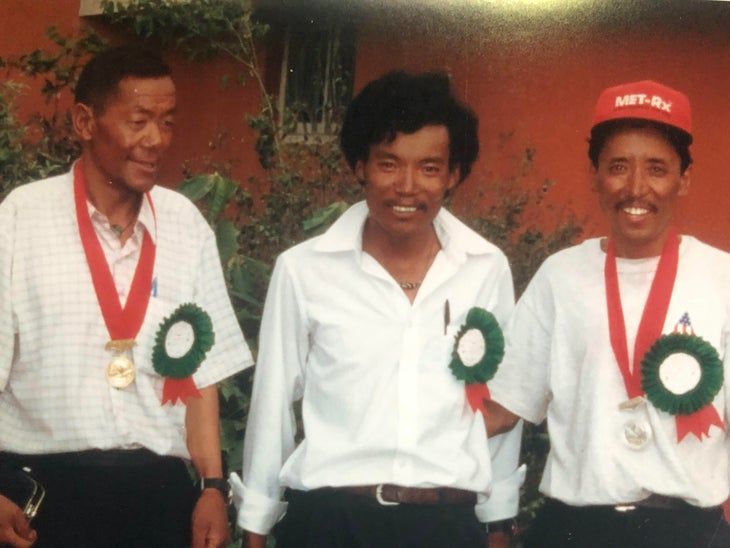 The winter ascent was his fourth, in 1987/1988, and on it he and a Korean climber were forced into a bivy: "I with a Korean climber lost the way in Everest due to bad weather and spent the whole night just below the summit doing aerobics exercises to keep our body active, which is the only way to survive there," Ang Rita wrote on EverestHistory.com.
The "Snow Leopard" had been in declining health, with lung and brain disorders, and in 2017 suffered a stroke. He died in Jorpati, Kathmandu.
"He was a very honest man," Lhakpa Sherpa continues in an email. "He was a little shy but he had a lot of dignity. He put in a lot of effort to give his children an education. He worked patiently with tourists and took good care of them. Many older Sherpas were similar in that regard. I respect him deeply, with all my heart."
Ang Rita grew up herding yaks and farming with his family, and began working as a porter at age 15. His first summit was Cho Oyu at age 20. He also climbed Kangchenjunga, Makalu, K2, Lhotse, Annapurna, Dhaulagiri and many other mountains.
Pete Athans, another multiple Everest summitter, says, "Ang Rita was just ubiquitous in the '80s and '90s and really ushered in the age of multi-multi Everest summits among the Sherpas. He and Sundhare [Sherpa] had this competitive spirit where they pushed one another on several years' worth of Everest expeditions, both of them committed to oxygen-less climbing and, of course, guiding. … It was always fun to be with them: they played hard, and, given their backgrounds, worked even harder."
Sandy Allan, a Scottish mountaineer who knew Ang Rita well when both guided on Everest, sends this message: "Ang Rita was a super nice and very understated man with lots of humility … like many intelligent humans he did get a bit bored with the mundane and for a few years had an addiction to alcohol but later in life he got through that, which is testimony to his sense of self and discipline." Various news accounts cite that successful battle with alcohol.
"[On Everest] We rubbed shoulders very often and used to share news of what was going on around base camp," Allan continues. "He was quite articulate and spoke reasonable English, which was quite something for his generation. Like many of the Sherpas he was very well informed and knew who was who and who had climbed or attempted things.
"He was held up as an icon in his own country and while I think he enjoyed the success he never let it go to his head. He was a very nice man with a wry smile and it was always great to bump into him along the trails and get his news."
Ang Tshering Sherpa, a former president of the Nepal Mountaineering Association, told cnn.com at the time of Ang Rita's death, "He was a climbing star and his death is a major loss for the country and for the climbing fraternity."
Kami Rita was quoted in the Kathmandu Post as saying, "His dedication as a professional climber can never be described in words. It needs determination, passion and courage to climb Everest without the use of supplementary oxygen. Ang Rita did it 10 times."
Ang Rita's wife, Nima Chokki, predeceased him. They had three sons and one daughter. One son, Karsang Arohan, a guide who climbed the mountain nine times, died on Everest eight years ago. His other sons are Chhewang Dorje and Furanuru. Ang Rita lived with his daughter, Doma, in Jorpati.
See this news story on climbing.com and this obituary in the New York Times.
—Alison Osius
Ben Kessel
34, September 20
The first time you heard Ben Kessel laugh, you knew that this person knew how to live. Whether you heard it at a crag, a pub, or around a campfire—all were equally likely—the laugh was full-bellied, bordering on a bellow. It was his laugh watching you posthole, right before he sank in, too; and the laugh of discovering an Australian Shepherd, blissfully halfway through devouring our group's cheese. It appreciated the absurdity of life and celebrated its imperfections.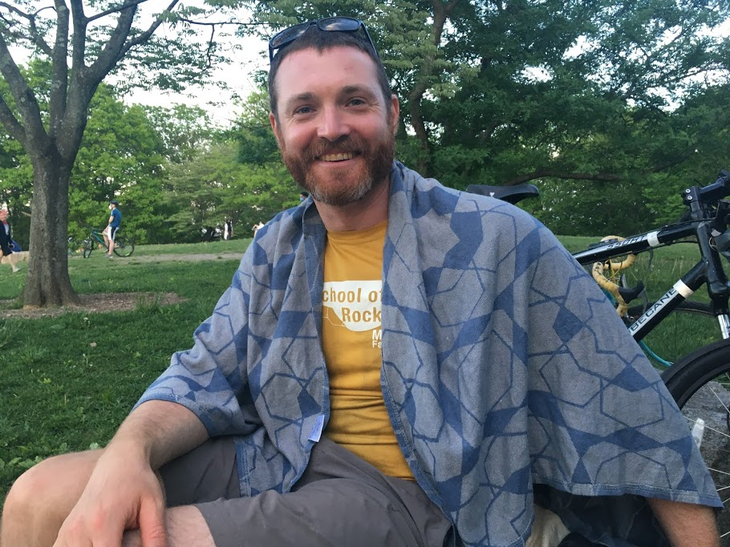 Ben's love of adventure started early. He grew up in Natick, Massachusetts, and his mother, Irene, took him on his first hikes in the White Mountains of New Hampshire. She remembered how he was always climbing everything in sight. "When we went hiking in the woods, he and his brother would run over to any big climbable rocks along the way—once they started climbing the rocks, it was hard to get them back on the boring, flat hiking trail," she said. Ben began climbing outdoors frequently in his teens—first in the Adirondacks, then in the White Mountains—and never looked back.
Ben left Massachusetts for the sunny prospects of California, attending college at the University of the Pacific, where he studied mechanical engineering, before moving on to pursue a PhD at Stanford. He left the program with an MS in 2012.
One night around a campfire up in the White Mountains of New Hampshire, Ben's friend Asha Park-Carter asked him why he wasn't Dr. Kessel. In the midst of all the joking and s'mores he became calm and serious: "I realized I loved learning, but I didn't care about the PhD." Later, when I asked him what his greatest achievement was in grad school, he replied, "My advisor's nickname for me was 'Gentle Ben.'"
Ben used his early departure from school as an opportunity to travel the world instead. He explored and climbed in places including Nepal, Thailand, Australia, Patagonia, Peru, and Jordan. On one of his favorite trips, he met up with his brother, Dan Kessel, in China.
After ending his worldwide trip in Boston, Ben began volunteering with the MIT Outing Club (MITOC). Like most of us, Ben was looking for community; in MITOC he found cohorts who shared his psych for getting outside, regardless of skill level. Ben became a leader in MITOC, spending countless hours instructing and mentoring new climbers. He was quiet in his competence, explaining without pretence. He taught classes on trad placements, led self-rescue practice sessions, and showed others of us how to be effective teachers while staying humble. He would often slip in a lesson so seamlessly that it took months to realize how much he had actually taught you. Ben spent a lot of time teaching us technical outdoor skills, but ultimately, he was really teaching us how to be mentors and leaders in our communities.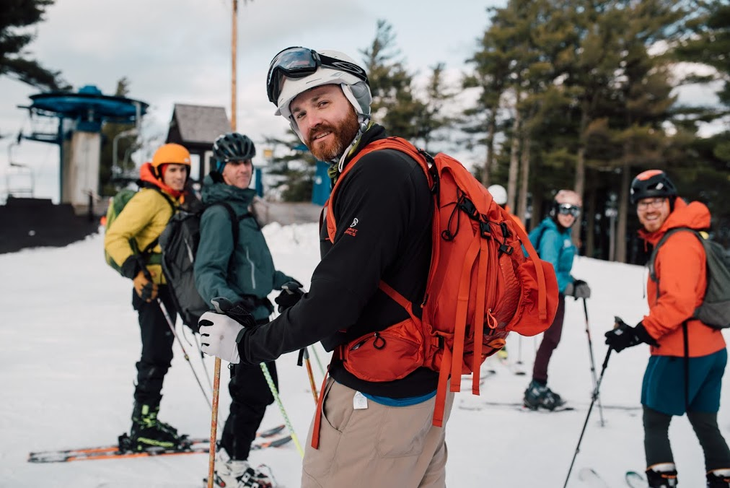 Why would Ben spend so much time teaching beginners how to lead climb, heckling from a hammock, or hanging out in ratty cabins, when he could be sending? In the words of his friend David Migl, "Ben's focus was on the people he went with and the experience of climbing rather than pure technical difficulty. Ben graciously reminded us that we were never going to be world-class climbers, but the point was to get out there, see the views, and share quality time climbing with friends."
The memories that will stick with many of us from MITOC are of Ben in a cabin up in New Hampshire, sitting in a beat-up, dirty red 1970s-style office chair of which he was particularly fond. It was strategically placed, close both to the stove and to people. Ben turned that chair into a throne. He would park himself there after a day of tromping around in the snow, and draw anyone who sat down nearby into a conversation. Stories would flow, jokes would go from bad to worse, and beers would, somehow, disappear. In that drafty old New Hampshire cabin, Ben was a true source of warmth.
On September 20, Ben was climbing the classic Moby Grape route on Cannon Cliff in New Hampshire, when unexpected natural rockfall occurred on the last pitch, severing his rope. Ben was 34 years old. He is survived by his mother, Irene Kessel; his father, Paul Costello; his brother, Dan Kessel; and many loving aunts, uncles, and cousins.
—Mason Glidden and Asha Park-Carter
Kris Ugarizza
35, September 16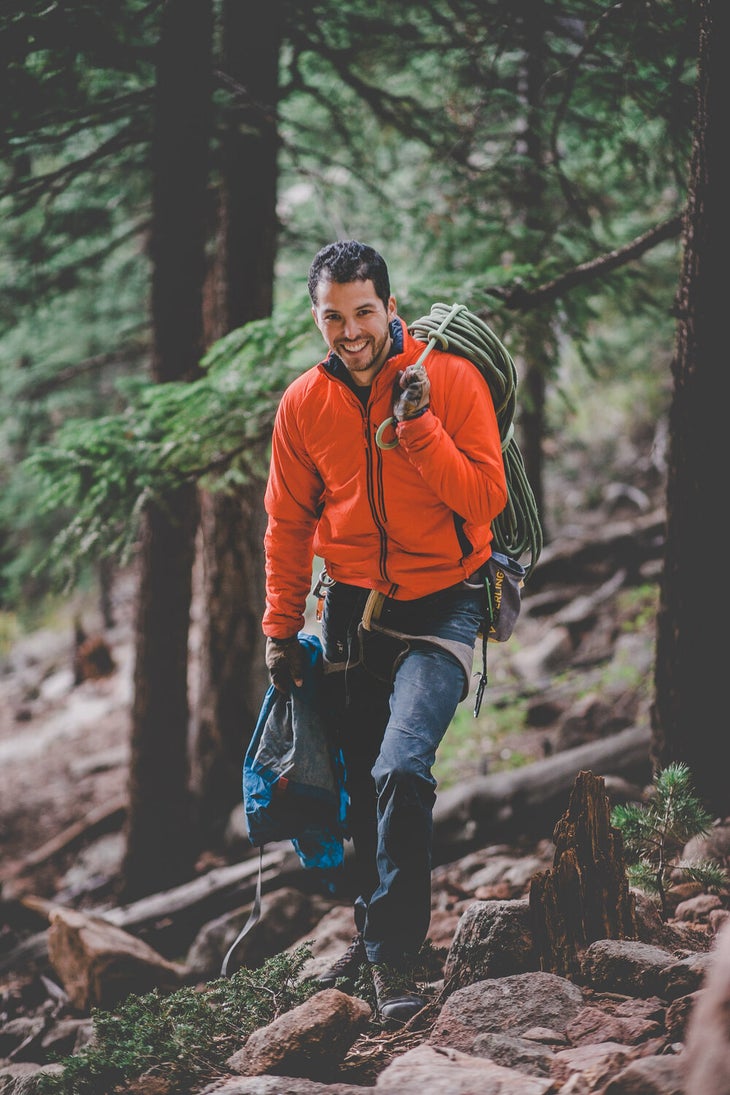 You would usually hear Kris before you saw him. His booming, endearing laugh echoed off the rock walls of wherever he happened to be climbing or shooting that day, followed closely by his "Ladybug" Kyra, a small pitbull he rescued and trained from a bad crag dog to almost a perfect crag dog.
Born in Peru but raised in Wisconsin, Kris, a photographer by profession, called Colorado's Front Range home for the last five years. When he wasn't on the road or wintering in El Potrero Chico, Kris would spend a lot of his time sport climbing in Boulder's Flatirons or at Staunton State Park. He spent many days projecting Ultrasaurus, and it would become his first 5.13a.
A true vagabond though with a sense of home, Kris would spend weeks at a time on the road, traveling to Ten Sleep, Wyoming, or the Red River Gorge in Kentucky, where he would pick up part-time shifts at Miguel's Pizza: waiting tables, walking around petting all the dogs and making sure everyone had enough for dinner, asking about how their projects were going and how their climbing days had been.
Whether with a camera in hand or not, Kris had a way of making anyone and everyone feel welcome, often inviting people to join his group for the day or setting them up with another partner. Time spent with Kris was filled with deep laughter—and often guacamole, which he would whip up at home for tastings. He always found a way to ask you about how life was going, often asking more about you than offering up about himself.
Kris's biggest gifts may be his photographs. He worked as a wedding photographer, and here especially his art shone. He found ways of making a couple's day just a little bit easier and pushing his creativity and abilities to a new level with almost every wedding. In the last couple years, Kris also expressed his talents through climbing photography. He began shooting for outdoor brands and working with publications such as Rock and Ice and Climbing magazines. He had a can-do attitude and was driven to make it as an outdoor photographer, and his career was evolving and growing.
Last February he posted these thoughts on Instagram, following a day climbing with Genevive Walker, Maureen Beck and Emmett Cookson:
"I have not really enjoyed climbing in the past few months. My priorities happened to change without me noticing, to the detriment of my own happiness and growth. … For the first time in months, I felt happy to climb. Just for the fun of it. My friend Genevive and I ended up just catching up, laughing, supporting each other and climbing not because we wanted to send a certain grade, or because we felt we weren't good enough so we had to train hard. We climbed because we love climbing. If we didn't send, we laughed, then we tried again, then we failed again, and it was O.K. Failing is OK. … For the first time in a long while, I had no weight over my shoulders while I climbed. No dark clouds covering my sky. Today reminded me what I love about climbing. And it's not the sending. It's the support and the joy that comes with the act of moving your body and joking around with a friend."
On September 16 Kris made the ultimate decision to leave the tangible world.
Chelsea Rude, who called Kris her best friend, posted that he struggled with depression, yet "was the king of simply showing up, giving love, and sharing laughter. That's all he had for any and everyone in his life. Nothing but love."
She gave a telling example of how he accompanied her from Boulder to Vail, Colorado, for shoulder surgery. "He helped me feel confident in my upcoming surgery, shared laughs and guaranteed me that he'd be there for me once I got out." He looked after her that evening, then was up early the next day to take her to PT, and was patient when she was sick to her stomach all day. "It didn't make Kris shy away. Instead he posted up with me to watch 'Game of Thrones' and held my hair out of my puke. That was the beginning of one of the best friendships I've ever known." Upon the tragedy, she and other close friends did their best to contact close friends to let them hear it in a personal way: "But Kris made friends everywhere he went, so I think that is an impossible task."
Kris is survived by his parents, his sister, his adoring pup, aunts and uncles and many, many friends across the global climbing community.
        — Alton Richardson
Janette Heung
35, September 5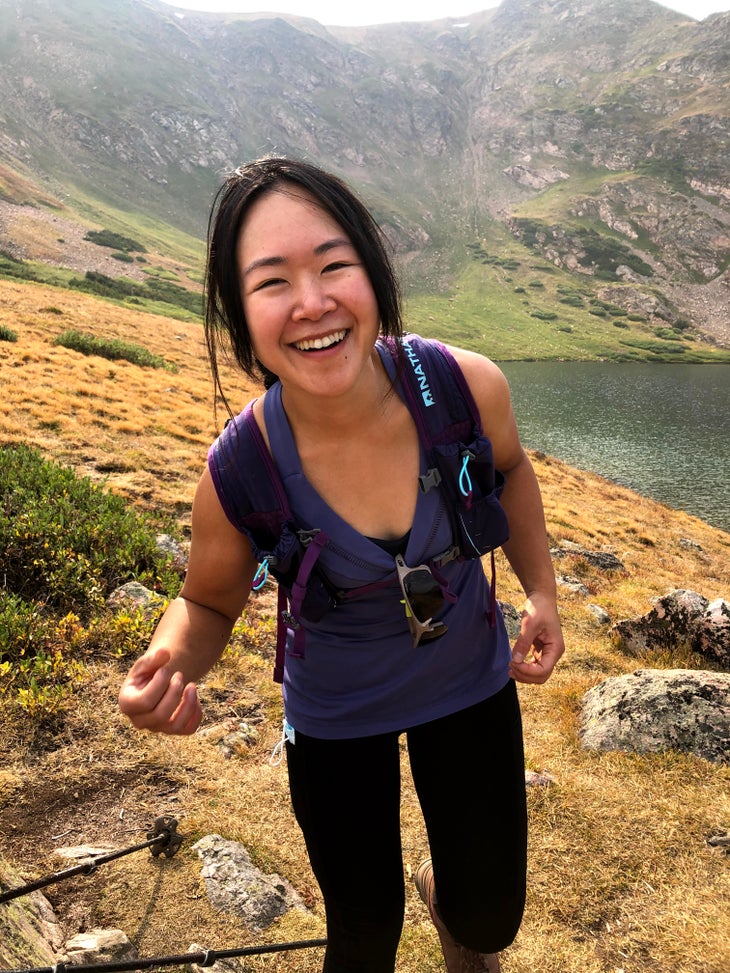 When you were with Janette Heung, you were walking with a friend. We had many sessions in the gym where more time was spent in the locker room talking than actually climbing. She was always curious and excited about your world, and she carried that passion into everything she did and with everyone she met.
Janette was humble and kind, without an ounce of braggadocio. I knew she ice climbed but didn't really know. I first understood her level of skill when she spoke to a crowd of 80+ women at the Denver Arc'teryx store, for one of her many sponsors. The first two speakers of the Women of Winter talk were skiers and snowboarders—sports much of the audience was more familiar with; then came Janette. As she shared images of her climbs from Canada, New Zealand, China and of course all over the USA, I—and everyone looking on—was floored by her vertical adventures.
On ice, Heung led WI 5 and 6 routes in many of North America's best cold-weather climbing destinations. A small selection of those includes: Nemesis (WI 6) on the Stanley Headwall in Banff National Park, Canada; Mummy Cooler IV (WI 5-6) in Hyalite Canyon, Montana; Bridalveil Falls (WI 5+/6) and Ames Ice Hose (WI5 M6 R) in Telluride, Colorado; The Black Dike (WI 4-5 M3) on Cannon Cliff, New Hampshire; Gravity's Rainbow (WI 5 M1) and Bird Brain Boulevard (WI 5 M5) in Ouray, Colorado; The Fang (WI 5-6) and the Rigid Designator (WI 5) in Vail, Colorado; Alexander's Chimney (WI 4 M4) and Hallett Chimney (AI 5 M5) in Rocky Mountain National Park, Colorado; the Weeping Pillar (WI 5-6) on Upper Weeping Wall, Icefields Parkway, Canada; and Mindbender (WI 5+) on Mt. Pisgah, Lake Willoughby, Vermont.
Perhaps her crowning achievement was a first ascent (Grade 5) on the South Face of Mount Aspiring, New Zealand, in September 2016, with the guidance of a local climber, Allan Uren, and her partner Lukas Kirchner. She named it Thales.
She wasn't picky when it came to outdoor recreation, often of the attitude, "Any ice at all is good ice!"
Janette pushed extra hard on many climbs and was usually surrounded by men, occasionally with one other woman for support. The men were not non-inclusive, but they were focused on their objectives (or sometimes drinking). An extraordinary thinker, she desired deeper interactions and community as she tackled the many harrowing climbs; she could talk climbing with the best of them, but wanted more out of the experiences. Nevertheless, you know homegirl persisted and did not complain (and yes, she still joined them for a drink).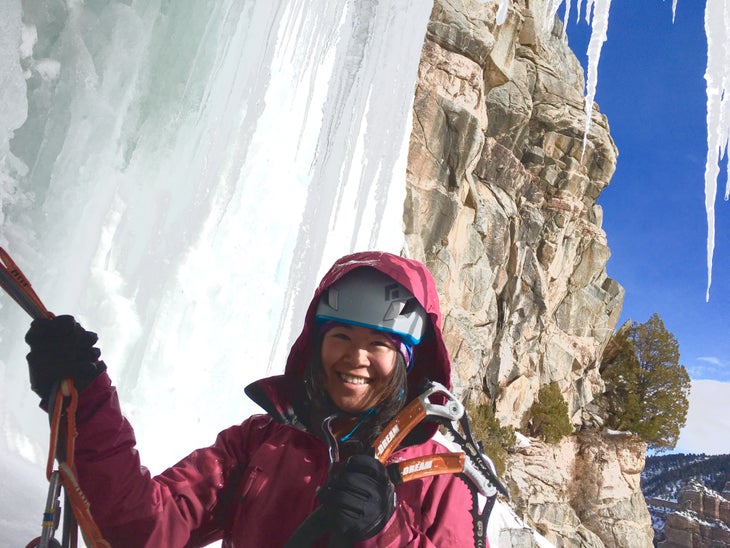 Janette excelled in any situation she was thrown into, no matter how foreign. Born in Hong Kong, she made her way to Boston for high school (Exeter), college (Tufts), and graduate school (Harvard). Inthe last several years of life she relocated to Colorado. As impressive as her climbing was, her professional accomplishments were equally so: She was a respected consultant at Deloitte and JWG Global. Her final role was with the University Corporation for Atmospheric Research (UCAR), a nonprofit consortium of more than 115 North American colleges and universities focused on research and training in the Earth system sciences. Janette's work involved sharing UCAR's research with the community.
Volunteer time was important for Janette, especially the five years we overlapped on the Young Professional Council of The Nature Conservancy in Colorado, called the 13ers. She was passionate about keeping nature wild and accessible. She had a special spot in her heart for connecting nature to urban areas for youth, having grown up in Hong Kong with minimal outlets.
Her passing from a freak fall while rappelling in the Wind River area of Wyoming was a shock and deep loss to all her communities, climbing and otherwise. As Janette and two friends were rappelling from Pingora in the Cirque of the Towers, rockfall cut the sling anchor to which she was attached. The others in her team were able to grab onto nearby objects or each other, but Janette was unable to react in time and fell 400 feet. By the time her team was able to get down to her, she was unresponsive.
In the 2017 American Alpine Journal, Janette recounted her team's first ascent of Thales: "After being in the shade all day on the south face, topping out onto the Coxcomb Ridge into the warm afternoon sun felt instantly rejuvenating. We safely reached the summit by late afternoon and carefully descended the northwest ridge. We named the route Thales, in honor of the ancient Greek philosopher's thoughts on fluidity and mindfulness." Climbing for Janette was part of her way of life; as much joy as she derived from it, it was not simply about having larks in the mountains, but about reflection and connections with others.
Janette's mother shared at her memorial that "life is to be lived, not lamented." As her climbs and thoughtfulness show, Janette did exactly that.
—Laura Isanuk, with Kristen McCulloch and Katie Millard
Rhea Dodd
60, September 3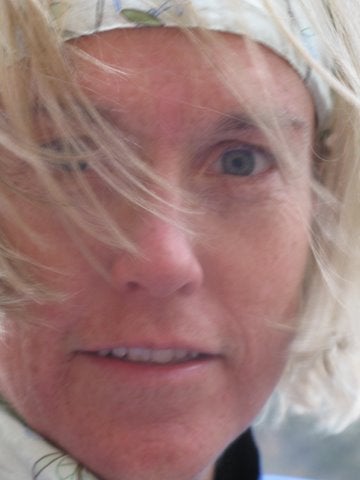 Update: The Rhea Dodd Fund has been established to support a Kenyan who is working in Kenya to promote animal welfare. The fund is set up through the Vet Treks Foundation, a non-profit that facilitates veterinarians' travel to developing countries to work with animals. Recipients will be DVMs, vet techs, and others in Kenya who need equipment, special training, or other resources.
The fund is inspired by Rhea's love of African wildlife and African Indigenous peoples, and her travels with veterinarians to work with Vet Treks and African Network for Animal Welfare of Kenya.
When Rhea Dodd and Teri Savelli sat down with their old friend Chris Blatter and his friend John Seebohm at an American Alpine Club dinner six years ago, they were, Teri said, on "high alert. On fire." In great spirits.
"She was so funny, like Robin Williams," says Savelli, who had met her friend of many decades while standing in line for an outdoor-ed course at Evergreen State College. "That kind of genius."
Blatter's friend John Seebohm turned to him and said, "I think we just won the lottery."
Says Savelli, "Rhea always wanted to keep it going. You couldn't rein her in, even when she was dying. She never wanted to leave the party. She wanted to be where the fun was. Every birthday I had, she got here." Savelli says her friend once said she "felt like that song 'Happy' … 'like a room without a roof.'"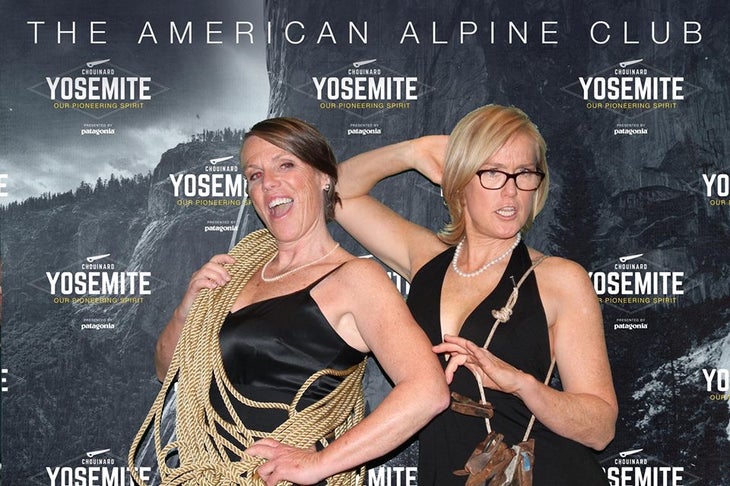 Dodd and Savelli climbed much in the early years of their friendship, in Colorado, Yosemite and France. After Dodd's cancer diagnosis five years ago, Savelli drove the six or seven hours from Ophir, Colorado, to her friend's house in Golden, countless times in support.
Rhea Dodd, 60, climber, triathlete, Tae Kwon Do champion, skier and veterinarian, died in hospice in Denver on September 3, with her twin daughters Alexa and Annalise—two being the visitor limit during the pandemic—beside her. In her illness she received devoted care from her life partner, Gary Kofinas, of Wilson, Wyoming, where she had moved and helped him design and build a new house. They climbed, camped and skied the backcountry, often with a dog along.
"Much of our time together was spent dealing with the challenges of cancer," Kofinas says, "but in spite of this we had an amazing amount of good times, because of who she was, her warmth and spirit." … [Read the full obituary here]
—Alison Osius
Gail Bates
103, August 21
Gail Oberlin Bates spent her last morning at home reading the New York Times, engaged in the world to the end—which was at the grand age of 103. She "devoured," as her longtime friend Malcolm Odell said, analyses of the Democratic Convention, and had already called town hall in her home of Exeter, New Hampshire, to ensure she received a ballot.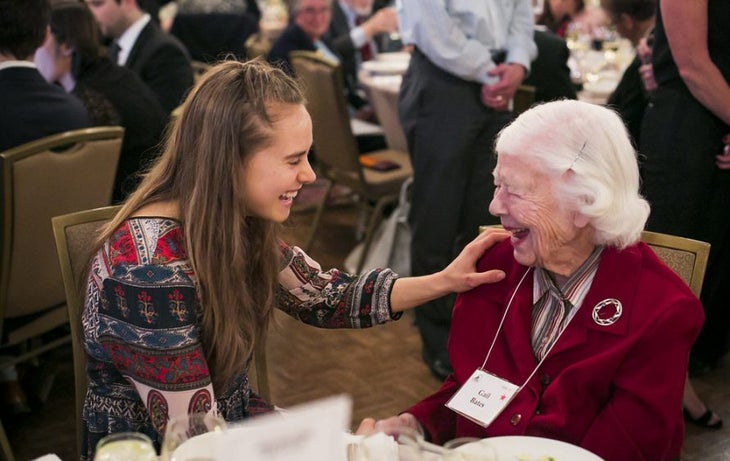 She had a stroke that evening and died Friday, August 21, after holding hands with her beloved niece Betsy Bates all day.
Married for 53 years to the pioneering mountaineer Bob Bates, who died at age 96 in 2007, Gail was an adventurous person and avid trekker, and was the first employee ever at the American Alpine Club. She journeyed to remote base camps in a time when they were far more remote than today. Says Laurel Cox, another friend of many decades, "We met Gail at Camp Denali in Alaska in 1966, when she was waiting for Bob's climbing group to return from Mount Russell. She was a dear friend, and we will miss her."
Gail was a friend to generations of climbers. Mark Richey, celebrated New England alpinist and 2020 Piolet d'Or recipient, recalls, "She was a wonderful, kind person, and sharp to the end. Not long ago she called to say she had just purchased a new car!"
In 2018, at age 100, Gail was an honored guest at the American Alpine Club annual meeting and benefit in Boston, attending with Jed and Perry Williamson.
Teresa Richey, a Peruvian, relates, "Gail and I met at an AAC dinner in the 1980s. She greeted me very warmly, saying she had heard I came from Peru. I have always appreciated that kind of welcoming attitude, and especially during these tumultuous times I appreciate it more."
Born in Cleveland, Gail studied Italian and art history at Vassar College, graduating in 1939, then earned a Masters (unusual for a woman in the 1940s) in social work from Columbia University.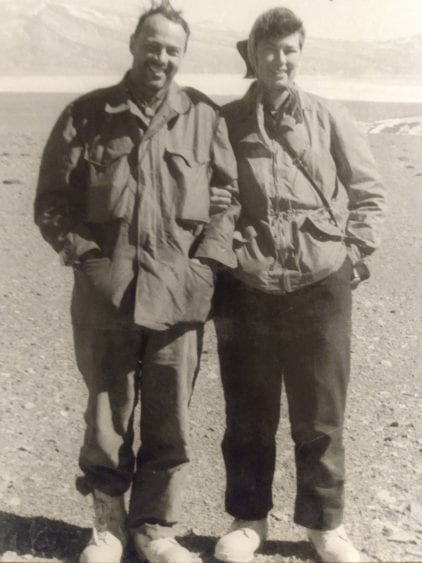 During World War II, she served in the American Red Cross from 1943 to 1945, according to a 2017 tribute to her on the Congressional Record on her 100th birthday.
According to that tribute: "She was stationed overseas to England with the Ninth Air Force, where she served with Red Cross Aero Clubs and worked long hours, supporting aircrews and soldiers from 6 AM to midnight … On D-Day, Gail first heard of the Allied landings in Normandy while eating breakfast in a London cafe. She would soon join the Allied armies in continental Europe, arriving in Sainte-Mere-Eglise, France, in July, where she hosted a party for the children of Sainte-Mere-Eglise, providing a brief respite from war for the first liberated town in France. Following Allied victories in eastern France and Belgium, Gail accompanied General George Patton and his Third Army into Germany and was one of only two women who served in the Red Cross Aero Club in Berlin."
Upon her return to the United States, she gained her job as the secretary for the American Alpine Club, which was then based in New York City. She met Robert "Bob" Bates at an annual dinner, and they married in 1953 and traveled together worldwide. A revered English teacher from 1939 to 1976 at Phillips Exeter Academy, Bob was tapped by Sargent Shriver to serve as the first director of the Peace Corps in Nepal for a year starting in 1962, and the couple moved to Kathmandu. Gail was eager to go, and she took an active role in running the operation.
"She was the first lady, like a diplomat," says Odell, who was part of the Peace Corps. "She was our rock."… [Read the full obituary here]
—Alison Osius
Matteo Pasquetto
26, August 11
On August 11, the day of his 26th birthday, Matteo Pasquetto was laid to rest in Entrèves, Courmayeur, at the foot of the mountain he loved, Mont Blanc. A few days earlier he lost his life in an accident while descending the Reposoir Ridge. He had just established a bold new line up the East Face of the Grand Jorasses with his climbing partners Matteo Della Bordella and Luca Moroni. The others named the route Il Giovane Guerriero (The Young Warrior) in his honor.
He was an exceptionally talented and accomplished young alpinist. Notable ascents included a new route, Il dado è tratto, on the Aguja Standhardt in Patagonia with Della Bordella and Matteo Bernasconi, as well as a possible first repeat of the Ragni Route on the North Face of Aguja Poincenot. In the Alps he climbed the Eiger North Face via the Heckmair Route, Quarzader in Ponte Brolla, Divine Providence on the Grand Pilier D'Angle, and Groucho Marx on the Grande Jorasses, among many others.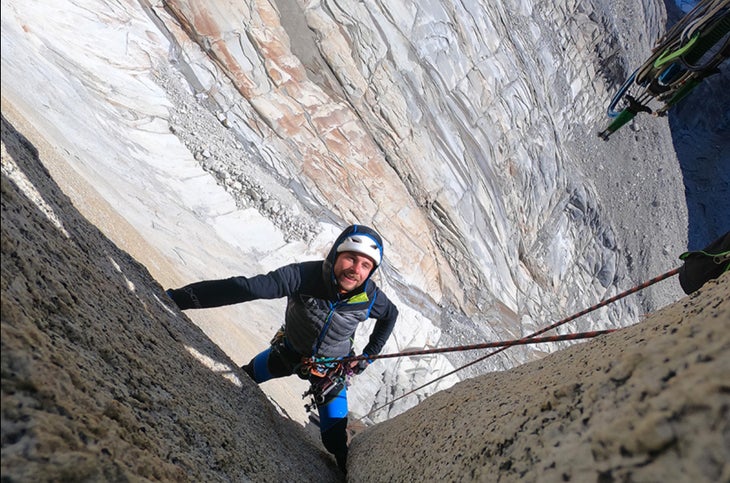 Matteo spent countless days exploring the Mont Blanc massif. He and his friend and climbing partner Fabrizio Calebasso had just finished writing the complete rock climbing guide to the Italian side of Mont Blanc, published by Versante Sud. This was his first foray into authoring guidebooks and an adventure I was able to share with him by translating it into English.
While working on the project, I would often complain to him that the descriptions for the approaches were too vague or suggest that routes should be given more detailed explanations. He would have none of it, adamant that guidebooks are meant to act as an eye-opener, a window onto the endless possibilities of the massif, but certainly not something that should diminish the sense of adventure. He knew that anyone venturing into these mountains has to be prepared and conscious of the risks involved; he felt it would be irresponsible to spoon-feed climbers excessive information.
"If you need to be taken to the foot of the route, told what gear to bring and shown how to climb each crux, then what you really need is an alpine guide and not a guidebook," he would say.
Matteo was an endless source of good humor and crazy antics—more often than not, carried out to the sound of terrible music!—and incredibly humble, his achievements notwithstanding. Many of the stories shared by his friends and climbing partners following his death clearly expressed this duality.
In the words of Matteo Della Bordella, "That broad smile and unwavering desire to talk shit took nothing away from a meticulous preparation, down to the last detail, on all climbs."
Matteo was a carefree spirit, almost childish in his enthusiasm yet possessed a calm composure that made him seem far older than his years.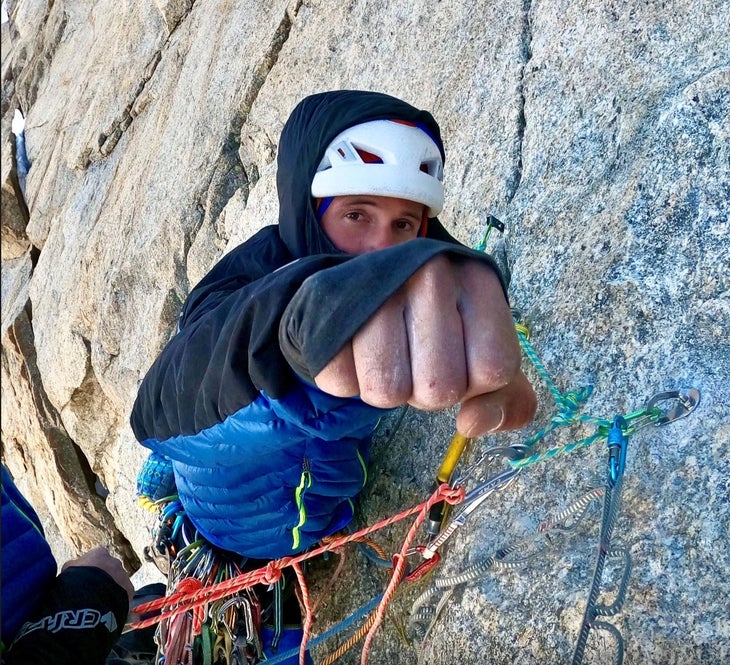 When climbing, he would never let me set out on a route without a ritualistic fist-bump ("pugnetto"). He was so reliable with this that many of his climbing partners have adopted it as their own pre-climbing ritual. On one of our trips to Cadarese, I remember him carefully racking all the cams on my harness, lining them up meticulously for the correct placements. I knew the crack was at my limit and I was steadily getting more nervous. Just as I stepped up to start climbing, he looked me in the eye and in all seriousness asked: "So what route are you going for?" Of course he knew, but that playful touch, the fist bump and his joyful attitude washed my anxiety away (I proceeded to take a massive whipper at the anchor, ripping a couple cams).
Seeing his friends rack up on his birthday to climb together, in his honor, felt perfectly in line with his spirit. He left us far too early and still had so much left to give. But he will always be there in a fist bump as we venture into the mountains.
—Francesco Bassetti 
Visit a memorial page for Matteo Pasquetto here, and read the words of Matteo della Bordella and Luca Moroni here.
Lauren Sobel
25, August 9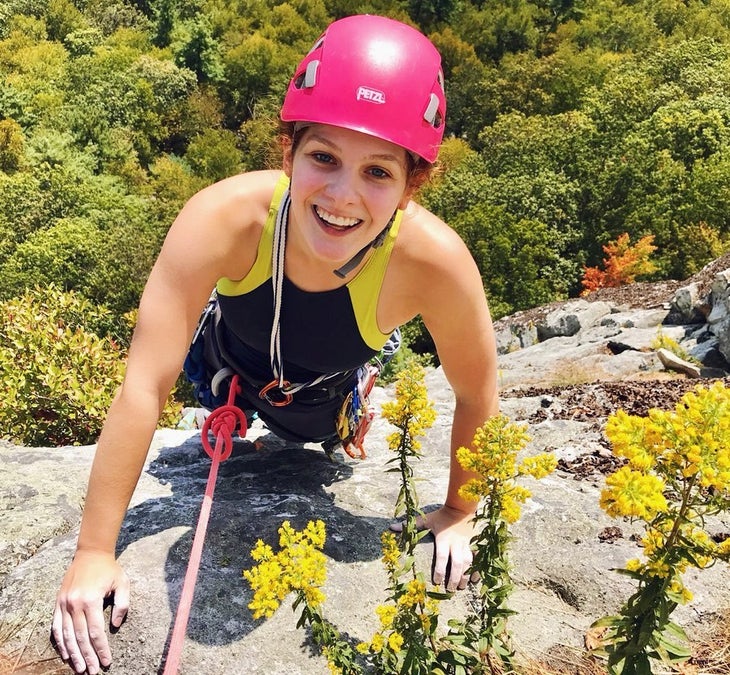 Lauren Sobel hailed from Alexandria, Louisiana—about as far from any rock climbing as you can possibly be in the United States. After high school, she headed for New Orleans to attend Tulane University, graduating in 2017 with a bachelor's degree in political economy. Entranced by city life, she packed her perpetually overstuffed closet into suitcases and moved to New York.
Lauren's first foray into climbing was volunteering with New York's Adaptive Climbing Group, an organization that helps those with disabilities learn to climb. She wanted to meet and rope up with all of the climbers who came to the evening sessions at gyms in the New York City area, from youth groups to disabled military veterans. She was also a frequent participant with CRUX Climbing, an organization dedicated to climbing access within the LGBTQIA+ community. Continuing her allyship, she helped raise funds by organizing events for the Silvia Rivera Law Project, an organization that provides legal services for low-income, primarily transgender and gender-nonconforming, individuals.She cared deeply about the people and communities, and they cared for her, adopting her with loving arms.
All the while, Lauren had a full time job with Bank of America, working as a municipal bond analyst. Somehow, despite her already jam-packed life, she inspired a hundred more "She also.." sentences, many of which I'm only now discovering talking with her family and friends. Her sister, Ellie, said she was working toward an MBA from the University of California, Berkeley.
Lauren Pine, a friend and adaptive climber, remembers, "Lauren amazed me with her knowledge and passion for New York downtown nightlife. She went to events even I didn't know about, and her passion for this world translated to galas and other high-end events, always with the right outfit and attitude to match."
Lauren just seemed to have more hours in the day than the rest of us. Each of her passions was only one of many, yet all encompassing and worthy of putting her full heart into.
Though her entire rock-climbing career spanned only 15 months—half of that during COVID-19—Lauren managed to climb at some of the greatest climbing areas across three countries! Whether at her East Coast home cliffs of the Shawangunks or the Delaware Water Gap, Mexico's famed El Potrero Chico or the towering granite dome of the Chief in Squamish, British Columbia, Lauren loved being outside on the rock.
Only now, stepping back to take it all in, do I understand why her New York attitude frequently overrode that Southern charm when the world around her wasn't going at her speed. Whether it was a delayed train, slow service at a restaurant, or my sluggish lead climbing, Lauren knew time was precious.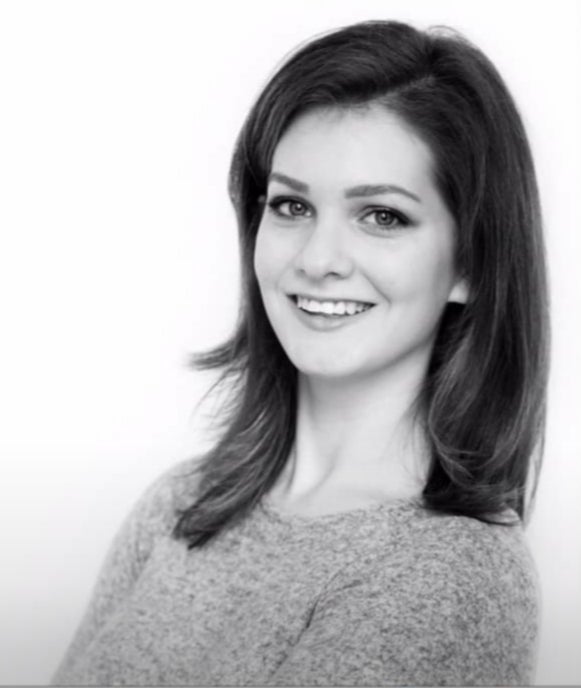 Lauren passed away on the afternoon of August 9, while lead climbing at the Gunks. She was 25. She leaves behind her parents, David and Linda; her sister and brother-in-law, Ellie and Clint; and Parker, her 5-year-old nephew, with whom she loved spending time. Outside of her immediate family, an uncountable number of friends from diverse communities miss her deeply.
Living in the information age, those of us lucky enough to be in Lauren's life have been left with a record of correspondence. Text messages and emails to read and re-read, and pictures to scroll through. Whether it was pictures of outrageous new outfits for her next extravagant outing, lists of climbing routes she accomplished or was considering, or the cute dog pictures—including of the type of puppy she got for her nephew not long before she passed—that she bombarded her sister with, her messages always seemed like exactly what you needed in the moment, from fun and exciting to solemn and encouraging. As Lauren wrote in her final message to our friend who was having a tough time with new motherhood, "The days are long but the years are short."
—Eric Christian
Dillon Blanksma
26, July 30
On July 30, Dillon Grant Blanksma fell 600 feet from Broadway Ledge while traversing to the start of Pervertical Sanctuary (5.11a) on the east face of Longs Peak, a behemoth known as the Diamond that sits well above 13,000 feet.
The staging area for the Diamond, magnetic test piece for climbers, Broadway often echoes with chatter and rockfall long before dawn. That morning, at least two other parties reached the ledge ahead of Dillon, four more free-soloed or simul-climbed the North Chimney while he and his partner Brittany Christians pitched it out, a fifth waited at the base, and a stream of headlamps bobbed in the distance—all before sunrise. Most climbers choose to traverse the 4th class ledge unroped, as Dillon and his partner did that morning. One moment, he was 10 feet ahead of her. The next, he fell backward and bounced out of view.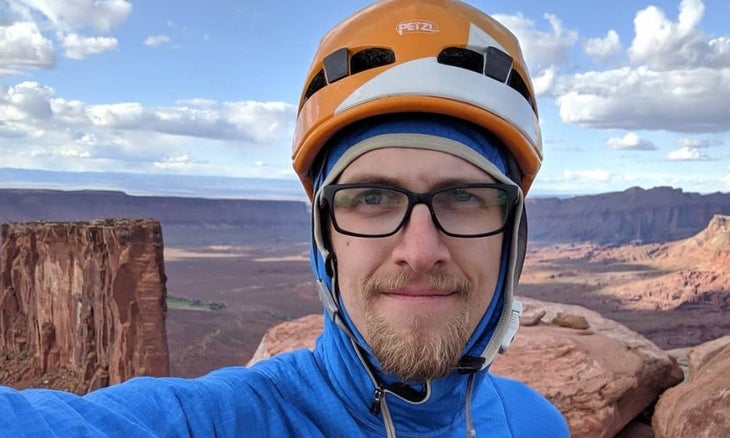 By all accounts, despite the crowds and cold temps, my brother's psych that day was high and his smile bright. Although we ache from the loss of a brother, partner, fiancé and friend,Dillon's genuine spirit, unconditional love and alpine stoke guide us in how we remember him now.
***
Born in March 1994 to Joyce and Ken Blanksma in Bozeman, Montana, Dillon grew up camping, hiking and backpacking in the Rocky Mountains with his five siblings—Heidi Mae Burger, Derrick Jay Blanksma, Katie Joy Blanksma, Trenton Wayne Blanksma, and Kevin Michael Blanksma.
Under Trenton's tutelage, Dillon's outdoor interests narrowed in on climbing. At 17 he encountered his first boulder problem in Yankee Jim Canyon on the Yellowstone River and dispatched his first sport leads in the Bear Canyon, minutes from Bozeman. For the next several summers, spanning Dillon's high school and college years, the brothers would climb all across the Madison, Beartooth and Absaroka ranges of Southwestern Montana and Wyoming, from deep-water soloing above crystal blue alpine lakes to bagging their first serious summits, Granite Peak (12,807 ft) in 2013 and Gannett Peak (13,810 ft) in 2014.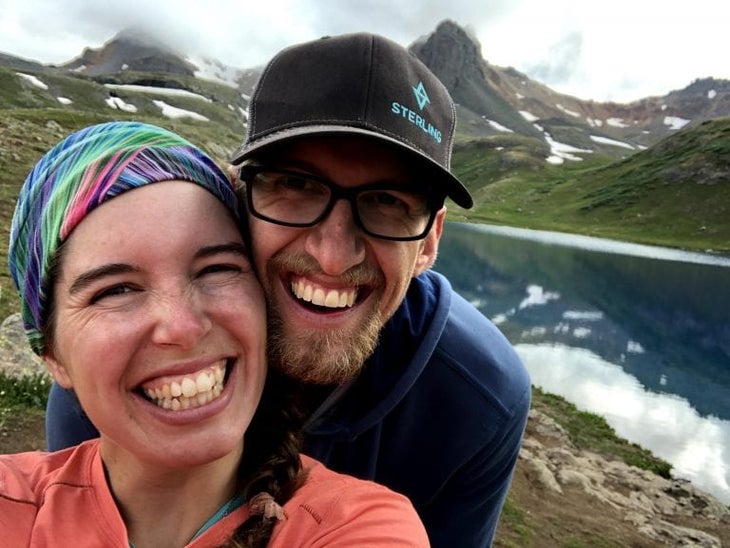 "That connection we had with climbing is what made him so much more than a brother. He became my best friend," says Trenton. He saw a new spark ignite in Dillon when he moved to Colorado in May 2016 after completing his degree in computer science from Azusa Pacific University. "Something switched. He took his passion to the next level."
Dillon's climbing community grew not only because he was a reliable and competent partner with insatiable psych, but because of his patience and easy way of making anyone feel welcome. The somewhat shy and searching teenager his siblings knew in Montana found his footing and a new lease on life in Golden, Colorado, where he was such a sought-after partner that, rumor has it, to climb with Dillon you needed to schedule three months in advance.
"Alex was a huge part of that shift," says Trenton. … [Read the full obituary here]
—Katie Joy Blanksma
Jock Glidden
85, July 29
Jock Glidden was a climber's climber, capable of moving fast in the mountains and comfortable on a variety of terrain. His accomplishments ranged from a roundtrip speed record of 4 hours 11 minutes on the Grand Teton that stood for a decade, to the first ascent of the North Face of Mt. Alberta, to participation in the infamous 1974 American Pamirs/USSR expedition.
Jock Glidden passed away on Wednesday, July 29, 2020, at his home in Ogden, after the balance of pains outweighed the sum of pleasures, and he determined that there was no longer any purpose in continuing the struggle against Parkinson's Disease.
Writes Peter Lev, "Jock was a 'go-for-it' climber. He didn't need 'excessive protection,' i.e., a piton or ice screw at waist level for every move. He depended on his superior skill, and instincts, which was the code of the climbing culture during the 1960s, 70s and into the 80s."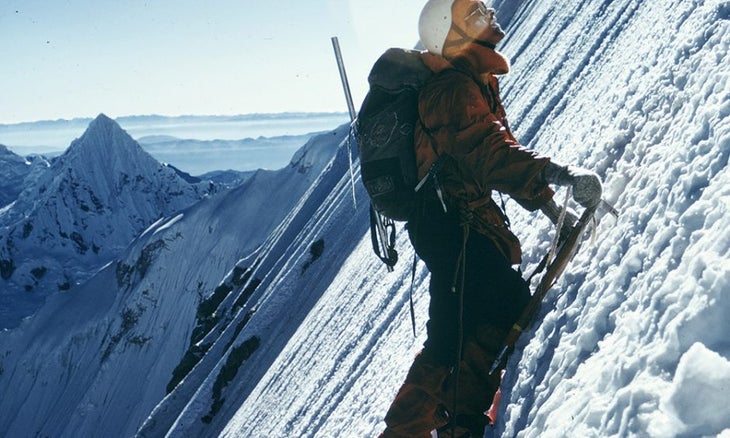 Jock was born on July 7, 1935, in New Canaan, Connecticut, the eldest child of A. Leland Glidden, of Buffalo, and Jane Butler, of St. Louis. He was raised in New Canaan until his early teens, when his family purchased a cattle ranch near the Verde River in Arizona. He spent several years on the ranch until he was sent to the Putney School, in Vermont, where he competed in cross-country skiing and jumping. He then attended Middlebury College in Vermont, earning a degree in 1958, and where he also competed in cross-country.
He attended the University of Edinburgh in Scotland earning his master's in philosophy in 1963. During this time, he took up climbing and mountaineering in the Scottish Highlands.
He obtained his PhD in philosophy from the University of Colorado, Boulder in 1969. During his time in Boulder he married Roberta Bannister, in 1967. They had a son, Jesse, in 1969, and he was offered a professorship at Weber State that same year. He taught philosophy at Weber State for 29 years, retiring in 1998. He almost never drove to work, preferring a bicycle, or cross-country skis.
He was an accomplished mountaineer. He climbed the North Face of Robson in Canada in 1969. He climbed the North Face of Alberta, a first-ascent route still considered one of the great prizes of the range, in 1972. That same year, he also set the Grand Teton speed record from the Climber's Camp, which stood for 10 years. He went trailhead to trailhead in a blazing 4 hours 11 minutes.
George Lowe, who shared a rope with Jock on numerous expeditions, told Rock and Ice, "Jock was one of my earlier climbing partners—and someone who made a difference in his local world. We did what we thought was a new route on the Northeast Buttress of Howse Peak in the Rockies (apparently the first ascent was done the year before), did the first ascent of the North Face of Alberta, and the first ascent of the North Face of Huandoy together. Plus I tried to keep up with him cross country skiing when I visited him in Utah. He was an incredible character." … [Read the full obituary here]
—Jesse Glidden
Jerry Roberts
54, July 4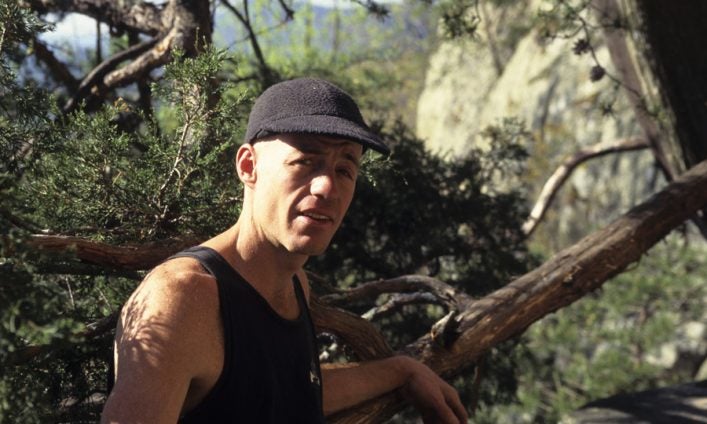 In the summer of 2001, I arrived home from work one Friday night to find a handful of climbers having a toking session on the living-room floor. Not unusual for our house, which at any given time housed half a dozen climbers. A couple of ecstatic guys were holding court, challenging the other climbers to go climb their new routes at the Paradise Falls sector of T-Wall. Despite their excitement, no one was taking the bait: Everyone knew that the sunbaked walls of the Tennessee Wall in midsummer would melt the last off your climbing shoes—if you survived the overgrown and tick-infested 45-minute approach to the base.
"It's mega, man! You'd crush it. We're headed there tomorrow. You should come with us!" one of the guys sitting cross-legged on the living room floor said to me. He was a scrappy-looking ruffian. His head was devoid of hair, but his shoulders and arms were covered in thick red tangles of it. He had a droopy eyelid on his left eye, which gave the impression that he had survived the fiercest of battles.
This was Jerry Roberts. He and Travis Eiseman had been developing and sending T-Wall's hardest lines in the heat of the summer and loving every second of it. More than anything, they were stoked to share it. It took a lot of cajoling and teasing on their part, but I acquiesced. That summer I put up one of my first routes, Burn, right next to one of Jerry's hardest at T-Wall, The Messenger, using his gas-powered Ryobi drill, which left an ineradicable burn scar on my right calve. I accepted it as a rite of passage. I was one of them now.
Jerry Arvid Roberts, Jr., 54, was born in East Point, Georgia, September 2, 1965. He was the son of Jerry A. Roberts, Sr. and Sonya V. Phillips Roberts. On the morning of July 4, Jerry died after suffering a heart attack at his home. He was a gentle wonder, always ready with a boyish chuckle and a sinister smile.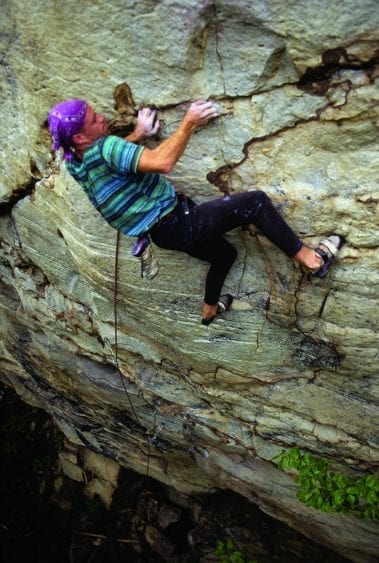 Even before we met, Jerry was already known as the Godfather of hard climbing in the Southeast, and he helped raise a crop of the best climbers to come out of that area for 25 years. He helped me, and many others, find out who we were on the rock. He gave us a vision of what was possible and what could be accomplished, and never had any ego or possessiveness.
As James Litz, the notoriously elusive crusher from Tennessee, recently wrote on Facebook: "I remember many times lowering off his projects and the first words as I hit the ground were, 'James great job. That was obviously way too easy for you. You are capable of so much more. Come and check out this other route I bolted.' Eventually that gave way to, 'James, you need to get out of here and climb routes somewhere else. I have nothing left for you around here.' I remember that moment vividly. Like a bird being kicked out of the nest. Within a month I was on the road." … [Read the full obituary here]
—Luis Rodriguez
Andy Brown
66, June 28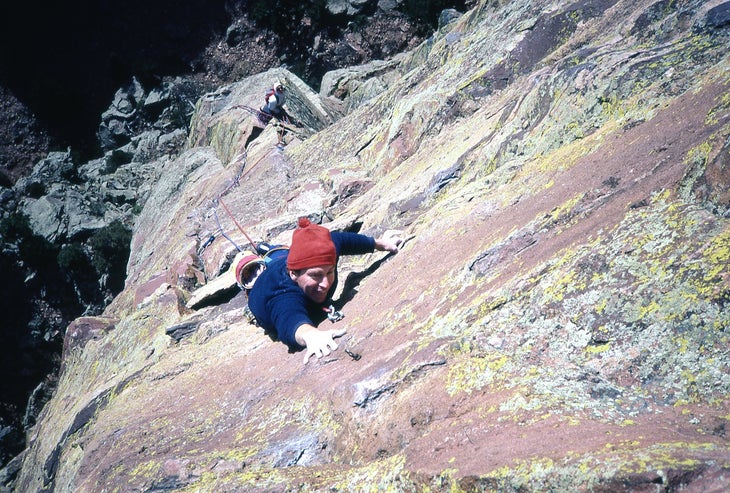 Andy Brown had so much energy that after a full day, he would head to the pub till closing, and then go caving—starting at 11 p.m.
"Why waste daylight when it's pitch black down there?" he would say, as his friend Steve Rimmer recalls.
Andy will be remembered as wildly funny—with a dry British delivery that could crack up everyone in the room, while he sat straight-faced—yet supremely competent. He was a talented Outward Bound Instructor, a gifted professional ski patroller, a park ranger, a paramedic, and a generous caregiver for his ailing wife, who died only a couple of weeks before he did—of the same illness, and even on the same couch in their home.
He loved to race motorcycles, and was crazy about Elvis, Billy Idol and the Who. As an enthusiastic rock climber for over 40 years, he put up new routes in Estes Park and Buena Vista, Colorado; Pocatello, Idaho; and near his home in Comox, Vancouver Island, British Columbia.
Age 66 at the time of his passing, Andy was born May 16, 1954, in Congleton, near Manchester, England. Rimmer, who met Andy at college in Britain in 1970, recalls starting climbing with him and a close knit group of friends at Ramshaw Rocks in Staffordshire, England. Later Andy climbed in Snowdonia, North Wales, and other venues including the Alps.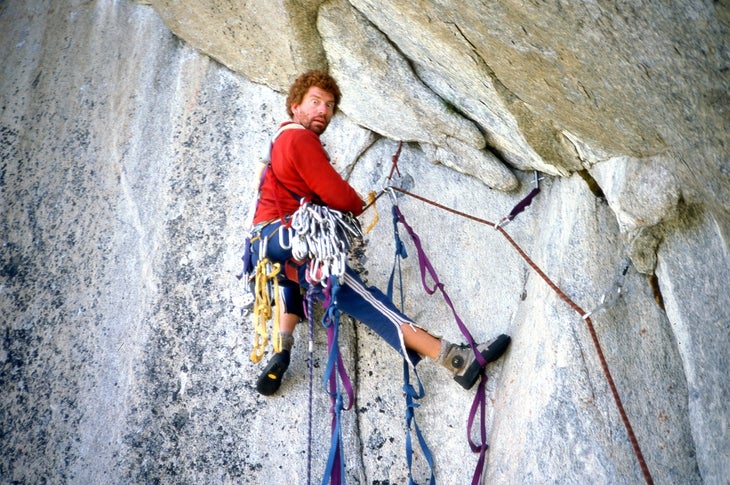 In college, Andy studied drama, and later moved on to teacher training in London. There he was legendary for his dancing, which included backflips and break dancing. Later in the 1970s, he became a punk enthusiast, sporting a wild head of red hair. Attending shows for the Clash, Debbie Harry and the Sex Pistols, he would always be up front, pogoing madly.
In 1980, Andy met Johnny Adams in Wales, and they made a plan to go to Yosemite the following year. They climbed the Nose in the fall of 1981, shaken by an earthquake in the middle of the night. It was during that trip that I first met Andy. At the close of their trip, Andy announced he was remaining in the U.S. While Andy was in the Valley he met Susan (Lotus) Steele, whom he later married. They climbed together, and then Andy was offered floor space in a house of climbers in Boulder.
In 1982, Andy met Lotus's friend Michael Lindsey, who thought Andy would make a good Outward Bound instructor. Although Andy wasn't an experienced skier, he had taken a mountaineering leadership course in Scotland. Thus began a memorable career as a full-time Outward Bound Instructor, working both summer and winter courses. … [Read the full obituary here]
—Roger Schimmel
Rich Jack
62, June 26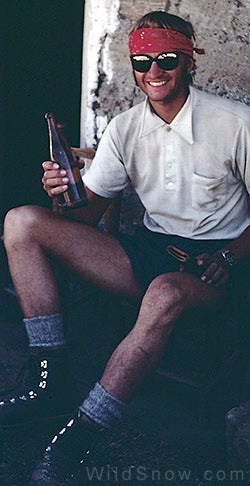 Rich Jack died in a highway accident after a well-lived life when, out adventure motorcycling, he hit a deer near Steamboat Springs, Colorado.
In 1971, Rich moved to Aspen after days as a high school ski racer out of Minnesota. Rich was a well-known figure around Aspen in those days. He wore his thick blond hair long, and at 6 foot 4 inches towered above most other guys. He was active in the ski-shop employee culture, and spent winters cranking out turns—that is, until he met Steve Shea, a climber and another shop rat. Rich was a natural climber and soon became part of our small crew, and we began a frequent partnership.
The first big adventure was our freshman El Cap route in Yosemite Valley in 1973. We'd both done quite a bit of rock climbing by then, but tackling the big stone of Yosemite was how you took it to a new level. We were excited, ready, and no doubt somewhat clueless (though we did have good mentors and lots of training). Yet something had happened that spring to Rich that could have destroyed his mental game.
Rich and Pete Williams were hiking out from Leaning Tower when they encountered a swollen stream and decided Rich would belay Pete across. As things can easily do when you combine ropes with stream crossings, it all went wrong and Pete drowned with Rich looking on and helpless to intervene. A lesser man would have given up the mountain life after that, or dropped into denial and just climbed harder. Instead, Rich embraced climbing but became much more cautious and organized in his approach. More, he also developed a passion for helping others which manifested in his getting medical training and eventually working as an EMT, then a career in nursing; he was to become a critical-care nurse. He would also marry a nurse, Sandy Sandusky, though it was not to last.
Rich not only had come up with the idea for us to tackle Dihedral Wall that fall, but he also ended up being the voice of caution that reigned in the sometimes over-exuberant risk taking I was fond of at the time. In 1973 El Captain had received its first ascent only 15 years before, and wall-climbing techniques were still in the experimental stage. The climb went relatively flawlessly, though things such as hauling our baggage up a cliff would at times turn the day into a vertical circus.
In 1975, Rich (who unlike me was thinking more than 24 hours ahead) came up with the idea of doing a new route on the Diamond on Longs Peak, Colorado. We'd had a taste of how fun it was to do new routes while putting lines up outside of Aspen. We both liked the challenge and creative outlet, and we didn't mind seeing our names in a guidebook either. On the Dawson/Jack Route, we climbed a few short pitches to reach the base of an obvious seam that looked quite difficult and dangerous. He set up a solid belay while I racked up for what became my first pitch of A5. To this day, I clearly remember looking down at Rich belaying me, and feeling his care, strength and confidence running up the rope. I also remember knocking off a flake of rock that did the perfect curve to make a direct hit on Rich's helmet. Yes, we wore a helmet for belaying—Rich's idea.
In 1981 Rich cooked up another scheme. A trio of hardcores in the Black Canyon had recently put up a cutting-edge route they'd dubbed the Hallucinogen Wall. Due to an aura of mystery the Hallucinogen had not yet been repeated. The Hallucinogen was easily one of the toughest things we'd tackled. The route had two cruxes, one for Rich and one for me. Well, actually two for Rich.
A band of overhanging punky dirt-like rock splits the route. The first guys up there had managed to drive in a piton and move, or perhaps levitate, on. In doing so they'd beaten up the crack to the point where Rich couldn't get anything to hold his weight. He'd bash something in, we'd test, it would pull out. A couple of times he thought he had it, stepped up high, and took a fairly violent fall when the piece popped. This went on for four or five hours. We finally drilled an expansion bolt, which worked but was still marginal and scary.
Next, Rich was up on another pitch and the piece he was standing on popped while he had his finger through the eye of a piton above him. Snap, broken finger. He was in a lot of pain, especially during our last night on the wall, but he toughed it out and was always proud of that second ascent. … [Read the full remembrance on wildsnow.com, here.]
Rich is survived by his wife, C.J. Joplin-Jack; his mother, Charlotte Jack; two sisters, Chip Jack and Liz Bosman; and many other family members. Please see this obituary in the Daily Camera.
—Lou Dawson
Doug Snively
66, June 15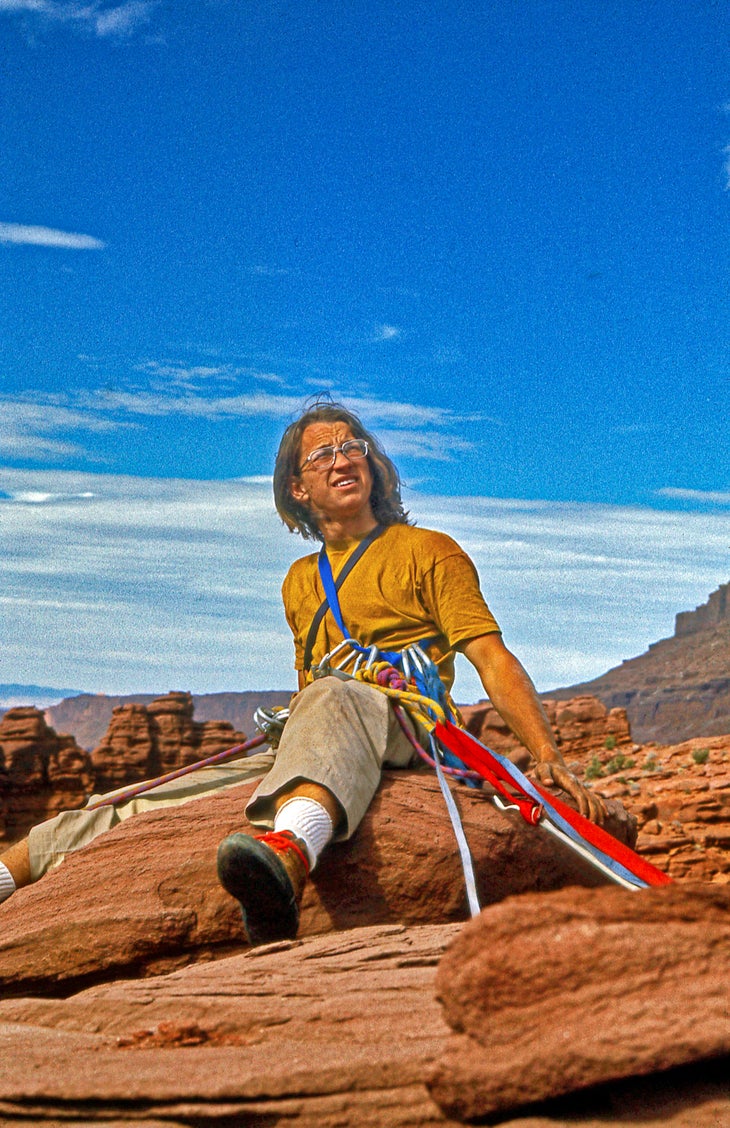 When Jimmie Dunn called on Monday afternoon, he said, "Are you sitting down? I have some bad news. Cito Kirkpatrick called me earlier and said that Douglas died this morning."
I was shocked. Douglas Snively was one of our oldest comrades of the rope. Douglas, Billy Westbay, Jimmie, and I were a climbing foursome during our halcyon youth in the early 1970s, meeting at the Garden of the Gods for after-school climbs, heading north on weekends to crank classics in Eldorado Canyon, and driving west on long breaks to the Moab desert and Yosemite Valley.
Melvin Douglas Snively, known as Douglas or Doug, made a quiet exit from this life on the shore of Lake Estes on the sunny morning of June 15, lost to an apparent heart attack at age 66. Douglas had walked two blocks down to the lake from his house on 3rd Street in Estes Park to cast a few flies for wild trout. He was found sitting on the lake shore, slumped over.
Douglas moved to Estes Park from his childhood home in Colorado Springs in 1974, spending nights on the floor of Steve Komito's boot-repair shop and eventually working as a guide for Michael Covington's Fantasy Ridge climbing school. Douglas later said, "Komito was very tolerable of all of us outlaws just hanging out in his shop." The laid-back climbing scene, the granite crags on Lumpy Ridge, and the soaring alpine faces in Rocky Mountain National Park appealed to Douglas, and he made Estes Park his home for the next 46 years. "I fell in love with the climbing here," he said. "I love Lumpy Ridge, I really do." Besides establishing over a hundred routes in the Estes Park area, Douglas also did first ascents in the canyon country, including the first ascent of the North Face of Castleton with Dunn in 1974 and Incredible Hand Crack, perhaps the best crack climb at Indian Creek, in 1978 (with Rich Perch, John Bragg and Anne Tarver).
As a climbing guide, Snively became intimately familiar with the Lumpy Ridge routes as well as the classics in Rocky Mountain National Park. He estimated that he climbed the Petit Grepon over 30 times and the East Face of Hallett Peak at least 50 times, with innumerable trips up the Diamond (or East Face) of Longs Peak. I was his partner on his first route on the Diamond, on July Fourth weekend in 1971. I was 18 years old and Douglas was 17. We climbed what ranger Walt Fricke later told us was the fifth ascent of D7. The only other Diamond party on those bluebird days was Art Howells and Don Doucette, also from the Springs, on the Yellow Wall.
In the 1980s Snively worked for Steve Komito, resoling boots, selling footwear, and even making custom climbing shoes. By the early 1990s new opportunities arose, and he began working as a rigger for commercials and movies. He was able to join the Screen Actors Guild after doing a stint as Tony the Tiger, rappelling and kayaking for Frosted Flakes commercials. Later he worked on films like "Cliffhanger" and made trips with film crews to Pakistan and India. … [Read the full obituary here]
—Stewart M. Green
Luce Douady
16, June 14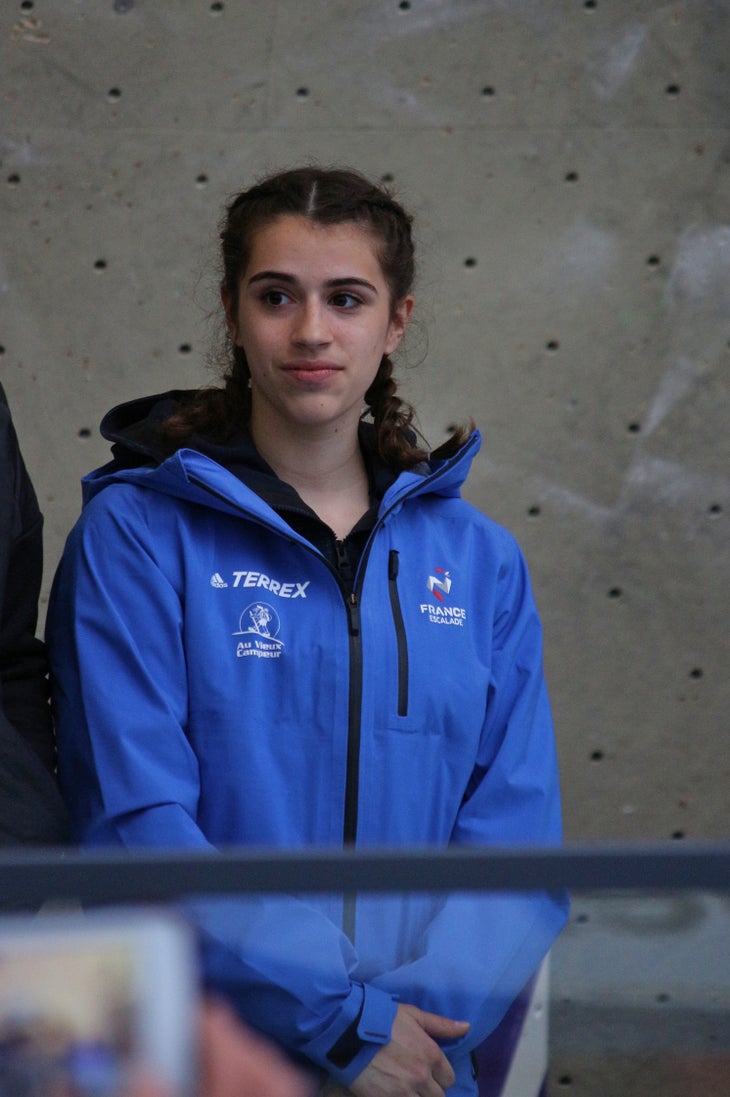 On June 14, Luce Douady left us, falling on the approach to a crag near Grenoble. Luce was a talented young French climber, only 16 years old. People had started to notice her thanks to her promising results at the 2019 Bouldering World Cup in Vail, Colorado, where she placed fifth, and at the 2019 World Youth Championships, where she took the gold in bouldering and the bronze in lead. More recently, she had set her sights on outdoor climbing: she had just discovered Céüse, and was close to sending Miss Hyde, which would have been her first 8c+ (5.14c).
Beyond her sporting exploits, Luce was an exceptional young woman, who lived and enjoyed life to the fullest. She always made an impression; she shone, lighting up everything around her.
She was a passionate and talented violinist and pianist, and while growing up formed a band with her elder brother, Robin, and two other young musicians. Her music brought smiles to people's faces. She also moved people through her climbing: she flowed over the rock with a superb alchemy, transforming her powerful style into graceful movement. On routes where most of the other climbers, male and female, would be struggling for breath, Luce was poised.
We were astonished by the depth of her soul: At her young age, she was already a source of inspiration for friends and coaches alike. She seemed to have found a great balance between the commitment and investment required in top-level climbing, and the simplicity and love of life that many athletes lose along the way.
Luce jotted notes and ideas down on scraps of paper, showing a path between high performance in her sport and life in general. "Performance is the expression of a sensibility, a soul. It doesn't have a point or a use, like love, but it guides us," she wrote in one place. And somewhere else: "Absolute simplicity. That's what I love. When I climb, my mind is clear, free of any confusion. I'm focused. Suddenly, the light is brighter, sounds are richer, and I'm overwhelmed by life's strength and depth."
One of the most memorable moments for me as a trainer will always be the bouldering final at the Youth World Championships. Luce was the competition favorite. Despite her level, she had rarely been in that position, with all eyes on her. Like many athletes, she preferred to come in as an outsider, not as the focus of attention. It was complicated for her during the early rounds: she struggled to relax and climb efficiently. She just barely scraped into the finals.
The night before the finals, we spoke on the phone. She talked a lot, gripped by doubt and uncertainty. I tried to find the right things to say to encourage her, but as I hung up, I really thought it would be difficult for her to win… However, right from the start of the live stream the next day, I could see that she felt better, and that she seemed to have found her own path to performance. She won that final and, with it, her first major title. She would most certainly have won others if only life had taken a different turn.
—Fabien Viguier (translated by Sheila McCarron)
Ray Warburton
59, June 9
On June 9, Ray Warburton of Bishop, California, died while descending the North Couloir on Mount Humphreys, a prominent peak above the area that he'd summited several times through the years by multiple routes. Ray, 59, may have been struck by rockfall, which was heard by climbers on the nearby East Ridge. Ray leaves his wife, Lesley Allen, and their two children, Augie and Lacy, ages 9 and 8.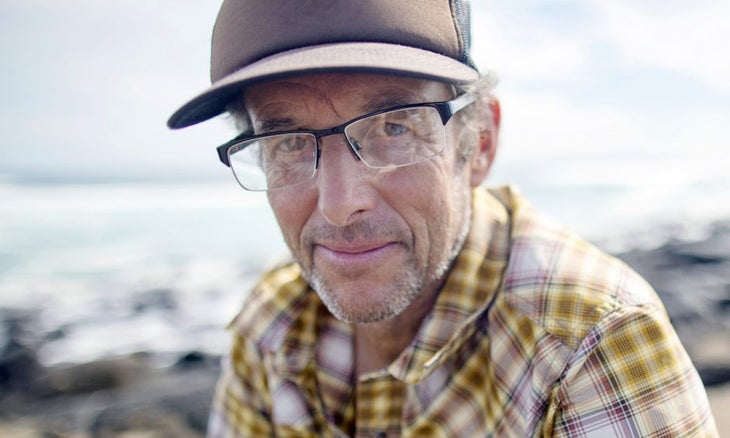 Inyo SAR, who recovered his body, stated: "Ray was a well-known and respected Eastern Sierra community member, father, husband, friend to many, and mountain person."
Ray led an exceptionally adventurous life, and stories of him are legendary. He trekked through Africa, sailed across the Atlantic Ocean, climbed extensively in South America, and was an expert on climbing and skiing in the Wind River Mountains, Wyoming, where he worked with the Forest Service in the 1980s. Ray was a surveyor by trade and lived in Jackson Hole for much of the 1980s and 1990s before moving to the Eastern Sierra in 2001 with Lesley.
I first met Ray around 1985 or 1986, when I was a youngster in Jackson Hole. Although only a few years older than I was, he was already a veteran backcountry skier, climber and adventurer. Over the years we connected for climbs in the Tetons and Wind Rivers, and our first big trip together was an early ascent of Rainbow Wall at Red Rocks in the mid 1980s years before it was bolted as a free climb. I was leading the last pitch and nailing a refrigerator-sized block when the whole thing collapsed, crashing thousands of feet below past Over the Rainbow Ledge, where we'd slept the night before. Thankfully I was on the far left end of an arching pitch, and when I fell I swung free of the carnage, and nothing touched Ray either. I looked over at him (now at my level but about 50 feet away), and there he was, crazy wiry hairdo, with huge alarmed eyes and a big smile on his face.
Another time in Yosemite Ray and I tried the North America Wall on El Cap, my second attempt. We were pumped and charging, but on one of those early A3 pitches, perhaps around pitch 5, Ray took a big whipper, falling off some stacked angle pitons and smacking his arm—breaking his wrist, we later learned. We kept going but by about pitch 15 his wrist hurt so much he couldn't even pound out pitons anymore—so we bailed. He felt bad but in hindsight he showed a crazy amount of toughness. Pretty typical of Ray—he had lots of inspiration and was willing to put himself out there to experience wild adventures. I had many other fun times with Ray, and most of the memories include a lot of laughing and giggling. … [Read the full obituary here]
—Jason Keith
Tom Wright
34, June 6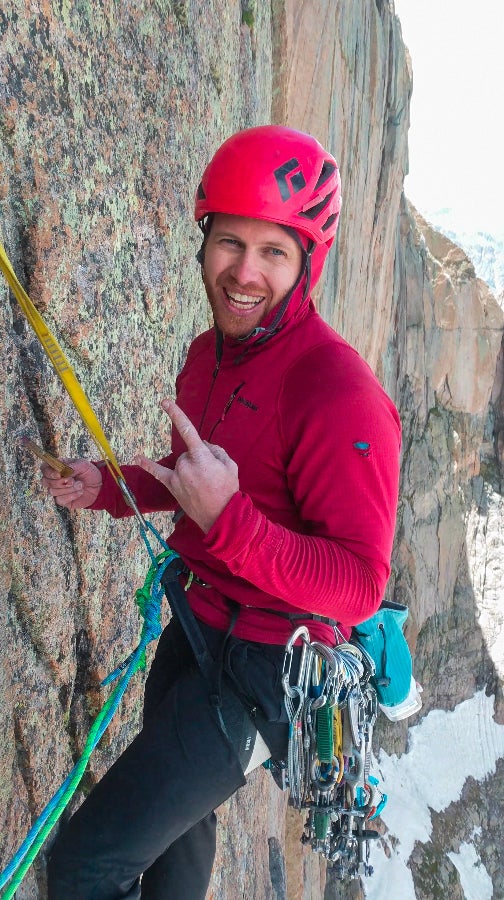 I met Tom Wright on a big ledge halfway up the Nautilus in Vedauwoo, Wyoming. He and his partner had climbed a route adjacent to the one my partner and I had just done. When Tom arrived at the belay, he looked at the gaping, overhung, fists-to-stacks offwidth above our stance with big, greedy eyes, and a giddy smile. Our respective partners were ready to bail, but Tom was keen on continuing to the summit via this adventurous line. As if I'd known this man for years, I tied in with him as our partners descended.
In the ensuing hour and a half, I watched this stranger fistfight his way up the steep bulge, laughing and growling as he welded his only #5 cam into the bulletproof granite 20 feet above the belay. He then boldly continued to the summit, leaving me to chisel out the cam as I desperately followed the steep offwidth. That afternoon I passed out at camp, exhausted from the tremendous effort, while Tom went on to climb several hard testpieces.
In the following years, I got to know a man who treasured adventure and community in equal parts. Tom Wright was a great rock climber, alpinist, geologist and friend. He had a scientific approach to just about everything, and was meticulous in his preparation for climbing objectives. He was the most well-read individual I have ever known—on our trip to Patagonia, Tom would alternate between reading old Alpinist magazines and the Journal for the Geological Sciences with his morning coffee—and had traveled this planet more than any climber I had ever met. Tom's tracks extended from Thailand and Greece to the Torre Massif in Patagonia. He climbed in remote areas around the U.S., including a successful canoe-to-climb mission on Mount Moran, in Grand Teton National Park, Wyoming, with his dear friend Megan Yingling.
Tom's longtime friend Tom Gosselin remembers a joyful, loyal and energetic friend: "We met while working at Eastern Mountain Sports in Lake Placid. He was living in a garden-level apartment that was chock-full of books and climbing equipment and it looked like a mad scientist's gear closet. It was so Tom Wright!" Gosselin says.
He continues: "Whether it was with friends at the dinner table, at a local crag, somewhere deep in the snow or in the desert, Tom had a way of being the life of the party wherever he was. Some may say it was because of his infectious laugh, baby blue eyes or knowledge of all things awesome, but I think it was because he was the kind of friend everyone wishes they could be."
Born and raised in northern New York, Tom attended St. Lawrence University, where he studied geology. He was passionate about the science of landscapes, always excited to teach his climbing partners about the geological history and formation of the places we explored. On an approach, Tom would pause to admire the intricate details of the crystals embedded in stone along the trails or admire the way that glaciers had carved out the massive gorges we wandered through. He joked about returning to school for a PhD, so that he could call himself "The Rock Doc."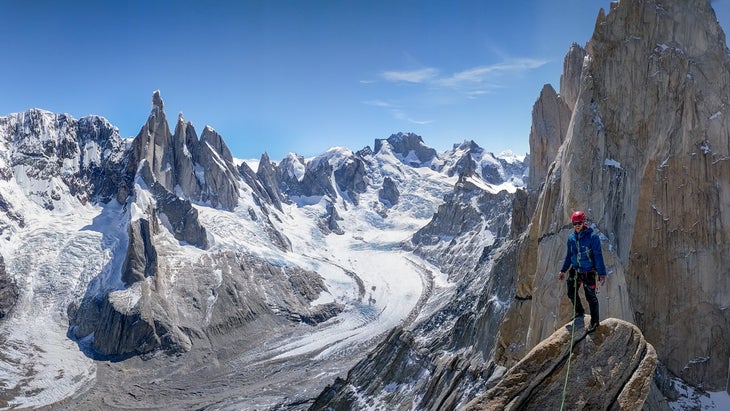 Tom lived in Boulder, Colorado, for most of the year, often traveling in Wyoming and the Dakotas for his work as a geologist. Determined to remain fit for alpine climbing despite often being far from climbing areas during work assignments, Tom would spend hours a day riding his stationary bike and performing hundreds of pushups and pullups. Before his trip to Patagonia in 2018, Tom had not done any rock climbing in nearly six months, but he still managed to gain four coveted cumbres—Guillamet, De l'S, Rafael Juárez, and Medialuna—in the Torre Valley during the short trip. He had dreams of returning to Chaltén to climb on Fitz Roy and Cerro Torre.
Tom died in an accident at a popular sport-climbing crag in Boulder Canyon, Colorado, on May 28, 2020. An accidental slip while attempting to clip the third bolt on a moderate sport climb led to an inverted ground fall that immediately left Tom comatose at the base of the climb. His partner sprang into action, and search and rescue airlifted Tom to the hospital via helicopter, but unfortunately the damage was too great, and he died in the hospital one week later.
His sister Ellen writes, "To his family, Tom was beloved for his curiosity and playful spirit. He lived with a fine-tuned balance of careful, studied intent and hedonistic abandon; he would plan trips with meticulous care and then throw himself into action. As his sister, I knew him as someone who understood my humor and shared my love of books, great food and nature. I miss him every day."
Tom Wright's love and joy for the mountains touched countless people, and the grief of this loss has been felt widely in the climbing communities in Boulder, New York, Utah, and around the world. More details about Tom and a link to a go-fund-me for his family can be found on facebook at the "Tom Wright Updates and Love" page.
—Robert Scrivner
John Allen
61, May 18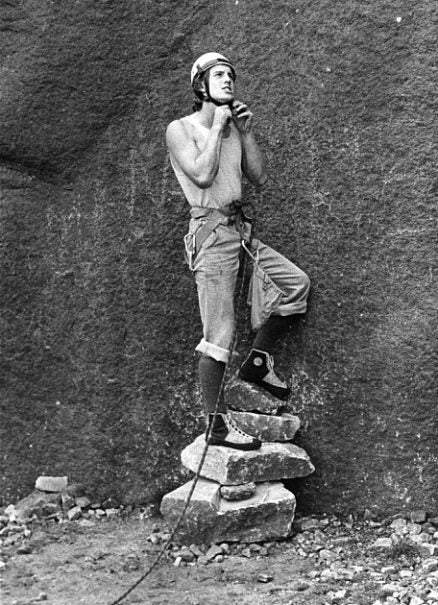 The British climbing community lost John Allen on May 18, when he was killed in a fall while out climbing with his brother at Stoney West, Derbyshire, the Peak District.
"He was the best on gritstone in his day," says Geoff Birtles, former editor of the respected British magazine High, a climbing partner who knew Allen "from when he was a schoolboy."
"He was doing very hard technical routes, often with poor protection, and [is] rightly a world contributor."
Taught by Les Gillott, a friend of his father and established climber, John was a wunderkind as a young teen, his debut an early lead of the famed roof route Quietus (E2 5C / 5.10+) at Stanage Edge in the Peak District. It was one of the hardest routes of the 1950s and had a tragic history due to the death of a climber, Dave Sales, in a fall on it.
Allen later wrote about the route in the classic compendium Extreme Rock.
His article began, "My ambition was to be better than Joe Brown; I daresay there is more to climbing, but I was only fourteen at the time."
He became a leading first ascentionist of whom Niall Grimes, host of the Jam Crack podcast (and longtime Rock and Ice contributor), has written: "The Boss. John Allen put up most of the best routes on gritstone."
Allen's friends and climbing peers included Grimes, Steve Bancroft, Johnny Dawes and many others.
Perhaps his best-known route is the first free ascent of the beautiful and celebrated London Wall (E5 / 5.12), Millstone Edge, the Peak District. When he made the FFA of Peter Crew's Great Wall on Cloggy, in 1976, he created controversy by using chalk. As recounted in the book Unjustifiable Risk, Ken Wilson, then editor of the also-classic Mountain magazine, wrote: "Allen … climbed the route with the help of chalk, and this was very controversial at the time as some climbers felt that this was another form of aid."
Allen moved to New Zealand in 1976 (see this list of his routes there), adding to his mystique and stature, and returned home in the 1980s, climbing and establishing more routes, including sport routes in the quarries. … [Read the full obituary here]
—Alison Osius
Howard Peterson
69, May 11
Cannon, a Climbers Guide written by Howard Peterson was the first guidebook to Cannon Cliff in Franconia Notch, NH. While writing the three editions between 1972 and 1975, he was able to contact many of the climbers who established the first routes on the cliff and who provided information and photos from the earliest climbing in the East. Howard's work preserved a part of climbing history that would have otherwise been lost.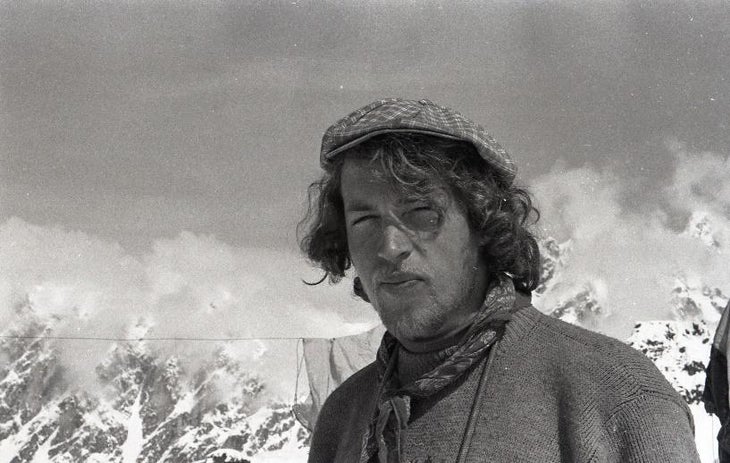 Howard and I, along with our friend Robert Rittenhouse, started climbing together in the mid '60s after coming across the MIT Outing Club's Basic Rock Climbing. Crow Hill in Princeton, MA, was our regular go-to ledge and later we made frequent trips to Cannon Cliff before Howard and I moved to that area in the early '70s. The three of us made many first ascents on Cannon and other smaller ledges in the White Mountains of NH. We traveled to the Alaskan Range to climb on the Rooster Comb, Moose's Tooth, and Mount Dicky, and made a first ascent of Pease Peak with Chris Shepley and Gerald Smith.
Howard often enjoyed pulling practical jokes and many of his jokes were based on misperceptions. After we had finished a climb on Cathedral Ledge in North Conway, NH, he told a group of our climbing friends he was going to collect tolls from the visitors who could normally drive free of charge to the top of the ledge via the paved road established by the NH State Parks Service. Stopping each car at the base as it approached the entrance, it was clear he was accepting money from nearly every car. Word got back to the manager of the EMS shop in town, who arrived screaming at the top of his lungs. It was not until later Howard revealed to me just what he was really doing. At this time the climbing community was putting together a mountain rescue team. Howard was informing visitors of the new rescue organization and asking if they would like to donate. These funds were later used to help purchase equipment for rescue crews. Howard and I were among the founding members of the NH Mountain Rescue Service.
Leading a group from a Connecticut outing club up an ice climb on Mount Washington in 1976, Howard met his future wife Susan. Encountering severe cold and high winds during the climb, he made sure everyone in his group was safe, but froze several of his fingertips while working the ropes. I later teased him about this by saying it was "love at frost bite."
It was the world of skiing where Howard left his greatest mark. He landed a job with the Bretton Woods Resort in NH and soon became the operations manager at the ski area. His business skills caught the eye of the US Ski Association's (USSA) eastern director and Howard accepted a job in their marketing division. After his office was moved to Colorado, he became the CEO of USSA and later merged USSA with the US Ski Team where he took over as CEO/Secretary General, in Park City, UT. A true visionary with the ability to lay out a clear pathway to reach his objectives, he worked with the US and International Olympic Committees and the International Ski Federation (FIS) to bring cash prizes and sponsorship money to skiing athletes, the first Olympic athletes to receive this benefit. He successfully lobbied to allow sponsorship logos on uniforms that brought needed funding to athletes and the Ski Team. He introduced several new venues to Olympic skiing including freestyle skiing and snowboarding. Adhering to a strong moral compass, he uncovered bribery corruption within several organizations where committee members were accepting expensive gifts in exchange for votes. He is credited as being the organizer who brought the 2002 Winter Olympics to Salt Lake City. Within the skiing community he was sometimes referred to as Mr. Cross-Country, Mr. Freestyle, and Mr. Snowboard.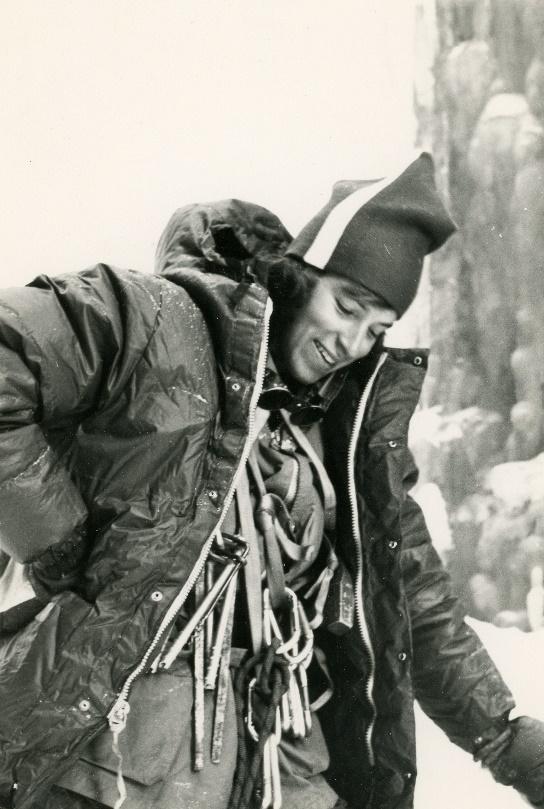 Howard retired from USSA in 1994 and soon after turned his attention to developing the cross-country and biathlon venue site at Soldier Hollow in Midway, UT for the 2002 Olympics. He later helped create and became the director of the Soldier Hollow Legacy Foundation and Nordic Ski Center, a ski training facility and a cross-country ski area with youth programs that have introduced over 100,000 kids to cross country skiing. In the off season, he organized special events at Soldier Hollow like the Sheepdog Classic that draws 30,000 visitor each year.
In the third and last addition of his guidebook Howard wrote: "There are many crags in the Franconia Notch area, this guide will only give route descriptions to Cannon Cliff … leaving their continual discovery to those pursuing the freedom of the hills."
Howard passed away on May 11, 2020, at the age of 69 in Heber City, Utah following a long illness.
—David Tibbetts
Dan Escalante
44, April 28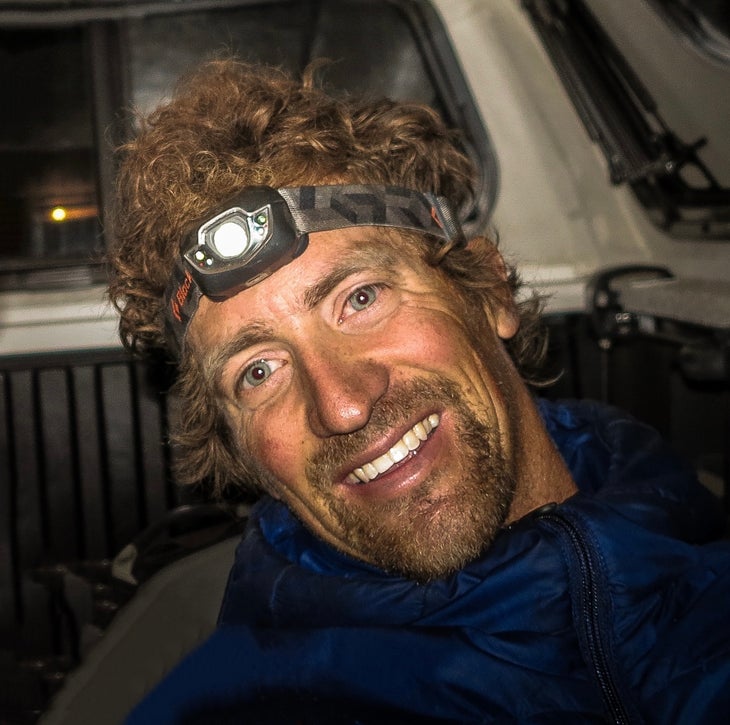 Dan Escalante, beloved Gunnison Valley community member; climber; skier; builder; community activist; elected official and loving, brother, son, friend and mentor, died in a backcountry ski accident.
Any description of Dan has to begin with his piercing blue eyes: Many a climbing adventure began with a light in his eye that drew you in to say yes, and his big grin afterwards made it hard for you not to love him even more, no matter how much of an epic adventure he had just talked—or tricked—you into doing. Dan had authentic joi de vive. For him it was all about the company in the adventure, more than the grades or the summits or the descents. Everything he climbed was his favorite route, until the next one, and the more remote the better.
Dan carved his own path in life, and lived on his own terms. He was a climber and skier of the old-school mentality … one of the last people I knew to give up his old Petzl Ecrin Roc helmet or Black Diamond BOD harness for updated equipment. I will never see another pair of purple Mythos without thinking of Dan. He was also the last to embrace the switch from tele to AT skiing, and wore his knee pads outside his ski pants regardless of what anyone else thought or said.
Dan was infamous for showing up as an elected official for Crested Butte Town Council meetings, or to community dinner parties, in the same paint-stained, torn, tattered and dirty clothes he would wear to his construction job site or on an obscure climb in the Black Canyon. Dan truly didn't worry about image and appearance, it was what was underneath it all, and what a person stood for and behaved like that truly mattered. He treated others as such in turn: with an open heart and open mind as to character, not appearance.
It is a lesson all who knew Dan will take away: how to live life from a place of heart and connection. Maybe it was his Latin heritage shining through.
Dan shunned social media, as infringing upon real, true face-to-face connection. Despite his lack of digital footprint, he had an immense network of friends and adventure partners around the globe. He climbed extensively throughout Yosemite and the Sierra, the Tetons and the Utah desert, and on famous ice climbs of Colorado. Stories of him abound in as far away as the New Zealand Alps and Peruvian Andes, as they do in his backyard home crags of the Gunnison Valley, and to the walls and peaks of his beloved Mexican homeland.
Dan was a dedicated elk hunter, builder, kayaker, backcountry skier, mountaineer, ice climber, outdoor educator, guide, community gatherer, social advocate and voice for the underserved and unheard, and when the situation called for it … the life of the party. Especially skilled at connecting with kind and beautiful women wherever he went, he was the envy of all of us wingmen in his shadow. Dan was the magnetic hub of a vast and varied community of outdoor adventurers, mountain and desert dwellers, and everything in between.
Another friend, Mark Reaman, wrote in the Crested Butte News: "Dan was passionate about his life. He loved being in the mountains and loved riding the snow. He let life take him wherever it went, which was sometimes a tiny house or condo, sometimes a hunting camp, sometimes a friend's couch or a blow-up mattress in his parents' living room. Whether it was the community, his friends, his family, he had the ability to be passionate and gentle at the same time. That is a gift."
Dan is survived by his parents, Alonso Escalante, Sr and Maria Escalante;
his brother Alonso Escalante, Jr. and nephew Theo; and his brother and sister-in-law
Eric and Missy Escalante and nephews Diego and Mateo.
—Jayson Simons-Jones
See this remembrance in Crested Butte News and this in The Climbing Zine.
Dr. Barry Webber
67, April 18
Dr. Barry Webber, a New Paltz climber and a member of the Rock Club, a gym in New Rochelle, New York, once sold a car to a climbing coach for a dollar.
Meghan MacDonald, a coach at the Rock Club and CLMB, posted on her Facebook, "He drove up from the West Side every weekend with his boys. I looked forward to our weekly climbing lessons, though improving at climbing was less important than a chance for Barry to connect with his sons.
"He 'sold' me his old forest green Volvo for $1. He made sure I had the best care when I broke my leg and needed multiple surgeries. He has always been a hero to me."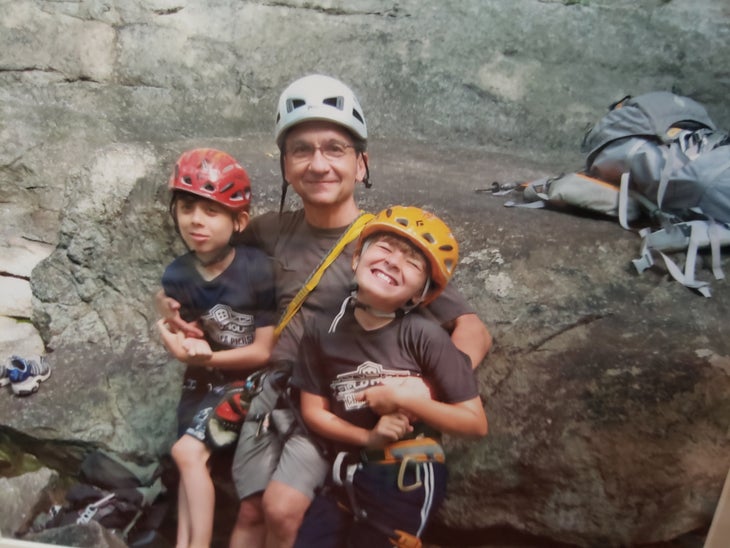 Dr. Webber did his duty: as a Mount Sinai Queens surgeon working in the first onslaught of the pandemic, before clear mask mandates and the availability of sufficient PPE. Busy in the emergency room as well as the operating room, he contracted coronavirus in late March and quarantined himself.
He and his family had moved from New York City to New Paltz, New York, in 2017, while maintaining a small family place in the city, where Barry generally stayed a few nights a week for work. His wife Harriet Clark Webber, a teacher and onetime dancer at American Ballet Theater, said New Paltz "represented everything about Barry: the trees, the climbers, the atmosphere and the village."
When he subsequently lay ill at Mount Sinai Manhattan, his wife and sons, Michael and Duncan (ages 23 and 21) could not be at his bedside. Barry was clear that the family should not risk infection.
Asked what her husband had been like, Clark Webber brings up his many keen and eclectic interests and abilities. "He was extremely loyal and loving. He was really great to be around. He was a little bit nerdy. When he had an interest, he followed it." He had done much backpacking, hiking and climbing when young, and returned to climbing after age 50; getting in shape, loving climbing, the community and climbing films.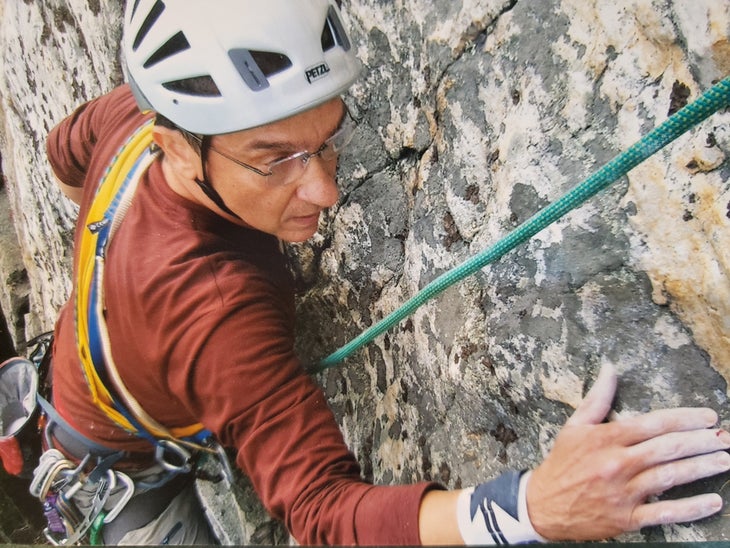 "He immersed himself in these things. He got into computers, he built a computer. He got this old Jeep and rebuilt it. And the arts—he was passionate about everything he did. He was the same with medicine." Barry Webber gained broad-based knowledge working in an ER for five or six years, then returned to surgery in Jackson Heights and eventually at Mount Sinai in Queens, where he was working last spring.
On Monday, March 23, Barry headed back to the city to stay at the apartment to avoid exposing his family to possible infection. He fell ill Wednesday, the 25th, and stayed home. On the 10th day of his quarantine he felt better, but when she called him that night "he was coughing so much he couldn't talk, so I texted him good night. The only thing we had were texts after that." On the 11th day he took himself to the hospital and texted her that his x-rays looked bad. "The next thing I got was a doctor saying he was being intubated, 'And he wanted me to give you a message that he loved you and the boys."
Twelve days later he suffered a massive stroke.
"He had amazing treatment," she says. "The doctors threw everything at him they had. It really affected them how many people were dying without their families there."
She says, looking back, that her husband "was really worried and the conditions were not safe."
"In that way he was a hero, because he didn't stay home from work. He was an upstanding guy. He wouldn't shirk his duties."
She added, "He was really serious about medicine. He liked to help people." Often shy in person, he was clear and commanding in a hospital setting, and she has received letters from other health workers saying he was a good teacher to them.
Dr. Webber grew up in Los Angeles, attended several high schools and spent time in a Buddhist monastery before matriculating at Occidental College, from which he graduated with a degree in music in 1978. He dreamed of being a classical pianist but entered medical school at Georgetown University, finishing in 1982.
The pair, who married in 1996, shared a love of music and the arts. The American Ballet Theater dancers and musicians gave a series of special performances in Dr. Webber's honor for the Mount Sinai Kravis Children's Hospital (see ny1.com).
Another climber friend and guide, Carolyn Riccardi, describes herself as heartbroken upon the loss. She wrote in a Facebook group (posts shared with permission): "Barry was a longtime client of the EMS climbing School and I was lucky enough to guide him, his wife Harriet and his two boys. After a day of climbing with my coworkers Barry would hang out outside and share climbing stories and talk about his goals and aspirations. … He always had a list of climbs to do next time he came out. One of his goals was to move up and live full-time in the Gunks. And he did.
"The past couple years I haven't seen Barry on the cliff but I would always run into him and Harriet at the supermarket late on a Sunday night and say hi. … He would always ask about each one of my co-workers by name. I'm very sorry for his family. We are truly indebted to him for the sacrifice he made to save other people's lives."
See this obituary in the New York Times. Dr. Webber was also part of this tribute in the Guardian.
—Alison Osius
Joe Brown
89, April 15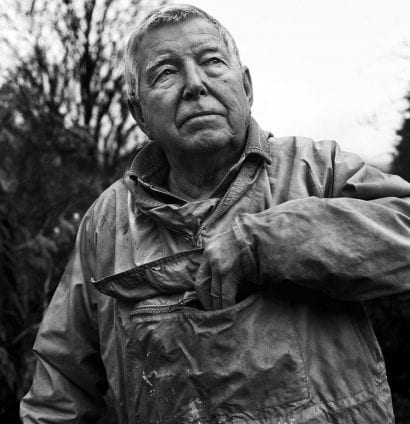 In 1964, at Curbar Edge on the gritstone of Derbyshire, Geoff Birtles started up the striking Elder Crack, which at mid-height widened to offwidth—just before a roof. He was forthwith so exhausted that he "slithered," as he put it, back down the crack to the ground.
Joe Brown had established the route in 1950, protected only by slung machine nuts.
As Birtles wrote in Hard Rock, a book that inspired a generation, he later asked Brown, of the route:
"You did it, didn't you?"
"Yeh!"
"Who did it with you?"
"Can't remember!"
"It says in the old pink guide that it was VS" [5.7-5.8].
"Well, it is, isn't it?"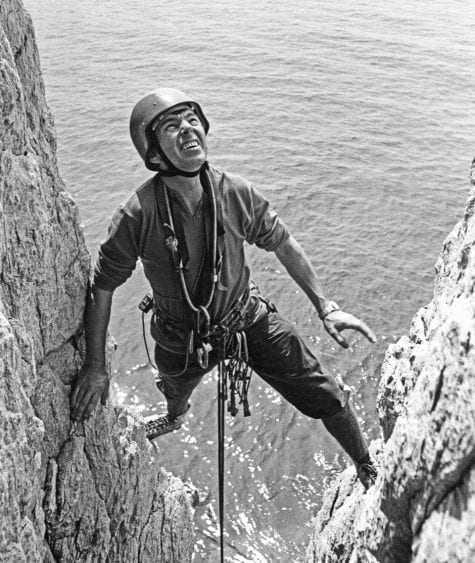 Elder Crack was later boosted up beyond Very Severe (VS) and beyond Hard Very Severe (HVS) to Extremely Severe 5c, or 5.10+.
As Birtles, longtime editor of the great British climbing magazine High, informed us Thursday by email, Joe Brown "died peacefully at his home in Llanberis" on April 15. "He was arguably the greatest ever all-round climber," Birtles wrote. "His new rock climbs in Britain commencing in the late 1940s were the hardest in the world."
Brown was 89 and had been ill.
Birtles also listed the Fissure Brown on the West Face of the Aiguille de Blatiere, Chamonix Mont Blanc, done in 1954 with Brown's many-year partner Don Whillans, as "possibly the hardest single mountain pitch climbed to that date," while Brown and George Band's first ascent of Kangchenjunga (8586 m), in 1955, "was a great high-altitude achievement, along with other Himalayan climbs, such as the first ascent of Trango."
Joe Brown during the first ascent of Trango Tower, Karakoram, 1976. Photo: Tony Riley.
Brown's career had incredible breadth: Trango, done with Martin Boysen, Mo Anthoine and Malcolm Howells, was in 1976. He, Tom Patey, Ian McNaught-Davis and John Hartog had made the first ascent of the west summit of Muztagh Tower (7276 meters), in 1956—20 years earlier.
Joe Simpson (UK) recalls: "Joe Brown was an amazing man, surprisingly quiet, shy even, but a gentle man for all his renowned hardness. He was probably my first British rock and mountaineering hero along with Don Whillans. Chris Bonington, Doug Scott and Dougal Haston were also in the loop but Joe and Don were at the very top. At the time, 1940's to 50's, his UK rock routes ranked as some of the hardest in the world and all were climbed with what today would be regarded as woefully basic equipment. … [Read the full obituary here.]
—Alison Osius
Wade Meade
29, April 8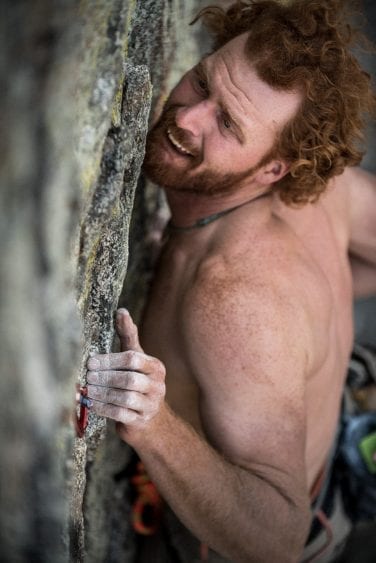 Wade Meade was a talented skier and climber, a dancer, a poet. Friends of the 29-year-old climber who died last Wednesday in Big Cottonwood Canyon, Utah, are chock full of stories about his love for the outdoors, his silliness and his kindness. They called him the "Ginger Giraffe" because of his flaming orange hair and large size—he was 6-foot-4.
Tyler Grundstrom, Meade's roommate, adventure buddy and fellow ski patroller at Park City, says Meade was always up for an adventure, no matter how much "type 2" fun it might entail.
On the Cathedral Traverse in the Tetons last summer, Meade and Grundstrom reached the north side of the Grand in miserable conditions. Meade thrutched up a nasty chimney and verglas-covered rock while Grundstrom shivered at the wind-tunnel-like belay for two hours. Grundstrom followed.
"I get up to the belay ledge and tell Wade I don't feel good," Grundstrom says, "and he tells me, 'Let's just cuddle and drink ramen.'" Later, sharing a sleeping bag after they reached their checkpoint for the night, Grundstrom turned to Meade and asked if they were having fun yet.
"Yeah, we're having a lot of fun right now," Meade said.
"You have those partners where you just pull each other out of shit, right? That was Wade," Grundstrom says.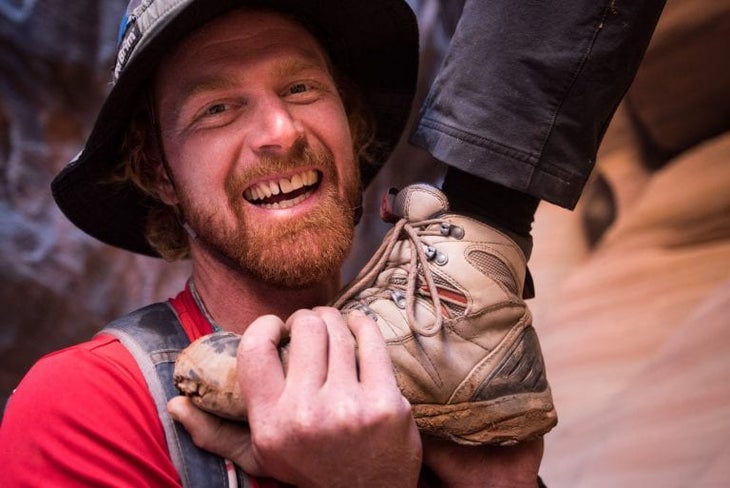 Another partner, Josh Ruchty, with whom Meade climbed the Nose, wrote, "With Wade, everything always seemed to go right, even when it wasn't. The man was a beast, and even in the face of struggle, would never say 'bail.' He would march eagerly into the unknown, inspiring the confidence of anyone lucky enough to be around him. And sometimes, that was enough to power through it."
Brett Carroll, with whom Meade went on an expedition to Peru, told Rock and Ice that he took Meade on his first ever backcountry ski tour, in winter 2016. "He loved it, and became so hooked that over the next few years he became one of my most reliable, competent and enthusiastic ski partners." They traveled to the Sierra as well as Peru for ski-mountaineering.
Tyler Grundstrom was unable to speak last week in the days after the accident. Yesterday he recounted the story of what was supposed to be just one more adventure, when Meade and Grundstrom decided to explore a series of "breadloaf slabs" for first-ascent potential high up in Big Cottonwood Canyon. A fluke accident ended in tragedy, though Grundstrom had the mountain-medicine competence to give his partner every chance, and Meade kept his composure to the end. … [Read the full obituary here]
—Michael Levy
Kalley Ann Rittman
23, March 1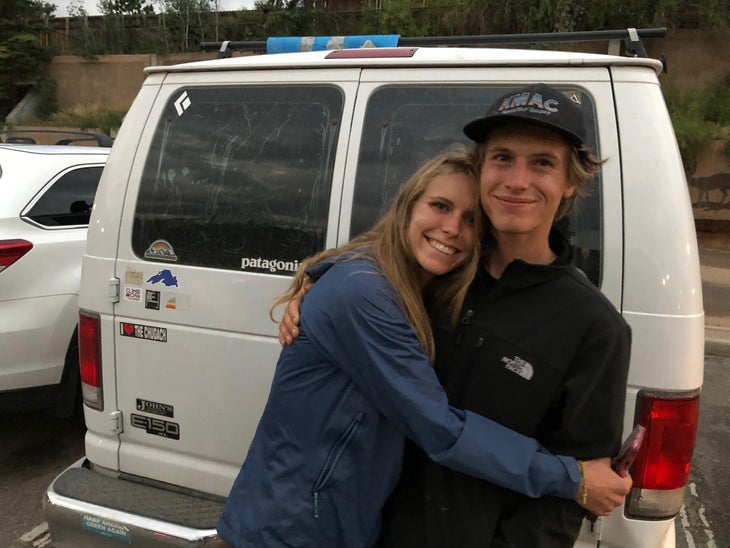 For her undergraduate thesis, in a perfect merging of her passion for climbing and her philosophical side, Kalley Rittman created a short documentary about Alaskan climbers' sense of place. One of her interviewees, Roman Dial, said that when she knelt down with her camera, "She looked me directly in the eyes and smiled. She had a gentle confidence that made you open up."
You can find her film on Vimeo: Kalley Rittman's Placed.
Kalley died in a rappelling accident after finishing the first ascent of Diamond in the Sky (WI 3, two pitches) in Valdez, Alaska. She was a strong, motivated, passionate mountain soul, and far too young to go.
The news of her death came when the pandemic had started rattling our reality. We all learned the impossible intersections of connecting with others in grief during a public health crisis. Kalley engaged with people and places easily, and countless family, friends, climbing partners, acquaintances, and clients had to make sense of the news in isolation. Many of us gathered around bonfires outside. Kalley would have approved, but she would have balked at not giving hugs in our sadness.
Arriving in Alaska to study Outdoor Studies at Alaska Pacific University (APU) as a transfer student from Northland College, Kalley embodied fierce ambition and drive. She had projects to complete, climbs to send, and a clear vision of how she would become a mountain professional. As well as a climber, she was a staunch advocate for the environment and a thoughtful artist. As her academic advisor, I appreciated her organizational skills and clear writing.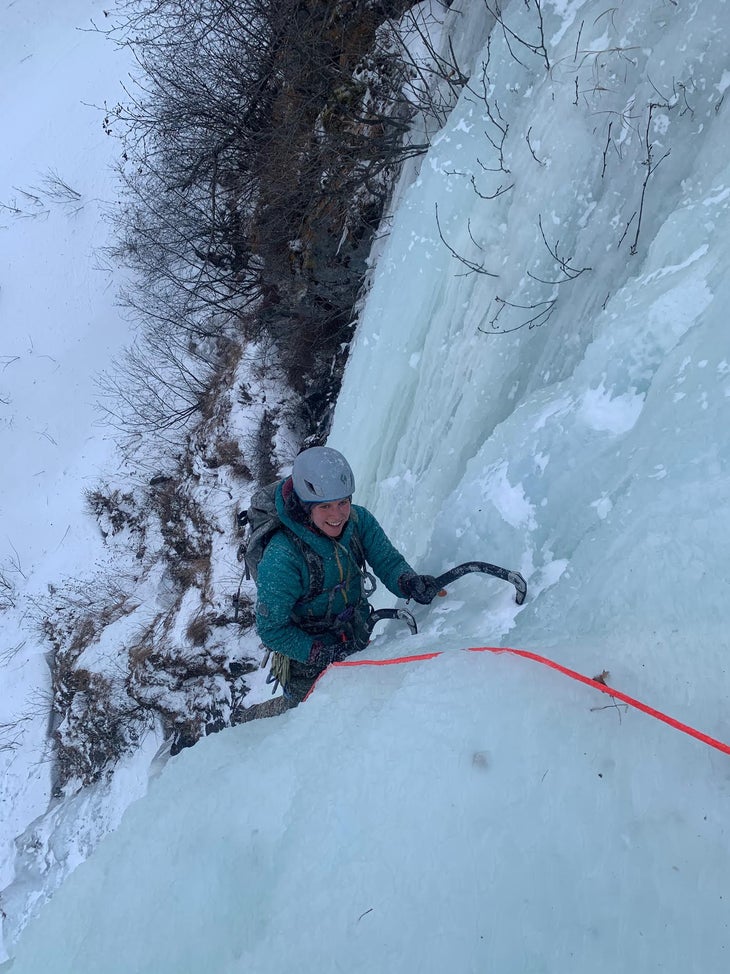 Kalley built her resume across the climbing disciplines, with special interest in alpinism and trad climbing. Joshua Tree, Indian Creek and Red Rocks were her favorite desert destinations. August Franzen, her partner, recalls with humorous lamentation how Kalley loved thin hand cracks that made others struggle.
She spent a season on Denali as an intern guide for Alaska Mountaineering School, worked on Rainier for Alpine Ascents International, and in Estes Park for Kent Mountain Adventure Center. Kalley also sought out connections with other guides to learn more from the seasoned role models. It is such a loss that she will not be one to mentor others coming behind her.
Over two winters in Anchorage, Kalley and August climbed all the ice routes that were in season, totaling more than 50 routes between Portage and Caribou Creek. The duo continued the frenzy when they moved to Valdez in fall 2019 to live the life they dreamed of together. In January 2020, Kalley got frostbite on her big toes after falling into a creek on an approach to a climb. While doctors and August told her to chill out for a bit, she would have none of that and continued to get on routes like Green Steps (WI 5, four pitches) in -15°F. August also holds tightly onto the memory of swapping leads on Loves Way (WI 6-, two pitches).
Kalley was growing roots in the community of Valdez and developing an appetite for first ascents, like Momma (M8) and several unnamed moderate ice routes. Keeping to this spirit, August Franzen and Simon Frez-Albrecht established a new route on the Southeast Face of Mt. Burkett, Fairweather Range, in memory of Kalley, called Coyote Calls (80° snow/ice, 5.7) in September 2020.
Kalley is survived by her parents, Kit and Greg, and sister Hannah in Madison, Wisconsin, and by her partner, August Franzen.
—Eeva Latosuo
Nolan Smythe
26, March 11
I'm not exactly sure where to start when it comes to talking about Nolan Smythe. He was my best friend, my favorite climbing partner, my brother in spirit. I imagined that we would pass away from simultaneous heart attacks while climbing on El Cap in our 70s.
Nolan died at 26, after a fall climbing El Gigante, in Mexico, when rockfall cut his rope.
Nolan and I met on the school bus when we were around 12 and 14 years of age. He walked up the stairs onto the bus that morning sporting a silly Justin Bieber-type bowl cut. He walked straight to the back of the bus, sat in front of me, and immediately got to rounding me up as his friend. We connected through a mutual hobby of riding bikes and building dirt jumps. We were fast friends.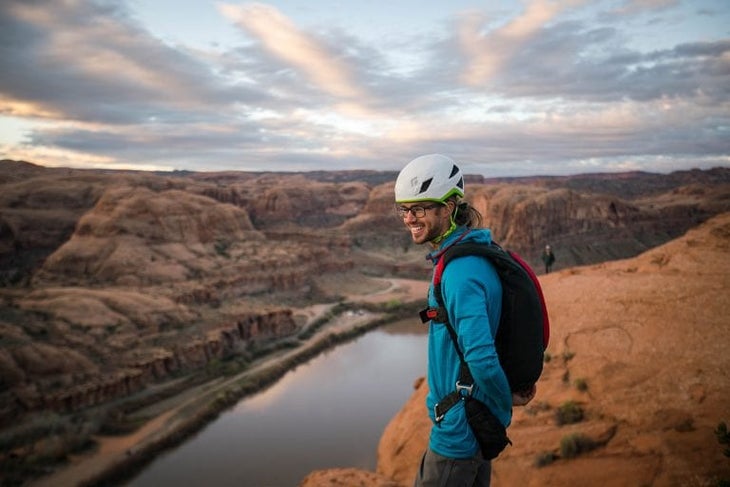 Nolan was a lover of wild and remote places. A dirt biker and skateboarder in his younger years, he eventually shifted his interests to the mountains and learned everything he could about them. Straight out of high school he left Heber City to do a solo hike of the Colorado Trail. Upon his return he developed an interest in rock climbing and learning to scale the craggy walls of the Wasatch Mountains. After a year of climbing he bought a van and a rack. He went to Moab to chase cracks and the dirtbag lifestyle. He always had a special gift to understand what his dreams were and immediately take action to fulfill them. There was no time to be wasted in Nolan's head.
He was a dedicated and talented climber and BASE jumper, but Nolan never sprayed much on the Internet about his climbing and he rarely took his GoPro jumping. Climber and photographer Savannah Cummins, Nolan's girlfriend, says, "Nolan had no ego, and although he never sought out climbing to fulfill his sense of accomplishment, he was always ready to try damn hard. He could climb 5.12 in pretty much any style, anywhere, whether it was single pitch, or high up on a wall. His fear was always rational and never held him back from trying his hardest. Yet over time I would learn that Nolan's passions far transcended climbing or BASE jumping. He had a deep and intuitive empathy for humanity and the world around him."
Nolan accomplished a lot in his short career. He had flashed Tague Yer Time (V 5.12) in the Black Canyon of the Gunnison, Colorado. He did the second free ascent of Original Sin (V, 5.12+) on Mt. Hooker, Wyoming, and a free ascent of Spaceshot (V 5.13-) in Zion National Park, Utah. Nolan had climbed the Nose in a Day and done an ascent of the Salathé Wall. He sent his first 5.13b after doing most of these big lines and he thrived while climbing at his limit high up off the ground. He moved with a style and grace that I've not seen in many climbers and had a way of making climbing at his limit look "easy." He'd also done first ascents as difficult as 5.12+ and had rope-soloed Castleton, The Rectory and The Priest in a day. BASE jumping off of each. … [Read the full obituary here]
—Aaron Livingston
James Langford
88, February 28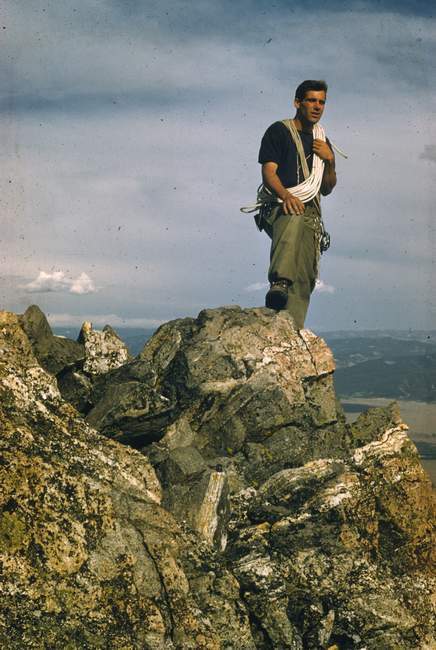 When I climbed in Grand Teton Park during the 1950s I became acquainted with several of the climbing rangers, and the one who impressed me the most in terms of technical acumen coupled with responsible and principled behavior was Jim Langford. Having a quiet demeanor and powerful gymnastic build, he inspired confidence in his climbing partners—and when the 1950s gave way to the 1960s, a time of increased indulgence in alcohol and drugs, Jim stood as a friendly paragon of virtue and integrity, never criticizing, but demonstrating that a climbing life needn't be a step toward perdition.
Jim was five years my senior, but it was not easy keeping up with him on a trail. In his later years, according to his son, Jody, he set an enviable pace until health problems began to slow him down, particularly after the unexpected death of his soul mate and wife, Christine, in 2016.
Jim was a second-generation American rock climber—for he learned the craft from those legendary first-generation gurus Don Wilson and Chuck Wilts in the very early 1950s. I started climbing a couple of years later, but we both bought manila hemp ropes at the beginning of our involvement in the sport—he in St. Louis and me in Atlanta. And we both suffered the same unpleasant rope splinters and burns as we practiced rappelling off trees. Jim was inspired by the 1950 film The White Tower, as was I.
During his time in the Tetons Jim participated in several dangerous mountain rescues. He moved from one position to another within the Park System, taking on more responsibility and tasks in other National Parks or Monuments.
He married in 1962 and began to raise a family, spending several years in Joshua Tree National Monument. There he had the good fortune to meet and climb with Phil Smith, who had been the first ranger at Grand Teton and who, with Fritiof Fryxell, had made the first ascents of numerous Teton peaks between 1925 and 1935.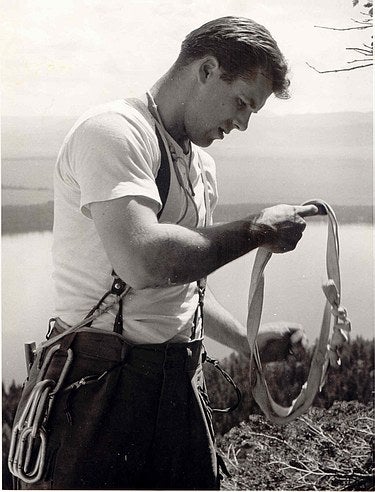 In 1967 Jim and his family moved to Pinnacle National Monument, where he served as Chief Ranger. In 1970, he organized and led a difficult and very dangerous rescue, when a climber died in a fall on Machete Ridge in Pinnacles National Monument, and her partner was left stranded on the 600-foot wall. Jim was subsequently awarded the Department of the Interior's Medal of Valor. He might also have won the prestigious Carnegie Award for Valor, had he not removed himself from consideration, being Acting Superintendent at the time. It's unfortunate that modesty has no award of its own.
Jim retired in 1990, as Land Manager at Fort Hunter Liggett. For many years he organized and led backpack trips into the Sierras, frequently with over 50 participants. Mountain climbing was always a major part of these trips. He also instilled in one of his sons, Jody, an unwavering and exceedingly good-natured commitment to both climbing and photography.
Jim was a man for all seasons, a great gentleman, and my friend. So rest in peace, Jim, until we meet again.
—John Gill
Jim Ramsey
88, February 26
Shortly after hearing of the passing of Jim Ramsey, I found myself hiking alone north of Smith Rock State Park on what is now known as Ramsey Ridge, taking photos for my latest Smith guidebook. Here was where the Ramsey brothers, Jim and Jerry, did their first climbs together more than 60 years ago. To my delight, as I scrambled along the untracked hillside, I found a perfect arrowhead, lying in the dirt as if meant for me to find.
I wanted to think that somehow Jim was behind the discovery. My pragmatic side immediately rejected that, but as I traversed among the spires that gave birth to Smith climbing I couldn't let it go. Why was I hiking up that particular hillside at that particular time? Would I have been there if Jim Ramsey had never lived? All of our lives are shaped by those who have come before us. The answer became clear. Jim Ramsey was the reason I was there to find that arrowhead. Without Jim, my life would have gone in a different direction. Without him, Smith Rock would not be what it is today.
James Ramsey was born in 1932 in Bend, Oregon. He grew up on a ranch north of Madras, 25 miles from Smith. He attended University of Oregon and shortly after graduating with a degree in history, married Diane Stout. Together they moved back to Madras, where Jim ranched and they raised three children—Julie, Bill and Ann.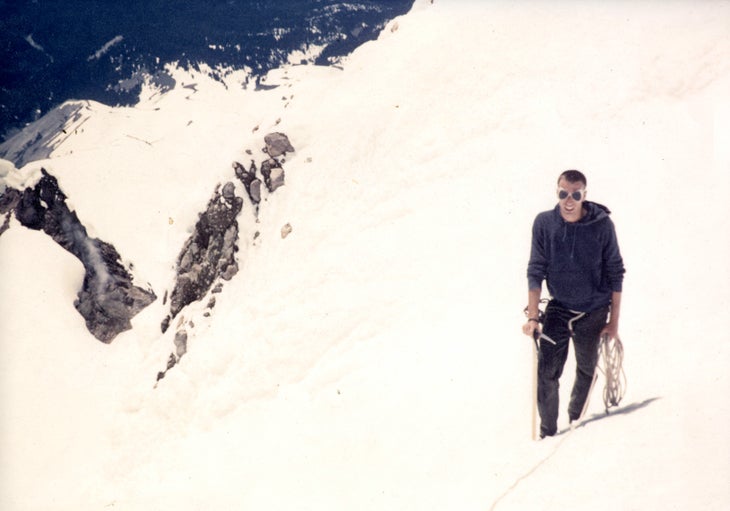 In the late 1950s, Jim took an interest in the rocks visible on the horizon from his childhood home. His brother Jerry remembers their first climb at Smith:
"Jim and I grew up seeing Squaw Rock and the Poplar on the southern skyline …, and when we started climbing in the Cascades in the '50s we would glance at the Smith formations as we drove by on our way to the peaks. But it wasn't until we climbed Squaw that our interest in climbing at Smith (not yet a State Park) was aroused—and even then at first we were oriented to peaks and summitting. The rock was only a means to an end. In the '60s, all that changed, especially for Jim!"
In 1961, wearing gum-soled deck shoes, Jim made the first free ascent of the Awl. Today rated 5.10c, it was one of the harder leads in the United States at the time. It went completely unrecognized for more than 15 years. Jim never told anyone. At Smith Rock in 1961, there was no one to tell.
After several years of summiting Smith's spires, Jim (with Jerry and Vivian Staender) compiled the first Smith Rock guidebook, appearing as part of the 1962 Mazamas annual publication. He detailed routes up many of Smith's most prominent features, and named them, including the Christian Brothers (having nothing to do with religion and everything to do with the wine) and the Marsupial Crags. Despite Jim's obvious promise as a climber, his life moved in a different direction. He developed a love of fly fishing and spent far more time excelling in that pursuit.
Had Jim's influence ended when he last climbed at Smith, his contribution would have been merely an historical footnote. But he made a far larger impact to the area after that.
As a board member of the Oregon Recreational Trails Council, he played an important role in creating Smith Rock's trails. Jeff Thomas, another climbing pioneer, recalls: "Jim was able to secure permission from that board and Oregon State Parks to start working on the trails, and he actually obtained money to buy materials." Smith's first trail project, the restoration of Misery Ridge, was the result. At the same time, the park addressed the problem of the growing climbing population camping in the canyon. Thomas remembers, "Oregon State Parks proposed a climbers' camp in 1976 … but the reaction from locals was 'not in my backyard.'" Jim played a key role in reaching out to the locals and convincing them that climbers didn't present the threat they might have feared. Today's Bivy Campground exists, in large part, because of his work.
From a climbing standpoint, Jim's most important contribution was fostering a relationship with management at Oregon State Parks. His input was the biggest reason why Smith Rock employed a "climbers police themselves" policy for the better part of 40 years. Smith sport climbing would not have come into being had the park service been more restrictive.
For me personally, Jim was a mentor and role model. I respected him tremendously. My life changed for the better when I began climbing with Jim's son, Bill, in 1977. Together we pushed each other to improve, and I got to know Jim as the two of us returned home after each day of climbing. Being a fledging climber in the 70s was different from what it is today. There were no climbing gyms, no competition circuits. Dedicating a life to climbing was so much out of the mainstream that few, if any, Central Oregon adults looked would have looked upon it favorably. Jim Ramsey was the first person who truly believed in me as a climber. In my young life, that made all the difference. Perhaps he saw something that he recognized in himself.
—Alan Watts
Please see this obituary, which lists survivors including his wife, Diane; daughter Julie Talbot; son, Bill; daughter and son-in-law, Ann and Tim Goss; his brother and sister-in-law, Jerry and Dorothy Ramsey; grandchildren, cousins, nieces and nephews; "and a cadre of fishing buddies."
Brandon Freeman
33, February 26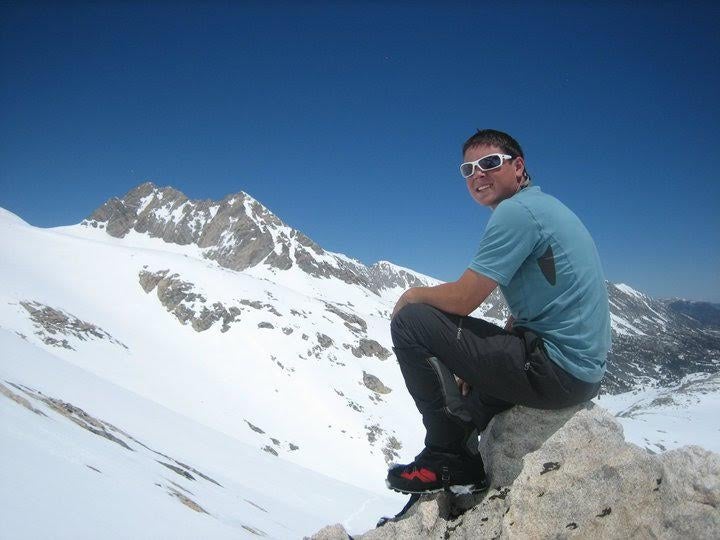 Brandon Freeman passed away at 33 years old after cruxing with brain cancer for three years. His many devoted climbing partners share their grief with his wife, Audrey, his sons Owen and Nolan, his daughter Evie, and many other loved ones and friends. Brandon was an avid outdoorsman, an Eagle Scout, and a son of Georgia. He made his home in Ball Ground, but he grew up in Lawrenceville.
Brandon was also a Christian, and even when his faith was not fashionable he'd manage to sneak some gospel under secular noses. On one such occasion, he admonished a group of mountain guides to offer each other grace and patience. He wrote, "There are always unforeseen circumstances so don't be so quick to judge. I think we all know we have planks in our eyes but maybe we can help each other get the specks out."
I think he delighted in the hidden reference to Matthew 7:5, which flew right over most people's heads. He never over-spoke, because he had a great love of others and spent more time listening than spraying.
He loved many things, but for his love of climbing, abiding and generous as it was, he was one of us. He dabbled in the alpine and ice, he climbed throughout the Southeast, and the long trad climbs in North Carolina bear traces of his touch and his cheer. Brandon was an AMGA certified Single Pitch Instructor; his knowledge and enthusiasm apprenticed countless summer campers, clients, and students. Most recently, he found a place teaching Adventure PE at Amana Academy in Alpharetta GA. He was inextricably a member of the climbing community. He bent his back to common task at trail days, helped organize local fundraisers, and he was never too busy to offer a helping hand to new climbers, remembering the early audacious days when he barely had a clue what he was doing.
Those of us who were lucky enough to share a rope with him can all recount similar tales of glee and pluck. He climbed in the rain, he climbed in the sweltering heat and humidity, he climbed afraid sometimes, but he never revealed a hint that he might have wanted to be elsewhere. That was his gift to climbing, and his gift to his partners. Even though he had many great loves in his life, we didn't get the feeling there was any place he'd rather be.
There is no definitive lifespan for an American rock climber. Some start early, some start later, some climb their entire lives, and climbing is only a dalliance for some. Our great friend and partner Brandon Freeman lived an entire life as a rock climber, and our only objection is that his life could not have been longer. As a climber, he was a cheerful boy. As a climber, he was a powerful young man. As a climber, he loved earnestly and passionately, and he married Audrey in Georgia. As a climber, he raised three children to play and celebrate every day of life. As a climber, he fought cancer, and as a climber, he died. To this example, we should all strive. We might not claim climbing as the sole purpose of our lives, but at the end, climbers will claim us as kinsfolk.
—Ron Funderburke
Dee Molenaar
101, January 19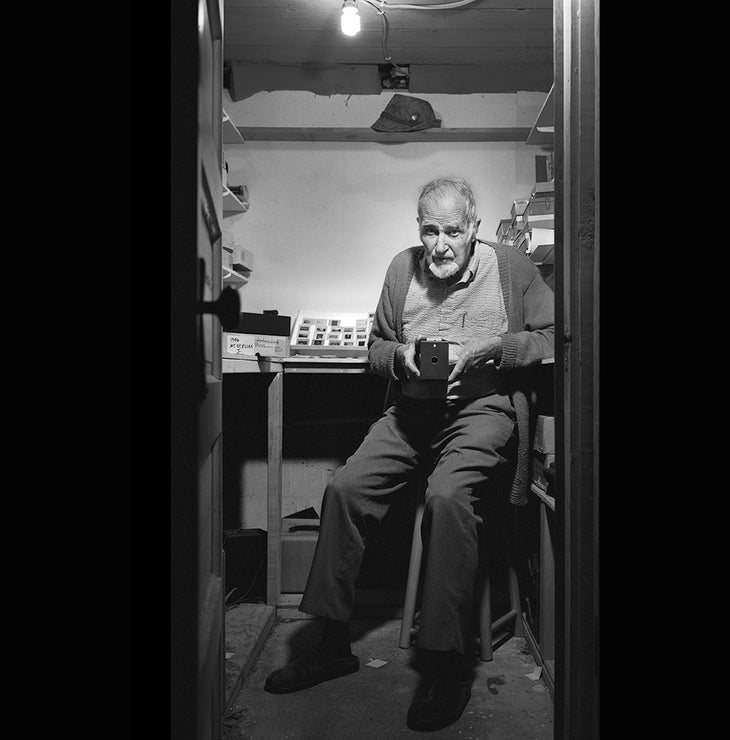 Dee Molenaar was born in Los Angeles in 1918 to Dutch immigrant parents. During World War II, he served as a photographer in the U.S. Coast Guard in the Aleutians and western Pacific. After the war Molenaar worked as a park ranger and mountain guide in Mount Rainier National Park, climbing the mountain over 50 times as a guide and on personal trips via more than a dozen different routes including three first ascents.
In 1946 he made the second ascent of the second highest mountain in the US, Mount Saint Elias, on the Yukon/Alaska frontier.
1953 saw him on the Third American Karakoram Expedition to attempt K2 in Pakistan, the second highest mountain in the world. The team was pinned down by a storm for 10 days, high on the mountain. Molenaar, tent-bound during the tempest at 25,500 feet, managed to turn out some fine watercolors, however by the end of their desperate bivouac, with precious fuel for melting snow for drinking water running low, his team mates made Molenaar drink his rations from his remaining pigment-laced water. One of the members became critically ill during the storm and a dangerous retreat had to be undertaken. During the descent there was a mass fall with one fatality, the remainder of the group being saved by a now legendary boot-axe belay provided by Pete Schoening, a member of the party.
I photographed Dee in his home near Seattle several years ago. His house was full of the detritus of a long, well-traveled life; paintings, photographs, maps, books—all kinds of stuff you'd want to spend days looking through. He had traveled and climbed from Alaska to Antarctica, New Zealand to Helsinki and everywhere in between. He and his wife were very cool, vibrant people, funny and alive. Unfortunately she died a few years before he did and the the great house was closed up and he began living in an assisted living home.
I'm so glad that I was able to meet the great man and include him in my book. His was the kind of bookshelf I'd want it to sit upon.
—Jim Herrington
John Evans
82, January 9
Update: An in-person memorial had to be canceled due to the pandemic, but you can read about John and his mountaineering adventures, or leave a remembrance, on a website he set up before passing. After friends asked about a favorite organization of John's, his wife, Loie, posted: "Colorado Outward Bound School (COBS) has been forever near and dear to John's heart. Contributions would go toward student scholarships and can be sent to: COBS, 5161 Sheridan Blvd., Denver, CO 80212, or online at coloradogives.org/cobs."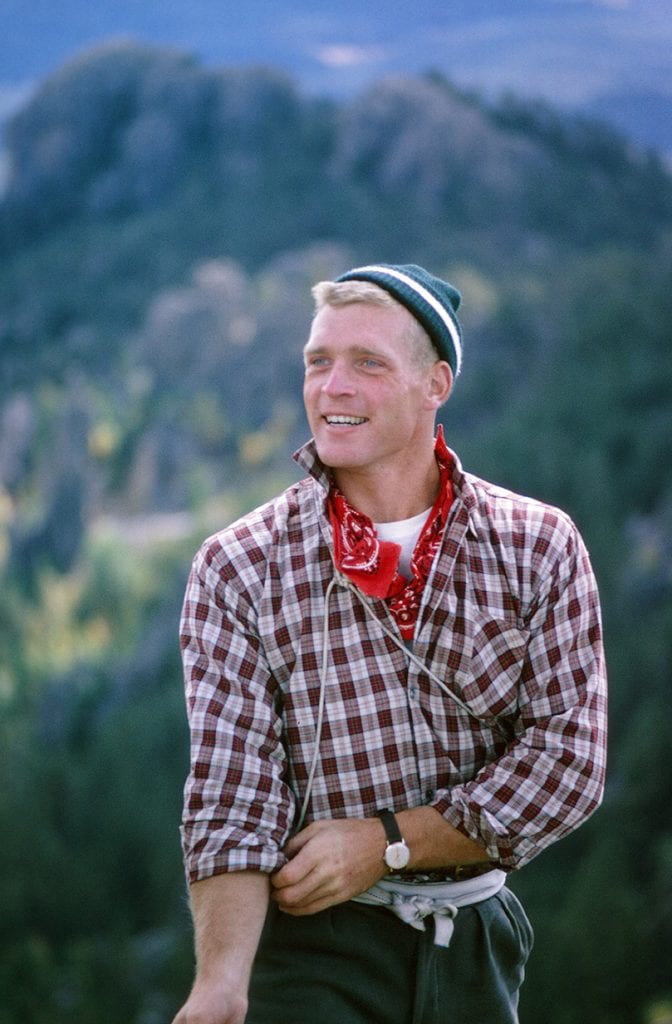 I last saw John in 2016, just before the AAC meeting in Washington, DC, that celebrated the 50th anniversary of his and his team's 1966 first ascent of Mount Vinson in Antarctica. We spoke on the phone since then, after he had a bad accident in winter, falling on his driveway and breaking his femur. A long recovery and lots of rehabilitation followed. Spending time in a care facility was hard going for the man who did the only ever (still unrepeated) ascent of the Hummingbird Ridge on Mount Logan in Canada. The team included Allen Steck, Dick Long, Frank Choale, Jim Wilson and Paul Bacon. Many talented alpinists have tried since but none have succeeded.
The international Everest Expedition in 1971, however, created my first connection with John. Not in person: I was reading Life magazine as a teenaged skier and climber who soaked up anything about climbing mountains, especially something as exotic as Everest.
Years later, after moving West and spending most of my time climbing instead of studying at the University of Wyoming, I had a chance to work for the Colorado Outward Bound School (COBS). John was the Program Director, the senior executive running the show in those days, and he hired me. It probably helped that my older brother Ron was already employed by COBS.
So now the legend was my boss (many times removed) and through the next few years John was a great mentor and leader and influenced my life in more ways than I even know. I remember going home to visit my parents one holiday and they remarked how John had phoned them to tell them what great sons they had, that he was impressed with our work and all the stuff that just makes a parent's day. I never had a chance to ask him why he reached out, and now I cannot. But it is the kind of behavior that was typical of John. He was a humble man who had many great personal accomplishments yet always spoke favorably of others, their accomplishments and success, never touting himself.
He climbed in the Pamirs in 1974, on Nanda Devi in 1976, in the Alaska Range in 1978 (doing a first ascent on Mt. Huntington with Denny Hogan). John climbed everywhere else you wish you could go as an alpinist with the best climbers of each generation. The team on Nanda Devi included Willi Unsoeld, his daughter Nanda Devi Unsoeld and John Roskelly.
After hearing of John Evans death Roskelly told me: "When I heard John Evans would be on the Nanda Devi team, I knew we had a better than even chance of success. John's physical strength was well established, but more importantly he brought to the team common sense, big mountain experience, and a boost in our confidence. John was the ultimate team player." … [Read the full obituary here]
—Steve Matous
---
Feature image photo credits: (Top row, Left to Right) Pete Athans, Jim Herrington, Simon Regner, Savannah Cummins; (Second row from top) Dillon Blanksma, Jimmie Dunn, Lesley Allen, John Cleare; (Third row from top) Robert H. Bates, Chris Bonington, Carl Himpsel, Webber Family; (Bottom row) Lou Dawson, Vadim Mikheev, Jamie McCrocklin, Josh Ruchty.
---
"Climbers We Lost in 2019" was compiled by Alison Osius, aosius@pocketoutdoormedia.com, and Michael Levy, mlevy@pocketoutdoormedia.comb.com.
Also Read