Climbing Magazine Print Preview: April/May 2019 Gear Guide
On sale today
Heading out the door? Read this article on the new Outside+ app available now on iOS devices for members! Download the app.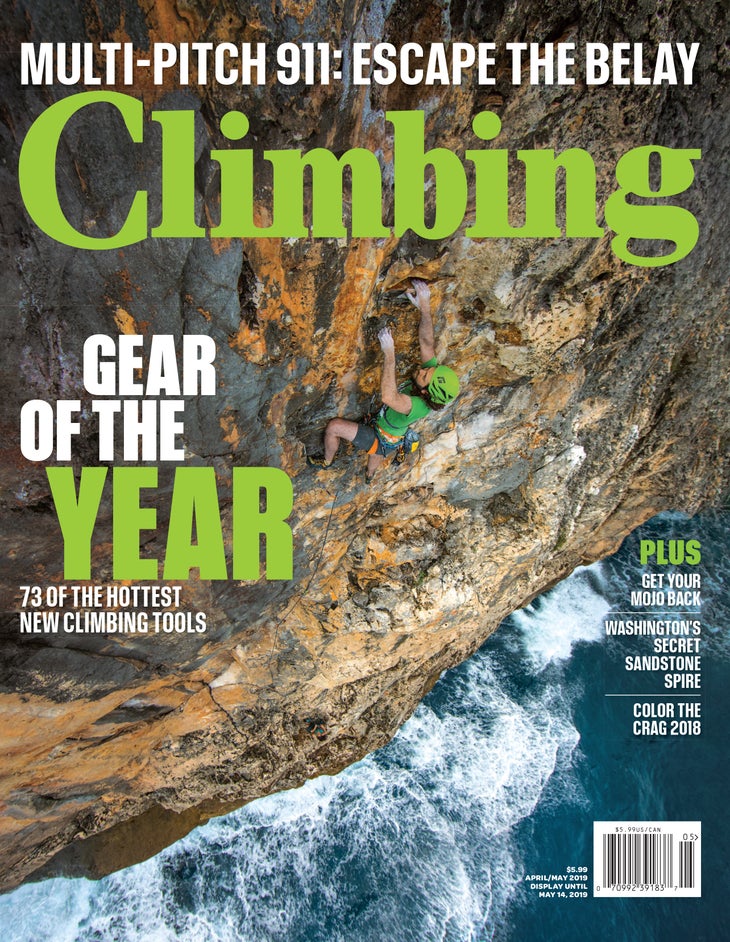 Editor's Note
#Privilege
Sucking in briny air, my left foot pasted on a smear and fingers pawing waxy edges, I exhaled and launched for a spiny crimp. "Whooo!" I latched the hold and stood into a scoop. Only two more cruxes guarded the top of Freedom, a 140-foot 5.12 on the Point, a limestone bluff at the tip of Cayman Brac, a tiny Caribbean island south of Cuba. It was the last climb of our crew's 10-day editorial trip, and I wanted to end on a good note by redpointing the route. 
At the anchor, I looked down to where Nina Williams, belaying, stood lashed to a glue-in. She appeared tiny against the immensity of the escarpment and the swirling blue sea. Earlier, a sea turtle had floated by, diving through clear waters to hunt for fish. Above, brown boobies rode thermals, scanning the waves. I'm lucky to be here, I thought, a sea breeze drying the sweat on my brow. Not everyone gets to do this.
As I brought Nina up, my mind wandered, perhaps morbidly, to other realities that could have been. I thought of friends killed in the mountains or otherwise gone too soon who wouldn't experience this climb. I thought of children in Yemen, dying of famine, or families in Syria, atomized in their homes by massive, indifferent bombs, and how messed up the world is. I thought of going home to my family, and how lucky I was to have a safe, stable life to return to. And I thought of how fortunate—even #privileged—I was to be able to climb, especially on a tropical island.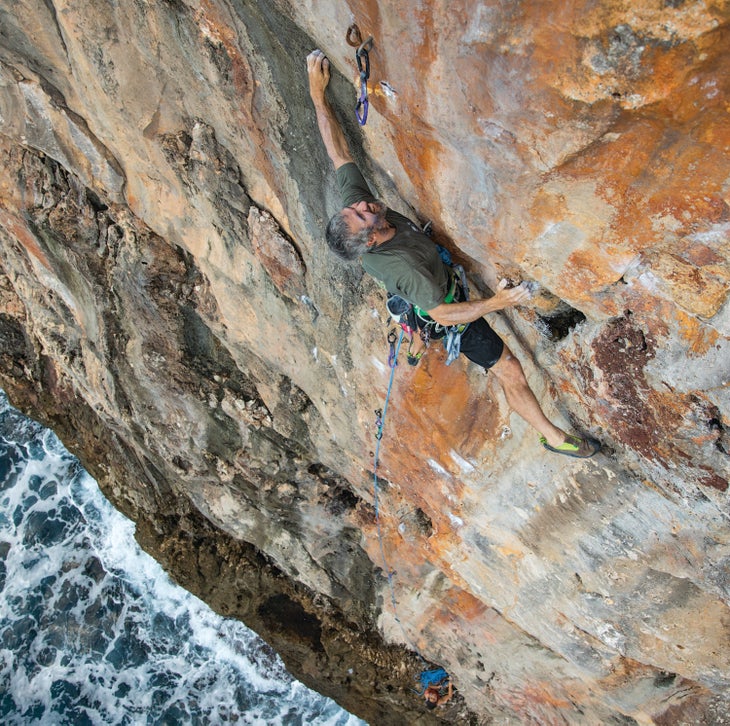 Like all of us, I'm far from perfect, and there are plenty of days at the cliff when I forget how lucky I am to be a climber, in a developed country, in decent health, with the leisure time—not unconnected to my socioeconomic status—to climb. I'll get wrapped up in complaining about temps or how some move sucks or how "fat" I feel that day. I'll fail to recognize the gifts I've been given.
This issue, in addition to being the 2019 Gear Guide, offers a few different looks at the gifts our sport can bestow. Our centerpiece feature, "The Stone of Exodus" by Kyle Elmquist, details his and three friends' foray into the granite wilderness of Mount Sinai, Egypt. Here, on a mountain holy to the world's Abrahamic religions, the climbers find raw, sometimes-inhospitable granite walls—but also warm, hospitable locals who have kept optimism alive despite the region's millennia of turmoil, culminating in modern terrorist attacks. Meanwhile, in The Place, James Lucas documents the 2018 Color the Crag event at Horse Pens 40, Alabama, during which minority climbers gathered to boulder, learn, and share stories in a sport that demographically has not always been welcoming. And our columnist Katie Lambert pokes lighthearted fun at how reachy cruxes that might not initially seem "inclusive" of shorter climbers can actually be tamed—and how the lessons learned therein can be applied off the rock. In all three cases, there are a richness and a context that climbing is bringing to people's lives; there are a happiness and texture that might not exist otherwise.
On the Brac, as Nina expertly seconded the pitch, me fighting to keep up with slack in the rope, my thoughts drifted back into a sunnier zone. Enjoy the moment for what it is, a little voice said. You can't fix the world right now, so just be OK with what you've been given. I needed, I supposed, to accept my #privilege. Nina rounded the final roof with a big grin, scampered up the bone-white upper headwall, and then climbed over the cliff top. I hung at the belay, alone, smelling the sea, gazing north across the waves, at peace with the moment.
—Matt Samet, Editor
Listen to the accompanying gear episode of Basecamp: A Climbing Magazine Podcast to hear host Kevin Riley talk with associate editor James Lucas about their favorite gear, and a conversation with digital editor Kevin Corrigan and Black Diamond climbing category director Kolin Powick about what it's like behind-the-scenes at BD, making the gear that climbers trust with their lives.
Get Climbing Magazine
In this issue… 
Features
Stone of Exodus
Four Wyoming climbers find big-wall FA gold—and essential truths about our shared humanity—on the flanks of Mount Sinai, Egypt.
The 2019 Gear Guide
Basecamp: 20 must-have cragging accessories
Bouldering: 14 pads, slippers, chalk pots, and more
Sport: 14 draws, ropes, belay devices, and more
Trad: 12 cams, slings, helmets, shells, and more
Alpine: 13 ice tools, boots, puffies, screws, and more
Departments
Basecamp
Letters
Rock Art
Re-Gram: How do you mark your gear?
The Big Question: Where do you get your climbing gear?
Mini Reviews: Three new books
Talk of the Crag
Counterfeited! How illegal knockoffs harm outdoor brands
Onsight
Our regular climbing-photo gallery
The Place
Color the Crag: Bringing diversity to the boulders of Alabama—and the United States
Topo
Chumstick Snag: Leavenworth's mysterious, under-the-radar sandstone spire
Players
"A Bit Manic": Joel Brady, PA's tireless family and renaissance man
Unsent
5 Pieces of Climbing Gear I Wish Existed
Out on a Ledge
The Last Excuse: Reaching past your shortcomings
Skills
Seven Ways to Secretly Train—Anywhere
How to Get Your Mojo Back
Multi-Pitch 911: Escape the Belay
Cragsters