Climbing Magazine Print Preview: December/January 2019
On sale today
Heading out the door? Read this article on the new Outside+ app available now on iOS devices for members! Download the app.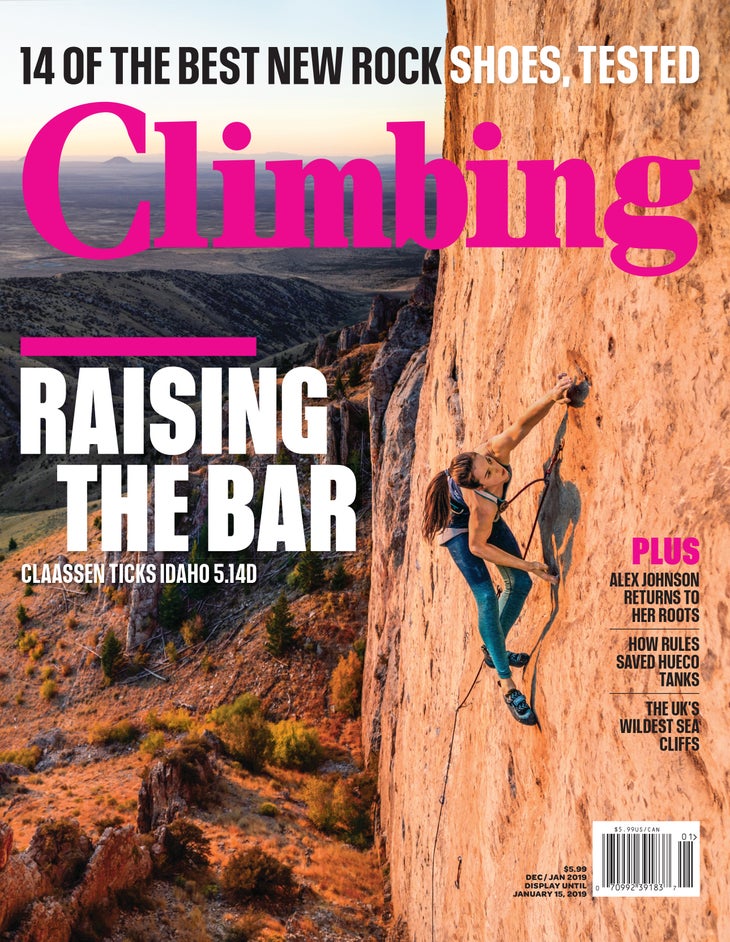 Editor's Note
Now and Then
Twenty-eight years ago, Lee Sheftel and I traveled from New Mexico to Hueco Tanks, Texas. Lee, at 44, was a generation older, but we made a good team, both being cynical and anti-authoritarian, with a penchant for enduro climbing. I'm older now than Lee was then, and I can only imagine being on the road with me at 19—my junkshow diet of ramen, Twizzlers, and off-brand cookies, my leaky tent, fuzzy Coleman sleeping bag, and collect calls to my parents to spray about "five-thirteens." Lee was a patient man.
That October–November 1990, the park was empty save a few route climbers on the Front Side, some wandering boulderers, and a traveling pack of Swiss. Lee and I mostly climbed routes, like When Legends Die (pictured below) on West Mountain. For this image, with which I hoped to ply potential sponsors, I borrowed Lee's sporty tights and tank top, posing on the opening bouldering problem while he tied me off at the belay.
This was the Ranger Bob era, when the head ranger, Bob Miles, brought his authoritarian wrath down on climbers, cranky, one might surmise, about clandestine bolting, rising user numbers, and the sight of all those frolicking, unemployed crag hippies. With a Stetson, dark sunglasses, and a paunch overhanging a massive belt buckle, Ranger Bob was a classic Texas figure. He often invented new rules—"No bouldering on the pavilions!"—for the simple pleasure of hollering at you.
Each morning at the ranger station, Ranger Bob would be lurking, making idle, passive-aggressive chit-chat about where we were headed that day. Meanwhile, the woman at the desk greeted us with a saccharine "Hi, boys," which drove Lee nuts—he was a tax accountant in his mid-40s, not a boy. Yet out at the rocks, it was free range.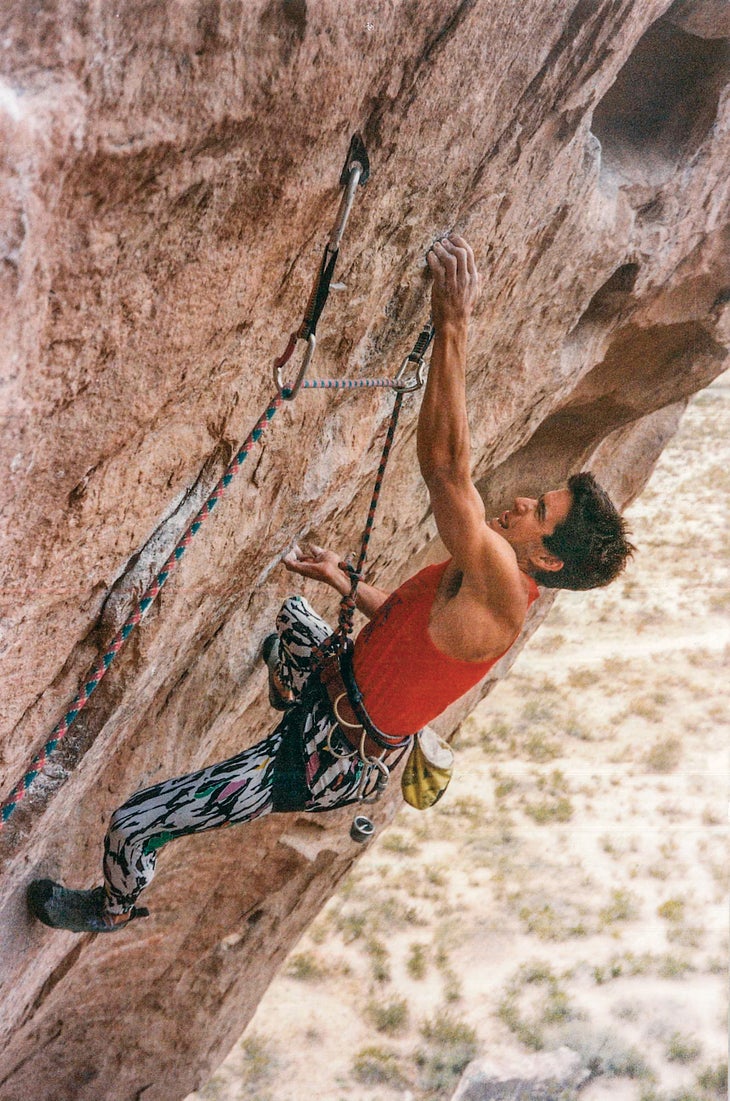 Hueco, of course, is no longer so open. As detailed in James Lucas's "When Legends Die", access changed in 1998 with the Public Use Plan (PUP), which limited visitor numbers and mandated guided access to all but North Mountain. The plan came partly in response to the bouldering boom at Hueco, which rapidly went from backwater to global destination, and partly from a rise in graffiti and litter left by nonclimbers. Twenty years later, the PUP is still in place and climbing at Hueco is still going strong—the rocks are eternal, and the desert has bounced back. Perhaps Hueco needed to be restricted to save it.
As we're seeing today across America, Hueco was the proverbial canary in the coal mine. Even more-robust areas like the Red River Gorge, Kentucky, and Boulder Canyon, Colorado, now boast visible cliff-base impacts like micro-trash, compacted soil, exposed tree roots, belay-platform erosion, and so on—all things that need to be mitigated to preserve the crags' longevity. These are impacts to consider at every climbing area, even newer ones that aren't visibly degraded yet. We can't, as Lucas argues, stick our head in the sand any longer.
Twenty-eight years ago, a punk kid posed down on Legends, caring only about getting to the next bolt. Twenty-eight years later, the man that kid has become thinks heavier thoughts, in a sport and a world that would have been unrecognizable in 1990. "Sink a kneebar," I would have told younger me. "It makes the third clip easier." And also: "Scrub off your chalk, pick up any litter, and make nice with Ranger Bob. Every little bit counts, and three decades from now no one will care whether you sent Legends—just, did you help make Hueco Tanks a better place?"
—Matt Samet, Editor
Get Climbing Magazine:
In this issue…
Features
The Big, the Bad, the Bold, and the Beautiful
The best of the British Isles' endless sea cliffs, from sport to trad to deep-water soloing.
When Legends Die
The changing face of Hueco Tanks State Park, and how regulations saved it from being loved to death.
Departments
Basecamp
Letters
Rock Art
Re-Gram: Heinous climber feet
The Big Question: How do your parents feel about your climbing?
Mini Reviews: Three new books
Onsight
Our regular climbing-photo gallery
Talk of the Crag
It's Time to Embrace Comp Climbing… And Leave the 1960s Behind
Lessons from the Waves: How surfing's present could help improve climbing's future
Essentials
2018/2019 Rock-Shoe Review
More Reviews

The North Face Summit L6 Down Belay Parka
Osprey Mutant 52

Rack-o-mended
The Place
Philly Rocks: Urban climbing in the city of brotherly love
Access Report: Big wins and red flags
Peaches Preaches
The Importance of the Asterisk: How truth in climbing makes you stronger
Players
Skin in the Game: Life on the road with climber and tattoo artist Marina Inoue
Unsent
Every Mountain Project Comment Thread
Topo
Exasperator: The exquisite finger crack that inspired the author's trad-climbing career
Skills
Go with the Flow, by Hazel Findlay
Deep-Water soloing 101
Don't Just Stand There—Spot!
Quick Clips
Faces
The Climbing Q&A: Alex Johnson
Cragsters