Climbing Magazine Print Preview: July 2018
On sale today, featuring improved paper quality and a full redesign.
Heading out the door? Read this article on the new Outside+ app available now on iOS devices for members! Download the app.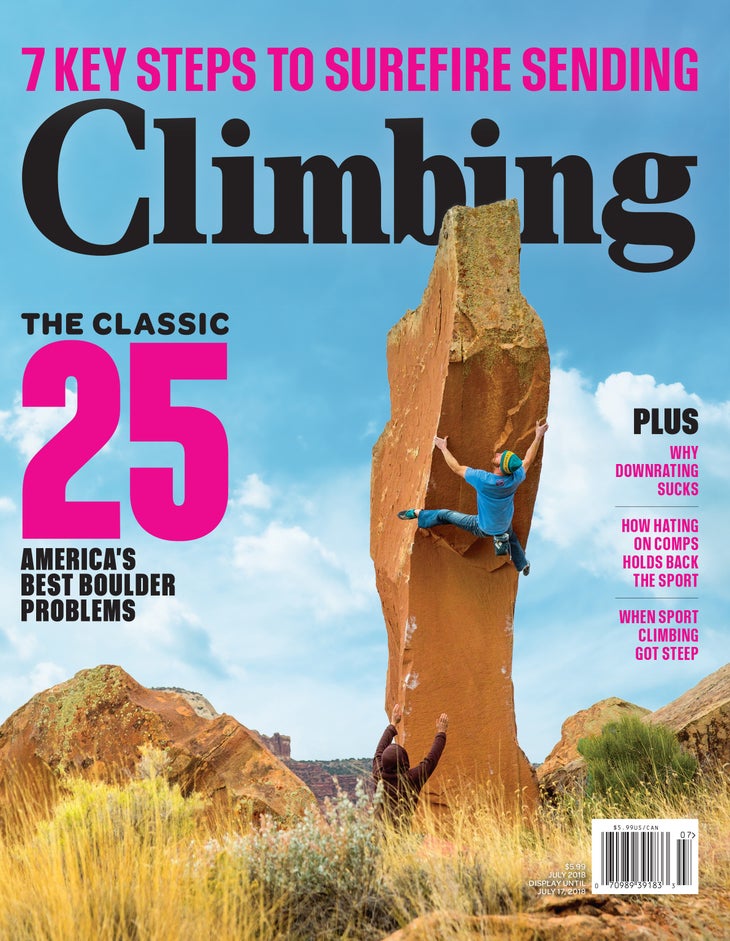 Editor's Note
Out with the old?
Climbing and the inevitability of change
In 1990, I belayed Boone Speed on the FA of I'll Take Black, a 5.12c on the Malvado Wall at the Hell area in American Fork (AF), Utah. Speed was a founding father at AF and later became the first American to establish 5.14b. We were in the early years of sport climbing, when clipping bolts was still fresh and exciting, like opening the biggest box under the Christmas tree. Some of my first road trips, to areas like Smith Rock and AF, brought me face-to-face with the pioneers of that pivotal era. At AF, I watched as the rockstars—people like Speed, whom I'd only seen before in magazines—flung themselves at the steeps. A revolution was happening, and I feel lucky to have witnessed it.
Of course, much has changed since then, and the growth of sport climbing is but one thread in the ever-expanding tapestry of our sport. Life is change, sometimes for the better, sometimes for the worse—and most of it out of our hands thanks to the random workings of the universe. Climbing is no different; magazines must always be reinventing themselves, evolving to reflect the times. Thus for our July 2018 issue, we're excited to announce a couple of big changes: an increase in paper quality and a front-to-back redesign.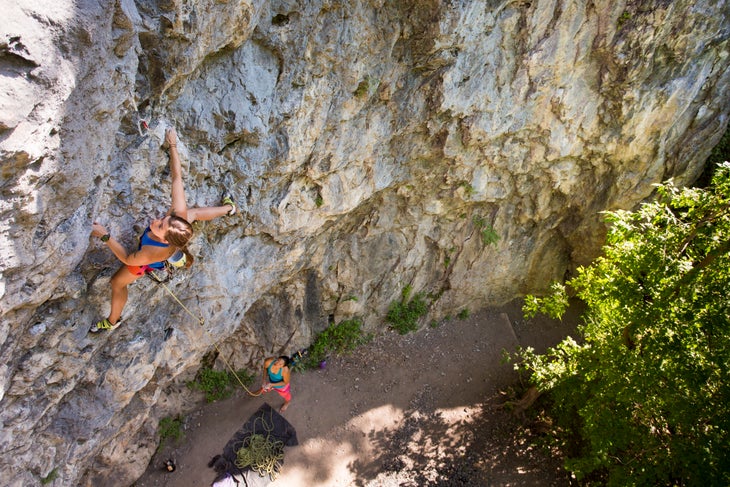 In an era when print has to compete with the clamor of digital media, we wanted to give the magazine a weightier, more archival feel—something to read, keep, collect, and revisit. This begins with the improved paper, which will let us better showcase our amazing photography, storytelling, and art. We've also rethought our departments to make them shorter, newsier, and more easily approached, from the Place to Skills to Talk of the Crag. Meanwhile, we're reintroducing Players, about key personalities in the sport or industry; and Quick Clips, reader-submitted crag hacks. We're also proud to roll out Faces, a long-form Q&A in which you'll meet the top guns to learn their stories, processes, and methods (we launch with Barbara Zangerl). Plus, we've changed up the overall look, fonts, and color palette. We hope you like the new feel—holler at us at letters@climbing.com.
Finally, this issue presents historical features on two of the oldest sport-climbing areas in America: the aforementioned American Fork and the Flatirons, Colorado. The Flatirons, in particular, are close to my heart—I first climbed here in summer 1989, just after a bolting ban descended that would, for the next 14 years, keep the area frozen in time. Since 2003, we have been fortunate to be able to establish Flatirons routes again on a permit system—it is change, but on a more considered, cautious scale, one that lets us momentarily imagine we might control life's chaos.
—Matt Samet, Editor
Get Climbing Magazine:
In this issue…
Features
Frozen in Time
A look at the new-school sport climbs of the Flatirons, Colorado.
The Classic 25
Presenting America's best boulder problems.
It Begins at Impossible
American Fork Canyon, Utah, and the birth of America's steep revolution.
Departments
The Approach
Letters
Re-Gram: Nine deep water soloing photos, submitted by our readers
Onsight—Climbing photo gallery
Talk of the Crag
Flash Dance: Adam Ondra and the road to the first-ever 5.15a flash
Climbing Out of a Hurricane: How climbers are bringing back Puerto Rico
But They Aren't Real Climbers: Erasing the stigma of competition climbing
The Place
Portland's "Rockbellion": How climbers helped save the Madrone Wall from quarrying
New access victories and threats from the Access Fund
Unsent
Silence: A Tragedy—Why Adam Ondra's 5.15d should be chopped, according to the crustiest trad climber on the Internet
That One Time
Golfed!: A climber car's short, brutal, traumatic life
Peaches Preaches
Nothing Tastes Like Sending Feels: Confessions of a weight-obsessed climber. A new column by James Lucas
Players
Turbo Charged: The remarkable energy and drive of Michaela Kiersch
Skills
Get With "the Program": A convenient flowchart to determine what you need to train to redpoint your project
Prep Wrists and Fingers to Send: Warm-up exercises for your wrists and fingers
Three DIY Bouldering Workouts: Three gym drills to build power and train technique
Quick Clips: Quick fixes for common climber problems
Faces
An interview with Barbara "Babsi" Zangerl
Essentials: Gear Reviews
Black Diamond Shadow climbing shoe
Garmont Sticky Stone GTX approach shoe
Triple Aught Designs Bastion Hoodie
Cragsters
Subscribe to Climbing: Print, Digital