Climbing Magazine Print Preview: May 2018 Gear Guide
On sale today.
Heading out the door? Read this article on the new Outside+ app available now on iOS devices for members! Download the app.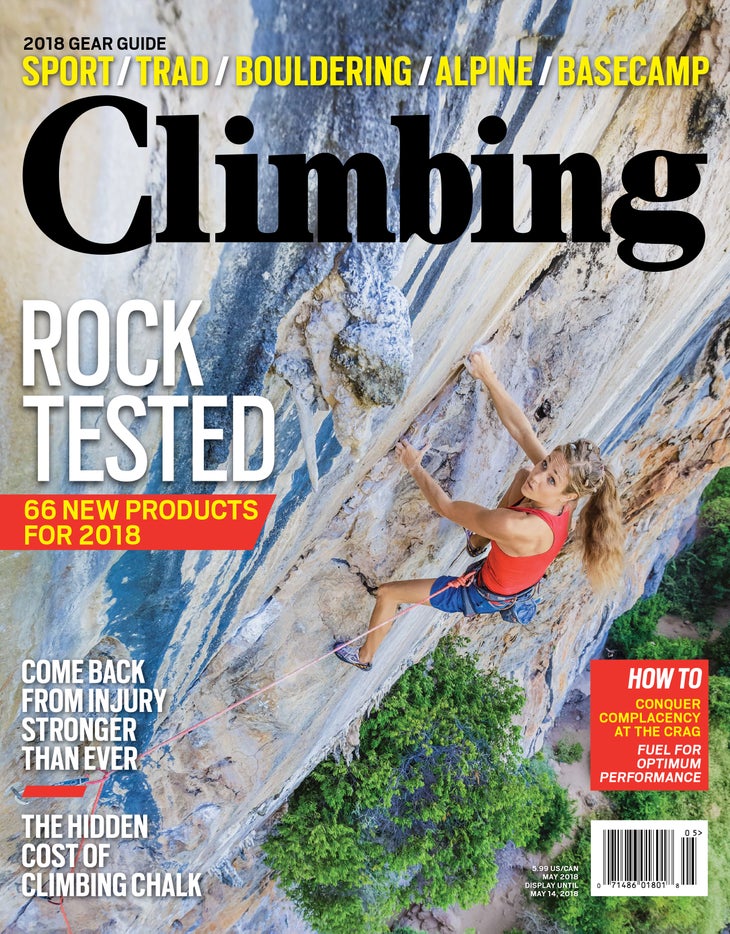 Editor's Note:
Gear Up!
In the mid-1980s, an instructor in the New Mexico Mountain Club gave me my first rock shoes, a pair of blown-out Firé Cats. There weren't a lot of shoe options then (like, maybe, three?), but anything was better than my Chuck Taylors. Ecstatic, I put on a pair of wool socks to fill out the oversized boots, cinched them down, and flung myself at the crystalline problems at U-Mound, a granite bouldering area above Albuquerque, New Mexico.
These days, like most climbers, I run a quiver of shoes, from all-day trad shoes to radically downturned redpoint shoes. Ditto for the rest of my gear: I have a gym bag and a crag pack; different lengths and diameters of rope; and cams, nuts, and widgets of all shapes, colors, and sizes. And this is just the hard goods—never mind the hybrid shells, wicking T-shirts, and belay puffies in the gear closet.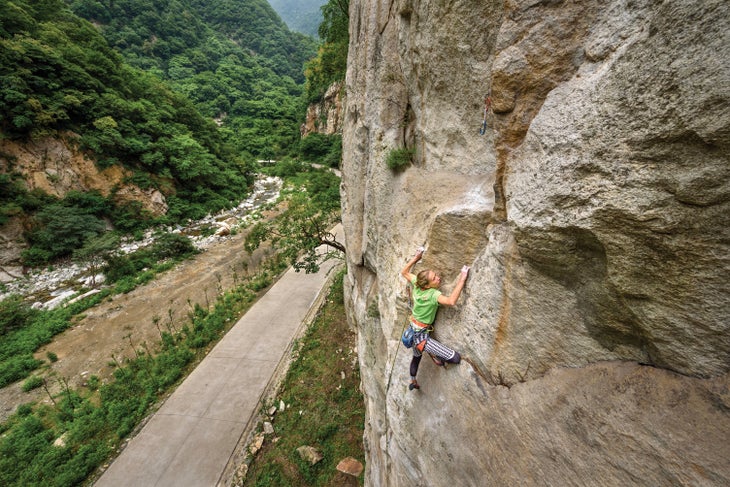 Our 2018 Gear Guide presents the best of 2017/2018, from wall food to alpine pants and jackets to offset nuts and beyond. The gear, like climbing, is always evolving—our sport is much bigger, far-reaching, and specialized than it was when I began 30 years ago. And while climbers have been quick to embrace advancements in gear, some cling to the past in other ways. This issue, we received a letter from a reader lamenting our—in his eyes—undue coverage of women, since "women are a tiny minority of the climbing population." According to Outdoor Industry of America statistics from 2014, women comprised one-third of outdoor climbers and 42 percent of indoor climbers—hardly a "tiny minority." Even if those numbers were smaller, should women be excluded from climbing media? What about racial/ethnic minorities? Where do you stop? Whose sport, exactly, is this?
As further validation that such antiquated views still hold sway, we received another letter, from a woman, lamenting the lack of encouragement for women to join the climbing industry, say as guides or route-setters. (See "Just Do It," to learn about the avid first ascentionist Ola Przybysz, shown above, who's blazing new ground in China for all climbers—male and female alike.) Which leads me to a final point: If we're going to embrace the growth and change in climbing that have brought us all this great gear, mega-gyms, and destination crags, then we need to embrace the sport's changing demographics as well. I've always loved climbing because it lets me evolve, experiencing new places, people, and cultures. So here's to a more forward-thinking 2018, with the right gear to protect us.
—Matt Samet, Editor
Get Climbing Magazine:
In this issue…
Features
Gear Guide 2018
The best, most innovative gear of 2017/2018: 66 new products for alpine, basecamp, bouldering, sport, and trad, field tested.
Just Do It
Meet Ola Przybysz, the expat Pole pushing the first-ascent envelope in China.
The Indestructibles
Five top climbers who came back from injury stronger than ever, thanks to their climber grit.
Departments
Flash—Climbing photo gallery
The Approach
Letters
Re-Gram: Nine readers submit photos of the gear that saved their bacon
The Climb
Talk of the Crag: The hidden environmental cost of climbing chalk.
Topo: The Phoenix—the line that cemented new gear, new tactics, and a new grade.
Portrait: Ben Hanna—Man, myth … or Hulk?
Unsent: It's time for our sport's most dreaded pass/fail exam: the rock-gym belay test.
Out on a Ledge: Life lessons from the annus horribilis of 2017.
Clinics
Guide's Tip: Shake off complacency to climb smarter, safer, better … and longer.
In Session: Five turbo-charged crag snacks to balance energy and macronutrients at the cliff.
Cragsters
Presenting our new department of climber cards—starting with the "Offwidthionado."
Subscribe to Climbing: Print, Digital