Climbing Magazine Print Preview: October/November 2018
On sale today
Heading out the door? Read this article on the new Outside+ app available now on iOS devices for members! Download the app.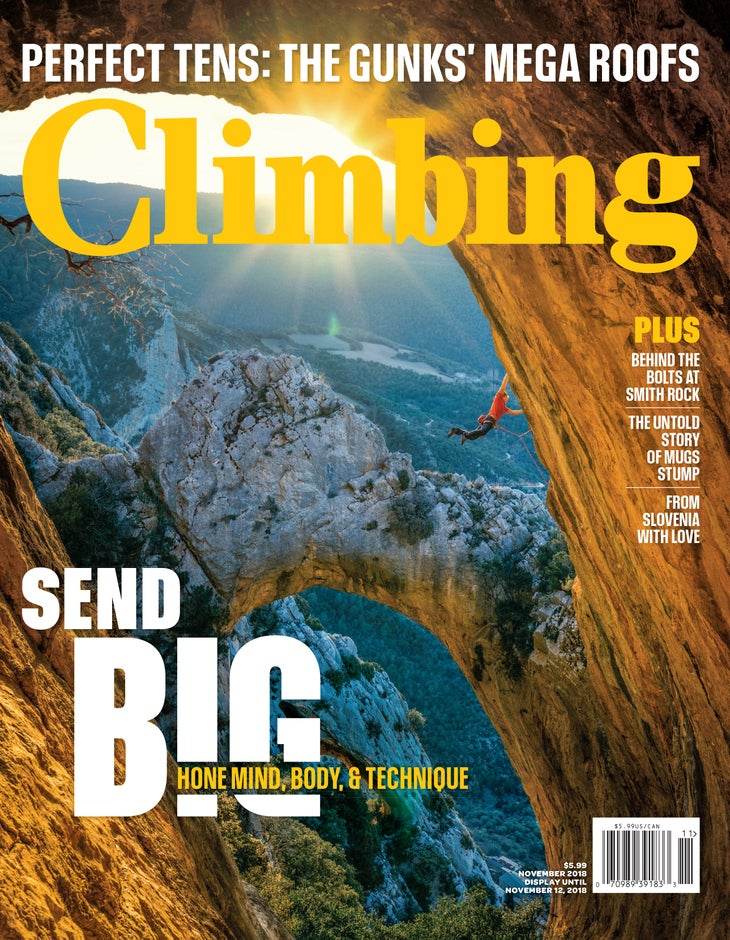 Editor's Note
Before We Were Climbers
Climbing Magazine covers a sport so all-encompassing we tend to forget that we haven't always been climbers. Hell, it's right there in the name: Climbing. But the truth is, we weren't always climbers. Today's 5.13 gym kids had to learn to walk before they started tugging on crimps, and at some point even Adam Ondra was playing with trucks in a sandbox. Before we got into climbing, we were all something else, and even after we get into climbing we still lead a life off the rocks.
One common denominator I've noticed in climbers' lives is passion—they've always channeled that energy into some kind of pursuit. There's Keenan Takahashi, the über-strong boulderer who was a talented street skater. (I skated too; I sucked. I boulder too; I suck.) Or the top all-arounder Emily Harrington, who was a downhill ski racer. Or Lynn Hill and John Gill, who were gymnasts. There are also climbers who parlayed their focus and intensity in the vertical into successful professional careers, like Hugh Herr, a pioneer in prosthetic invention. Or Jim Collins, with his best-selling business books. Or Robyn Erbesfield-Raboutou, with her ABC Kids Climbing gym and coaching.
All have drive both on and off the rocks, and it's informed who they've become and what they've accomplished in life's many spheres.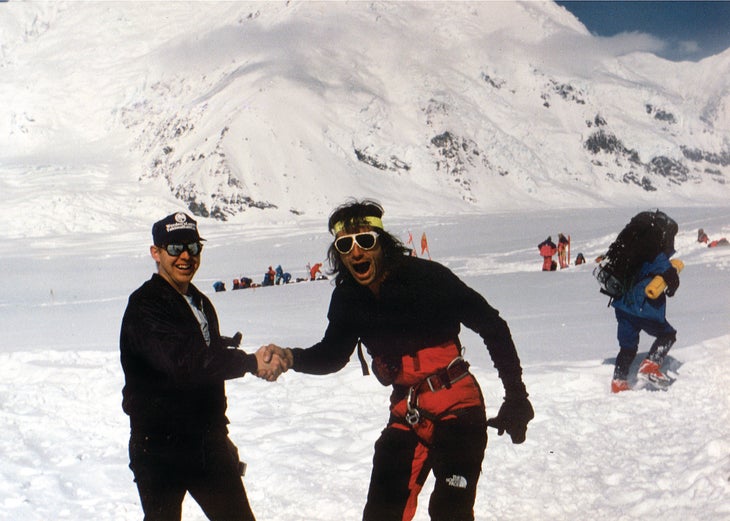 One little-known tale is that of the early life of the iconic, 1970s/'80s badass alpinist Mugs Stump, whose name has become synonymous with impeccable style on high peaks and big walls: unsupported, sometimes solo, on committing terrain with extreme technical difficulty. Some Stump standouts include the 1978 first ascent of the Emperor Face of Mount Robson, with Jamie Logan; and his 1981 ascent, with Jim Bridwell, of the Moose's Tooth's Dance of the Woo Li Masters (VI 5.9 W14+ A4). But who was Mugs Stump before he was the Mugs Stump? Well, he was a football player—and a hard-driving, self-flagellating one at that—who almost tried out for and had a good shot at joining the NFL, as detailed in Nick Aiello-Popeo's riveting feature "Ascendant."
We rarely cover anything outside the confines of our little sport, but this story felt important. Yes, it centers on football—not climbing—but on its pages we begin to see the makings of the legend. We begin to see the grit that was in Stump all along, before he was a climber, and in so doing we catch glimpses of our own lives and the larger human story: our eternal quest for self-actualization.
So who were you before you were a climber? Reach out at letters@climbing.com and let us know. I bet you have an interesting tale to tell.
—Matt Samet, Editor
Get Climbing Magazine:
In this issue…
Features
Dust, Sweat, and Tears
A firsthand look at the little-understood art of establishing sport climbs.
Ascendant
How quitting professional football launched Mugs Stump's climbing career.
Climb Slovenia!
The thousand faces of Central Europe's karstic limestone gem.
Perfect Tens
An homage to the Shawangunks' many classic 5.10s.
Departments
Basecamp
Letters
Rock Art
Re-Gram: Bad-weather epics
The Big Question: Have you ever broken up a belaytionship?
Mini Reviews: Three new books
Onsight
Photo Gallery: Reel Rock 13 preview
Talk of the Crag
The Globetrotting Climber's Dilemma: Climbing travel with social awareness
Climbing in the Far North: The future of interior Alaska's climbing scene
Essentials
Training Tool Review

HyperOwl Finger Training Bands
Gripedo
Tension Climbing Flash Board
Rad Roller Original
Wave Tool
Grip Pro Trainer
Gravity Ball
Armaid Complete

More Reviews

The North Face Beyond the Wall Rock Pants
DMM Dragon Cams (7 and 8)
Metolius Belay Gloves
Trango Beta Stick EVO

Rack-o-mended
The Place
Rock Gyms 2018: How climbing gyms became the new community centers
Access Report: Big wins and red flags
That One Time
The Race to Hubble: A crag rivalry for the ages
Out On a Ledge
Keeping the Wilderness Wild: How our simple presence impacts and even disrupts crag fauna
Topo
Yellow Wall: Climbing the Needles' lightning rod of Khayyam Spire
Players
Rock Star: Sleigh Bells lead singer Alexis Kraus finds focus in climbing
Skills
The Well-Rounded Climber, by Nina Williams
Finger Flexor Pulley Injuries
Building an Organized Big-Wall Anchor
Quick Clips
Cragsters
Subscribe to Climbing: Print, Digital