Climb of the Week: Two Karakoram First Ascents
Heading out the door? Read this article on the new Outside+ app available now on iOS devices for members! Download the app.
August 30, 2015 – The last week of August was packed with good climbs around the world. Isabelle Faus from Colorado became the fifth woman to climb V14 with an ascent of the crimpy problem Amandla in South Africa. Sasha DiGiulian and Carlo Traversi climbed the 20-pitch Magic Mushroom (5.13a) on the north face of the Eiger in Switzerland. In the mountains of Canada, the Argentine-Chilean couple of Natalia Martinez and Camilo Rada completed the first ascent of Mt. Malaspina, and the international team of Paul McSorley, Ines Papert, and Mayan Smith-Gobat climbed the southwest buttress of Mt. Waddington.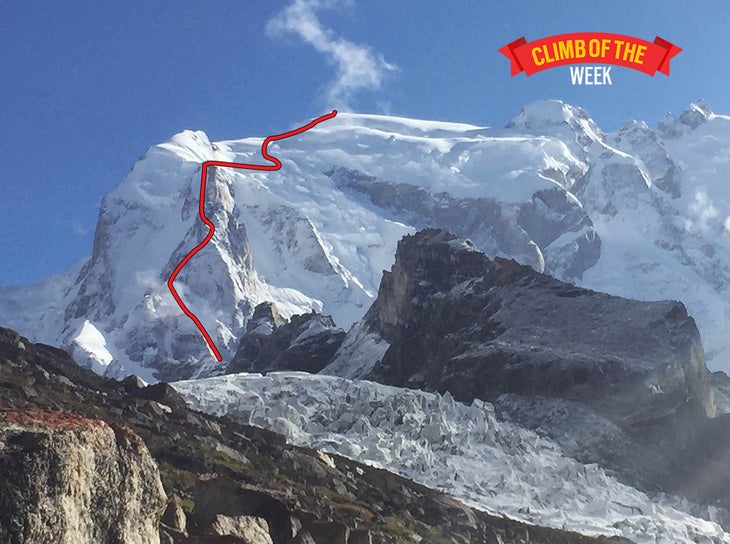 But, for our money, the most inspiring climbs reported this week came at the hands of Scott Bennett, Steve Swenson, and Graham Zimmerman, who climbed two major first ascents in Pakistan. Not only did they manage two new routes in a stormy Karakoram season that sent most teams packing, their team had a cool multi-generational aspect. For Swenson, age 61, this was the latest in a string of high-level Karakoram expeditions dating back three decades. For Zimmerman, 29, and Bennett, who turned 30 during this trip, it was their first time in these mountains.
The three did the first ascent of a stunning 6,500-meter granite tower as a full team, and then the lads raced up a new route on K6 West (7,040m), making only the second ascent of the mountain.
"It was a great trip with the young guys," Swenson said in an email from Pakistan. "I did all the planning and logistics that set us up for success, but I can't take any credit for the climbing. Those guys are much faster and stronger than me."
Be that as it may, Swenson added yet another first ascent in the Karakoram to his long list—and he helped set two newcomers on the right path for future successes. As Zimmerman put it, Swenson is "THE MAN!"