Colin Duffy, Olympian, Climbs 5.14d And 5.14c In A Day
Following a stellar performance at the US Bouldering and Lead Nationals, Colin Duffy had an amazing day in the Hurricave, near Hurricane, Utah.
Heading out the door? Read this article on the new Outside+ app available now on iOS devices for members! Download the app.
Who doesn't recall their first of a grade? Especially when it comes a week after a first National title. Colin Duffy won open Bouldering Nationals (he also got silver in Lead) at last week's US National event. And then he went to Hurricave, near Hurricane, Utah, and put down his first 5.14d: Life of Villains, established by Joe Kinder. The day got better, because he followed up with with Flight of the Conchords, 5.14c, for which he needed only two tries. The following day he sent his second 5.14d, The Activator, also established by Joe Kinder.
Duffy was one of four Olympians representing Team USA. His qualification followed up two Youth Lead World Championship titles, on top of his 10 Youth National titles: six in Lead, three in Bouldering, and one in Speed. This year's Nationals marked his third year competing in the US open circuit, with 2020 being largely cut short due to covid. The now 17-year-old finished up the Tokyo Games in 7th. His eyes are set on Paris 2024.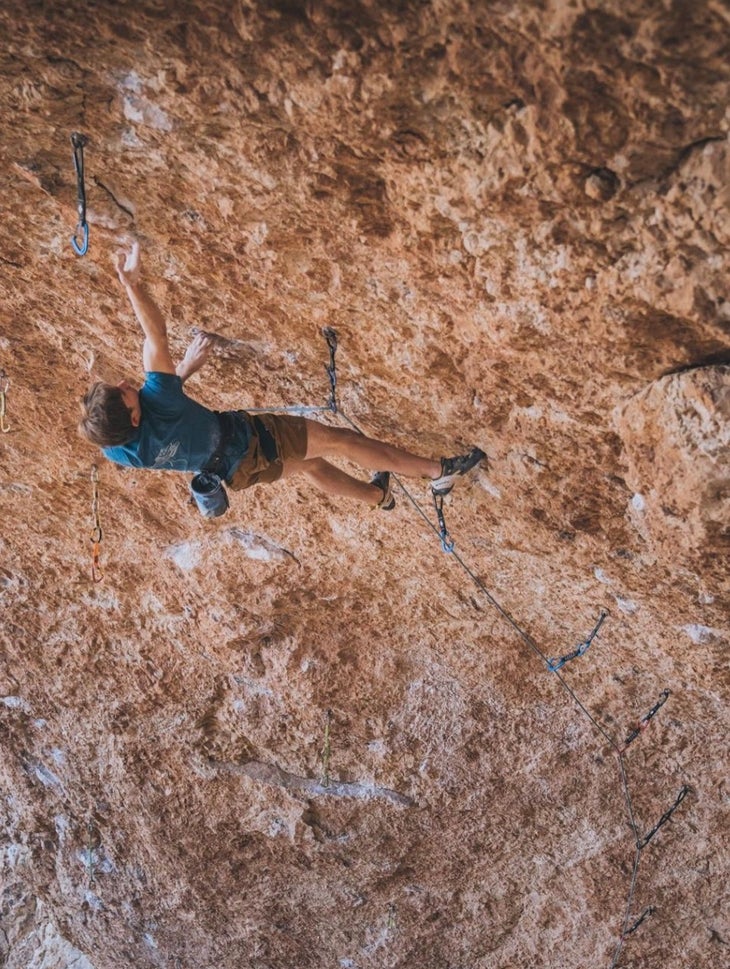 "Hopefully, being so young, I'll get the opportunity to compete in another Olympics, maybe 2024 or even beyond that," he told Climbing in the lead-up to the 2020 Games. "And then I'm just super psyched to do the whole world cup circuit. I really see myself competing for as long as I can until I either burn out or just get too old. I really enjoy competing more than anything else."
With his focus on indoors, Duffy has not previously spent a significant amount of time outside. "It can definitely be super hard to get outside during comp seasons and training," he told Climbing. But growing up, he always worked in one big outdoor trip following the competition season. "I've been to Red Rocks, the Red River Gorge, and all around Colorado," he said.
His other trips include similarly impressive days as the one in the Hurricave. Prior to qualifying for the Olympics in January 2020, Duffy visited Red River Gorge, Kentucky, for the first time. He onsighted Omaha Beach, 5.14a, and then, on the same day, sent Pure Imagination, 5.14c (can you guess?… a first of the grade). Just for fun, he then ticked Southern Smoke, another 14c.
At the time, he said the trip really inspired him to push himself on more outdoor trips. "I really want to, in the future, get on some more long-term projects," he said.
Life of Villains went down after two trips to the Hurricave. On the first trip, which took place in the lead-up to Nationals, Duffy told 8a.nu he was close to sending, but ultimately limited by skin, energy, and time. On this second trip, he sent it on his first redpoint go. His send of The Activator marked the route's third ascent. 
With no competitions in the near future, one can only guess what Duffy will put down next.