Colin Duffy Sends Three Red River Gorge 5.14s in a Day
Heading out the door? Read this article on the new Outside+ app available now on iOS devices for members! Download the app.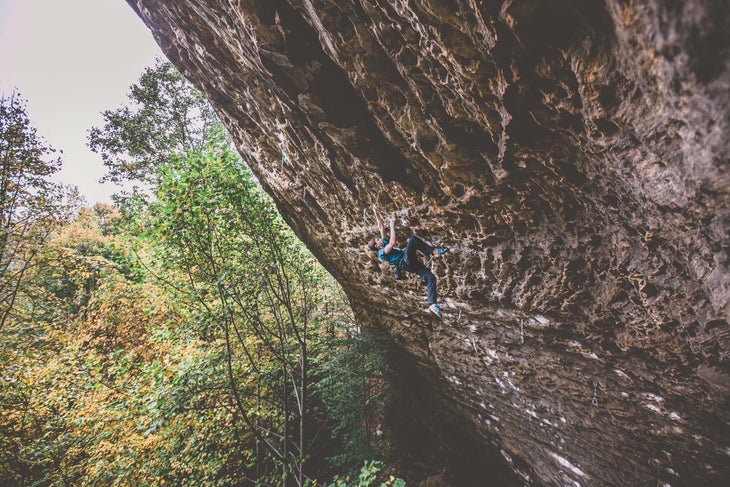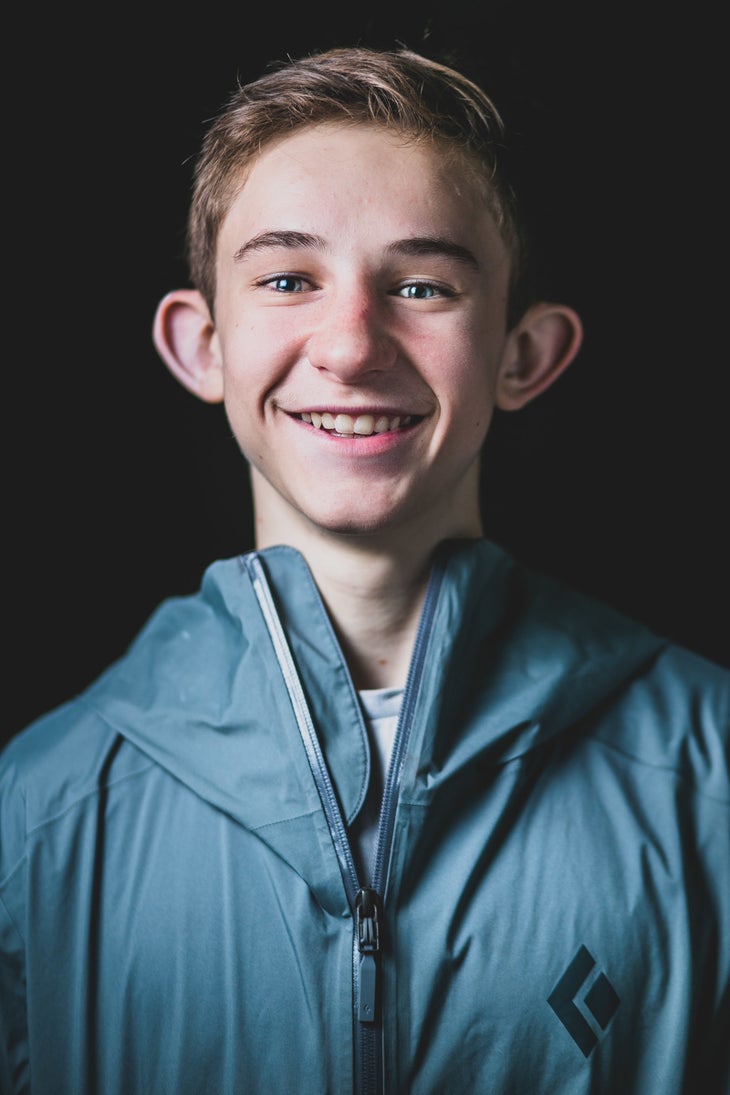 Colin Duffy, of Broomfield, Colorado, just had a mind-boggling day at the Red River Gorge. On October 25, the 15-year-old, who's been climbing for 10 years, onsighted Omaha Beach (5.14a) at the Motherlode then sent the 5.14c's Pure Imagination at the Chocolate Factory and Southern Smoke (5.14c) at the Bob Marley crag, with Southern Smoke taking him just two attempts and Pure Imagination taking five (he'd spent one day on the latter climb previously). All three routes are some of the most coveted ascents at the Red—and Duffy climbed them on only his second day on the Corbin sandstone. "That day was special," the local Red River crusher Dru Mack, who was climbing with Duffy and helping with beta, says.
If you follow competition climbing, then you'll know Duffy's name: He's the nine-time US youth National Champion and has won the Youth World Championships twice; at present, he trains at ABC Kids Climbing in Boulder, Colorado, where's he's also on the team. Says Duffy, "Pure endurance is one of my biggest strengths, and so I've been looking at the Red for years—I just knew the style of climbing would suit me." On his first day, Duffy quickly sorted out the beta for Pure Imagination with Mack's help, as Mack had climbed the route last fall. Duffy says the route, with its sharp micro-crimps and infamous, all-out dyno, was the most intimidating of the trip, and has been known for spitting off shorter climbers (Duffy stands 5'1" tall).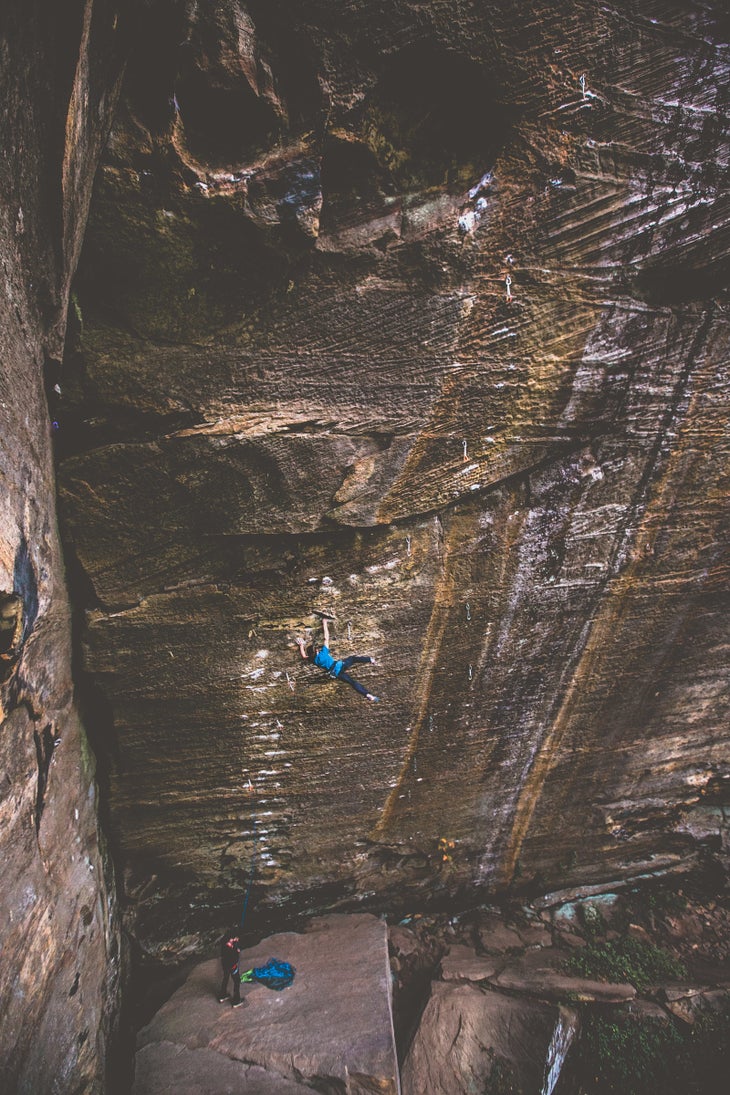 Duffy's second day at the Red was when everything fell into place. Starting with an onsight of Omaha Beach, Duffy returned to Pure Imagination. With the beta dialed, he sent the route on his first attempt of the day—redpointing his first 5.14c. Then Mack helped Duffy work out the beta on Southern Smoke; just two attempts later, he'd sent the climb. "Colin gave a first try on Smoke, but fell in the first crux," Mack says. "I walked him through the rest of the route bolt-to-bolt afterwards." Though Duffy was beginning to feel tired, he decided to give a redpoint attempt. Says Mack, "[Colin] asked me before trying the route if I would yell each move out to him and remind him certain things while he climbed. I of course was stoked, and just kept leading him along as he fought his way to the top."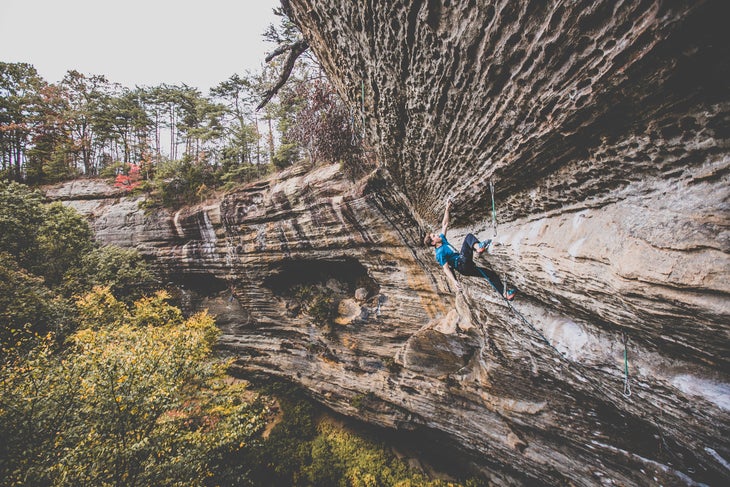 With Southern Smoke, Duffy had ticked his second 5.14c—the same day as his first. "[The Red] was everything I imagined and more—the sheer size of the walls is like nothing I've ever seen before," Duffy says. "I want to go down and try more of the hard routes; I didn't have time, just with skin and only four days." Despite how quickly Duffy dispatched both 5.14c's, he still cites them as the hardest routes he's done. (His previous hardest redpoint was the 5.14b Positive Vibrations at Clear Creek Canyon, Colorado, which he redpointed in April of this year.)
Duffy would like to return to the Red to perhaps try Lucifer (5.14c) or Southern Smoke Direct (5.14d), but he may not have the chance for a while. "Spring is really busy with competitions, and I have already missed so much school this year," the tenth grader says. Still, despite his busy comp schedule, Duffy would like "to be known for both competition and outdoors." While his primary focus is still on the competition circuit, any free time not spent training will be devoted to outdoor routes and boulders. "Until this trip, I haven't had the chance to push my limits on outdoor sport climbing, but on the grades, I feel I can push harder since these went down fairly quickly," says Duffy. "I definitely want to work my way up to 5.14d and potentially 5.15."