Collective Knowledge
Climbing and Rock and Ice Have Merged—Now What?
Heading out the door? Read this article on the new Outside+ app available now on iOS devices for members! Download the app.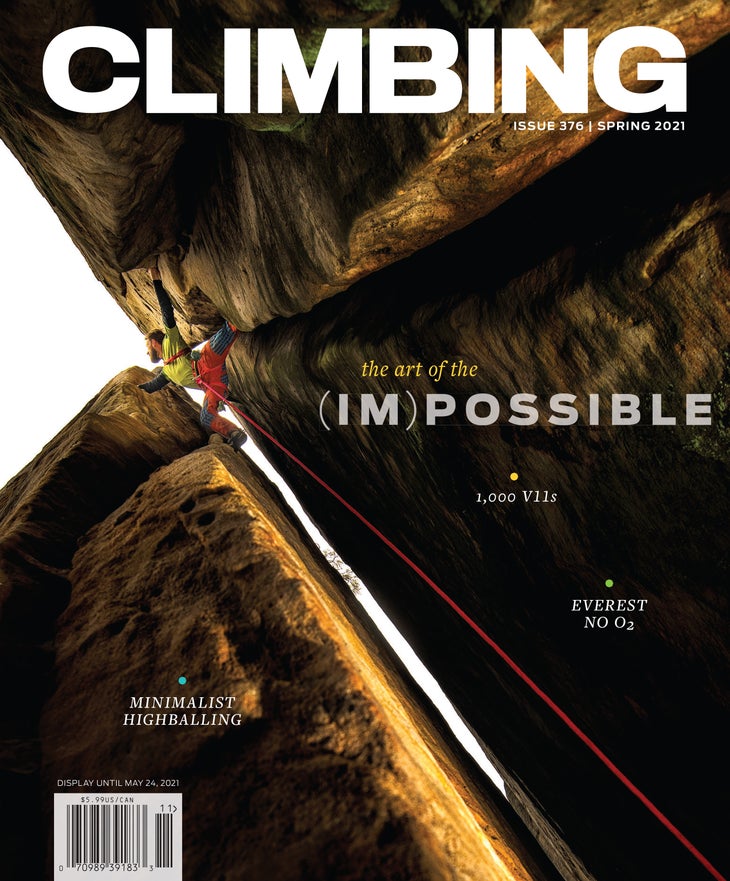 I've burned through three drills since I started bolting in the 1980s. The latest fatality was a Bosch that survived a 100-foot plummet in Boulder Canyon in 2017 only to die last summer, a few hundred holes later. I love putting up routes—the thrill of finding a striking line, the perverse "pleasure" of bolting and cleaning, figuring out how to use holds no one's grabbed before.
When you establish a climb, it's rare to find the easiest beta. It might only be you or a couple friends trying the climb, and it's easy to lock into an "Oh, well, it goes this way" mentality. Over time, as routes get repeated, they often get easier: The holds are chalked, making sequences more readable; repeat ascentionists find nuances like drop-knees and kneebars; and climbers stray off the bolt line, finding grips and rests you hadn't even considered.
The grade may come down, but a collective body of knowledge emerges that also makes the route a richer, more communal experience: "Oh, you're trying Pump-O-Rama? Wear a right kneepad!" Or, "If you head up on So High, there's a flared fist jam that avoids the slimy layback." In late 2020, Climbing and Rock and Ice—two titles dedicated primarily to the North American climbing scene—merged, both acquired by our parent company, Pocket Outdoor Media (POM). The history of the two magazines is a long and tangled one, with many of the editors—myself included—having worked at both publications. (POM also acquired Gym Climber, Trail Runner, and Ascent as part of their purchase of Big Stone Publishing, the former publisher of Rock and Ice.) It's an exciting development, both for the new, larger staff here at Climbing and for our readers.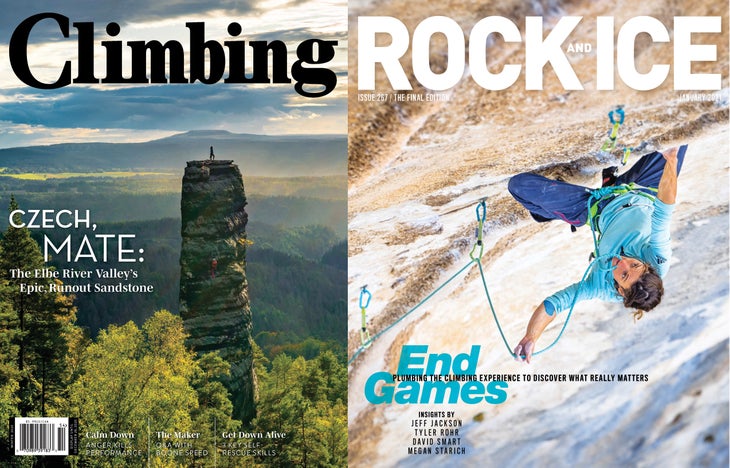 Combined, the seven editors at the climbing titles—me, Alison Osius, Francis Sanzaro, Duane Raleigh, Michael Levy, Delaney Miller, and Kevin Corrigan—have 182 years of climbing across its many disciplines, and 146 years in publishing. We bring our own backgrounds as climbers, networks of writers and photographers, and various visions of storytelling. That's a lot of collective knowledge.
What this means in practical terms is that we'll be publishing the best vertical magazine in the world—a bold, beautiful quarterly journal, plus a fifth issue, the literary Ascent. Starting with this issue, we've moved to higher-quality paper, a larger trim size (literally, more surface area for content), a redesign in which we've created more air to let words and images breathe, and more pages (100!) to better reflect the depth and breadth of our sport.
Take Jonathan Vickers's photo-essay "Strong" (p.80), showcasing women who embody the strength climbing both demands and cultivates as they train in Salt Lake City. Or Michael Wejchert's "Team Impossible" (p.52), detailing the groundbreaking Himalayan partnership of Reinhold Messner and Peter Habeler—and their infamous falling out. Or the amazing imagery in the photo-essay "Art of the Vertical" (p.32) by Sam Bié. We're also continuing our same great reader service—critical in a sport as participatory as climbing. There are our Field Tested gear reviews (p.90), info on the athlete syndrome RED-S from the nutritionist Marisa Michael in Fuel (p.96), and so much more. It's a big issue, packed with content—go have a look. Meanwhile, stay tuned to Climbing.com, which will relaunch in March with a new look and more of a focus than ever on news and developments from the climbing world. And don't worry—RockandIce.com isn't going away, either. We're busy creating "The Vault," which will archive the best of Rock and Ice for online readers.
The last route I bolted before the snow started flying was a fourteen-bolt monster in the Flatirons above Boulder, Colorado, an overhanging demon that revolves, at its crux, around locking off a "stucco-crimp." I've done all but the stucco move, and am training to be ready come spring. Hopefully, I can do the route—I'll give it my best. I am sure, however, that I won't end up doing the cruxes the easiest way. That will come later, with repeat ascents, beta refinement, and collective knowledge. As with this issue of Climbing, I look forward to seeing what our community brings to fruition.
—Matt Samet, Editor
Get Climbing Magazine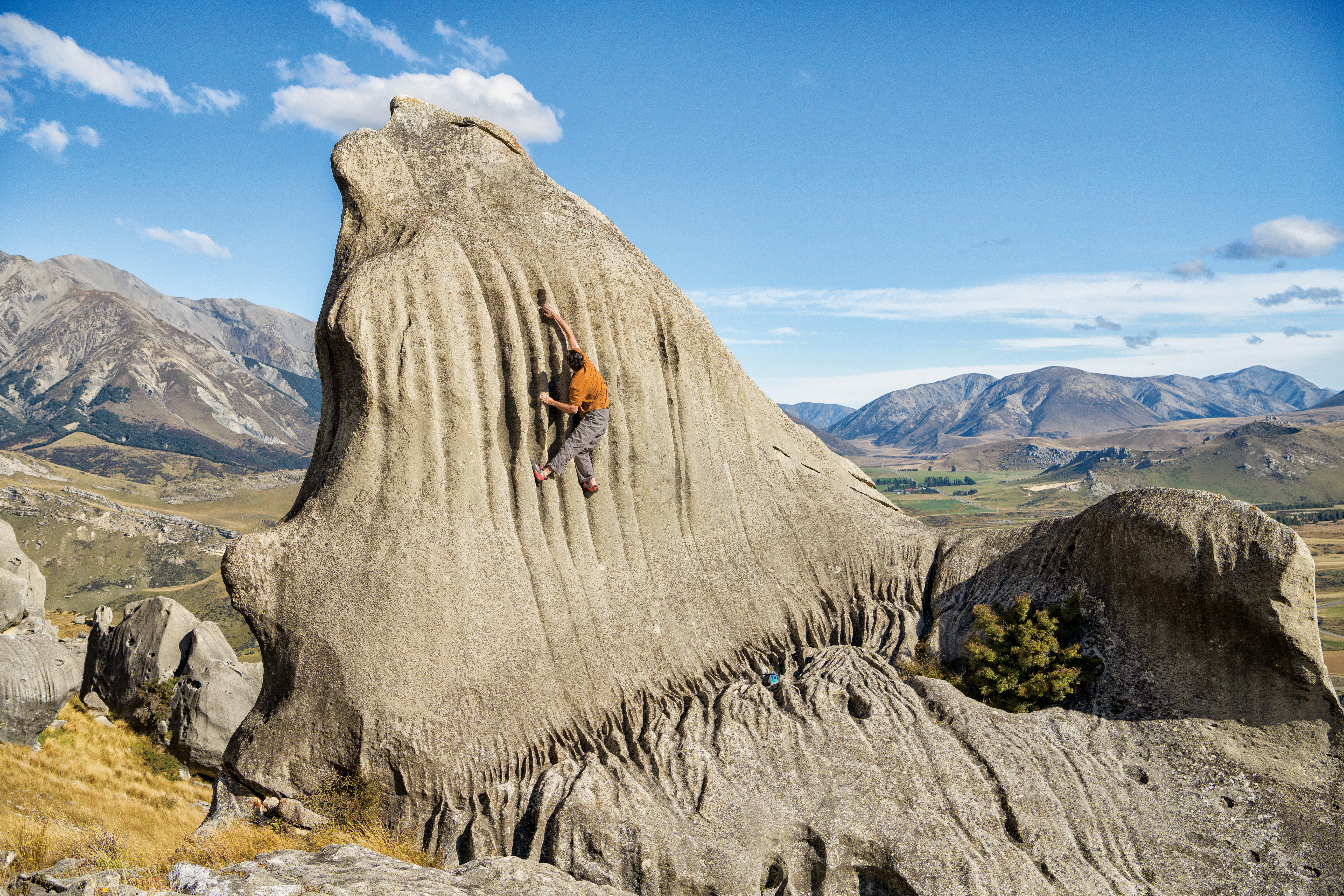 In this issue…
Features
Mission Impossible
When the pro boulderer Paul Robinson set out to climb 1,000 8A (V11) or harder problems, he didn't know if his goal was even achievable—or that it would take 6,000-plus days and encompass a tragic, heart-rending loss. By Paul Robinson.
Art of the Vertical
Global travel was off the menu in 2020, but this photo-essay of eye-popping French "rock-itecture" by Sam Bié will get you revved for 2021. Photos by Sam Bié.
The Promise Rocks
On the 1,400-foot-tall gneiss dome of Mount Ololokwe in northern Kenya, climbers from the Samburu tribe and visiting ascentionists are forming a collective—and economically sustainable—vision of the massif's epic potential. Story and photos by James Farr.
Team Impossible
In 1978, Reinhold Messner and Peter Habeler redefined Himalayan alpinism with the first oxygenless ascent of Everest. Then something went wrong with their partnership, causing a rift only recently reconciled. By Michael Wejchert.
Between Pembroke and the Deep Blue Sea
It's a crackin' good time at Pembroke, the balmy limestone paradise that's beckoned UK sea-cliff climbers for decades. Story and photos by Michael Hutton.
Strong
Twelve Utah women from ages thirteen to sixty-three define what "strong" means to them as they train at the Momentum Millcreek gym in Salt Lake City. Story and photos by Jonathan Vickers.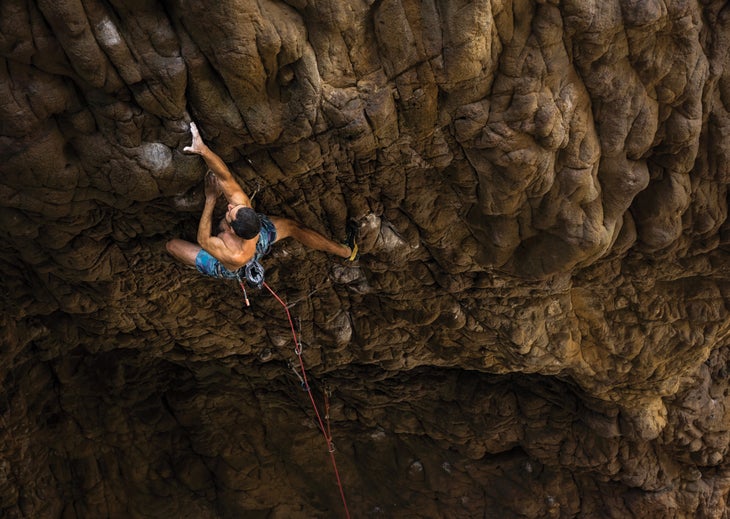 Departments
Basecamp
Loose Bolts
Topo: Pilgrimage to Mecca
What I've Learned: Dave Graham
Thundercling: Make climbing great again—how pro climbers can become real leaders
My Epid: Treed!
Beta
Field Tested: Gear reviews
Master Class: Whip yourself into whape with this 20-minute kettlebell circuit
Fuel: Unsending from underfueling
In Your Face: Beyond highballing