Heading out the door? Read this article on the new Outside+ app available now on iOS devices for members! Download the app.
Photos courtesy of the 2007 Shared Summits Expedition to K2.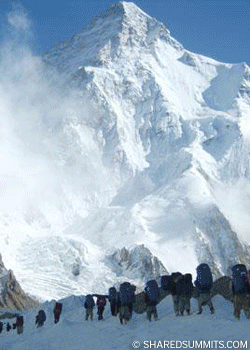 An interview with Nick Rice
*These interviews are a continuation of the article "Courage on K2" (No. 270, October 2008), which detailed the events of August 1-2, 2008, when 11 people were killed by icefall, avalanches, falls, and causes unknown on the upper reaches of K2, the world's second highest mountain.
Alpinist Nick Rice, 23, of Hermosa Beach, California, was at K2's Camp 4, (ca. 25,000 feet) on August 1, when the tragedy began. For several days, he was one of the few sources of information about the unfolding accident—the deadliest since the first ascent of the 28,251-foot mountain almost 55 years ago. Climbing as member of the French expedition, Rice had started toward the summit early that morning but turned back because of impending frostbite. Later that day, icefall severed the fixed lines, trapping a score of climbers at around 27,200 feet, in the "death zone." If Rice had continued upward, he very likely would have been trapped, too. A minor mishap that morning—spilling water on his socks—followed by good judgment later may be what saved him.
Tell me about your socks.
I awoke around the same time as everyone else—between 1 and 2 a.m.—but I needed to melt water in the big tent and had to wait for people to clear out of it. While I was melting the snow, I spilled a whole pan of water in my tent, which got all over my socks (which were, of course, my only pair). I had to wait in my sleeping bag for two hours for them to dry. When I started at 4:30, my hands were already frozen from everything I was touching in the tent. After going for about an hour and a half, my fingers hadn't warmed up and I was worried about frostbite. I didn't want to lose my fingers trying to reach the summit, and I figured I could try for it the next day, since the weather window was supposed to hold. I turned back to camp and slept in my tent for a couple hours.
How did other climbers' preparations go that morning?
When everyone was getting ready, it seemed chaotic. There was lots of yelling, there seemed to be problems distributing the gear. I heard from the Americans who had gone up a bit earlier that Wilco [van Rooijen, of the Netherlands] was yelling for more rope to be taken.
When did you learn about the first two fatal falls?
Later that morning, the Americans returned to camp after turning around at the Bottleneck. Then one of the Italians, Roberto, yelled, "Accident!" from his tent. That was when the Serbian [Dren Mandic] fell. Eric Myers started organizing a rescue until we found out he had died. Meanwhile, [Jehan] Baig [the Pakistani high-altitude porter] had started heading down from the Bottleneck and fell after being recruited to help bring down the body of Dren. He maybe had cerebral edema—that morning, it took him a half hour to put crampons on, and he also had spent only two weeks in basecamp and maybe wasn't that well-acclimatized.
On summit day, did it bother you to head up alone?
Actually, I almost always climb alone, especially on summit days. On 8,000-meter peaks, people may be a team at the beginning, but on summit day, it's each man for himself. I don't mean that in regard to rescues—there, everyone should help everyone else—but in regard to the very different paces people have. Often people don't even rope up, even in dangerous areas, because it just slows everyone down.
What made you decide to leave Camp 4 and descend to Camp 3 (ca. 23,500 feet)?
After the Serbian fell, I decided it was time to go down. I'm young, and the mountain will wait for me—the risks seemed too great that day.
What was the descent like?
I was so tired [from being at that elevation so long]. I'd rappel two rope lengths, and even that would empty my lungs. I'd have to rest for a couple minutes. I reached Camp 3 five hours later and stayed there. On August 2, I descended to Camp 2 [22,000 feet]. There, I got an SMS from my mom telling me about a huge icefall. She said many climbers were stuck above the Bottleneck. As I continued down to basecamp, I expected grim news, since the stranded climbers didn't have shelter or deep snow to bivy in.
After that SMS message, what were your thoughts as you headed to basecamp?
As a defense mechanism, I put aside the emotions and focused on the descent. The snow had turned into sugar, water covered the ice, and rocks were spraying down the route. They sounded like bombs. At one point, rappelling, I even swung out over the route because a piton popped. The route had become very dangerous and unstable, and I needed to focus on that and not add another body to the day.
Will you go back to K2?
I just received a photo from the summit, and it made me want to go back. I had less than 24 hours left to the top. It's painful to invest two months for a summit and not get it. Since I was a kid, I've always dreamed about K2. And I don't like to leave things unfinished—that seems like giving up. Getting to the top would be like putting a book away.
What do you think of the finger-pointing going on?
Basically, numerous little things went wrong, and they all came together to produce a very hazardous situation. People like Wilco are blaming the high-altitude porters, but if you look at it, if he was depending on porters and Sherpas to fix the route to the summit, Wilco should have turned back when the lead high-altitude porter turned back at Camp 2 [22,000 feet] because of altitude sickness.
Also, everyone should have a turnaround point. But there's a herd mentality that sets in. If there are 10 other experienced climbers still going up, you think it must be OK. The 8,000-meter peaks cloud your judgment, and you don't stick to your own turnaround time.