COVER DEPARTMENT OF CORRECTIONS
Heading out the door? Read this article on the new Outside+ app available now on iOS devices for members! Download the app.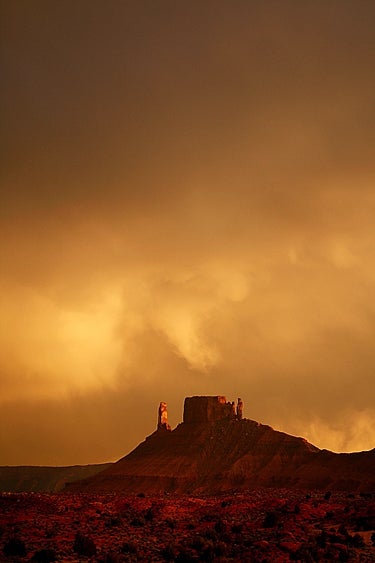 DEPARTMENT OF CORRECTIONSYeah, yeah, we know: Sometimes we get it wrong. In the headlong rush to get Climbing out the door, we sometimes make mistakes. We hate it when this happens — and we apologize. If you catch an error in Climbing, please let us know at letters@climbing.com, and we'll either post it here, run it in Letters each issue, or both.Photo: Castle Valley, UT, by Bruce Willey.
271 – CORRECTIONSThe No. 271 Tech Tip contained an erroneous illustration for the BelaySchool pointer. Climbingapologizes for the error.264 – CORRECTIONSThe photo credit on p.40, No. 264 should read Devon Balet; Climbingapologizes for the error.262 – CORRECTIONSThe introductory copy for the feature "Blank Check," No. 262, contained an inaccuracy: the 1938 first-ascent party of Eigernordwand was half-German (Heckmair and Vorg) and half-Austrian (Harrer and Kasparek), not all-Austrian, as listed. The caption on p. 62, Gallery No. 262, contained two inaccuracies: Rob Pizemactually climbed the FFA of Three Musketeers at 5.13b, not its FA at5.13a, as noted.261 – CORRECTIONS Just Out, No. 261 contained a misprint: the C.A.M.P Nano 23's weight as converted from 23g to ounces should read 0.8oz, not 8oz.260 – CORRECTIONSThe feature article on Michael Reardon, "We Only Get One Shot on This Dustball," No. 260, contained an inaccuracy: Romantic Warrior and Sea of Tranquility are on Warlock Needle, not Sorcerer Needle
Just Out listed a new rock shoe, the FM Tech Dragon. The company has since changed the name to the Lizard.
259 – CORRECTIONSIn the Kung Fu Fighting report on Dean Potter (Hot Flashes, No. 258), the author used the word "zeitgeist" instead of "gestalt." Climbing regrets the out-of-context use of pretentious German words and über-promises not to do it again.257 – CORRECTIONSIn No. 256, the article "10 Things You Didn't Know About… Climbing Covers" contained two inaccuracies. First, the photographer with the most covers is not Jim Thornburg, but is in fact Greg Epperson, who has landed the cover 16 times (Nos. 103, 104, 114, 118, 121, 123, 132, 136, 141, 144, 153, 162, 176, 177, 180, and 212) and has also featured his work on the cover of four Gear Guides, for a total of 20 appearances. Second, the cover shot of Alex Huber on No. 154 was taken by Heinz Zak, not Kevin Worrall; Worrall's shot appeared in the table of contents for that issue. Also, another two-time cover star we omitted is John Bachar, who first appeared free soloing Outer Limits (5.10) on the cover of No. 84 (photo by Lanny Johnson, at left), and again appeared ropeless on The Gift (5.12c/d), at Red Rock, Nevada, on the cover of 192.