Crack Yourself Up at Splitter Camp
Heading out the door? Read this article on the new Outside+ app available now on iOS devices for members! Download the app.
Jay Smith teaching an eager group of Splitter Camp students.Photos courtesy of Topher Donahue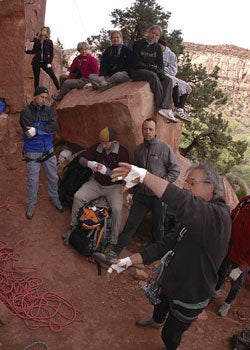 This climbing season, join renowned instructors and hone your skills at Splitter Camp: three-day intensive crack climbing seminars offered this spring and fall in Indian Creek, Utah. Instruction, meals, and an indelible experience.
Splitter Camp offers six sessions, with three spring and three fall seminars. Success of last years' events has lead to an increased number of camps this year; sing-ups are already filling, so register early.
Montrail sponsors Splitter Camps but does not profit financially from the events. Rather, all proceeds will go back to restoring the fragile environment of Indian Creek.
"Splitter Camps are designed to demystify crack climbing," says camp director Jim Donini. While Splitter Camps are not for first-time climbers, they are intended to broaden horizons for sport, gym and occasional crack climbers. "When you learn techniques unique to crack climbing, you begin to look at face moves and plastic in a much different light," encourages Donini.
Arrive with a minimum ability to follow 5.9 trad or 5.10 sport, plenty of stamina and an iron desire (that will be tested by legendary desert lines); then be prepared to launch your skills into the next dimension.
Instructors, chosen for their teaching skills and their extensive knowledge of the sport of crack climbing, personalize their coaching to meet your goals with. The instructor roster includes Jim Donini, Brittany Griffith, Jay Smith, Angela Hawse, Micah Dash, Emma and Dave Madera and others. These folks are eager to share with you their own bags of tricks and strategies for tackling routes in one of the country's best-known climbing areas. Low guide to student ratios at 3:1 afford plenty of time for individual attention.
Climber on the classic Pente, Indian Creek, Utah.Photos courtesy of Topher Donahue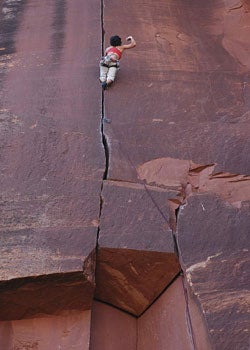 For a darn reasonable price, you get three days of skills and feedback that will forever change your climbing. You will also be provided with gourmet meals. Plan to camp and eat under the open sky, but don't expect your standard dirt-bag climbing trip. Wake up and debrief your goals for the day with your coach. Spend the next several hours pushing your level by a grade, two (three?) with techniques you hardly knew existed: rings locks, finger stacks, chicken wings. Hungry yet? Get back to camp in time for a catered gourmet meal that will satisfy your raging metabolism. Then watch the desert stars come out as your evening's fireside discussion focuses on stewardship- how you can make a difference towards the future of Indian Creek and other climbing areas.
So grab your climbing tape and your sleeping bag- camp's not just for kids anymore.
Photo by Angela Donini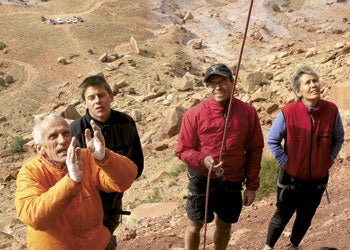 Higher learning – Montrail Splitter Camps Crack climbing, unlike the relatively intuitive movement of face climbing, is an acquired art, one at which most climbers must toil considerably before reaching a reasonable level of proficiency. But potential shortcuts are available, including Montrail's Splitter Camps in Indian Creek. Jim Donini, the camp's founder and ringmaster, bills the camps as being designed to "demystify crack climbing." For a relatively bargain price, Donini offers three days of instruction by the top athletes on Montrail's roster, including alpinist Jay Smith, El Cap speedster Timmy O'Neill, and all-around legend Bobbi Bensman, plus gourmet meals.
The group at the session I attended last fall was for the most part composed of neophyte crack climbers. Over the course of the weekend the guides schooled the students on everything from the basics of taping to the intricacies of torquing overhanging cupped hands. Though I was initially skeptical that Indian Creek could be a proper learning environment for novice crack climbers, I saw dramatic improvement over the weekend. By the end of the session, it was grins, gobis, and gabbing about return plans.
The Splitter Camp is a tremendous value both for its price and its content; a three-to-one client-to-celebrity-guide ratio elsewhere can cost you upwards of $200 per person per day, sans food. Montrail's option is substantially less expensive and offers up some very tasty cuisine to boot.
—Matt Stanley