Daniel Holz – Reader Blog 6
Heading out the door? Read this article on the new Outside+ app available now on iOS devices for members! Download the app.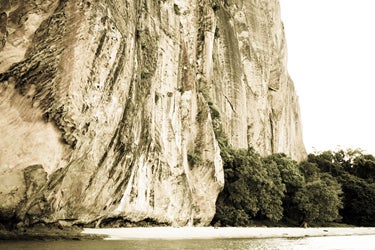 Berhala Island – Borneo, Malaysia
I have been obsessed with National Geographic since I was a kid. At the beginning of every month, I would sprint to the front door as soon as I heard the brass flap of the mail drop clank and the shuffle of parcels dropping to the hardwood floor to grab my newest issue. Poring over the glossy pages, I actually felt as if I swam with great whales, rode lumbering camels through the deserts of Pakistan, and trekked across the mighty Himalaya themselves. Each issue opened the window on a world so dramatically different and exciting than my dull New Jersey suburb.
Fast forward about 25 years: This past July, my girlfriend Lisa and I were plotting our next move on an Asian climbing trip and needed to get out of Indonesia before our visa was up. As we gazed at a map of the region to plan our course, I saw that a short flight would bring us to Malaysian Borneo. With steamy jungles hosting deadly pit vipers that can stop a man's heart in less than ten minutes, secretive villages that can only be reached by dugout canoe and miles of exotic coastline, Borneo was exactly the Nat Geo-esque adventure I had been longing for my entire life. And as if that wasn't enough, we had heard rumors of exceptional sport routes pocketed throughout the Malaysian state of Sabah. Sold!
When we arrived in the metropolitan hub of Kota Kinabalu (KK), I was certain we had arrived in the wrong country. No way were we on the island of Borneo – perhaps we had mistakenly touched down in megatropilis of Singapore. Instead of lush jungle, there were congested freeways. The secretive villages were now strip malls. And acre after acre of land was neatly dotted with rows of palm trees, waiting patiently to be processed into palm oil. I shuddered at the thought of how much habitat had been lost in the name of this "progress." While I certainly did not expect all Malaysians to go on living in grass huts forever, I struggled to see any balance between nature and society. It seemed that this community had adopted our bad habits along with Western ideals. At least in this part of the country, dugout canoes had been traded in for shiny Mercedes long ago.
I was disheartened but not ready to give up on Borneo that easily. There were still some adventures to be had, and we were going to find them. When I saw Lisa pointing excitedly at her computer screen, I strolled over to see what she had found. My jaw dropped to the floor. About six hours across the state on an island known as Berhala, there was a sandstone monolith rising 130 meters out of the sea and stretching out for over a kilometer. And the best part – about 30 sport routes had just been bolted.
Upon further research, we found that the bolting project was being led by Simon Amos, a British expat with driving passion to put Malaysian Borneo on the map as a climbing destination. Director of Fieldskills Expedition Services (www.fieldskills.com), Simon is an accomplished explorer, expedition leader and medic. When he's not rigging cameras in the canopy for Jeff Corwin, organizing treks for visiting expedition teams or mountain biking through jungle villages with his friends, he's working on the creation of KK's first true rock gym – Sabah Indoor Climbing Centre. Honestly, I don't think the guy ever sleeps. For one of his latest projects, Simon was commissioned by a hotel developer to front the recreational sports portion of an upcoming project on Berhala's east beach. This venture triggered the audacious decision to bolt on this virtually undiscovered island.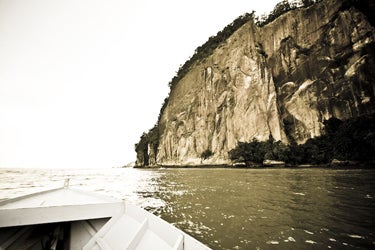 I met with Simon over a bucket of Tiger beers in downtown KK where he explained the details of the project. The development company's intention was to steer clear of the typical invasive, clear cutting, eco-disaster of a resort that flaunts jet skis and banana boat rides. In fact, the organization in charge was planning to offer a mid-range, eco-friendly resort incorporating scuba diving, sea kayaking, mountain biking, wildlife treks and nearly limitless sport climbing. To help bolster their "green cred" even more, the organization was intending to include gray water systems, coral reef restoration projects, massive beach clean-ups, and the presence to ward off the illegal loggers and poachers that all-too-frequently ravage the island.
So when is this little dream resort due to open you ask? Unfortunately, due to a tanking global economy, construction of the resort has been put on the back burner for now. But in the meantime, it's a dirt bagger's paradise. The island offers free beachside camping, friendly locals, and did I mention free bolting hardware? That's right. Simon will provide you with a bag full of 30cm stainless bolts, resin, compressed air, and a drill. All you have to do is show up and play. So, if you've ever had visions of developing a multi-pitch dream route on a tropical island (and who hasn't?), Berhala is calling your name.
Simon and his team have placed over 350 bolts on the island over the past year. Their handiwork has resulted in more than 30 single- and multi-pitch routes ranging from anywhere from leisurely 5as to tendon-wrenching 7bs. And if you're not a bolt monkey, there are one or two luscious lines for all of you tradsters out there that are screaming for a FA. It seems Berhala has a little something for everyone.
It didn't take much convincing to get us on an east-bound bus the next morning. Six swervy hours later, we found ourselves at a tourist information center in the coastal town of Sandakan. Here, we learned that the island of Berhala is brimming with rich history. It once played the part of a quarantine station for laborers coming into Malaysia from China and the Philippines. It was also home to a leper colony before becoming a POW camp during WWII. Hoping the leprosy had been long washed away by time, we hopped on a barely-seaworthy ferry to go take a look for ourselves.
Without much investigation, we realized that Berhala Island has several very distinct personalities – each one separated by impassible jungle and sea and sandstone cliffs. Located in the northeast corner of the island is an impoverished fishing village called Pulau Aur. The moment we strolled off the pier, we were welcomed by tin roofed shacks, piles of garbage strewn across the beach, and bands of half-naked toddlers milling about. To our surprise, the area seemed more like a refugee camp than a fishing village. We ventured farther in as the pages of so many Nat Geo issues flashed before my eyes. Curious looks came down from stilted homes. Nervous smiles seemed to poke out from every crooked beam. A band of wide-eyed children stopped playing in the dirt to follow closely at our heels.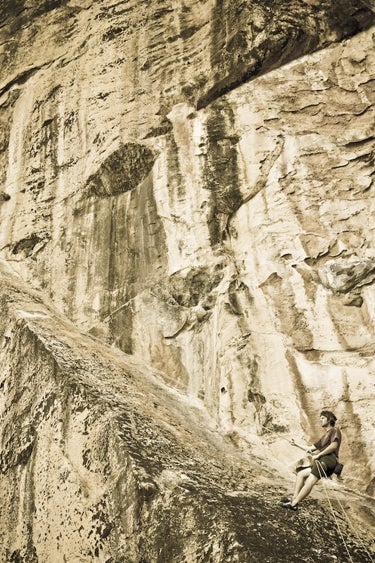 After about 45 minutes of aimless wandering, with the hoard of shepherding children steadily growing, we eventually discovered that one could not, in fact, access any climbing from this side of the island. I suddenly remembered that we were supposed to land on the east beach. With the characteristic eye roll Lisa reserves for these all-too-frequent encounters with my impaired sense of direction, we turned around and caught the next boat out of there. No matter, it was totally worth the two-dollar boat ride to walk through the pages of National Geographic for an hour.
The following day, we packed our gear and chartered a boat (this time with Simon's assistance) to the beautifully forested and completely deserted eastern beach. Ushered in by an orange massif flaunting untouched routes, we recognized the immense climbing potential at once. We were barely ashore when Lisa and I leapt from the boat, splashed through the sand and raced to the wall like a couple of kids. Smiling up at the gleaming bolts, Lisa suggested that we surely had time to climb a route before we set camp. I was already unpacking my quickdraws.
The east beach boasts two distinct crags. The first stands 140 meters high and stretches out for nearly a kilometer. Naturally, this is where you will find most of the multi-pitch routes, including the instant classic: Eat Blue Llama, a well-bolted, beautiful ramp of 5.9 offering tiny feet, high friction and an oh-so-very-stretchy push from a dihedral.
The second crag, Turtle Beach, can be found just around the bend from the east shore's northern tip. Here, the wall has a much shorter span (approx 150 meters long) and is home to friendly, slabby, single-pitch routes that reside in the 5.7 – 5.9 neighborhood. The window to access this beach is limited due to the tide; however, you can typically hire a nearby fisherman to ferry you there and back to your camp for a negotiable fee.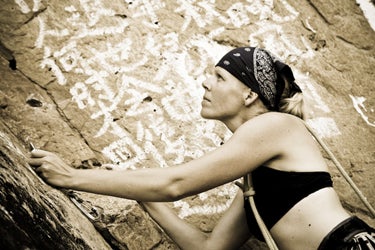 After a run up the Llama, it was time to set up our 50 ringgit (approx $14) Malaysian department store tent. Boasting "mosquito netting" with 1 cm mesh squares, we quickly realized the folly of our purchase. Now, I've traveled to the heart of the Everglades. I've skirted the jungle borders of Myanmar. But nothing, and I mean nothing, compared to the wrath of this malarial swarm. And if the flying vampires weren't enough, there was a myriad of other gnawing creatures to keep us on our toes. Centipedes, wasps, scorpions, spiders and at least five voracious species of biting ants all yearned to be our tent mates. We even came across some sort of leggy, winged bug that may or may not have been lethal, but was surely reminiscent of the Cenozoic Era. We wallowed in DEET, lit our mosquito coils, hunkered down and hoped for the best. Unfortunately, the best never came. The DEET made our lips numb and we got stoned off the smoke from the mosquito coils. This was jungle camping at its finest.
The following morning, we hauled our red and lumpy hides out from the tent and waited for the giant blazing orb to dip behind the wall. Once we were wrapped in gentle shade, we racked up and ran down the beach to the sandstone beauty that is Berhala.
When to Go: The climate is equatorial, so the average temps are neither extremely hot nor cold. From May to September, the mercury resides in the low 90s. And if you are there from October to February (rainy season), you might get a bit soggy.
How to Get There: There are at least 10 direct flights daily connecting Kuala Lumpur and Kota Kinabalu to Sandakan. The flight services are provided by Malaysia Airlines and Air Asia. There are also buses travelling between Kota Kinabalu and Sandakan daily. You're looking at about six or seven nauseating hours of swerving mountain passes followed by white knuckled Malay driving on the straights – we suggest booking a seat near the front and bringing some plastic bags for your fellow bus mates (you'll thank me later).
From Sandakan, you can get to Berhala's east beach by chartering a private boat – there are no official ferries that bring you to this side of the island. This can be a bit tricky as it's illegal for just any boat to be hired for charter without a proper permit, but in this part of the world, money talks.
Where to Stay: Sandakan is a thriving tourist hub; here, you will have no problem finding accommodations whatsoever. Once you are on Berhala, however, you are on your own… literally
What to Bring: You know that game: If I were ever on a deserted island I would bring _____. If you ever filled that with the words 'climbing gear', you've come to the right place.