Dave Graham – Pro Blog 10
Heading out the door? Read this article on the new Outside+ app available now on iOS devices for members! Download the app.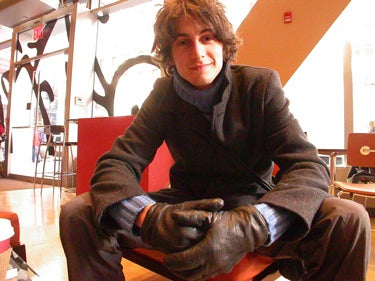 p>At the moment, I'm sittin here sippin on my morning overheated-up café, and listening to old school UGK, which is working out perfectly. I woke up in a bed, not on a coach, with some sun on my hair, making it all warm, and I felt sore, lazy, and realized I only have minor obligations for the day. Since resting has been waning as a ritual, and action has ruled the daily rhythm, I feel lucky to try two of my different projects: painting these rust spots on my hood, where the paint flecked off of my car, with some touch up paint (I have been trying this one for over a year) and writing this Blog. I will succeed on the blog at least, but the point is, I am done with a bunch of other projects, and that makes me happy.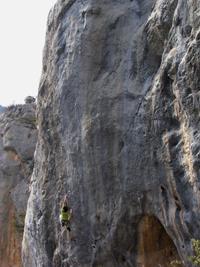 I did my Esclatamasters project, which is big news for me, because I have been intending on trying the beautiful thing since November, and thought it was a lost cause. But I was most certainly wrong! It wasn't a lost cause because I was convinced by Klementine to go and make try. I was just being plain silly by finding multitude of excuse and not being alleatoire enough. I went for it, and I did it. And I am the most surprised. I felt 800 percent better than my previous attempts, spaced over three days over four months (not too focused) and finally could use some new muscles I have been working on. It was crazy to feel my body work properly for climbing. It's like a car running properly after having a mechanic try to fix it for six months, yet never finding the problem, constantly returning the damn vehicle to the shop. For the moment, I feel like a newly fixed machine, despite my new little finger problems, which have been screwin' with me. Those shall pass hopefully, and I have no fear of them.
Who knows what's scary??? I am scared of the fucking road! There are so many gnarly car accidents here, and sometimes I wonder how long I will live. It's a very real, scary thing, and every day I get in the car, I come very close to getting hit by some idiotic old fucker, or some young macho asshole who cares for nothing and no one. Who knows who these people are, but they almost hit us all the time. It's not cool. I disapprove, and I will be bummed if that is my fate. Everybody, be very careful.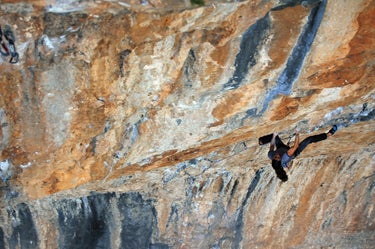 Other exciting news on the front involves my recent progression in onsight climbing, and doing two 8c+ routes in day, which was a big deal for me because I was positive that would be impossible for myself…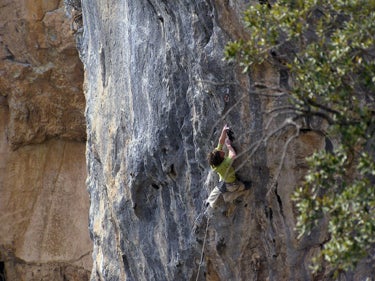 All I did was climb long routes in Terradets, and then, I felt so much more comfortable!!! That's enough rock climbing stuff, and the final word is FINALLY, I feel like myself again on the rock!!!!! Whoopee!!!!!
I am enjoying the Spanish languages here. I am getting more comfy with my castellan, can be myself much more, and I can even get my Catalan jive on. This makes life more fun. I like speaking to people, you get good vibe, and you give some back, too.
Keith and Nelson just left, which is very sad. Joe and Collette have gone to Barcelona today to deliver them to the America shuttle, and will return to our wilderness here shortly. It was cool seeing Keith take incredible photos, and witness talent in just one more facet. I must make it clear that I was super impressed, not only is he a gifted artist, he is really fun to work with and chill with. Joe cut his hand with a kid named Dennis holding rusty razor blade, that put him on hold briefly, and Klemen has done two of his 8c projects.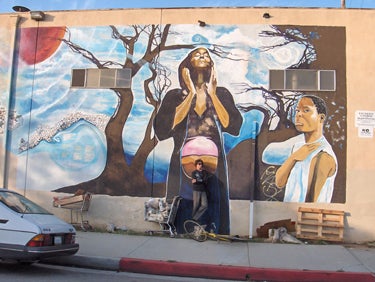 On a personal note, I am happy I am getting happier. Things are going well on some levels where it's been worse for a long time. I realized life is hard a long time ago, and I know it's a balance thing. My bad times have led me into some good times, and I feel really grateful for them. It's hard to be homeless, it's hard perpetually missing your family yet never seeing them over years and years. It's hard to be a nomad and have any relationship, for that matter. It's hard to succeed and it's hard when everything is too fucking expensive. But it's the hardest thing for me not fitting in to all this madness, always being a foreigner… I am really appreciating just appreciating things for the moment. I am really appreciating the notion, not everything has to be hard.
—Dave Graham